Hosting a Halloween party is a lot of fun and a great way to celebrate the season. I have a Halloween party every year. I always have so much fun preparing for it and seeing my friends in their costumes at the party. Whether you are having a Halloween party or helping a friend and/or family member with one, I have a few Halloween party essentials for you!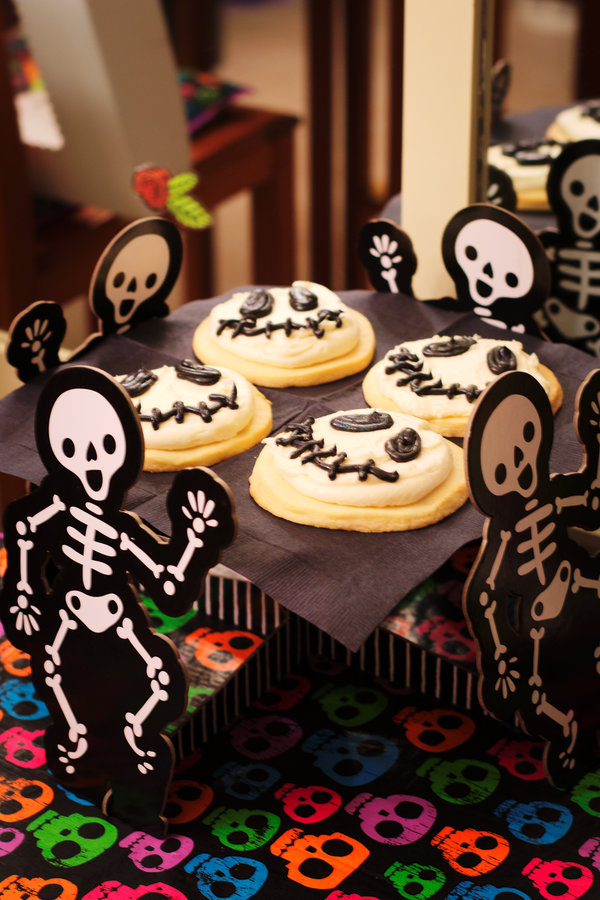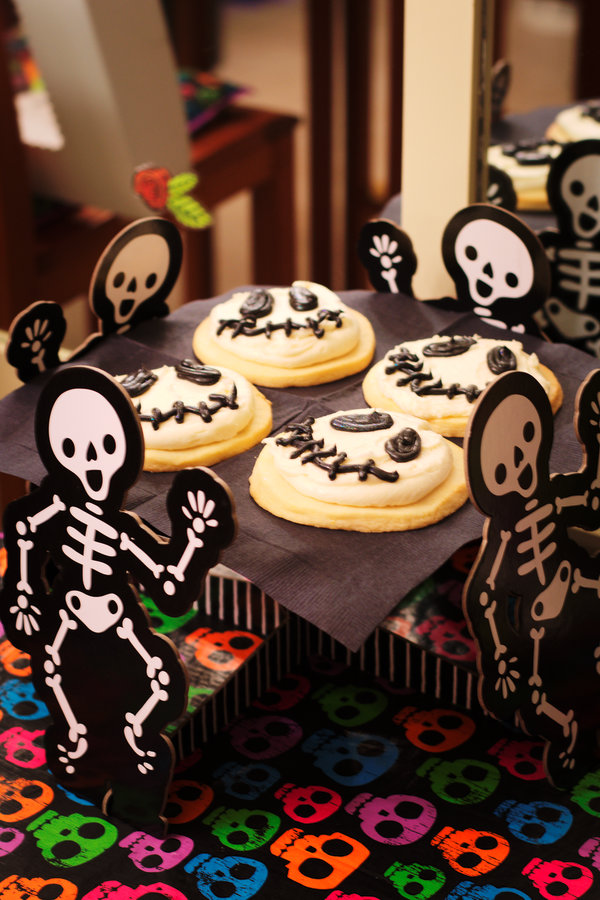 Spooky Food
The first of the six Halloween party essentials you need is spooky food. Since my Halloween party usually starts after dinner, I like to serve snacks, sides, and desserts at the party. I try to have Halloween themed food as well.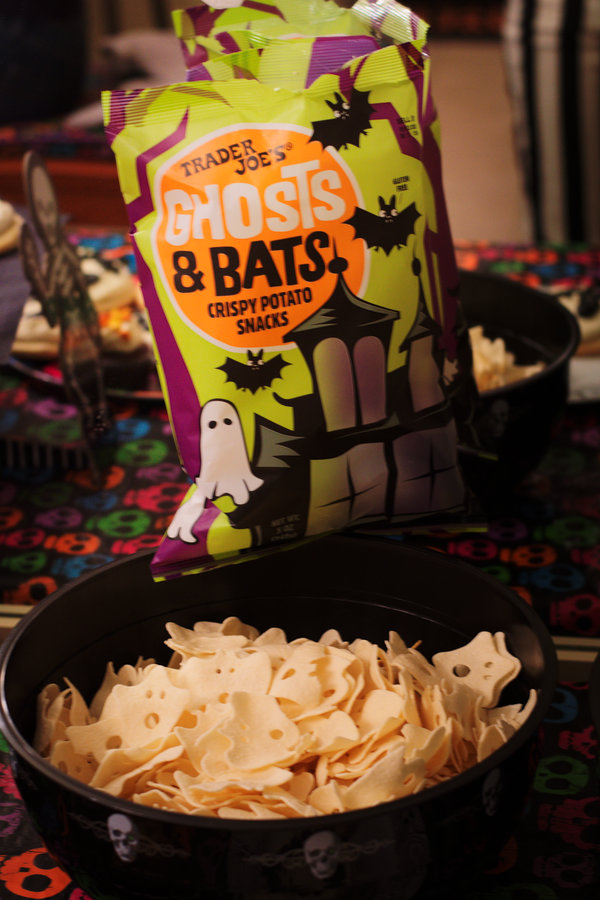 One of my favorite snacks to serve is Graveyard Taco dip. This is just regular taco dip, with some spooky crackers or chips on top. Taco dip is always such a good snack for a party, and Graveyard Taco dip is perfect for a Halloween party. For this year's taco dip, I was able to add some Ghosts and Bats Potato Chips from Trader Joe's as a topping. I also had these chips in a separate bowl for guests to have with the dip.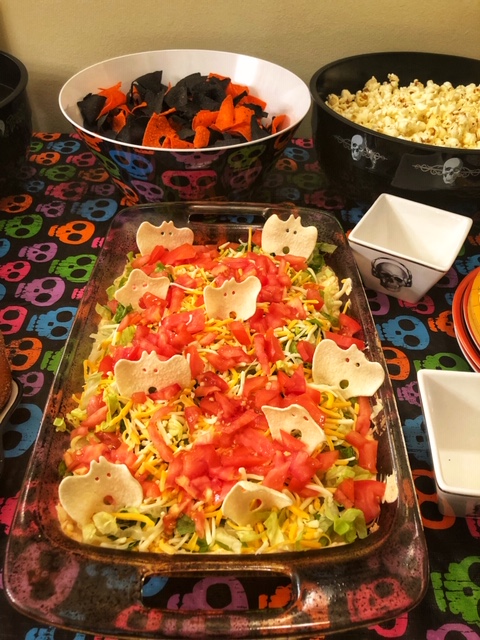 Another great food item to have at your Halloween party is cookies. At my Halloween party this year I had pumpkin sugar cookies and these awesome Jack Skellington cookies. The pumpkin cookies were from Wegmans and the Jack cookies were ordered from a local bakery, Bakery 519. If you are not local to the South Jersey area, I am sure there are many other places that can make Jack Skellington cookies for any occasion.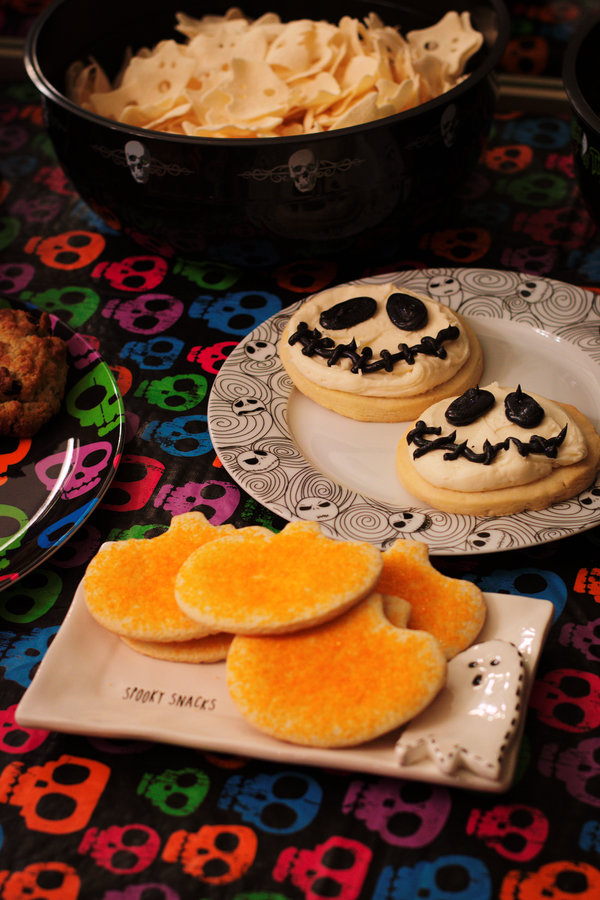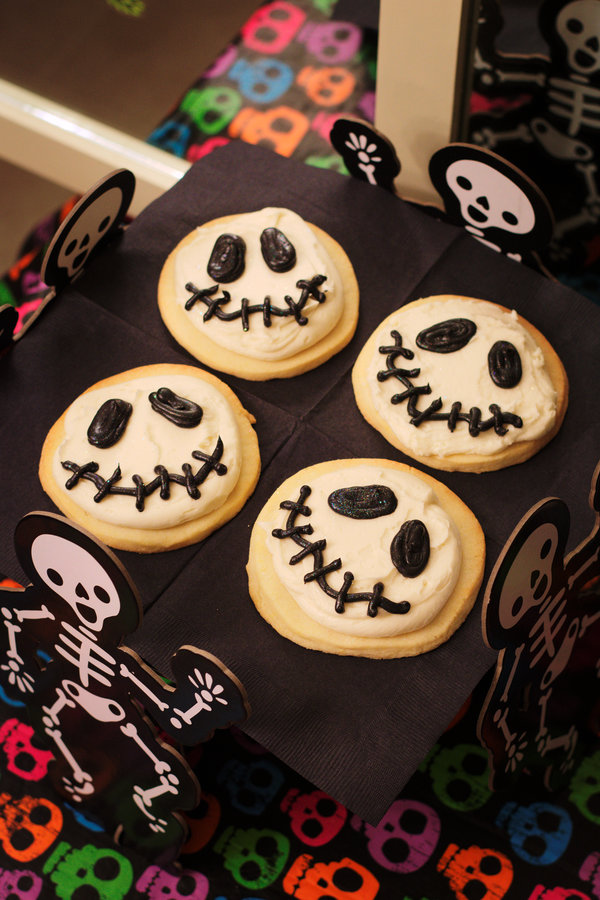 Halloween Dishes
You will need something to serve all of your Halloween food on, so the next Halloween party essential you need is themed dishes. I have a ton of skull plates and serving dishes that I use all the time. If you do not have any though, they are easy to find in many stores during Halloween season, such as Target, T.J. Maxx, and Home Goods.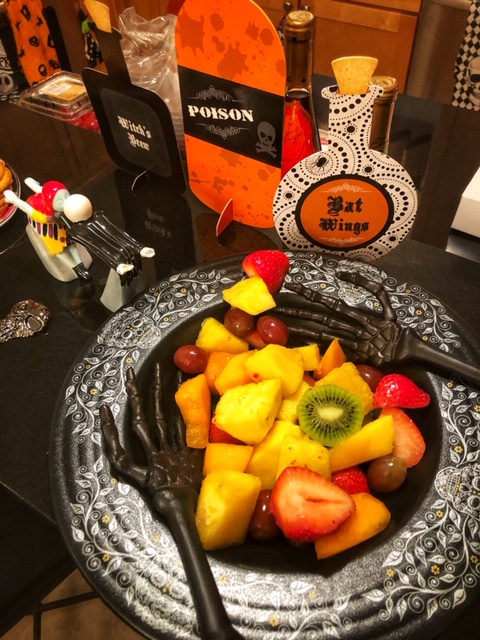 I have even seen Halloween party supplies at Wegmans and craft stores. It is a lot more fun to serve spooky food when you have Halloween dishes to put it in.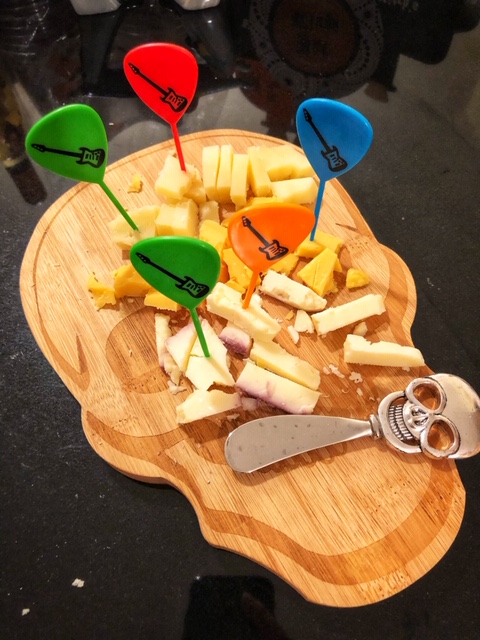 Festive Drinks
Your guests will need to wash down all those spooky snacks with some drinks, so why not have some Halloween themed drinks to offer?! I like to serve fall wine and beer, and have some Halloween themed mixed drinks that I can make. I did another Blog-O-Ween post featuring Halloween cocktails, which would be perfect for a Halloween party! Check it out here.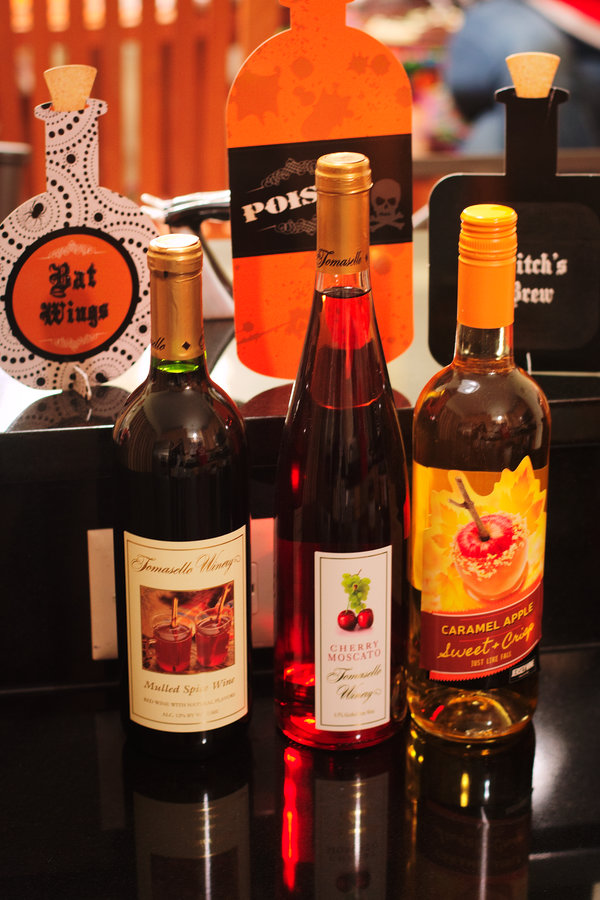 Halloween Backdrop
You definitely want to take pictures at your Halloween party of everyone in their costume. To make this even more fun, another Halloween party essential you need is a backdrop! This was the first year I had a backdrop at my party and I'm so happy I had one. I purchased a Nightmare Before Christmas Hill backdrop off of Amazon, along with a backdrop stand. I have linked both of them for you below. I also purchased extra clips to secure the backdrop to the stand.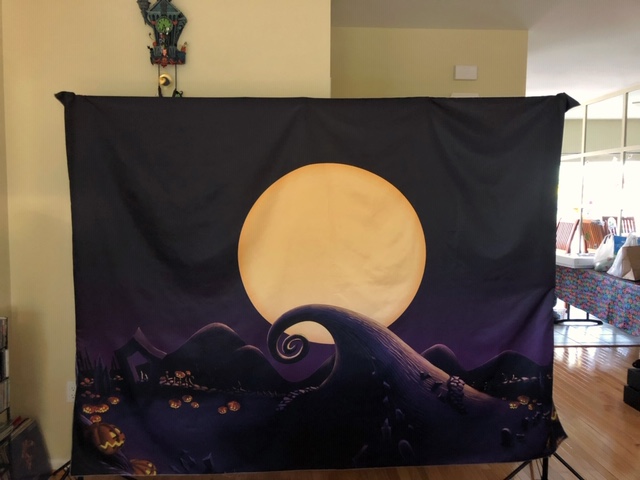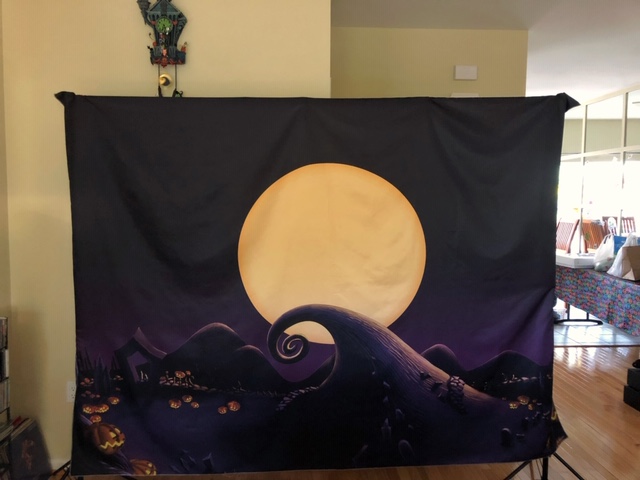 Everyone had a fun time taking pictures in front of the backdrop. It was easy to set up and I will definitely be using it again next year. There are a lot of other Halloween backdrops to choose from but I knew I wanted a Nightmare Before Christmas one.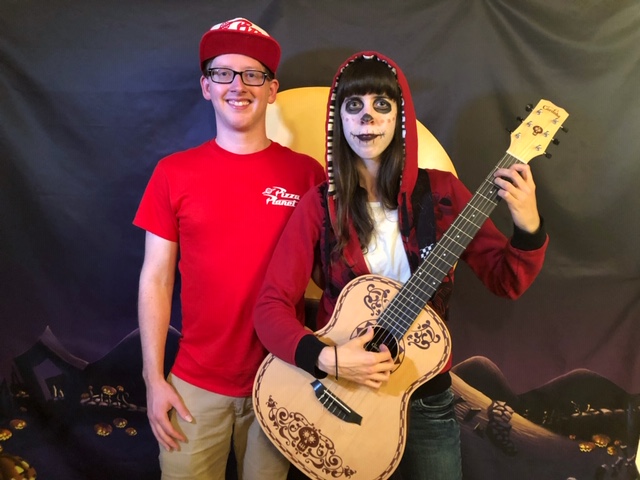 I was also able to use my backdrop stand for a Halloween video my classical guitar duo created, that you can check out here. Once you purchase the backdrop stand, you can use it with many different backdrops for tons of different occasions, such as parties, showers, and weddings. I am glad I purchased it and it made our Halloween pictures even spookier.
Scary Games
Another great Halloween party essential is board games. Sometimes we play games at my Halloween party and other times we are just talking so much that before we know it, it is too late to start a game. I wrote another Blog-O-Ween post about a ton of Nightmare Before Christmas board games that would be perfect for a Halloween party. Read about it here!
Spooky Music
No party would be complete without music! I like to play Halloween themed records at my Halloween party. I also enjoy making playlists for parties. Whichever you prefer, you can check out some Halloween records and a Monster Mash Playlist I created for Blog-O-Ween this year. Both of these posts have great Halloween music ideas that will for sure get your zombie friends dancing.
All of these Halloween Party Essentials will make your Halloween party a Monster Mash for sure! I hope you found these tips helpful and that they make your next Halloween party a fright!
Stay Spooky!
-Caroline