Today I wanted to share a project I am very excited about! This project is a classical guitar video of my performance of Jack's Lament from The Nightmare Before Christmas.
If you do not know, I am a classical guitarist who teaches lessons and performs. I teach guitar, piano, and ukulele lessons everyday. I also perform in a classical guitar duo, Dulcet Guitar Duo. My duo created a Halloween video as well. We made an arrangement for This Is Halloween  awhile ago, and this fall we were finally able to shoot a video for it. If you are interested, you can check out our video of This is Halloween here.
This arrangement of Jack's Lament was originally created by another classical guitarist Caitlin Caggiano. I came across a video of her performing Jack's Lament and I thought it was so cool! I e-mailed her asking for the arrangement and she was very kind to send it to me. After making a few edits to it and decided to create my own video.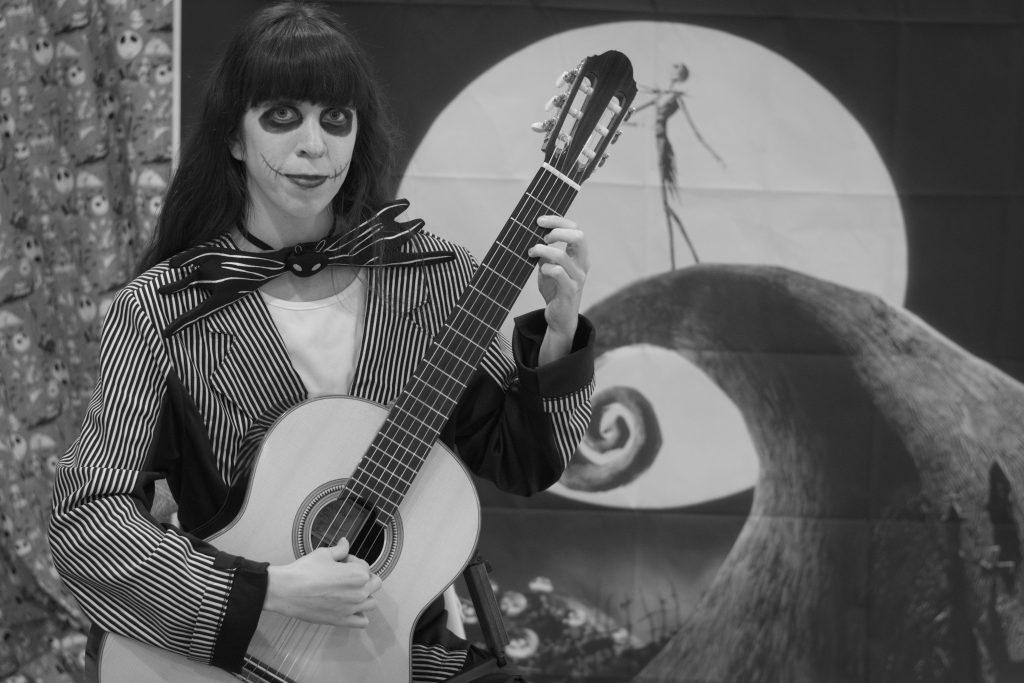 I have been wanting to film this piece for awhile and I'm so happy it has finally come to life! This could not have been done without the help of my brother, who recorded my audio and video. We were able to use some props from my Nightmare Before Christmas surprise party, to make the video extra spooky.  It was also a lot of fun for me to dress up as Jack Skellington.
If you enjoy this video, please share it and subscribe to my YouTube channel. I have a lot more classical guitar videos coming soon! You can also check out Dulcet Guitar Duo's YouTube channel by clicking here. We have a lot of Christmas videos on our channel, which will be great to listen to during the upcoming Christmas season. I hope you enjoy Jack's Lament!
Jack's Lament
Stay Spooky!
-Caroline