A Halloween Home would not be complete without Nightmare Before Christmas Home Decor. I have this decor EVERYWHERE all year long. If you would like to add some Jack Skellington decor to your home for October, or for the whole year like I do, you have come to the right place.
In this Blog-O-Ween Day 4 post, I will share general Nightmare Before Christmas Home Decor that you can use in any room of your house. Please continue to follow the Blog-O-Ween posts because I will be sharing more specific Nightmare Before Christmas home decor, such as kitchen and bedding, later this month.
Clocks
What better way to keep track of time then with Jack Skellington and his Halloween friends?! The first clock I have is a cuckoo clock. This clock plays a clip from "This is Halloween" every hour, and every hour it goes off, I dance to it, haha. I received this clock for my birthday one year and I cherish it. This is a great gift for yourself or someone else who is a Nightmare Before Christmas lover. This clock is from The Bradford Exchange and you can check it out here.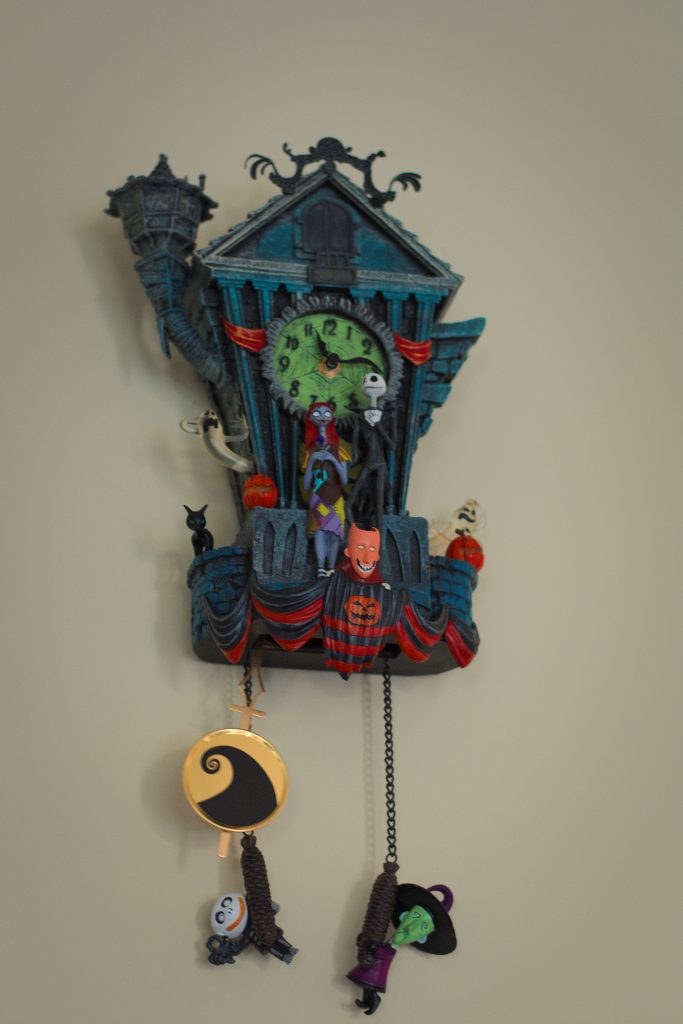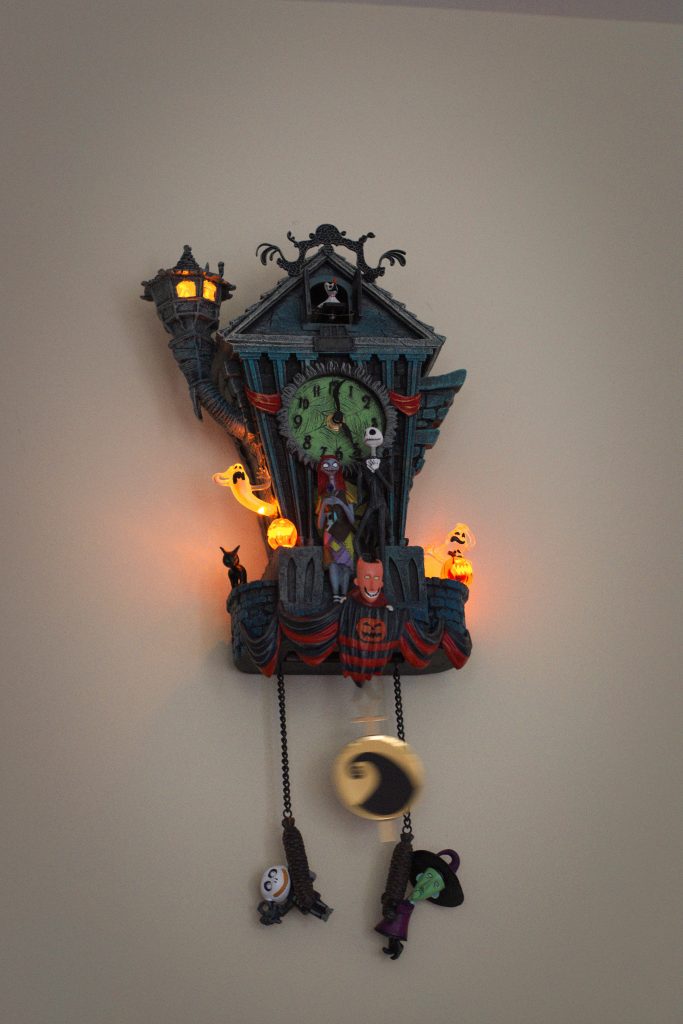 The second clock I have was also a gift. This clock is so cool because it is made from a vinyl record. What could be better than vinyl and The Nightmare Before Christmas?! My dad actually made this awesome stand that the clock is attached too. There are a lot of different versions of this clock available, which I have linked below. They are made to be mounted on the wall and do not come with a stand.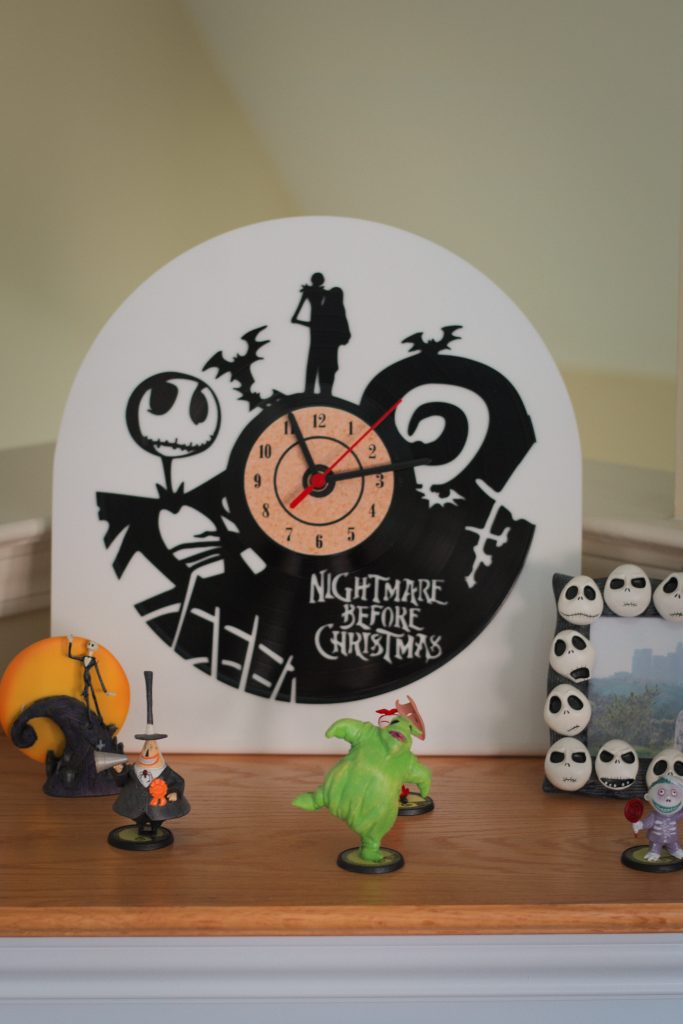 Artwork and Frames
There is no better way to show your love for The Nightmare Before Christmas then by hanging artwork of the characters on your wall. I have artwork and movie posters from The Nightmare Before Christmas hanging all over the place. I have included pictures of my artwork below and have linked similar ones. A lot of my artwork has come from Etsy or was given to me as a gift.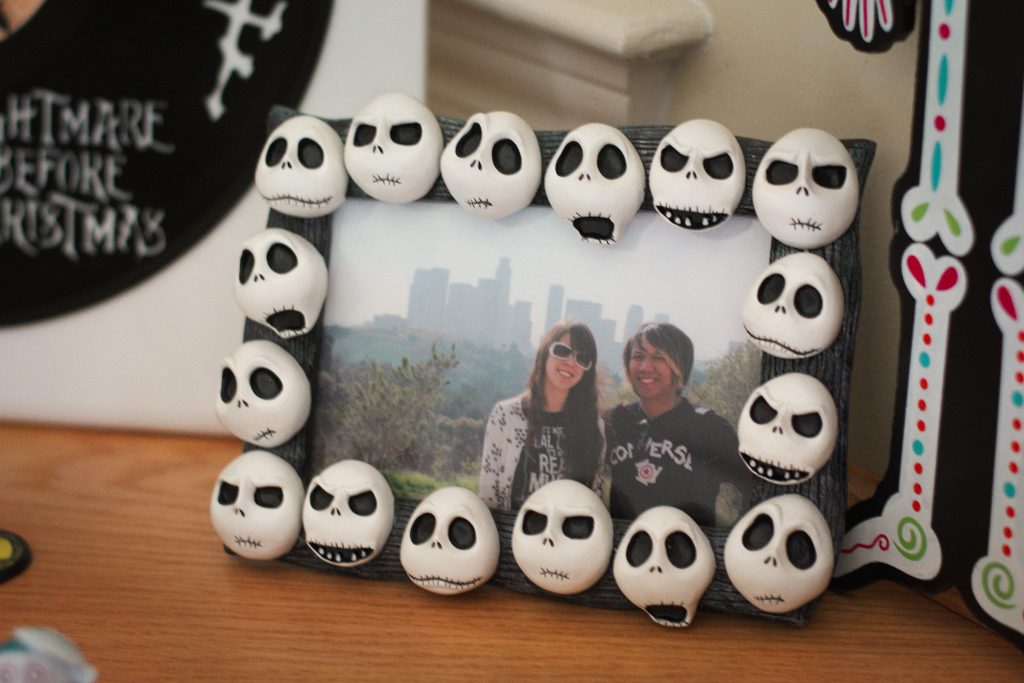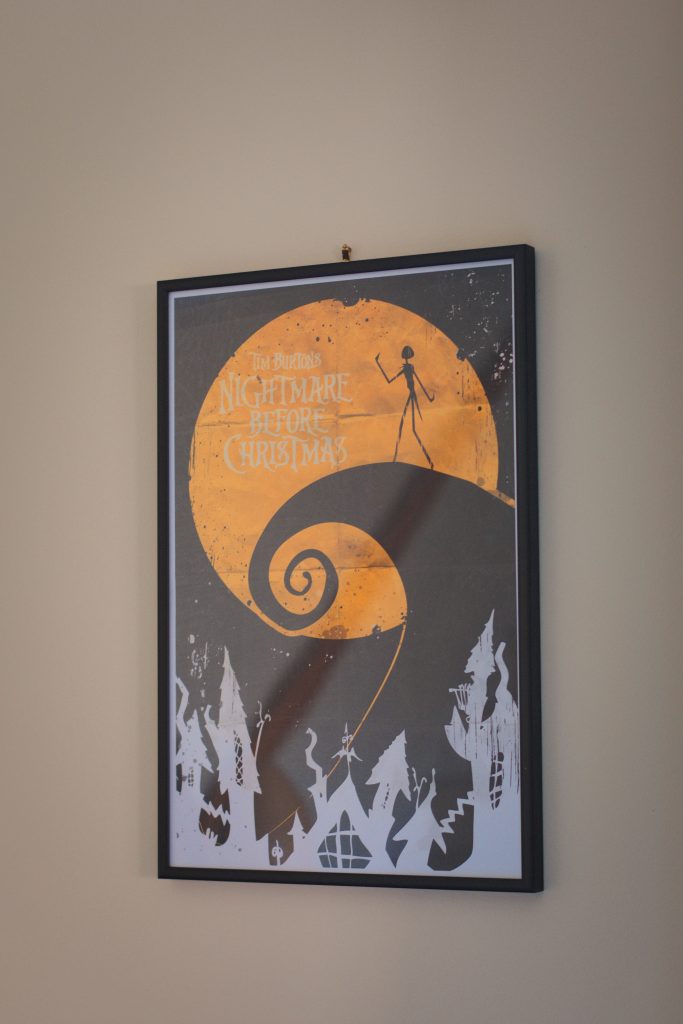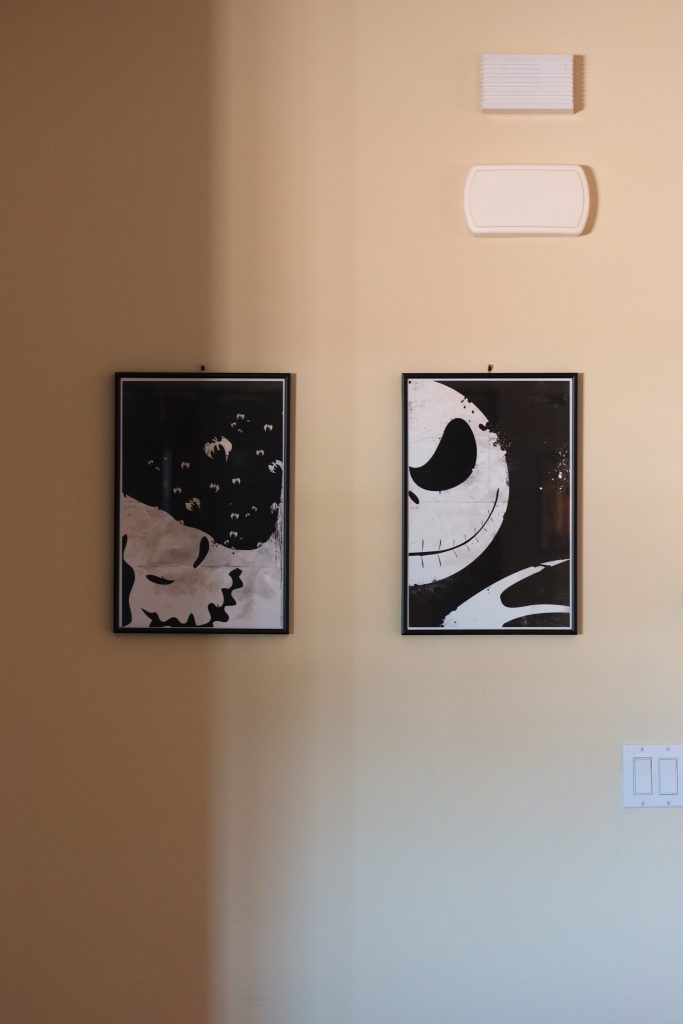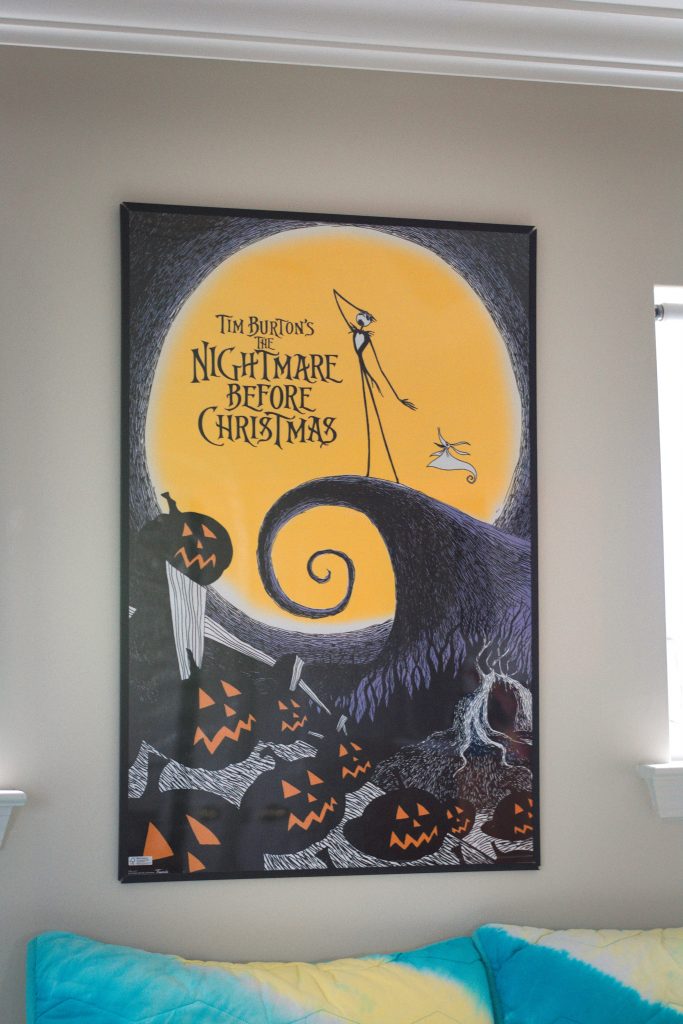 I have also painted my own Nightmare Before Christmas artwork. A few years ago for my birthday, some friends and I did a paint and sip at a local art shop. We got to paint an "I love Jack" painting and it was a blast! I also purchased a painting as Jack dressed as Santa from this local art shop. If you are crafty and like to paint, creating your own Nightmare Before Christmas artwork is a fun and unique way to have Nightmare Before Christmas home decor in your house.
Figures and Trinkets
Another easy way to display characters from The Nightmare Before Christmas in your house, is with fun figures and collectibles. I have acquired quite a few of these figures over the years, and I like to display them on shelves and mantels throughout the house.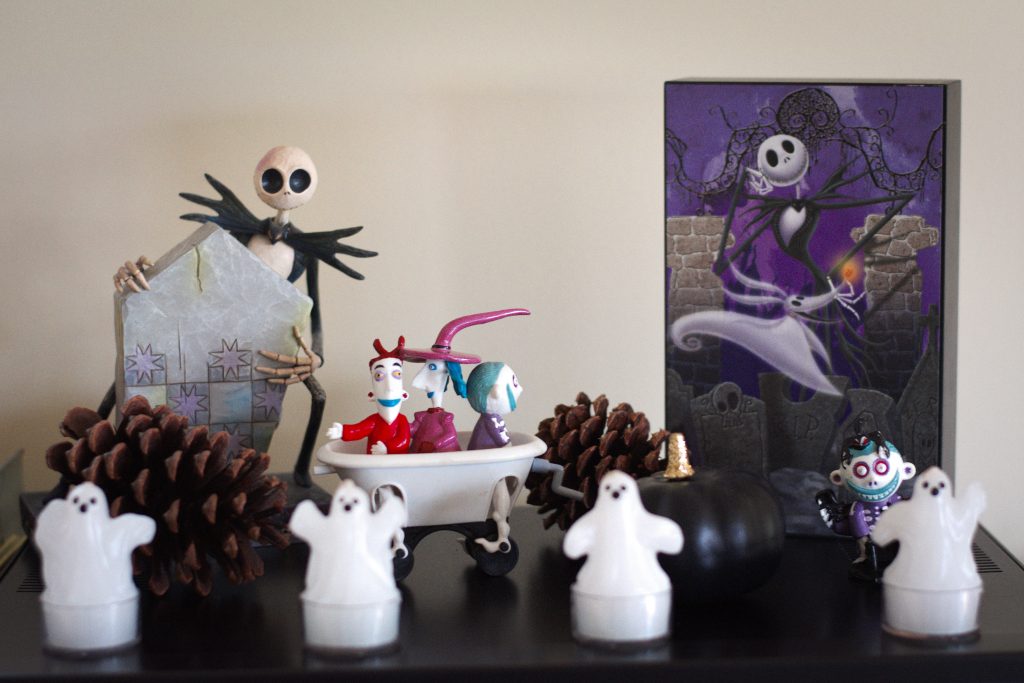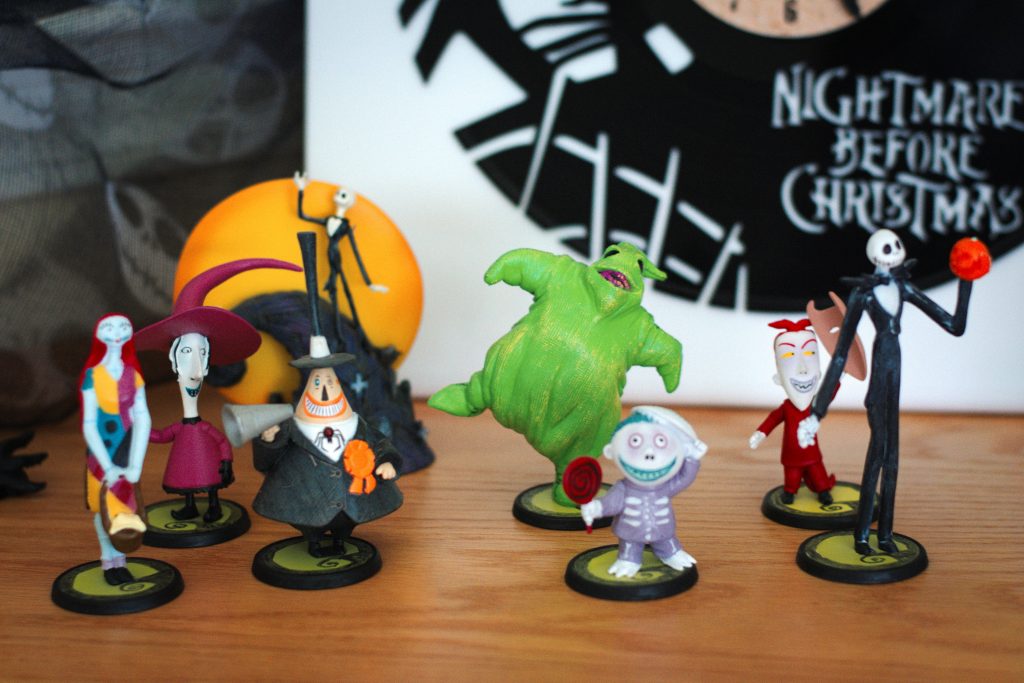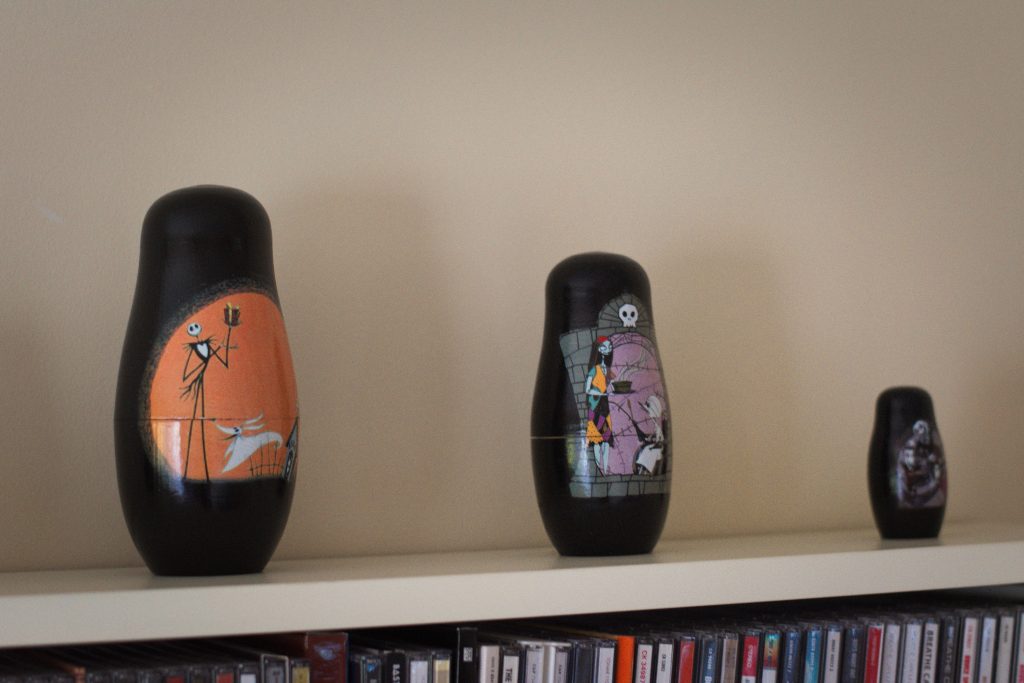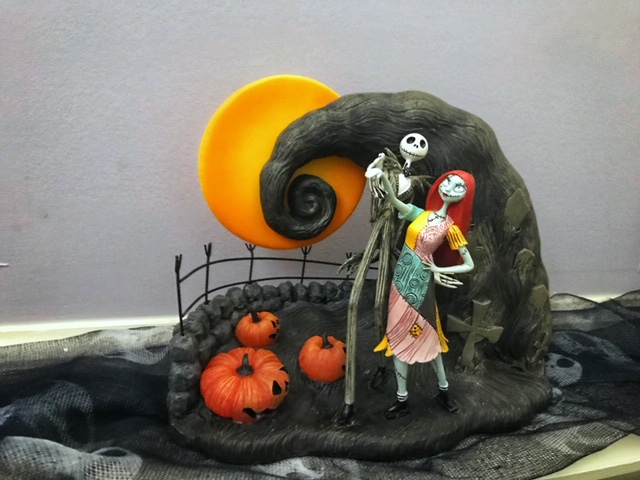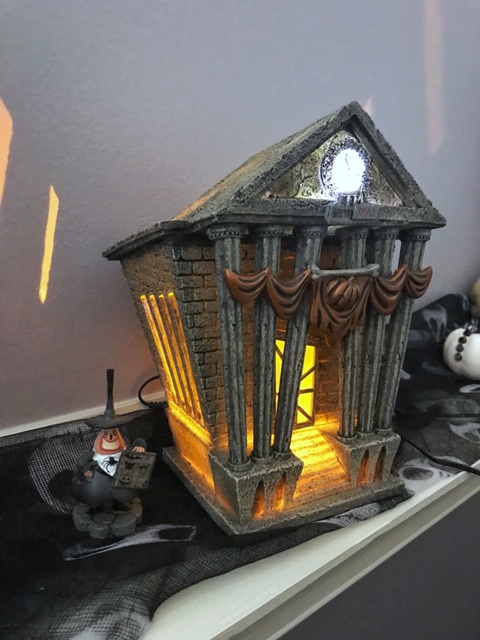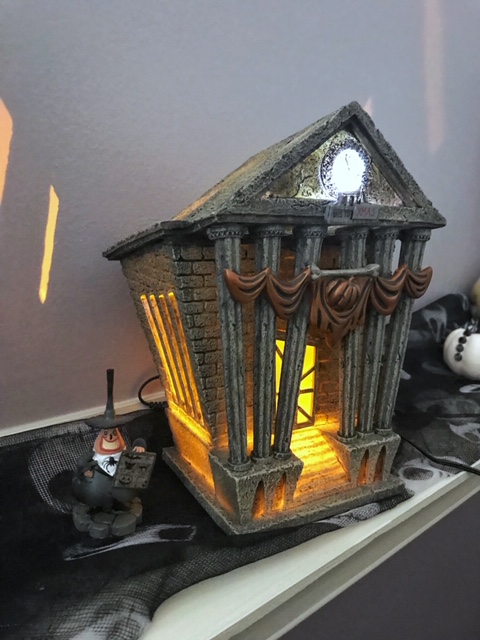 Pillows and Blankets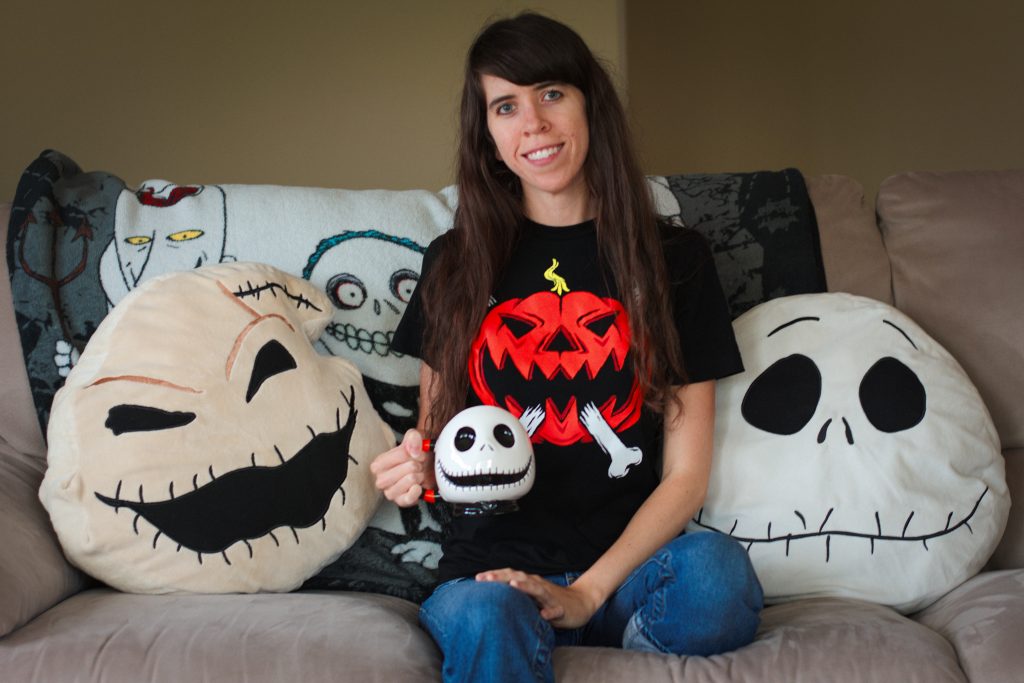 Blankets and decor pillows are a fun and cozy way to give your house or room a touch of Nightmare Before Christmas. I have a Jack and Oogie Boogie pillow that I purchased at Walgreens (of all places) a few years ago. Walgreens isn't really a place that you would think of for home decor, but they always have a great selection of Nightmare Before Christmas items. I have also seen some cute pillows and blankets on Amazon.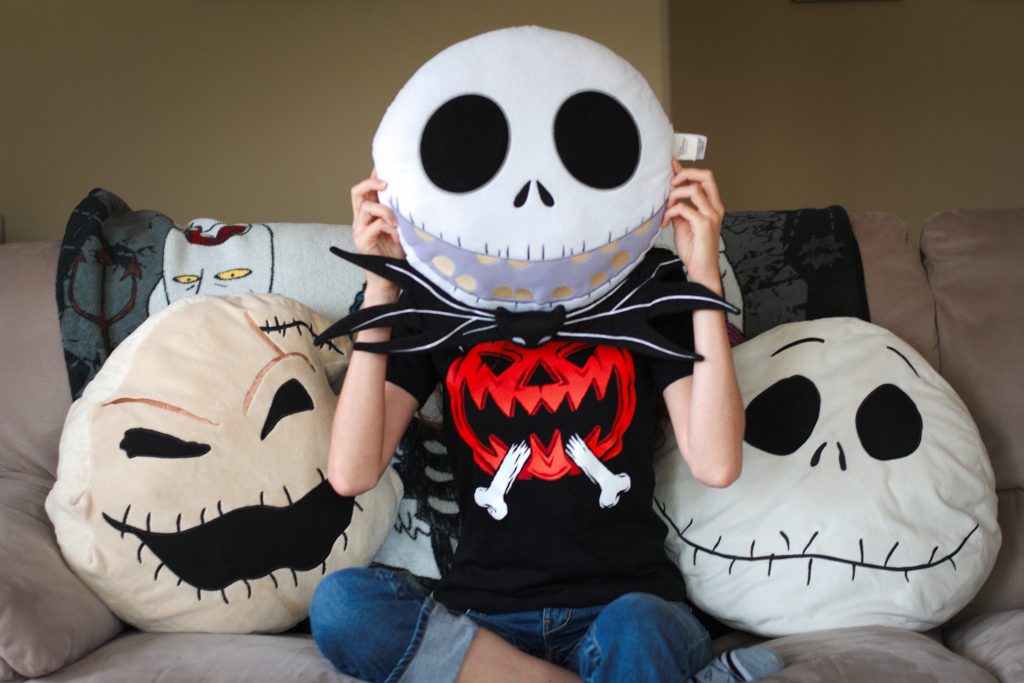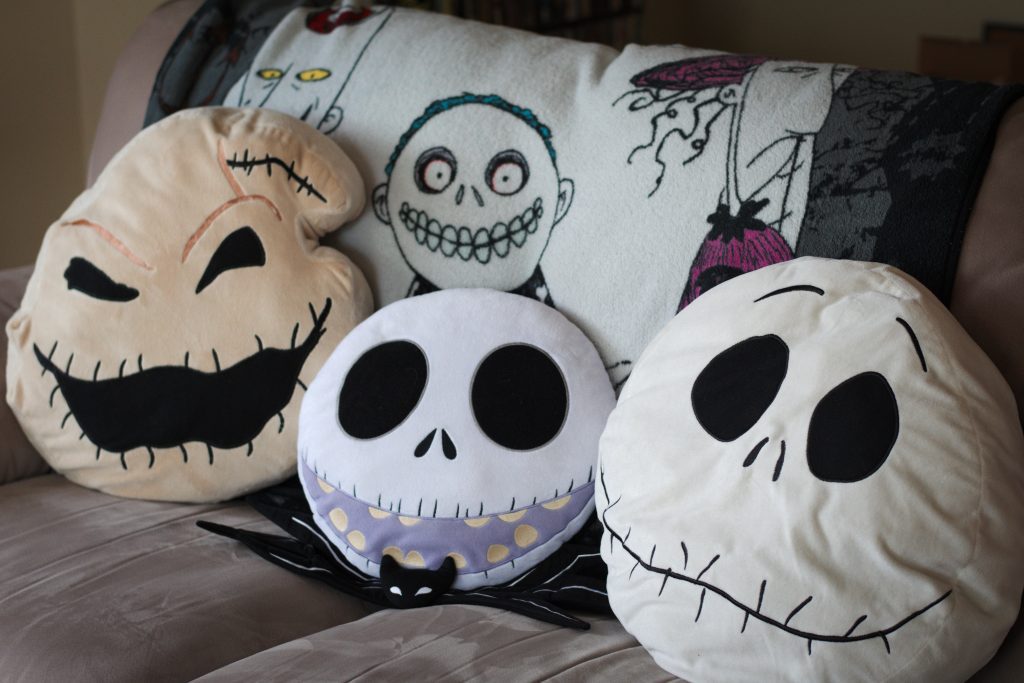 Lock, Shock, and Barrel Masks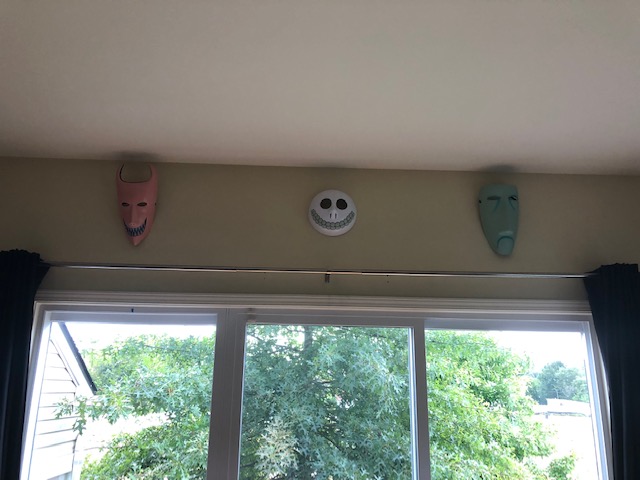 Hanging Halloween masks of the characters from The Nightmare Before Christmas, is a unique and easy way to display them in your home. This is actually one of my most recent and favorite Nightmare Before Christmas Home decor items. My brother, boyfriend, and I, had used these Lock, Shock, and Barrel Masks last Halloween. As soon as we got them I knew I would want to use them as home decor after Halloween. I finally got them hung up and I couldn't be happier! I find myself staring at them during the day, haha. They are also extra creepy at night when it is darker and they create shadows on the walls.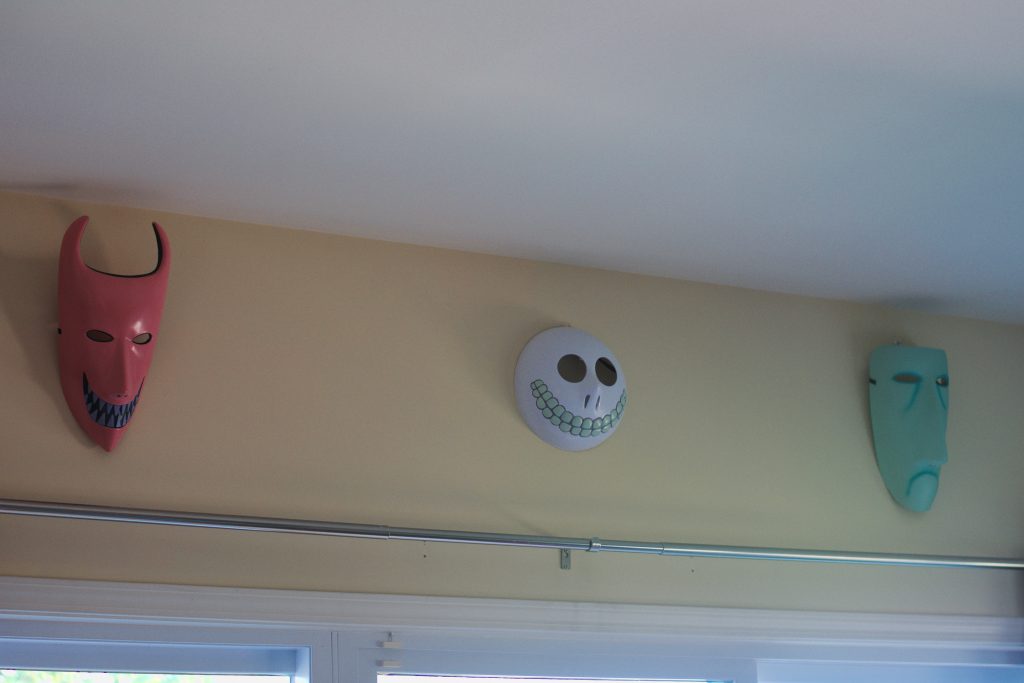 They currently have these masks at Halloween stores, amazon, and Hot Topic. They also sell a decor set of these masks mounted on a plaque. I did see this set in Hot Topic as well, but they are a lot smaller than the actual Halloween masks. If you are dealing with small wall space though, they would be good for you.
Jack Scentsy Warmer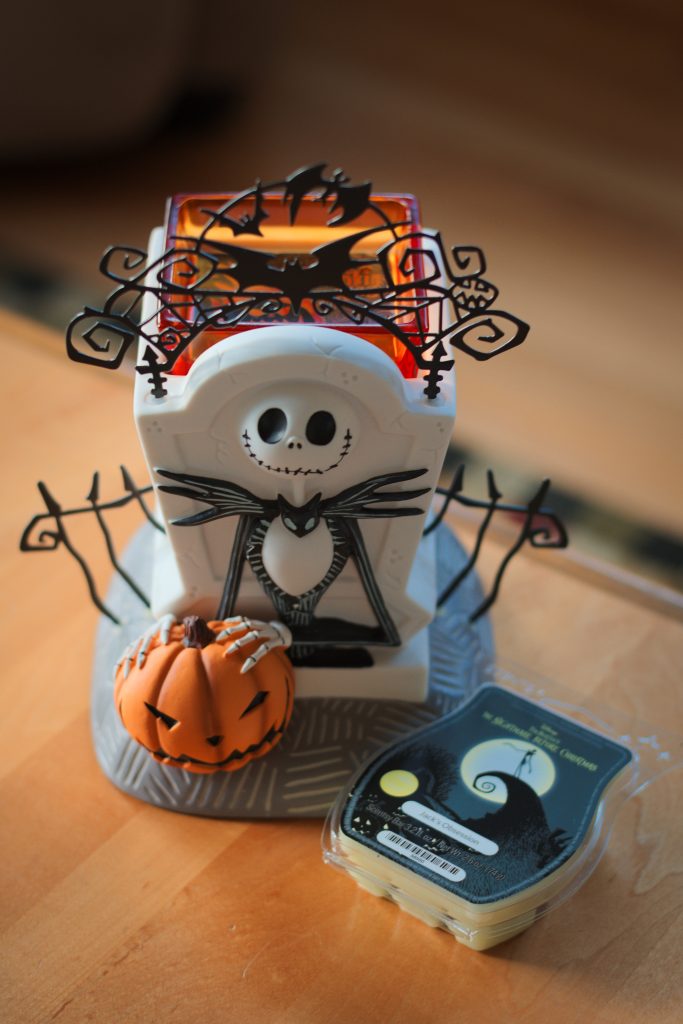 I did not know this next Nightmare Before Christmas item existed, until I received it as a gift a few weeks ago. My boyfriend and I are both guitar teachers, and his one student and his family gave this to me. It is a Jack Skellington Scentsy Warmer and I love it so much! It is a similar idea to the Yankee Candle warmers, where you place a wax melt in the warmer and turn it on. Along with the awesome warmer, I was also given the "Jack's Obsession" scent. This scent smells so delicious. To me, it smells like green apple and fall. The actual description of this Scentsy Bar is "apple spiced with clove and cinnamon". This is the perfect scent for your house in the fall.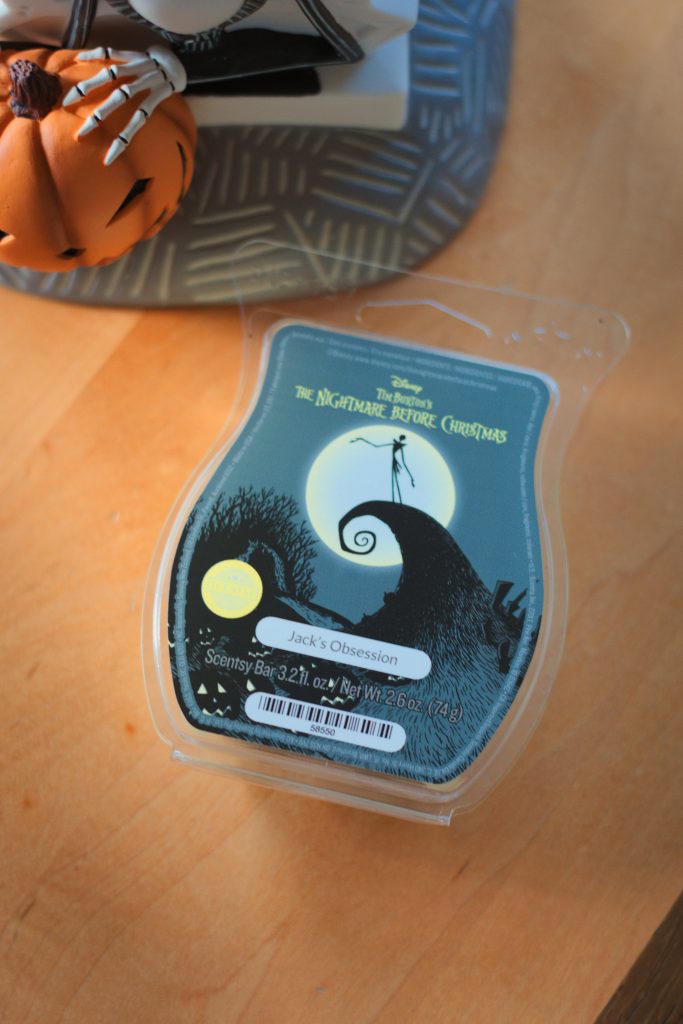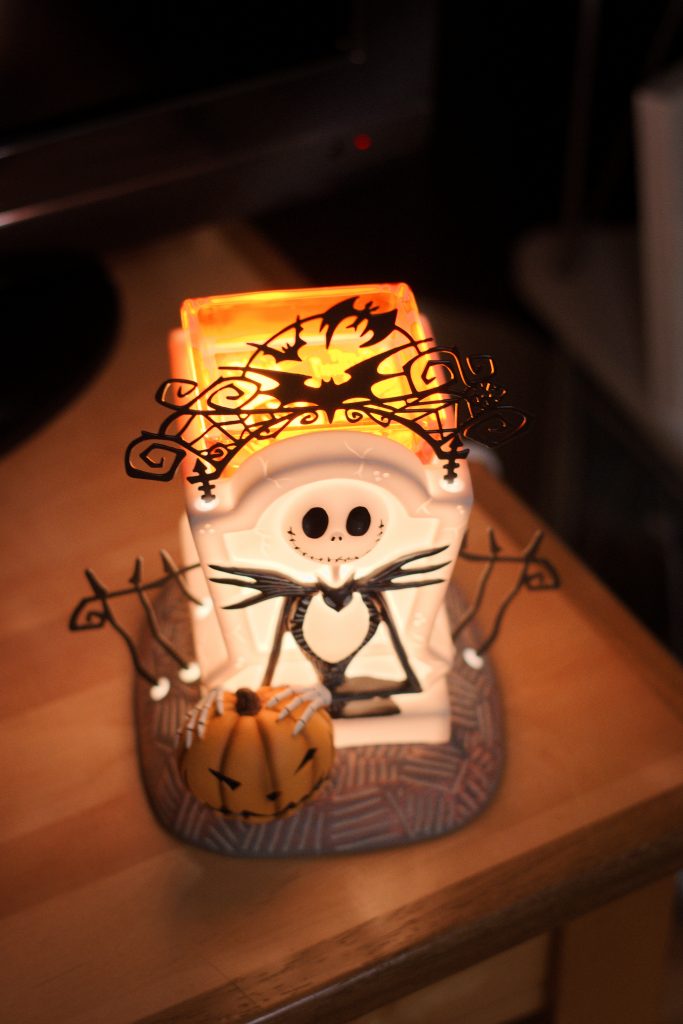 If you are interested in owning this Scentsy Warmer (which I highly recommend), you can contact:
Sherilyn Ostrom
ScentSweetie.Scentsy.us
The Nightmare Before Christmas Black Tree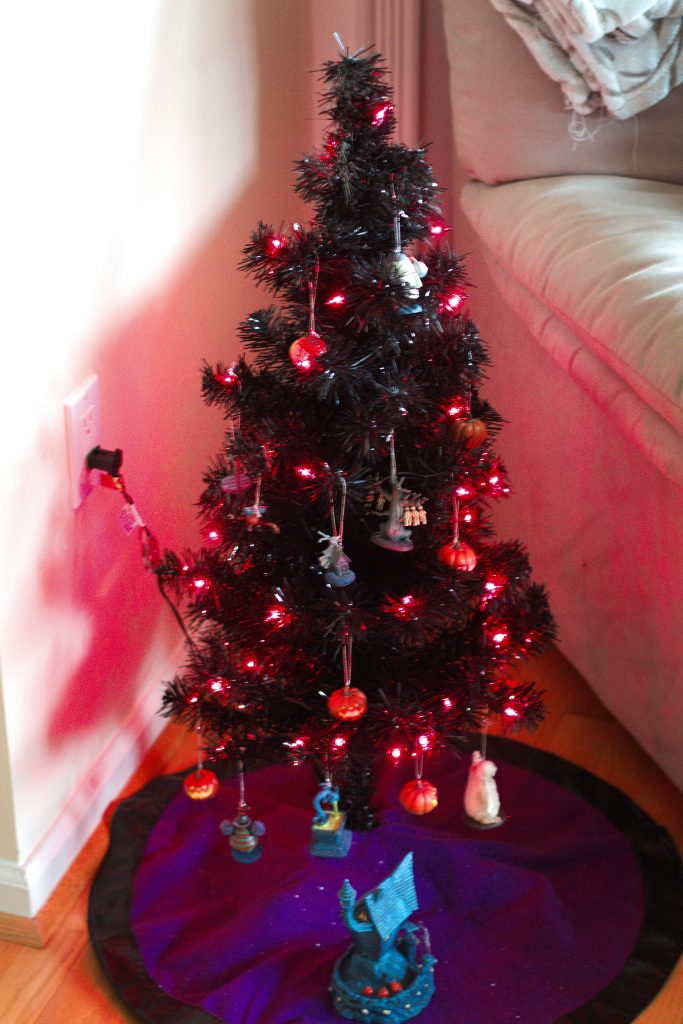 This tree is one of my favorite and unique Nightmare Before Christmas Home decor pieces. I received this tree as a gift a few years ago and I keep it out all year long. It is from the Bradford Exchange and it is about 3ft tall. It is black with purple lights and I have a bunch of ornaments hanging on it. The tree also came with a purple tree skirt.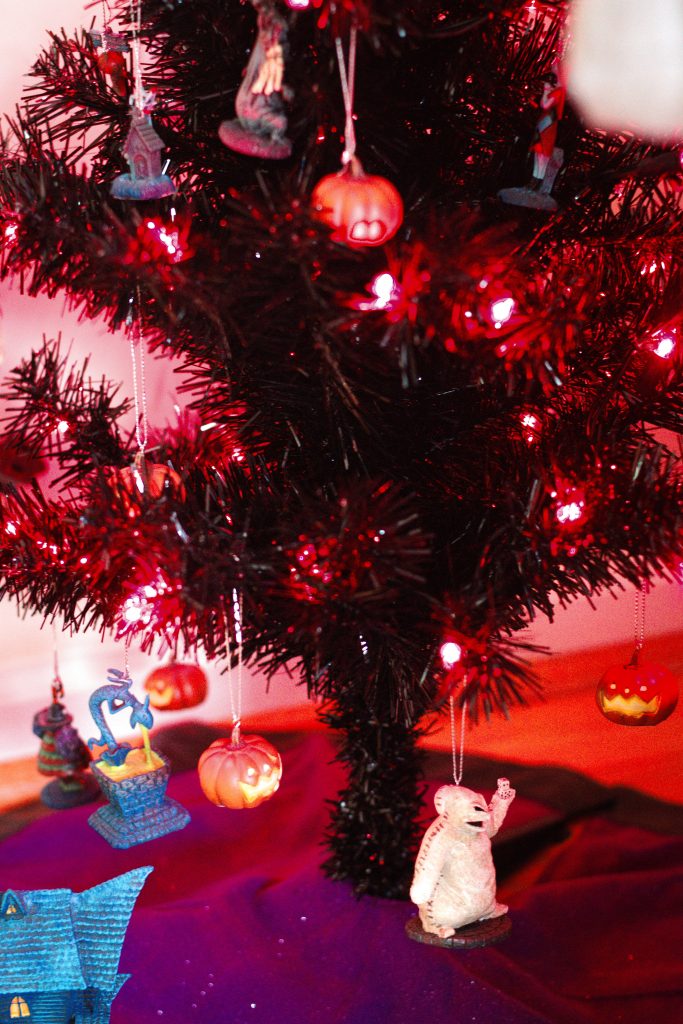 You could use this tree to decorate for Halloween, Christmas, or to leave it out all year. I can't seem to find this exact tree on their website but I will link similar trees and ideas. You could also create your own Nightmare Before Christmas tree, which I do as well in December.
I hope you have enjoyed Blog-O-Ween Day 4, and that this post give you some spooky ideas for your home decor. If you have not checked out the previous Blog-O-Ween posts, please do. Make sure to come back tomorrow for Day 5!
Let me know in the comments if you have any favorite Nightmare Before Christmas Home Decor items!
Stay Spooky
-Caroline