New season, new spooky coffee bar! If you read my Nightmare Before Christmas Coffee Corner post from October, you saw how spooky I made our coffee area. Since it is December I decided to switch up the decor for the Christmas season while still making it spooky. Today I am sharing my Sandy Claws Coffee Corner!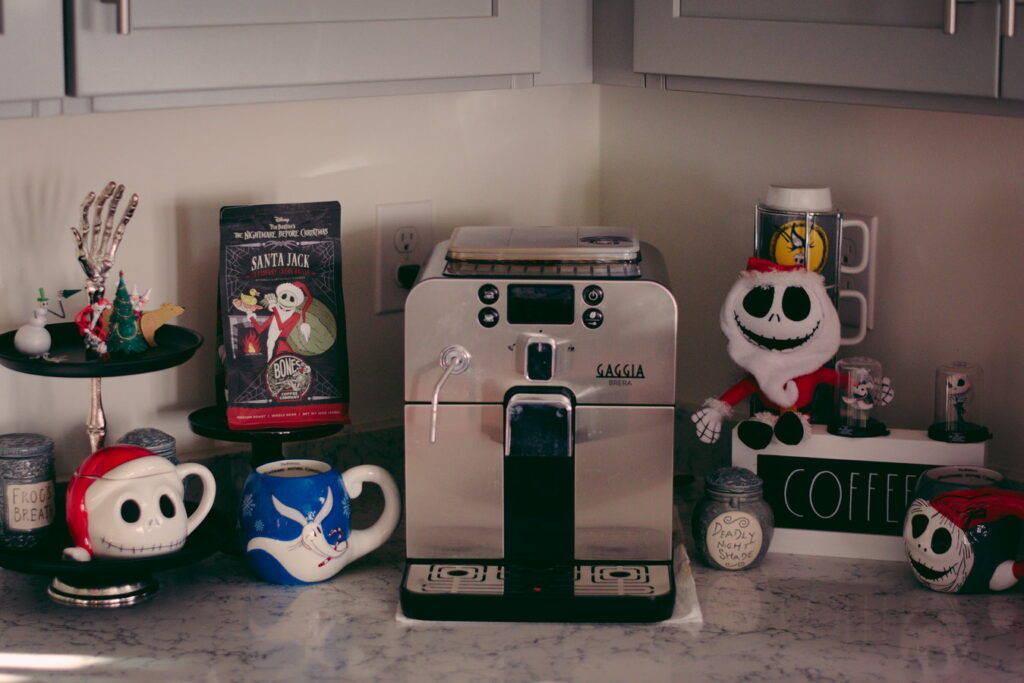 Tiered Tray
One item I love to have in our coffee corner is this spooky tiered tray. This tiered tray is great for displaying many items such as mugs, trinkets, little signs, and figurines. To help create our Sandy Claws Coffee Corner, I decided to display little Nightmare Before Christmas figurines on the top tier. All of the figurines are from a Christmas related scene in the movie. On the bottom tier I placed a Santa Jack mug and my Frog's Breath and Worm's Wort jars.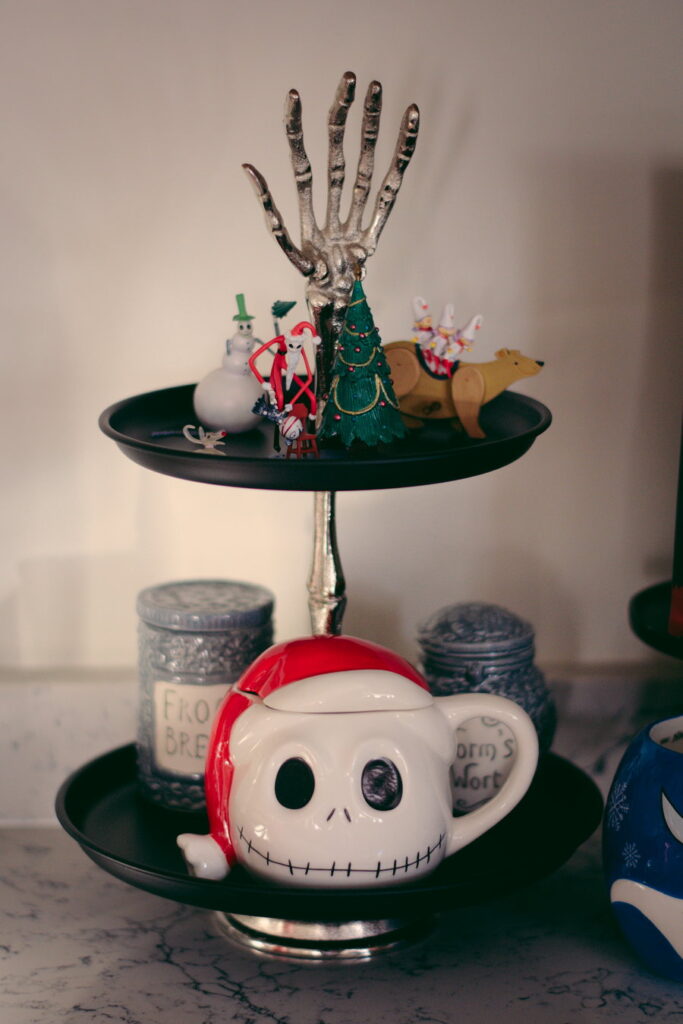 Mugs & Trinkets 
On the other side of our Sandy Claws Coffee Corner I displayed a Santa Jack mug and some trinkets. I have a little Jack and Zero on top of our coffee sign and placed the Deadly Night Shade jar in front of it. The Santa Jack toy also sat perfectly on the coffee sign.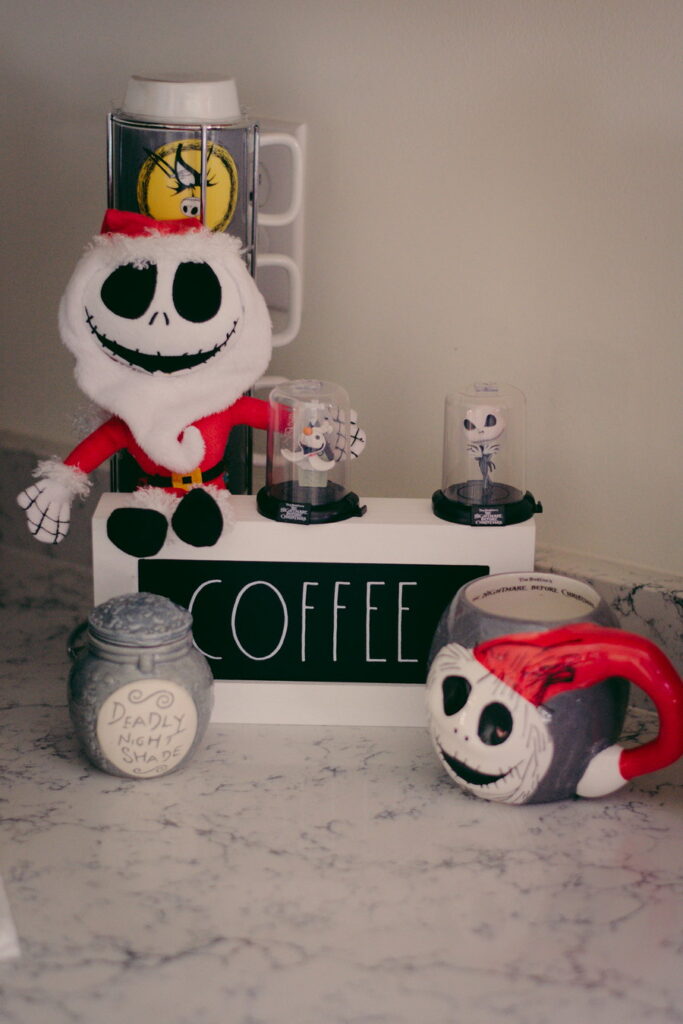 Santa Jack Coffee
A Sandy Claws Coffee Corner would not be complete without Santa Jack Coffee! We purchased all of the Nightmare Before Christmas Coffee from Bones Coffee Company when it was first released. All of the coffee beans have been delicious, including this Santa Jack one. I even love walking past this corner in our kitchen so I can smell the coffee beans. If you are a Nightmare Before Christmas fan I would highly recommend trying this coffee.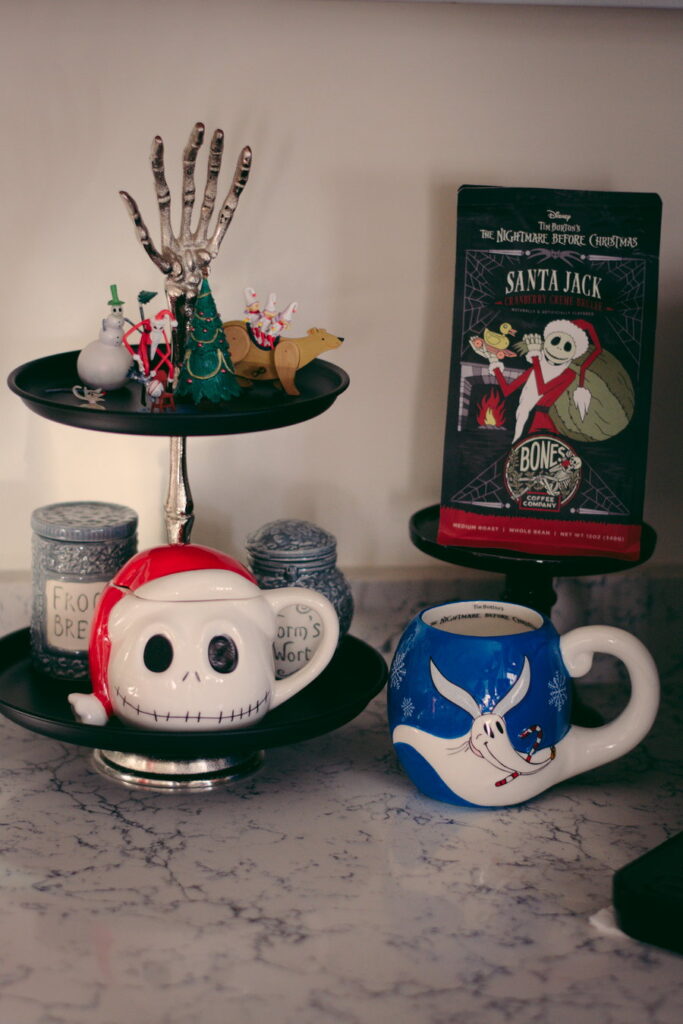 Now that I have our coffee corner all decorated we are ready for Sandy Claws! I hope you have enjoyed this post and it gave you some inspiration to create your own spooky yet festive coffee corner.
Stay Spooky!
-Caroline 🙂
Make sure to shop my Spooky Christmas shirts here!
Check out some of my other Christmas posts:
Create a Nightmare Before Christmas Tree