Christmas is a few days away and I am sure all month long you have been hearing Christmas music. While I do enjoy listening to Christmas music, I prefer to create a playlist of Christmas covers by my favorite bands. I have been doing this for many years and each year it is fun to add new Christmas covers to the playlist. Today I wanted to share my 2022 Emo Christmas Playlist with you so you can enjoy it too.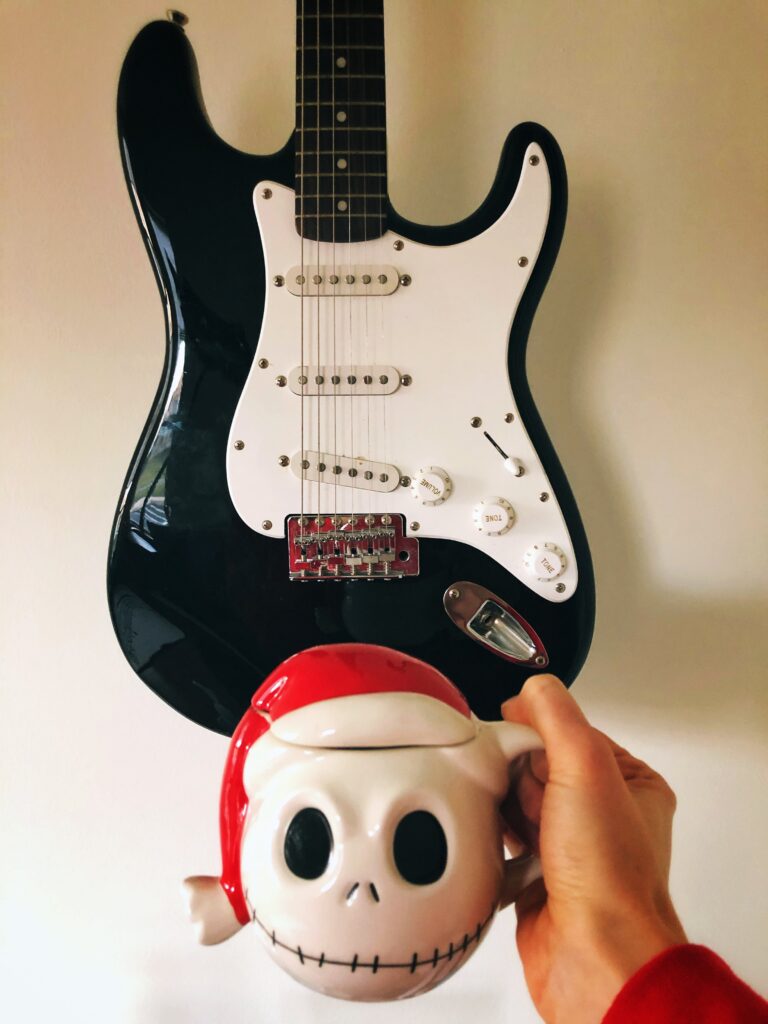 2022 Emo Christmas Playlist
All I Want For Christmas Is You- My Chemical Romance
Pennsylvania Holiday – Valencia
Decemberism – Man Overboard
Mile High Christmas – Breathe Carolina
Yule Shoot Your Eye Out – Fall Out Boy
Have Yourself A Lonely Little Christmas – Asteria
Christmas,Baby Please Come Home – Anberlin
I'm With You- Mayday Parade
What's This?- Danny Elfman
The Lights and Buzz – Jack's Mannequin
Last Christmas – Jimmy Eat World
February Air – Lights
Baby, It's Cold Outside- Danger Radio
Love Like Winter – A.F.I.
Winter Passing – The Academy Is…
Blue Christmas- Dashboard Confessional
Ho Ho Hopefully- The Maine
Every Snowflake Is Different- My Chemical Romance
Carol of the Bells – August Burns Red
Baby, It's Cold Outside – Danger Radio
Never Snows In Florida – New Found Glory
Making Christmas- Danny Elfman
Angels We Have Heard On High- Bayside
Alone This Holiday – The Used
Last Christmas- Loveless & Downer Inc.
Merry Christmas, Happy Holidays- Issues
Last Christmas- The Maine
Christmas Lights- Yellowcard
Kidnap The Sandy Claws- Danny Elfman
O Holy Night – Go Radio
December- Neck Deep
Ordinary Christmas- State Champs
Santa Stole My Girlfriend- The Maine
West Coast Christmas- Anarbor
Christmas Brings Me Down – Sparks The Rescue
Fool's Holiday- All Time Low
Father Christmas- Man Overboard
Yule Be Sorry – The Almost
Nothing For Christmas – New Found Glory
O Holy Night -Brand New
Mr. Winter- The Maine
Wintering- The 1975
Make sure to save, share, and Pin this post for later!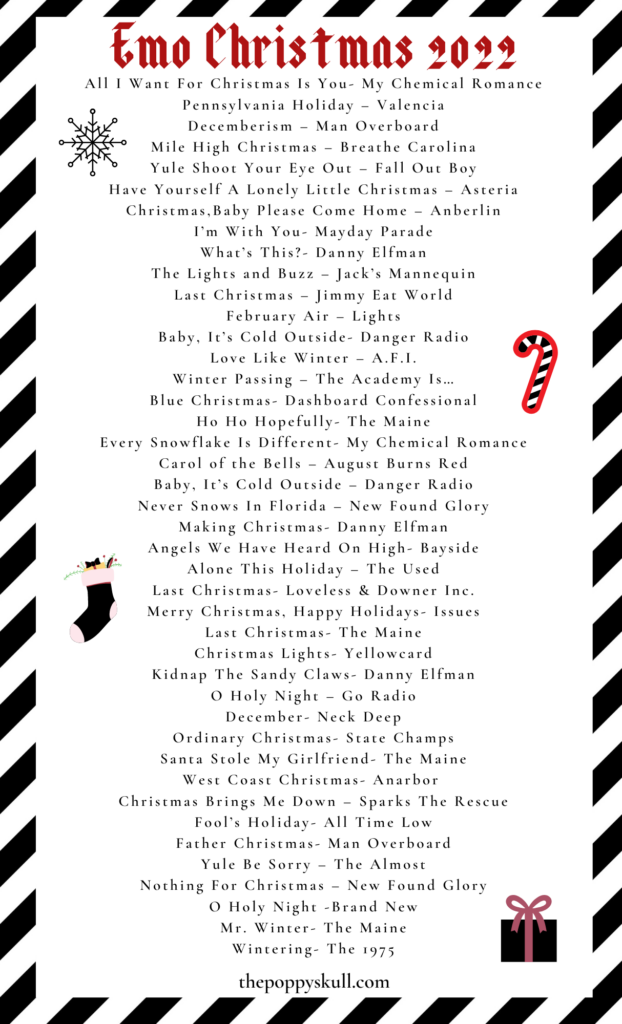 I hope you enjoy this playlist and it makes your Christmas Very Merry! Let me know what some of your favorite Emo Christmas songs are.
Stay Spooky!
-Caroline 🙂
Shop my Stay Spooky Collection here!
Check out some of my other Christmas posts below:
Create a Nightmare Before Christmas Tree