What's This?! What's This?! It is a new post on how to create your own Nightmare Before Christmas Tree!
For many years I have always created a Nightmare Before Christmas tree in December. It started out with a little black tree I found in Borders (when they still existed), and put all of my Nightmare Before Christmas ornaments on it. However each year I would receive more ornaments and my small tree was becoming overloaded.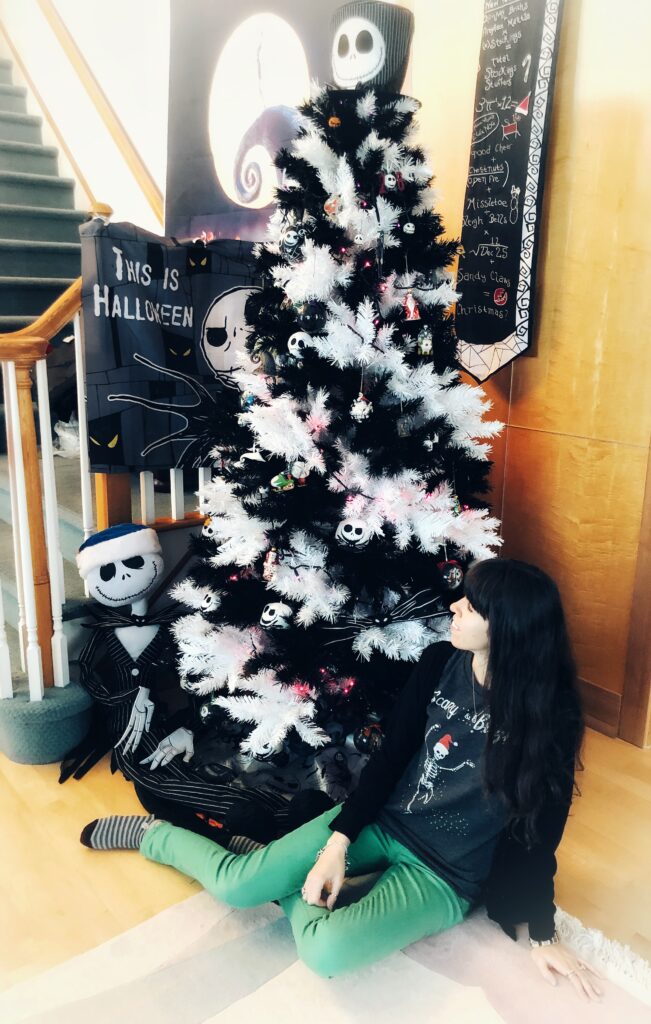 I always wanted to get a bigger spooky Christmas tree and last year I spotted this black and white striped one from Treetopia. This tree was so much fun to decorate last year and it is a perfect tree for Nightmare Before Christmas ornaments.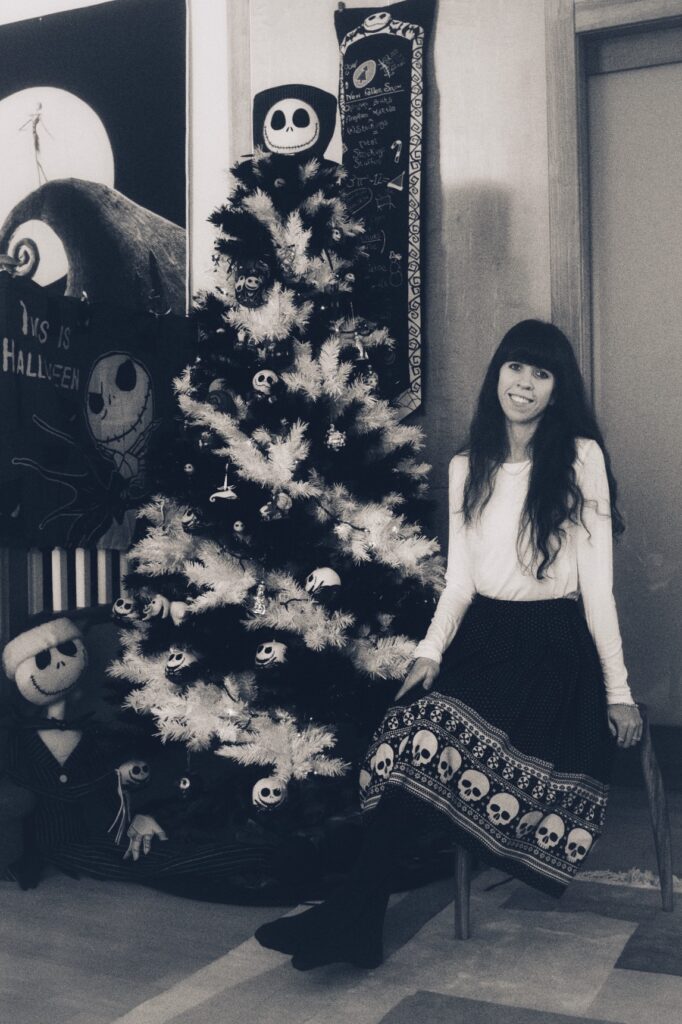 Today I am going to give you some tips and tricks on how to create your own Nightmare Before Christmas tree.
Christmas Tree
Obviously if you want to create a Nightmare Before Christmas tree, you have to get a tree. There are many different sizes of spooky trees out there to purchase. I would suggest getting a black tree or a black and white tree like I have. These can be found in many different sizes and prices. A purple tree would also be a great color for a Nightmare Before Christmas tree.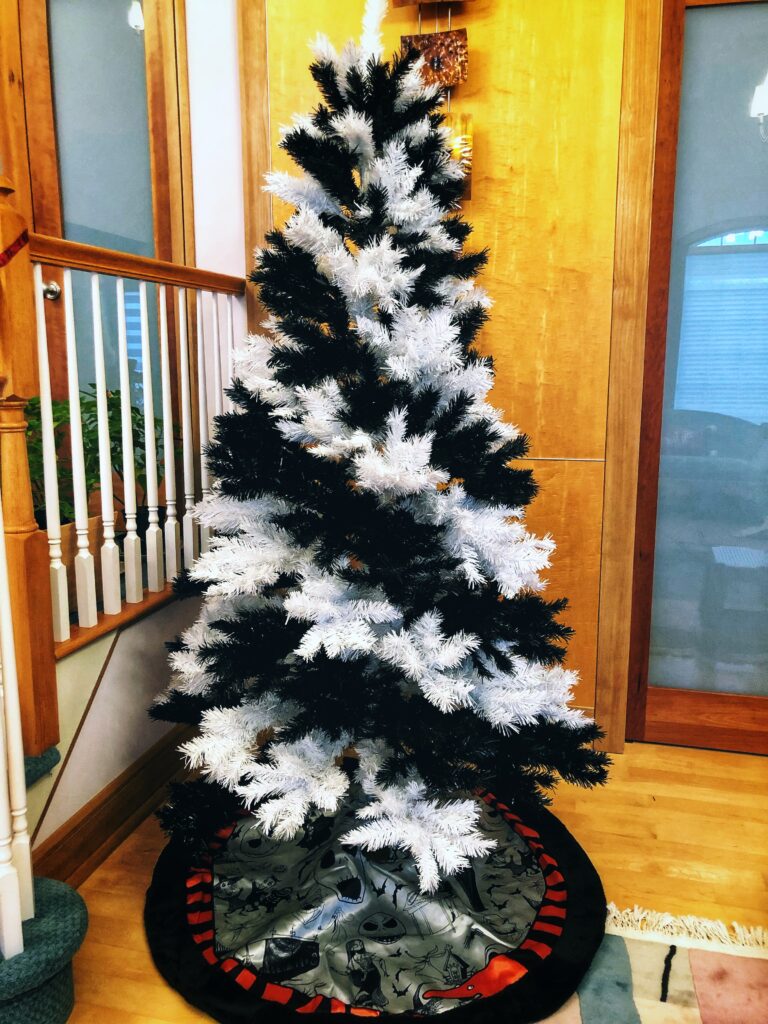 String Lights
After you have your Christmas tree, you can add some lights to it. I put purple lights on my black and white tree, along with some skull and sugar skull lights.
If you do not have lights you can still make your tree spooky. I never put lights on my small black tree and it would still turn out great.
Ornaments
Now comes the fun part, decorating the tree with a ton of Nightmare Before Christmas ornaments. I have collected a lot of ornaments over the years, including ones of all different characters from the movie.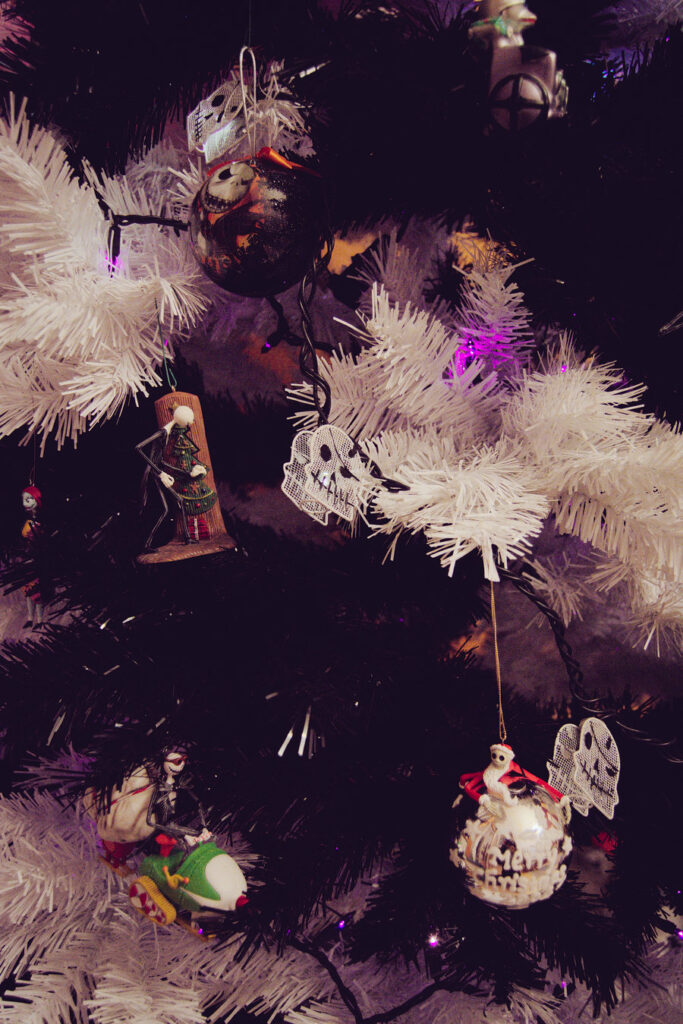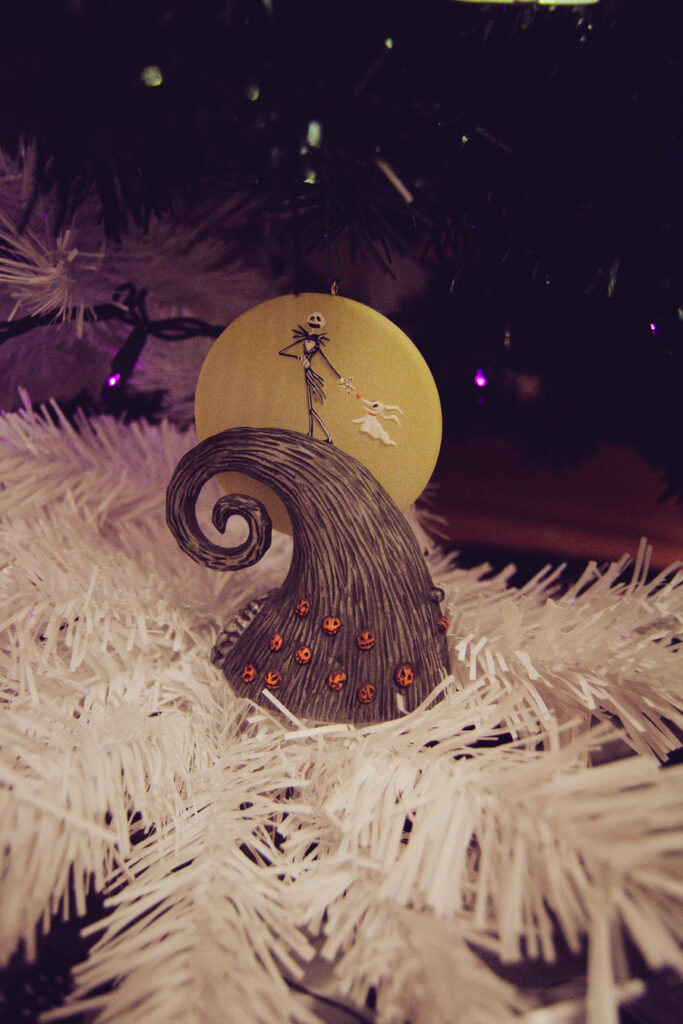 A lot of my character ornaments are from Hallmark. I have some Nightmare Before Christmas ball ornaments from the Disney store. There are also Jack Skellington ornaments from Walgreens on my tree. You can also find Nightmare Before Christmas ornaments at Amazon, Etsy, Target, and Hot Topic.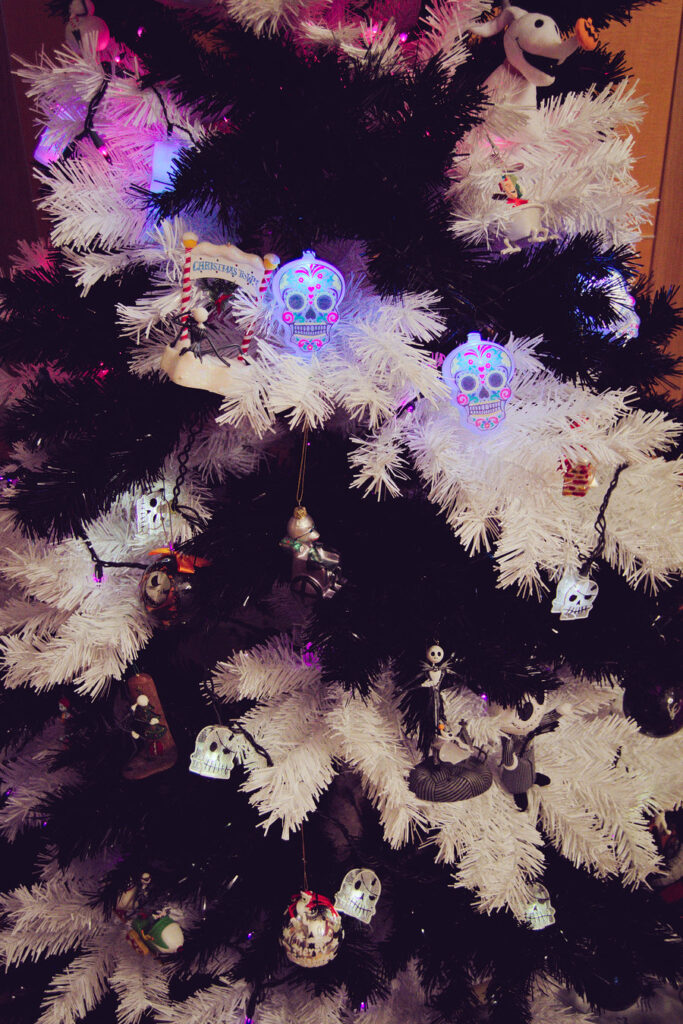 Other Accessories
Another item you can add to your Nightmare Before Christmas tree are little plush figures. I have these little plush figures of Jack and Zero that I just place on my tree. They usually stay on the branches nicely without hooking them on. I also have plush Jack faces that I hang from the tree as well. Figures like these are great if you do not have many ornaments or if you just want to add something different to your tree.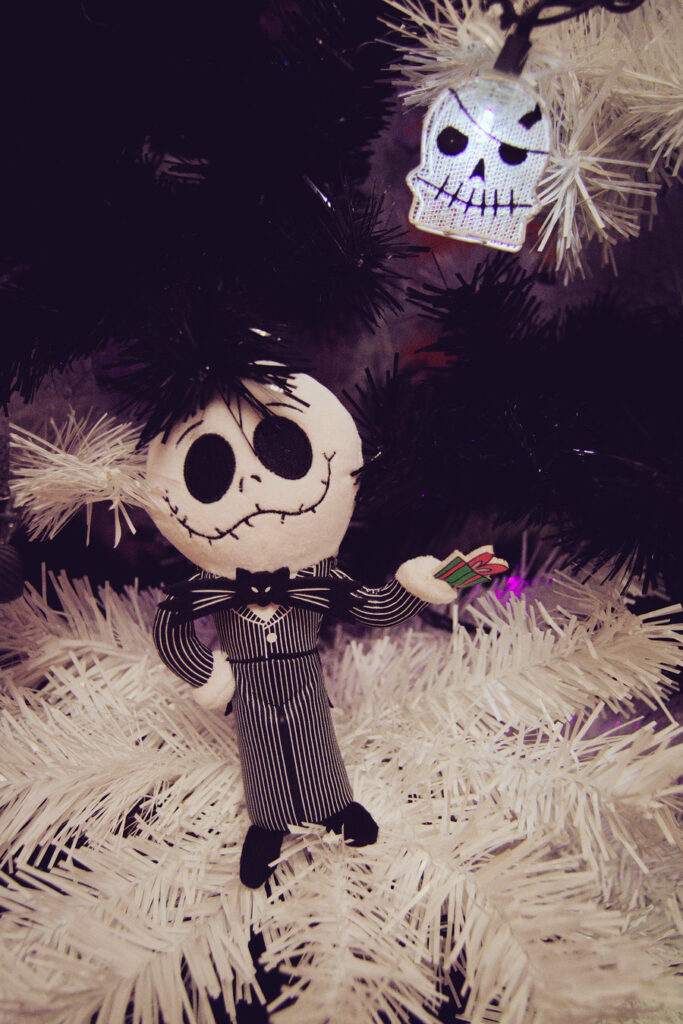 Tree Topper
Once your tree is all lit up and decorated, you need to top it off! I have not found an official Nightmare Before Christmas tree topper yet. Instead I got creative and used this Jack Skellington top hat as my tree topper. Other ways you could top your tree are by creating a bow or making a star or skull that will match the theme. You could also tie a Nightmare Before Christmas plush figure to the top.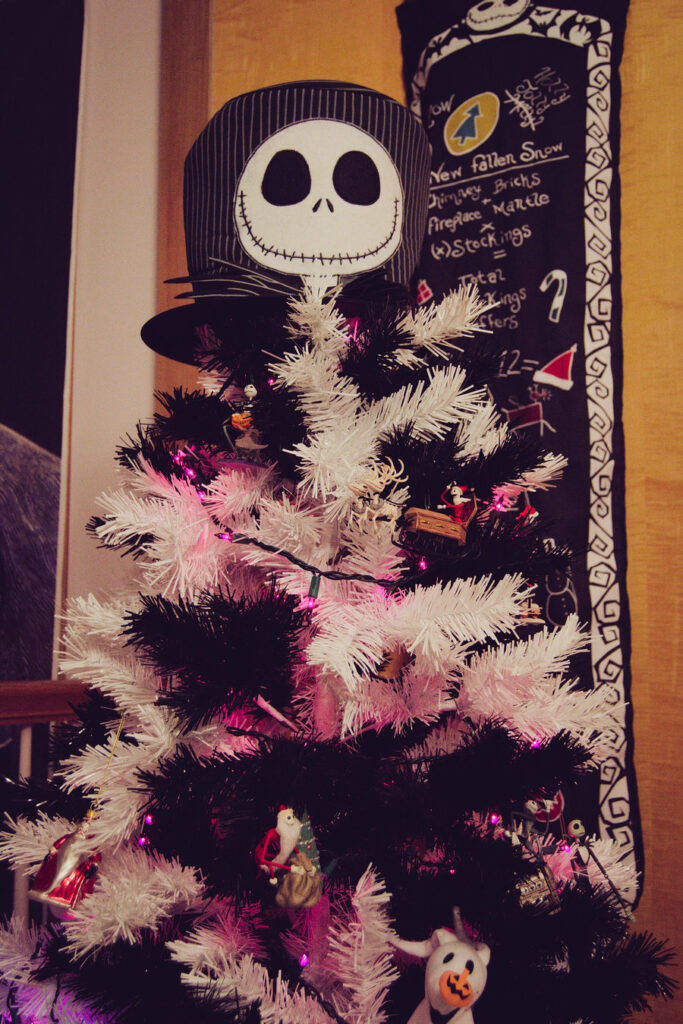 Tree Skirt
Your Nightmare Before Christmas tree would not be complete without a tree skirt. I purchased my tree skirt from Hot Topic last year and they have a different one available this year. You can also find some on Amazon, Etsy, and Box Lunch Gifts. If you are super crafty you could also make your own tree skirt!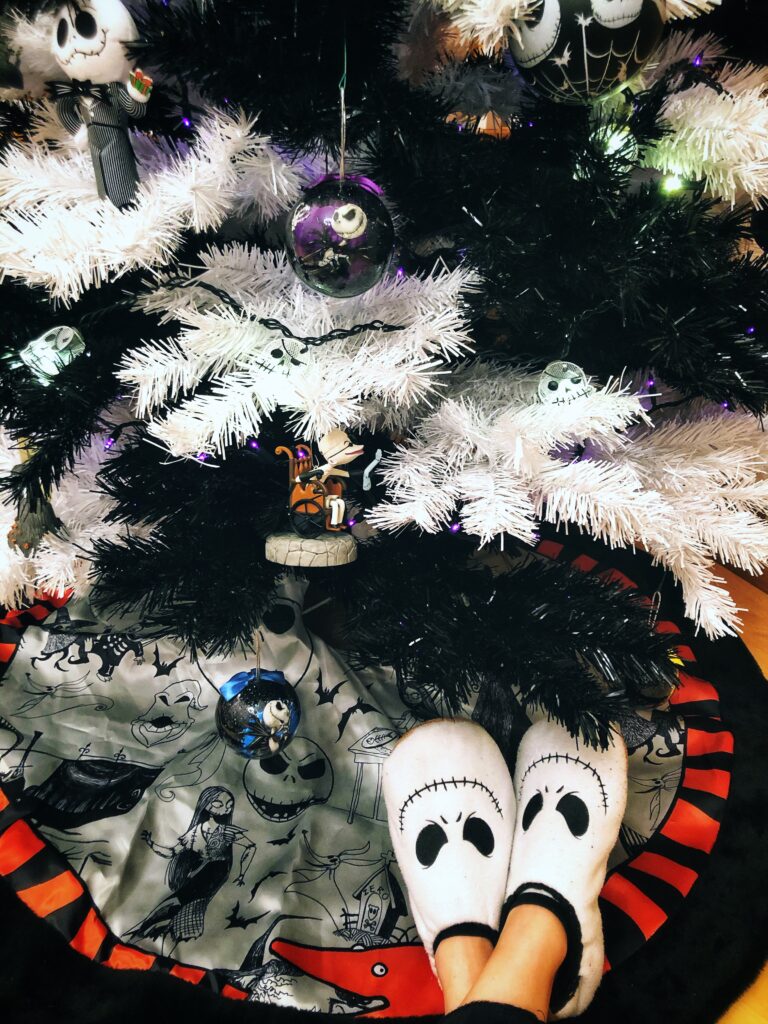 I hope you have enjoyed this post on how to create a Nightmare Before Christmas tree. I have a lot of fun decorating my tree every year and I love sharing tips on how to make your own. Hopefully I gave you some new ideas for you own tree!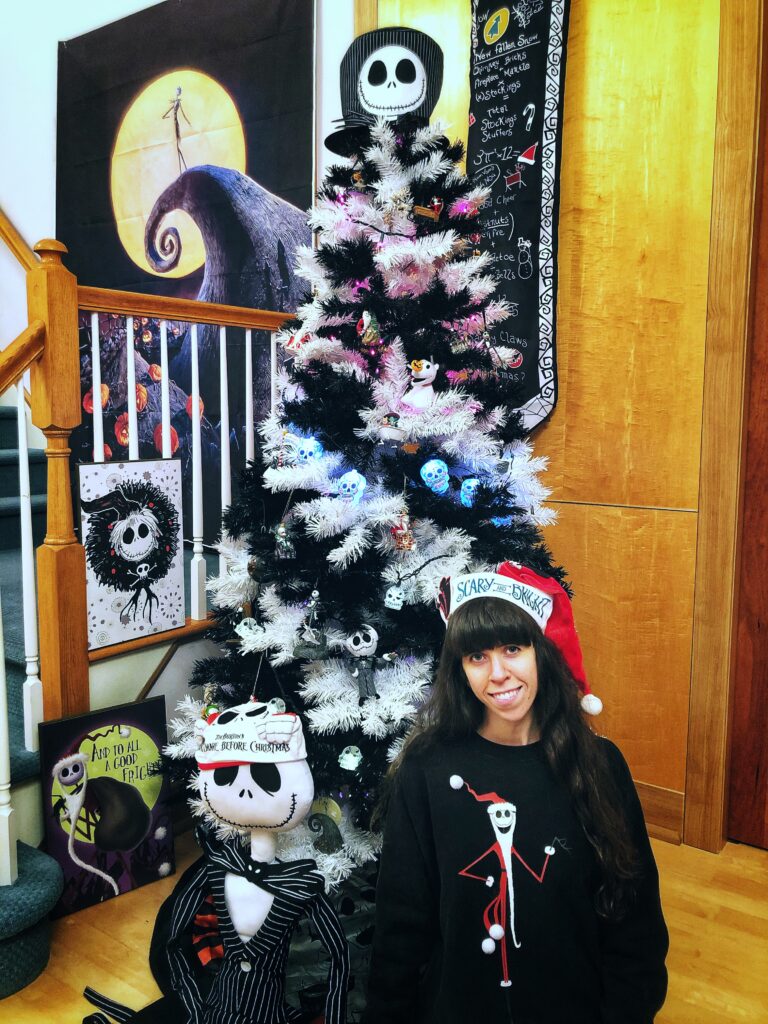 Merry Christmas to all and to all a Good Fright!
Stay Spooky!
-Caroline 🙂
Shop the Creepmas Collection!