Christmastime is here! For me this means decorating my Nightmare Before Christmas tree and hanging up all of the Sandy Claws decorations! To help you get into the Christmas or Creepmas spirit, I wanted to share 5 must have items you need for a spooky Creepmas!
Nightmare Before Christmas Advent Calendar
The first item you need to get into the spooky Christmas spirit is an Advent calendar. What is Christmas without counting down the days until Santa arrives?! My brother and I used to have Advent calendars every December when we were little.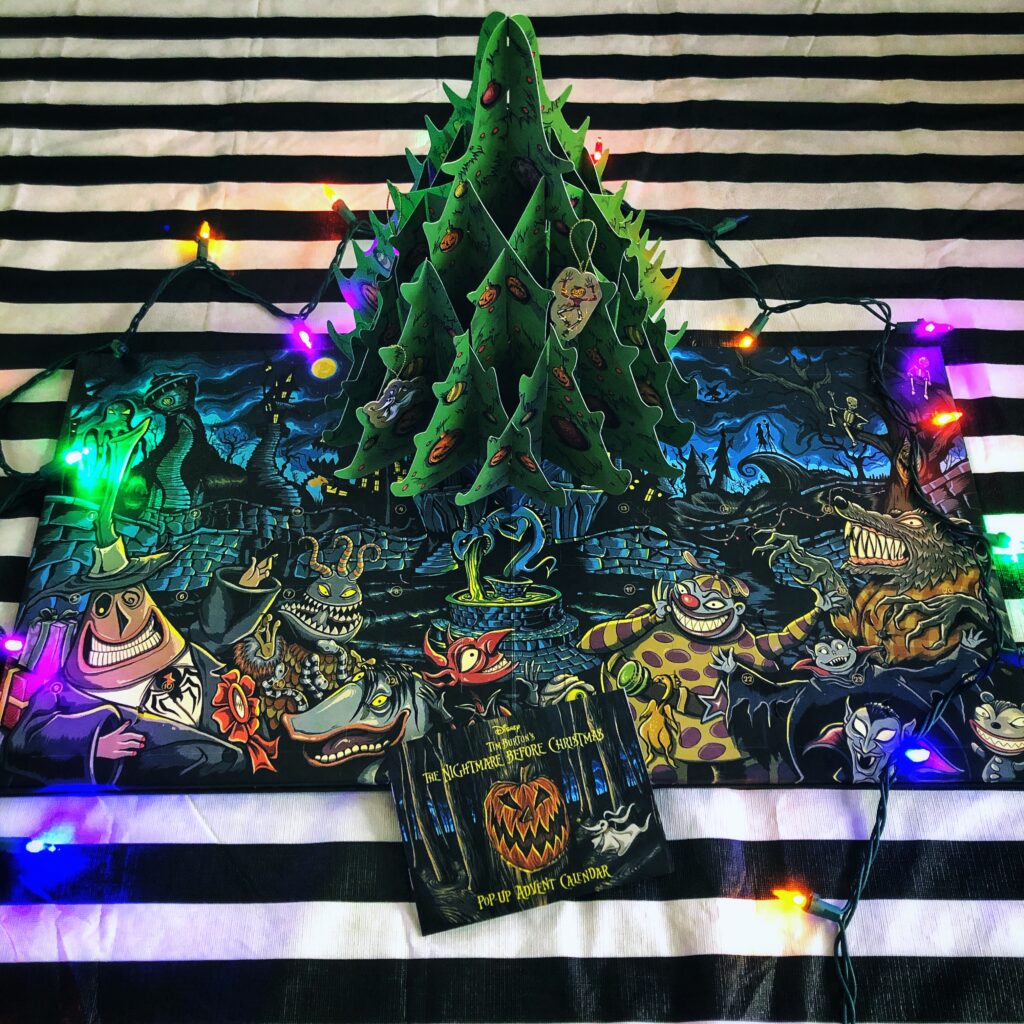 I have not had one in awhile, however my fiancé got me this Nightmare Before Christmas Pop Up Advent Calendar and it is awesome! This calendar looks like a book and when you open it a Christmas tree pops up! Every day when you open a square, there is a new ornament to put on the tree. You can purchase this calendar through Hot Topic, Amazon, or Target. There is also a booklet that comes with it.
Spooky Christmas Tree
For probably over 10 years now I have had a Nightmare Before Christmas black Christmas tree. I found a cute black Christmas tree at Borders when they still existed and every December I would decorate it with Nightmare Before Christmas ornaments. Years later I still decorate this tree, however I did get an upgrade last year.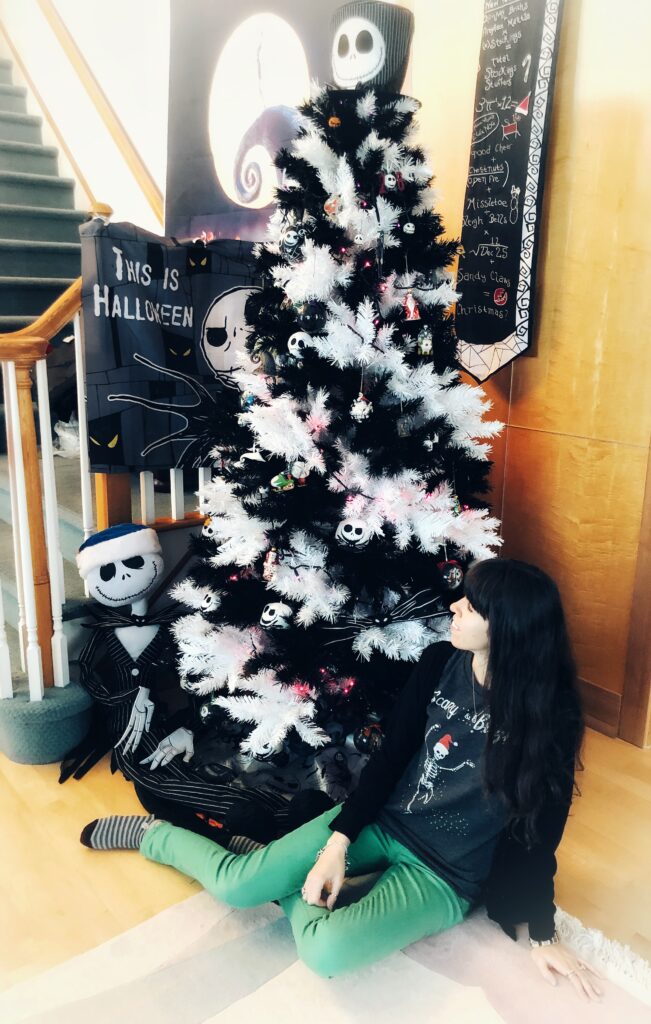 I got this black and white Christmas tree from Treetopia last year and it is amazing! This tree is still available this year too! It is the Zebra Striped Christmas Tree, 7 feet tall. It does not come with lights so I decorated it with purple ones. The tree comes in three separate parts and it is easy to assemble. If you are a Nightmare Before Christmas fan, a black and white tree like this or a smaller black tree is a great way to decorate for Christmas!
Creepmas Sweaters
The third must have item to make your Creepmas spooky, are sweaters and sweatshirts. A Christmas sweater is something everyone needs and if you love Halloween, why not wear a spooky Christmas sweater?!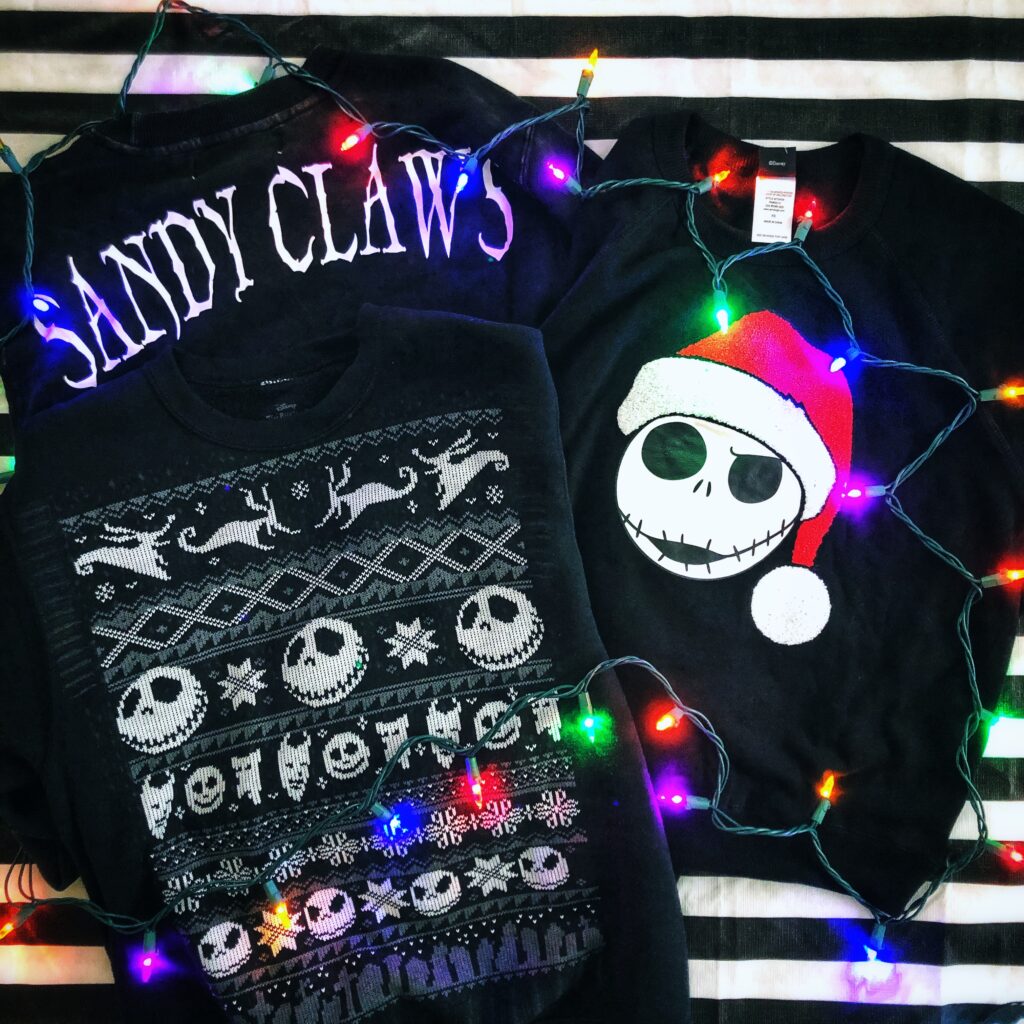 A few weeks ago my friend sent me a Nightmare Before Christmas sweater she saw at Target and I had to order it! I ended up ordering two Sandy Claws sweatshirts from Target and they are super fun and cozy!
You can also find Nightmare Before Christmas sweaters and sweatshirts at Hot Topic that are perfect for the Christmas season.
Scary and Bright Clothing
Along with spooky Christmas sweaters, you also need some Scary and Bright t-shirts and home decor! This December I released two new Creepmas designs to my shop that are perfect for any Halloween and Christmas lover!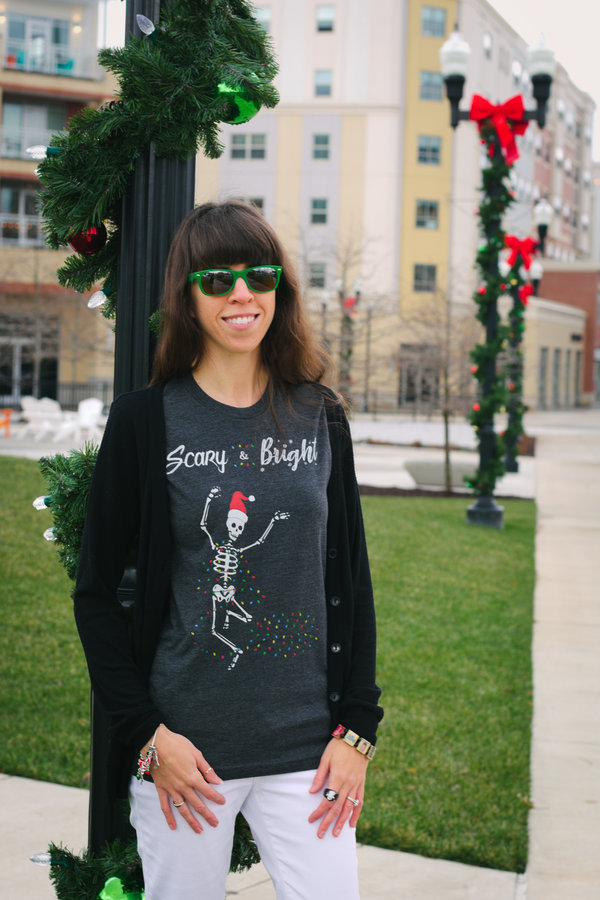 The Scary and Bright shirt from last December is still available along with two new Creepmas designs. The first design is a spooky Christmas wreath with The Poppy Skull logo and black and white candy canes.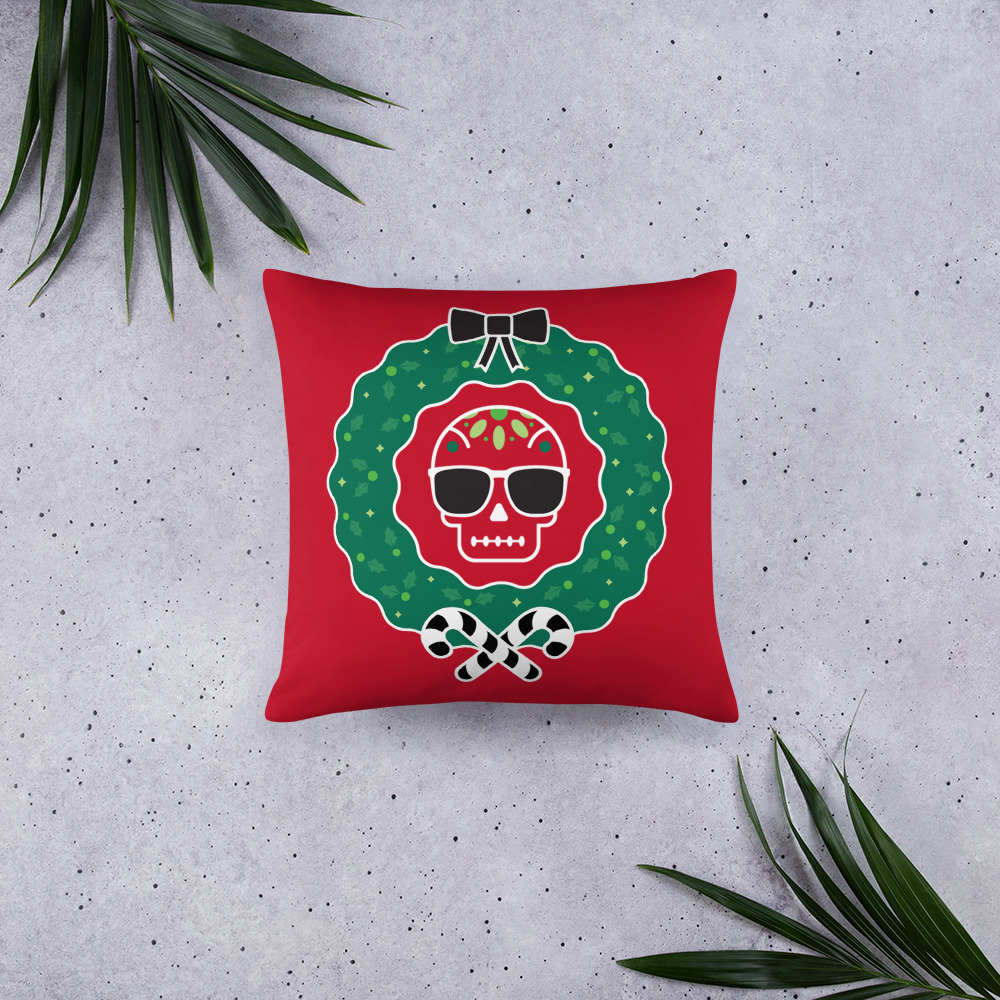 Creepmas Cheer is the second design which features dancing skeletons with Santa hands and candy canes. Both of these Creepmas designs can be purchased on unisex t-shirts, long sleeve shirts, and sweatshirts. They are also available on throw pillows too! You can shop them here!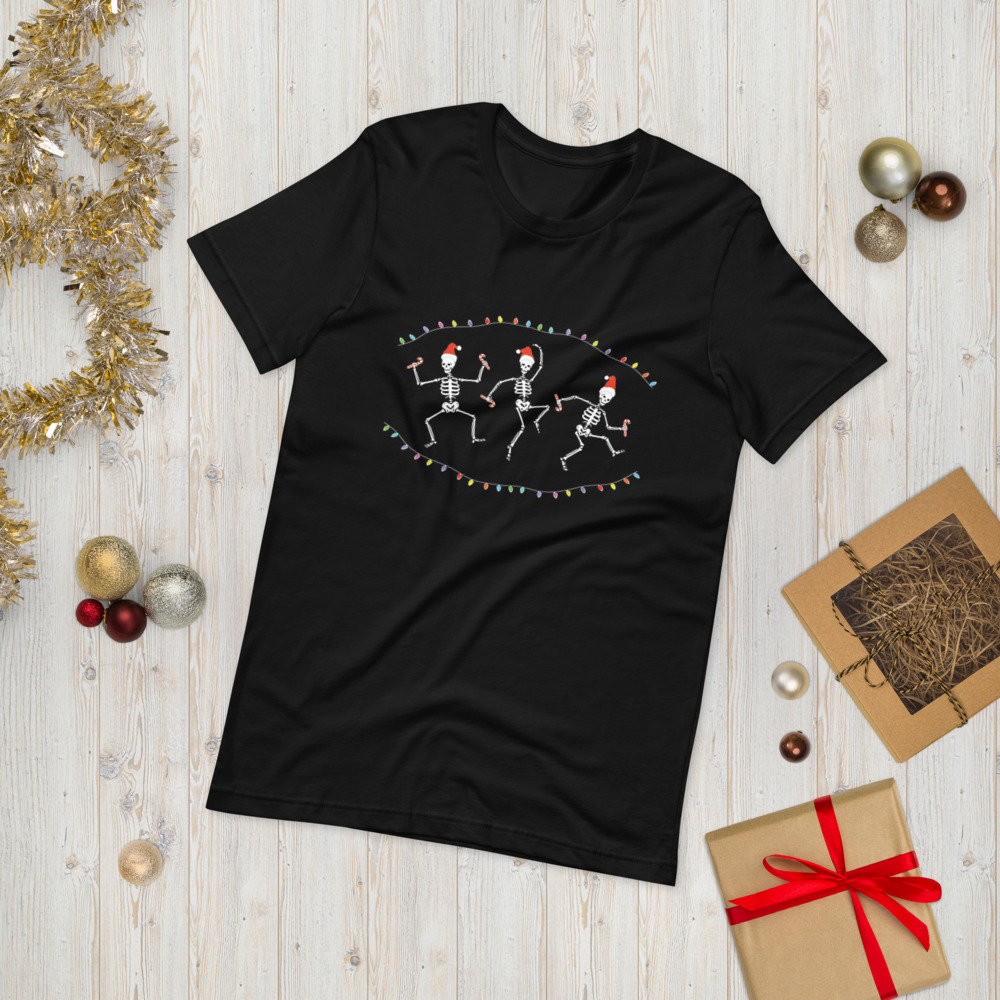 Nightmare Before Christmas Decorations
The last must have item you need to deck your halls for a Merry Creepmas are Nightmare Before Christmas decorations. Over the years I have collected a lot of Jack Skellington decorations. Some of my favorites include ornaments, stockings, garland, and a tree skirt.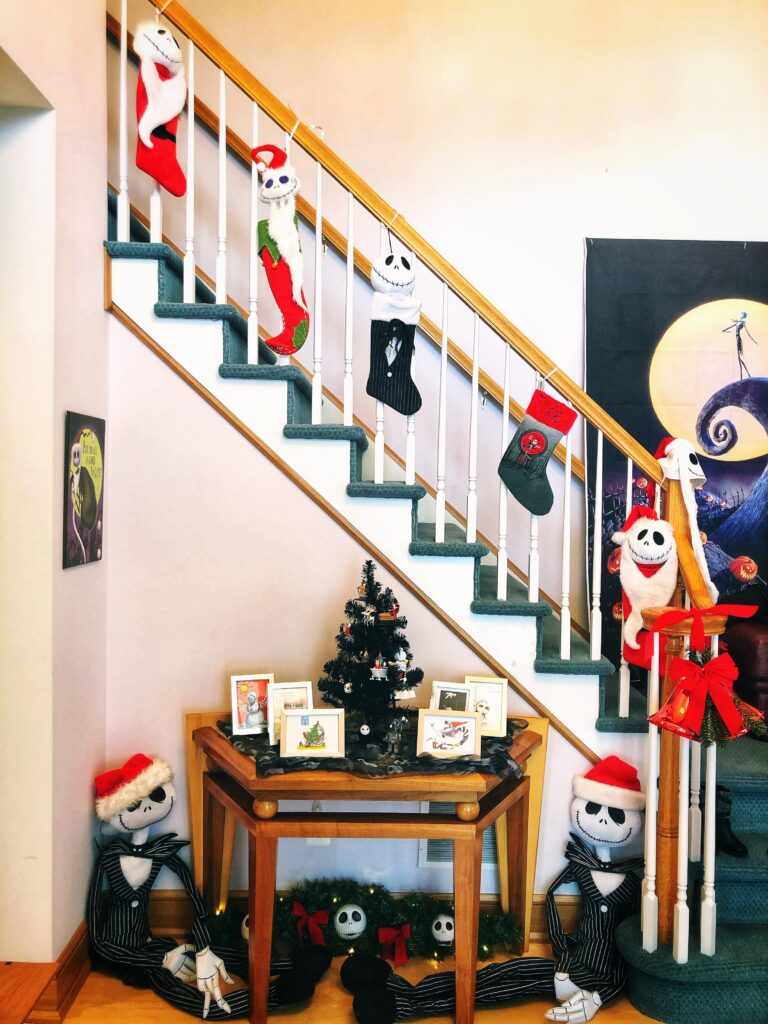 As a gift this year I received these awesome Nightmare Before Christmas ornaments from Hallmark that talk and sing! If you purchase Jack, Sally, Santa, and the plug, you can plug all of them in for a fun show! They talk and sing scenes from the movie which is super cool!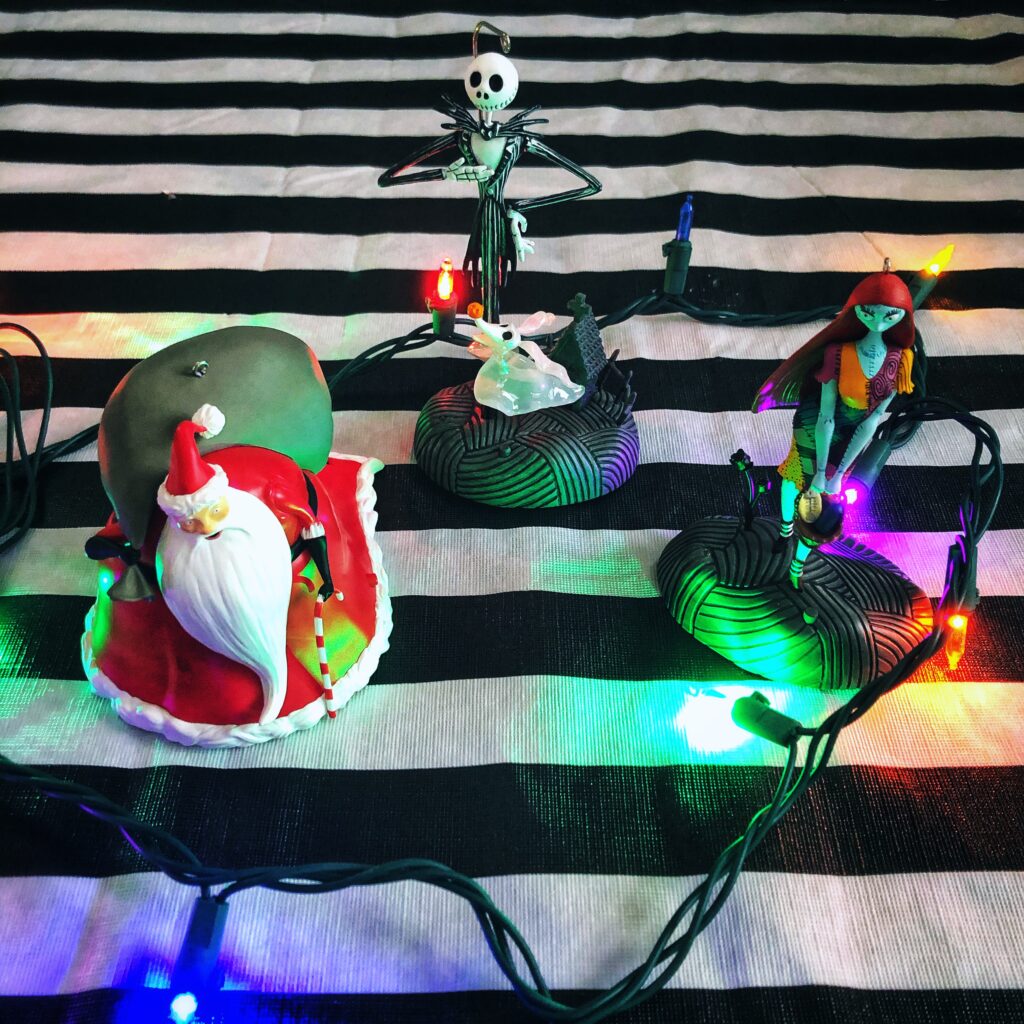 I also love hanging up my Nightmare Before Christmas stockings, garland, and putting the tree skirt under my black and white tree.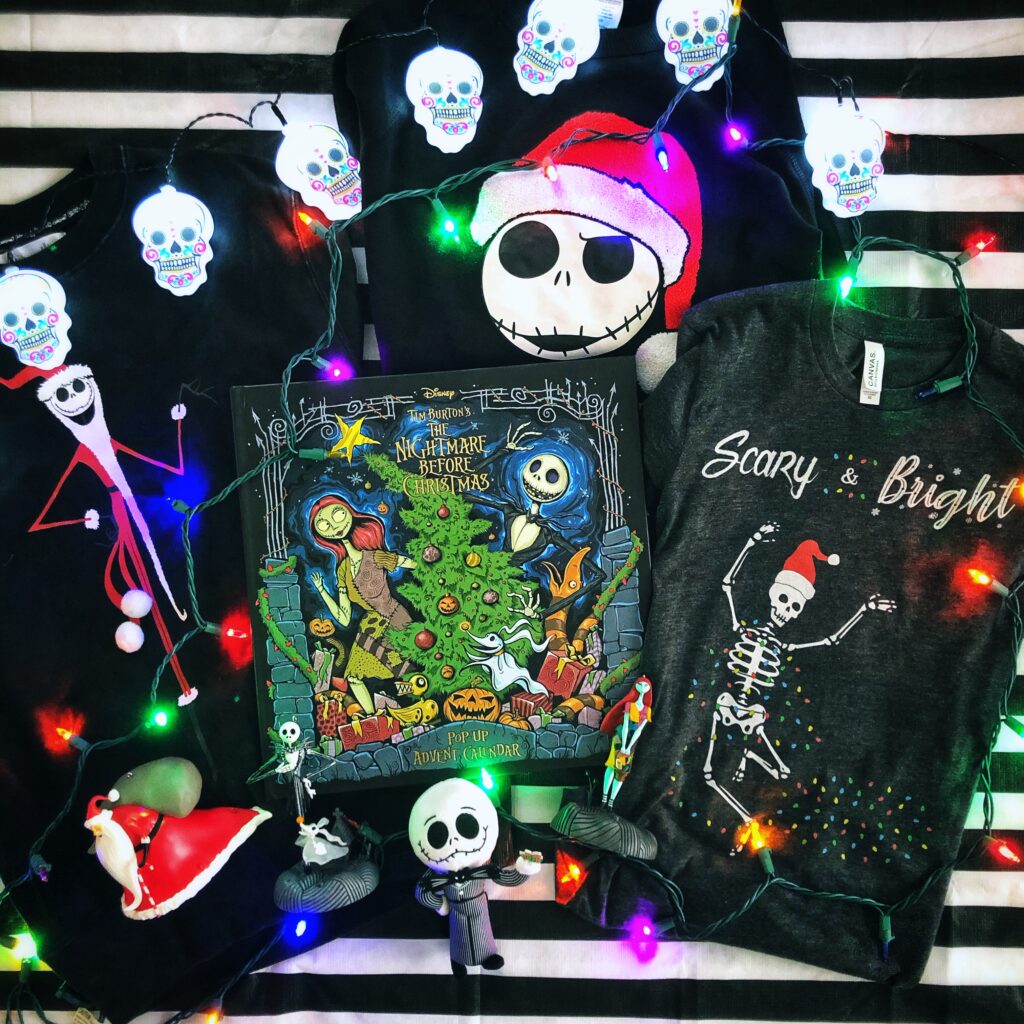 I hope you have enjoyed this Creepmas post and that it gives you some inspiration for you own Scary and Bright Christmas! Similar and exact items have been linked throughout this post to help you find what you are looking for.
Stay Spooky and don't forget to shop the Creepmas Collection!
-Caroline 🙂