For a while I had the idea of doing something neat with picture ledge shelves in our home. After researching these shelves and finding the perfect ones my husband hung two of them on the wall in our kitchen. We absolutely love how they turned out and I have been so excited to decorate them. Today for Blog-O-Ween Day 25 I am sharing our Spooky Picture Ledge Shelf.
Kitchen Wall
This wall in our kitchen definitely needed to be decorated however it is a tricky spot to decorate. We did not want to put a regular shelf on this wall since it would stick out too far. However, we wanted to be able to switch up the decor on the wall, which is where the picture ledge shelf comes in. A picture ledge shelf is perfect for displaying all kinds of items, framed photos, artwork, and even little trinkets.
At first I had purchased a couple of these shelves from T.J. Maxx, however they were difficult to hang and would not stay flush with the wall. We decided to try the picture ledges from Ikea and they ended up working great! They are easier to hang than the other ones I found and they stay flush with the wall. They also come with black stickers to cover up the screws after you have hung the ledge. The picture shelves from Ikea do not come with screws, you have to supply your own. 
Spooky Picture Ledge Shelves
Once Alex had these picture ledges on the wall I could not wait to decorate them! I had so many items I wanted to put on these shelves and ideas of how to display everything. I ended up keeping a black and white theme (no surprise there) on the ledges except for the Halloween Rules sign.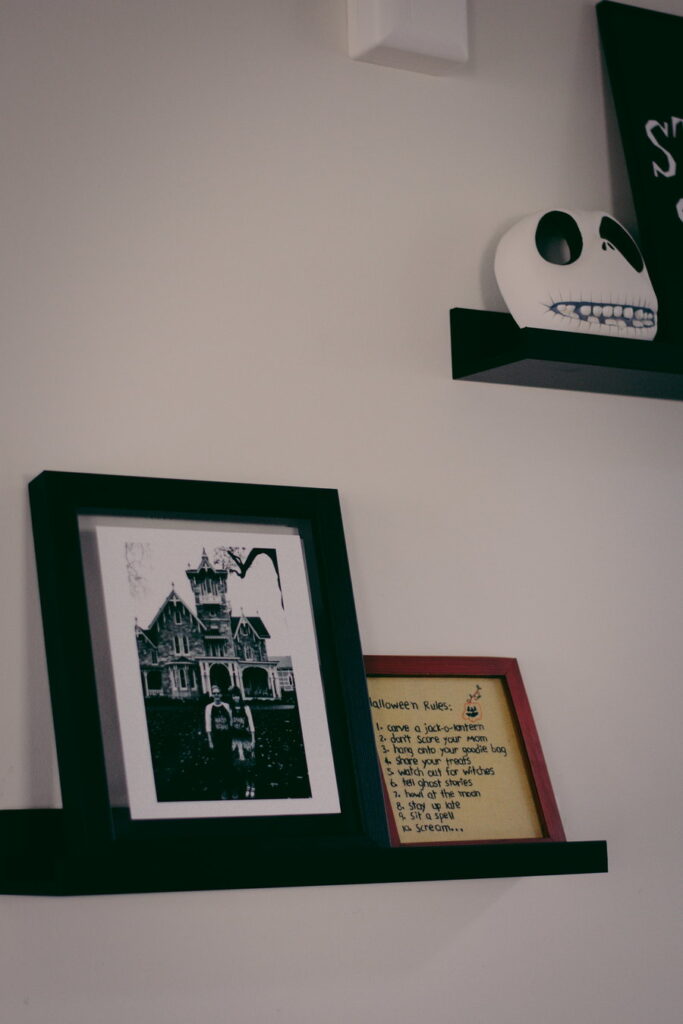 On the lower ledge I decided to display a picture my brother took of us on Halloween 2021, the day after our wedding. Next to that picture I have this super cute Halloween rules sign I got in a local store years ago.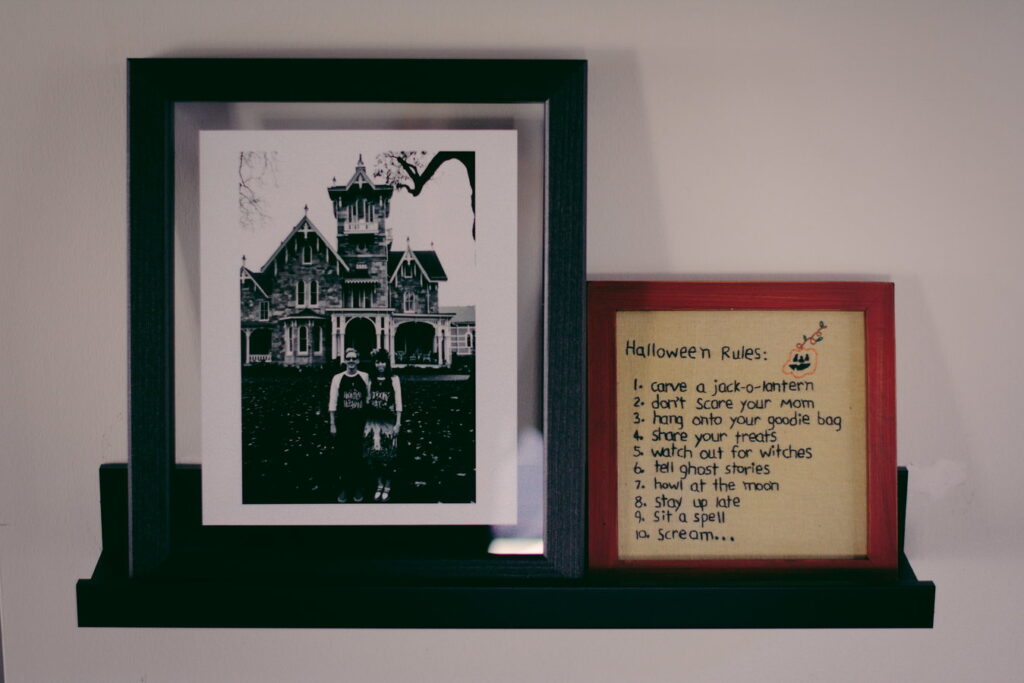 On the higher ledge I placed my Stay Spooky artwork from my Stay Spooky Collection, which you can check out here. I also displayed a ceramic Jack Skellington face next to the artwork.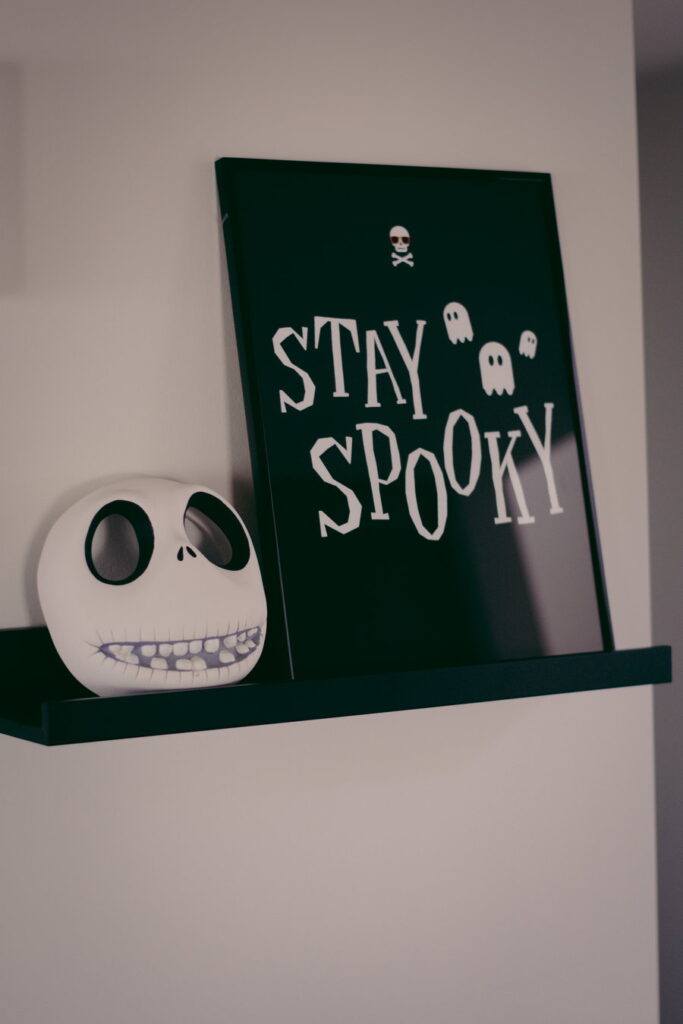 These picture ledge shelves from Ikea are also great because they have a groove in the middle of the ledge. This gives you the option of having your pictures rest in the middle groove or resting against the end of the ledge. The Ikea picture ledge shelves come in a variety of colors and sizes. We purchased extra ones so we can hang them in other areas of our home. 
I absolutely love how our Spooky Picture Ledge Shelves turned out and I am so excited to decorate these differently throughout each season. I am thinking of adding some artwork on the walls next to each shelf but I have not quite figured out which pictures to hang up.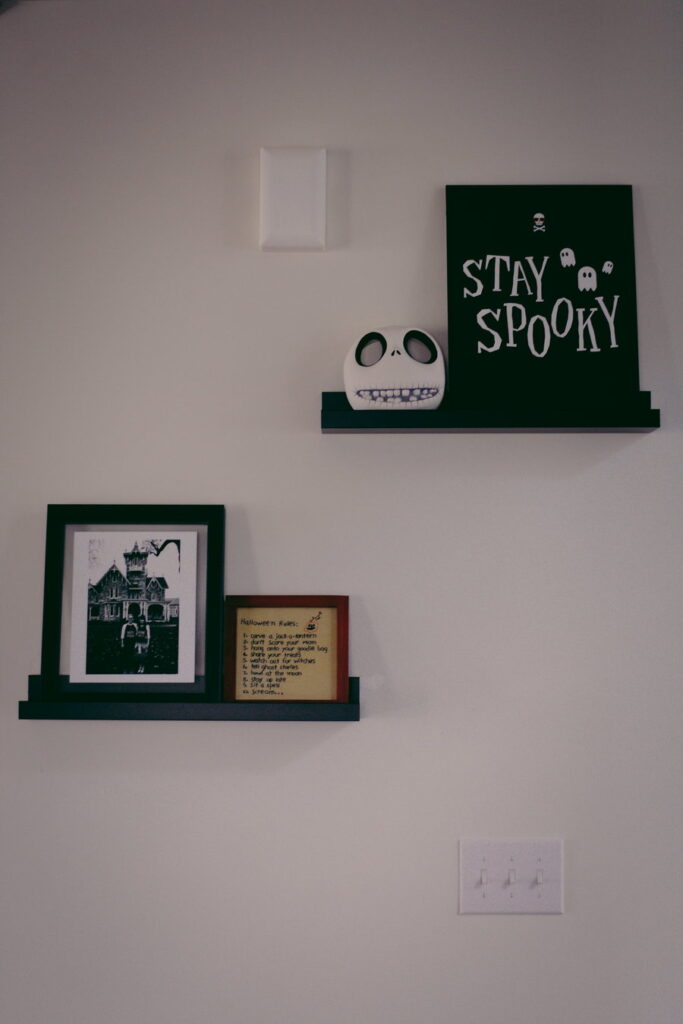 If you have been thinking about hanging these in your home I would definitely recommend doing so. I would especially recommend the Ikea ones because they are easy to install and not overpriced. I hope you have enjoyed Blog-O-Ween Day 25 and seeing our Spooky Picture Ledge Shelf.
Stay Spooky!
-Caroline 🙂
Check out some of the other Blog-O-Ween posts:
Shop my Stay Spooky Collection here!