After getting married on October 30, 2021 Alex and I took a spooky mini-honeymoon to Salem, Massachusetts. We arrived in Salem on Thursday, November 4th and left on Tuesday, November 9, 2021. We had the most amazing time and I wanted to share what we did on our fourth full day! If you missed my first post in this Honeymoon in Salem series, Day 1, make sure to read that one too.
The Ugly Mug Diner
Our fourth and final day of our haunted honeymoon in Salem started with brunch at The Ugly Mug Diner. We were not able to get a table on Saturday, however Monday was much less crowded. Breakfast was delicious! We both got mimosas and I ordered French toast. We sat at a table in the window and were able to enjoy our breakfast while seeing everyone walk around Salem.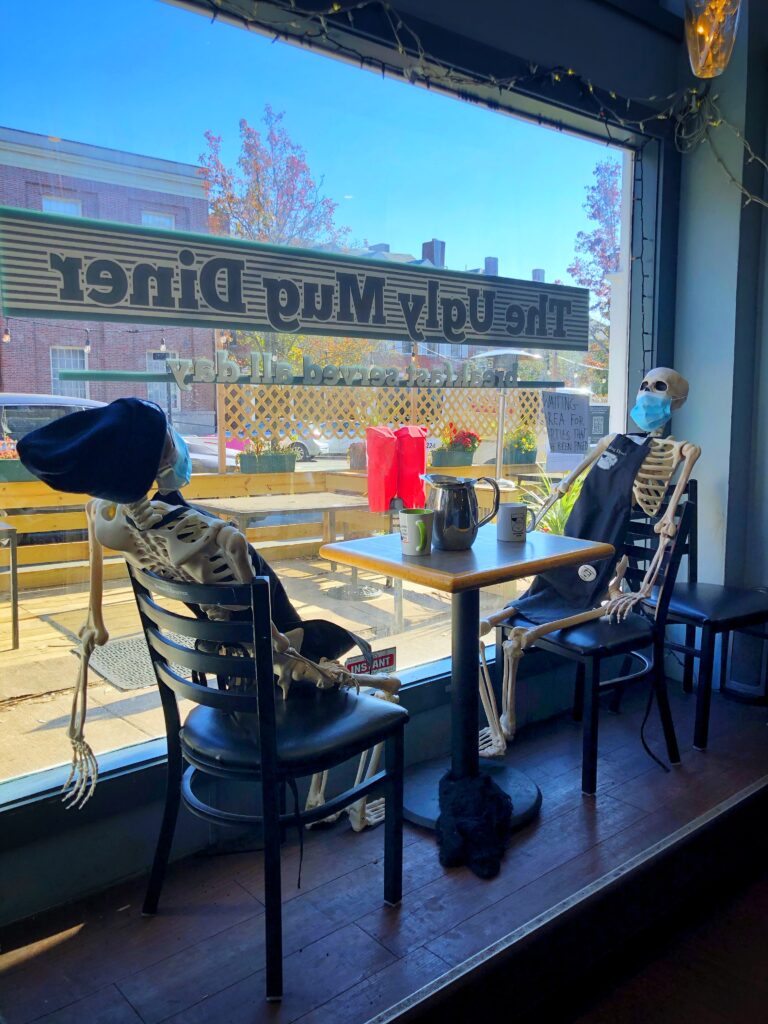 Salem Shopping
We did not have any tours planned on our last day and instead wanted to have time to explore anything we might have missed. After having breakfast we walked all around the pedestrian mall area, including any side streets. We came across Rusty & Ingrid, a screen printing shop. They sell screen printed art of places in Salem. Alex and I both thought these would be a cool souvenir to display in our home. We purchased three prints, one of the House of the Seven Gables, The Witch House, and the Witch Museum.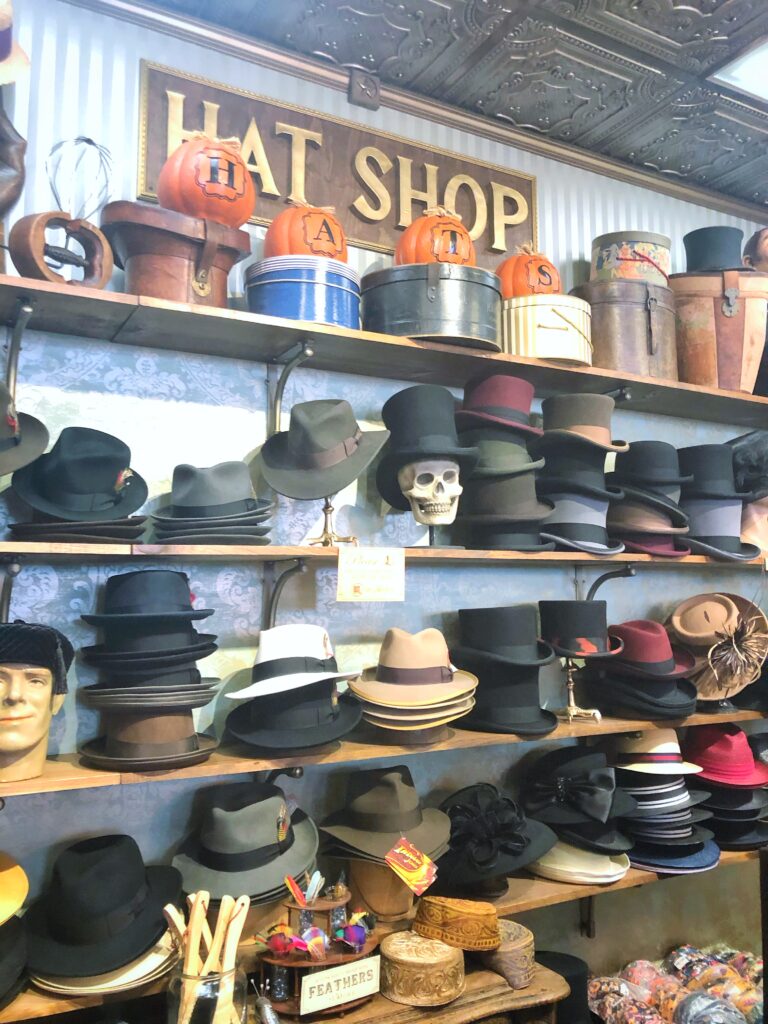 We also checked out Emporium 32 which has a hat shop in the back of the store. There are so many neat shops in the Essex Street Pedestrian Mall, you can definitely spend a whole afternoon shopping in all of them.
Pickering Wharf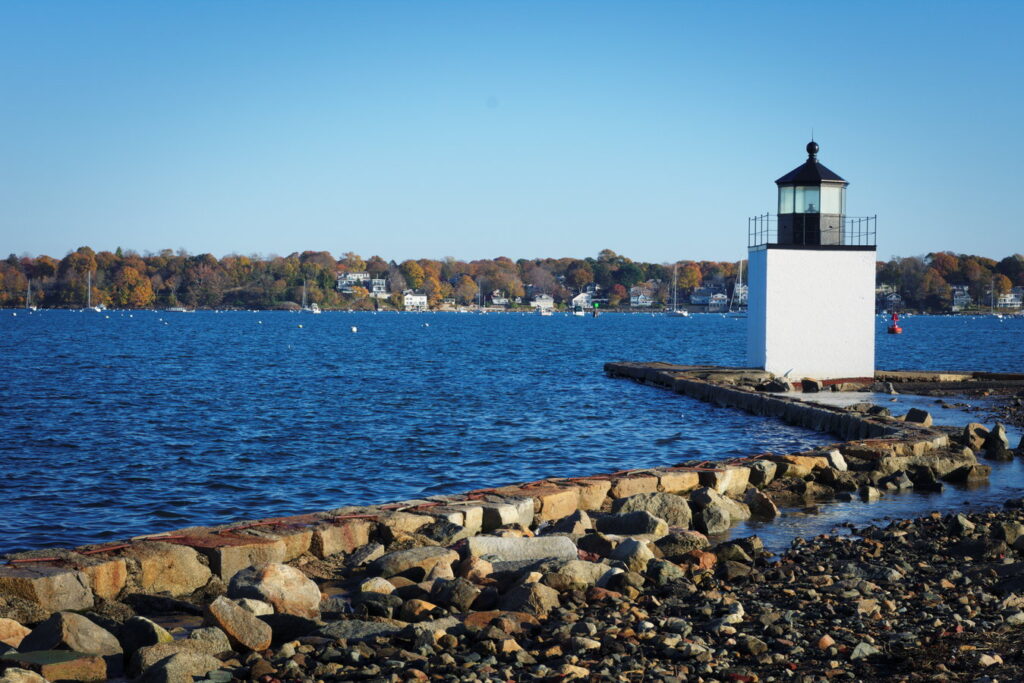 After shopping around for awhile we made our way back to Pickering Wharf. We went into the Wolf Next Door coffee and got some hot lattes. Next we walked all the way down to the lighthouse at Pickering Wharf. Since the tide was low, we were able to walk to the end point. It was a beautiful view and we were able to see across the water to the town of Marble Head.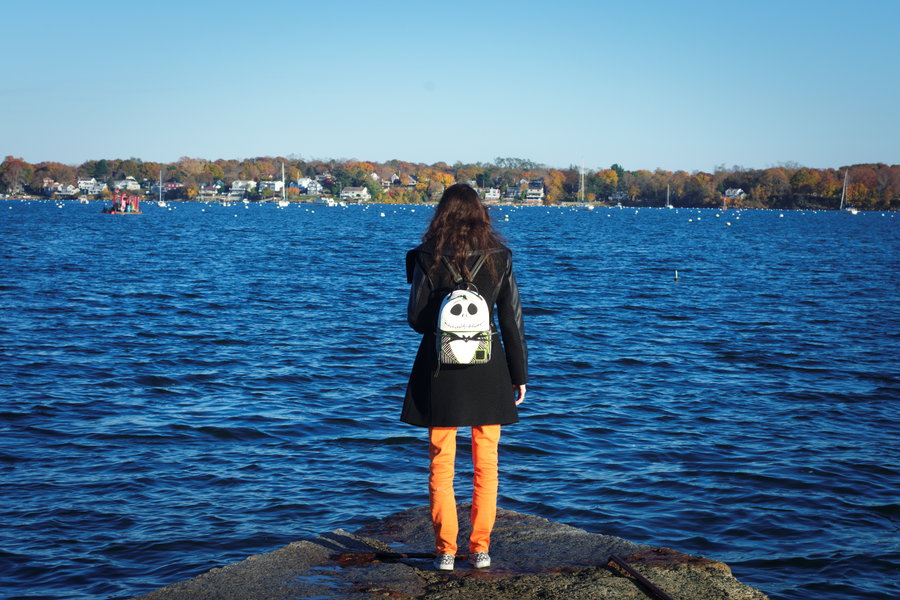 Salem Commons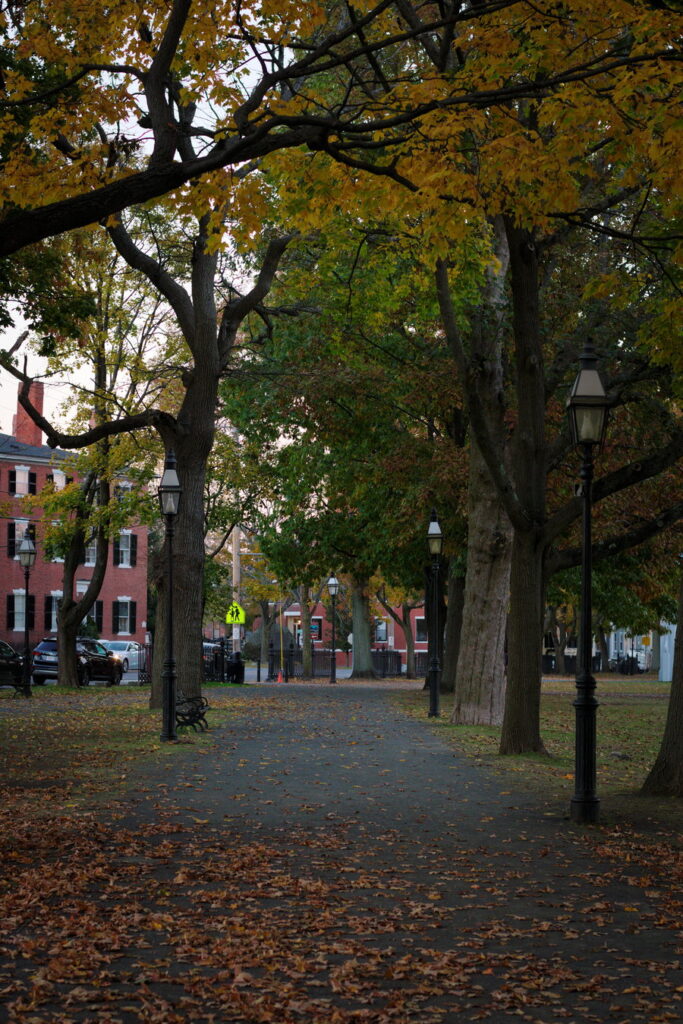 After wandering around this area for a bit, we made our way to the Salem Commons right near the Hawthorne Hotel. It was a perfect fall day to hang out at the Salem Commons. We strolled around and took some pictures, just enjoying our time there.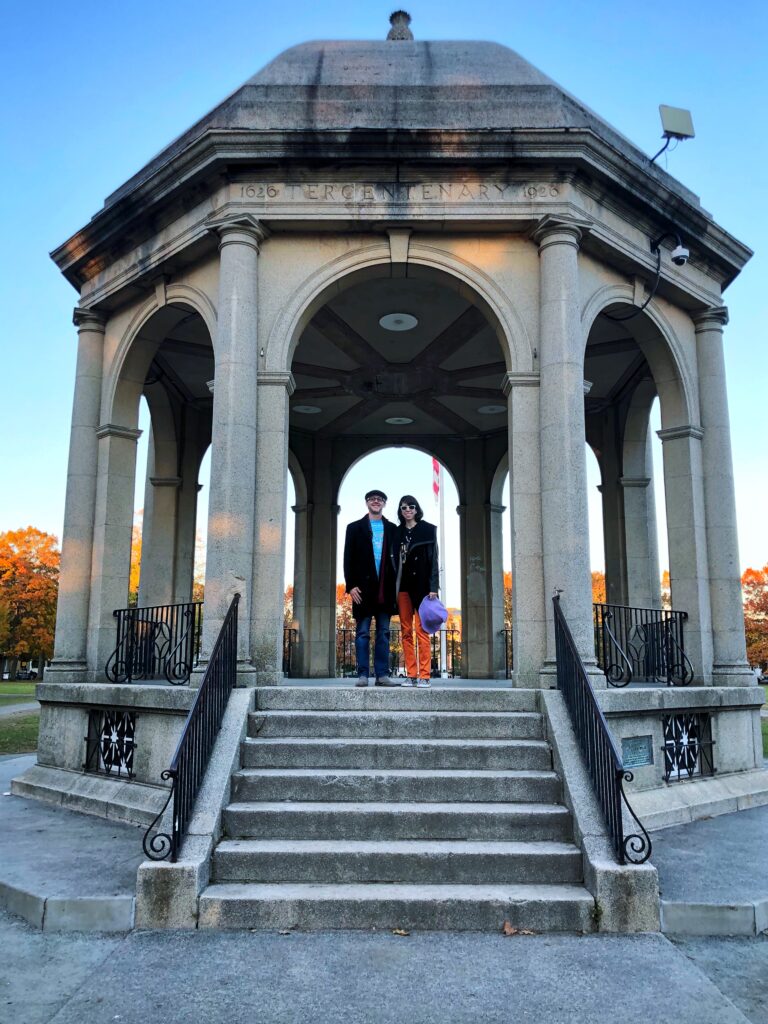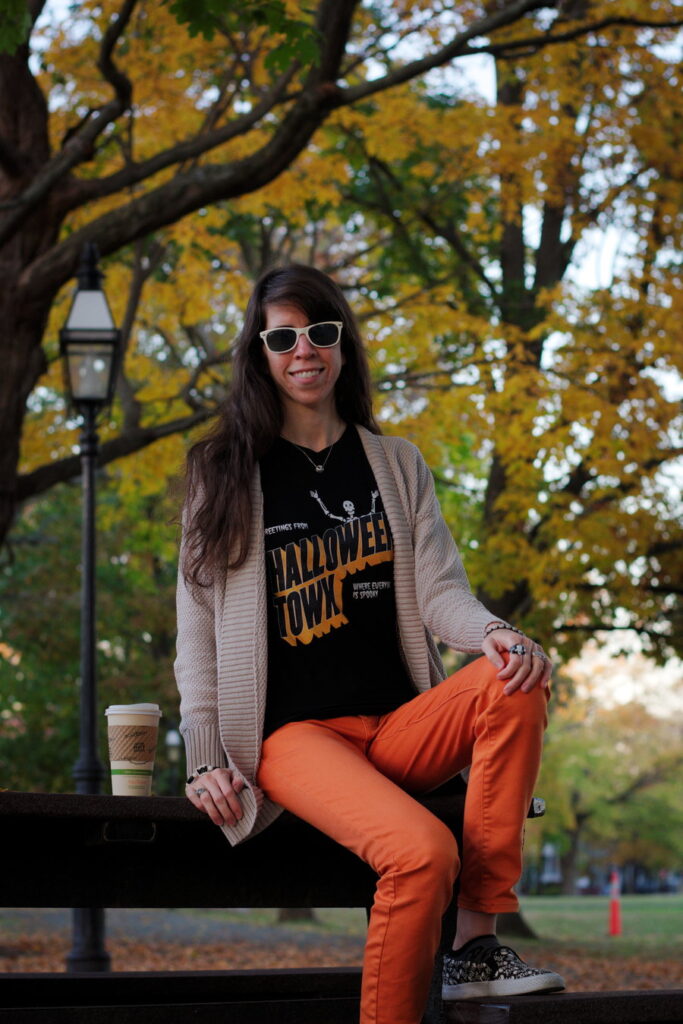 (Shop my Halloween Town shirt here!)
Old Burying Point/Charter Street Cemetery
Alex and I also explored the Old Burying Point Cemetery, which is also known as the Charter Street Cemetery. This is one of the oldest cemeteries in Salem and it has ties to the Salem Witch Trials. We wandered around the cemetery at dusk. Some of the tombstones had been there for so long it was hard to read the engravings. Along the outside of the cemetery you will find the memorial to the Salem Witch Trials. There are twenty engraved benches at this memorial, one for each victim. Each bench has engraving of the person's name, way they were executed, and date of their death.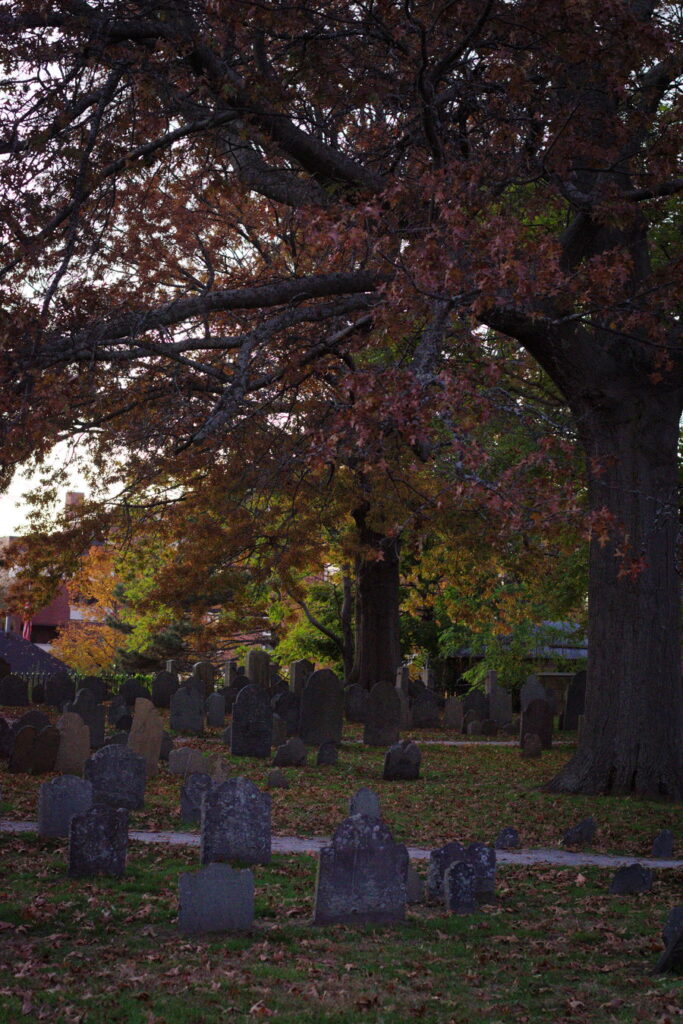 Far From The Tree Cider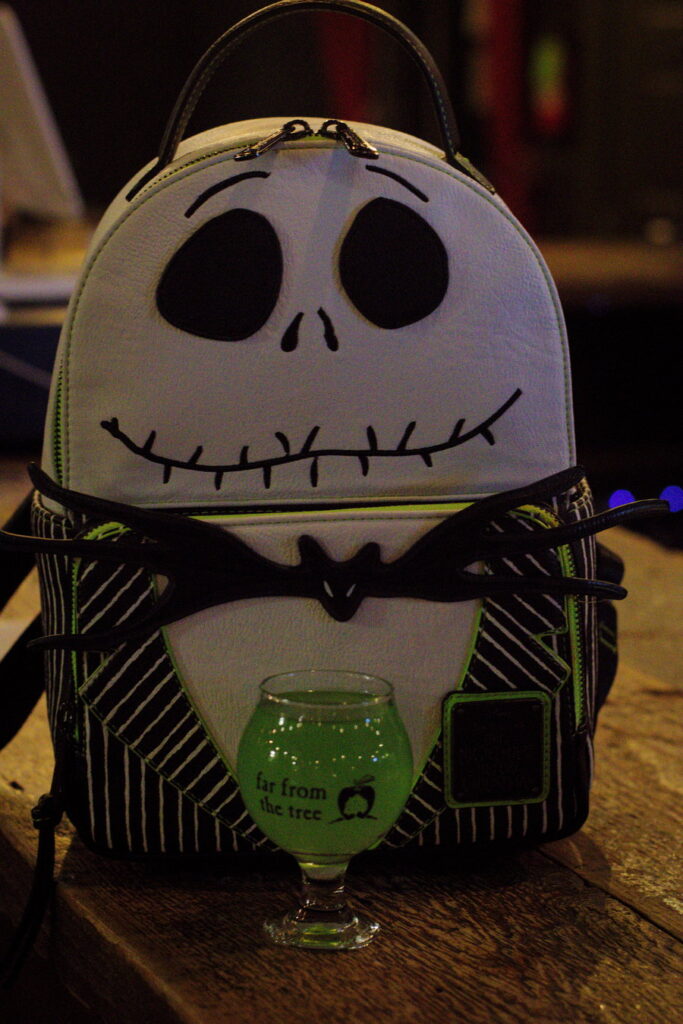 After enjoying the Salem Commons we decided to walk to the Far From Tree Cider brewery. This was about a 20 minute walk from the Hawthorne Hotel. Sometimes you have to walk along the street because it is not directly in the downtown pedestrian mall area, so just be careful if you are walking. There were not many people at the brewery on Monday night, which made it nice and quiet. The bartenders were friendly and fun to talk to. Far From The Tree Cider had about seven ciders on tab. Alex and I each got a flight so we could try all of the ciders plus double up on one of them. They were all delicious and we purchased a few cans to take home.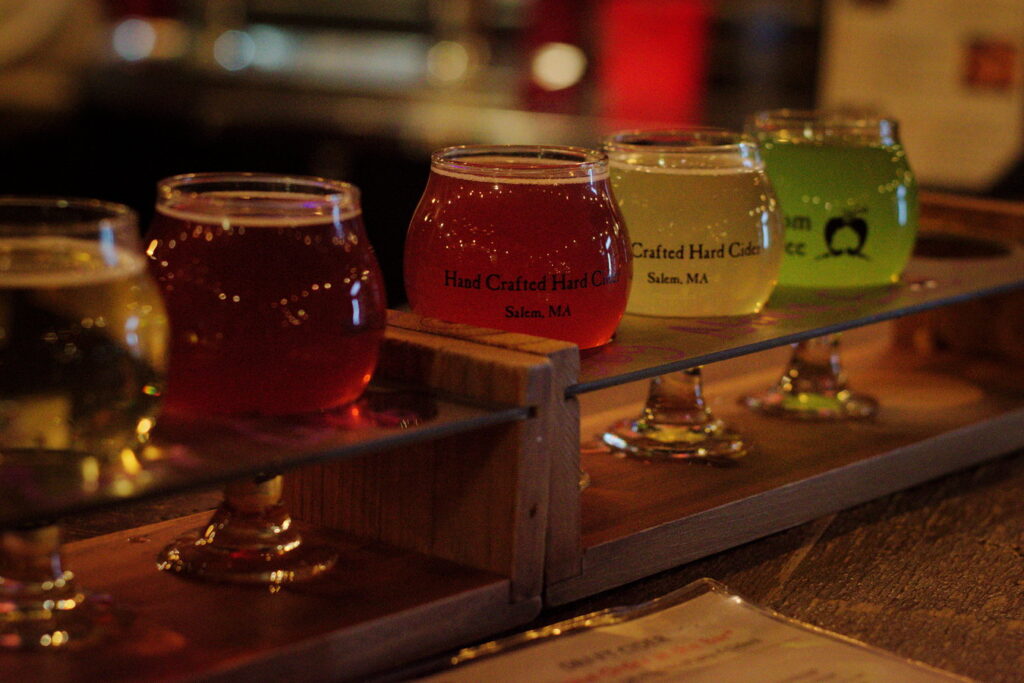 Notch Brewery
Once we were done at the cidery, we walked to Notch Brewery. This is a German beer brewery and they do not offer flights only glasses. We each got a beer and sat in one of their back rooms. Notch was not crowded which was nice, and we enjoyed hanging out and drinking our beer there. 
The Tavern
After we were finished at Notch we walked back to the Hawthorne Hotel for dinner at The Tavern. I ordered the fall tofu warp and it was delicious! Alex and I loved every meal we had at this restaurant during our haunted Salem honeymoon. After our late dinner we decided to call it a night and get some rest to drive home the next day. 
Salem was such a wonderful and dream-like fall place. The weather was perfect when we were there and everything was so spooky. I think about this trip and how special it was everyday. We loved it so much we are planning on going back this November! 
I hope you have enjoyed Blog-O-Ween Day 6 and reading all about our haunted Salem honeymoon. I hope it has been informative if you are planning a trip to Salem, which I would definitely recommend doing. 
Stay Spooky!


-Caroline 🙂
Make sure to check out my other Salem and Blog-O-Ween posts:
Spooky Honeymoon In Salem- Day 2
Blog-O-Ween Day 3- Spooky Honeymoon In Salem Day 3