For a few months I have been brainstorming ideas of what to put on a wall in our family room. After some research I stumbled upon the Eket Wall Mounted Cabinet Combination from Ikea and loved how it looked. We ended up purchasing it for our house and Alex put it all together last month. Today for Blog-O-Ween Day Four I am going to show you how I decorated my Eket Cube Wall for Halloween! 
I originally came across this Eket Wall Mounted Cabinet Combination but some of the cubes were too deep for our wall. However, there is an Eket planner on the Ikea website where you can customize and create your own wall cabinet system. The Eket cubes come in a variety of colors and sizes. By using the online planner I was able to create the layout we originally wanted by using smaller cubes that would fit our wall.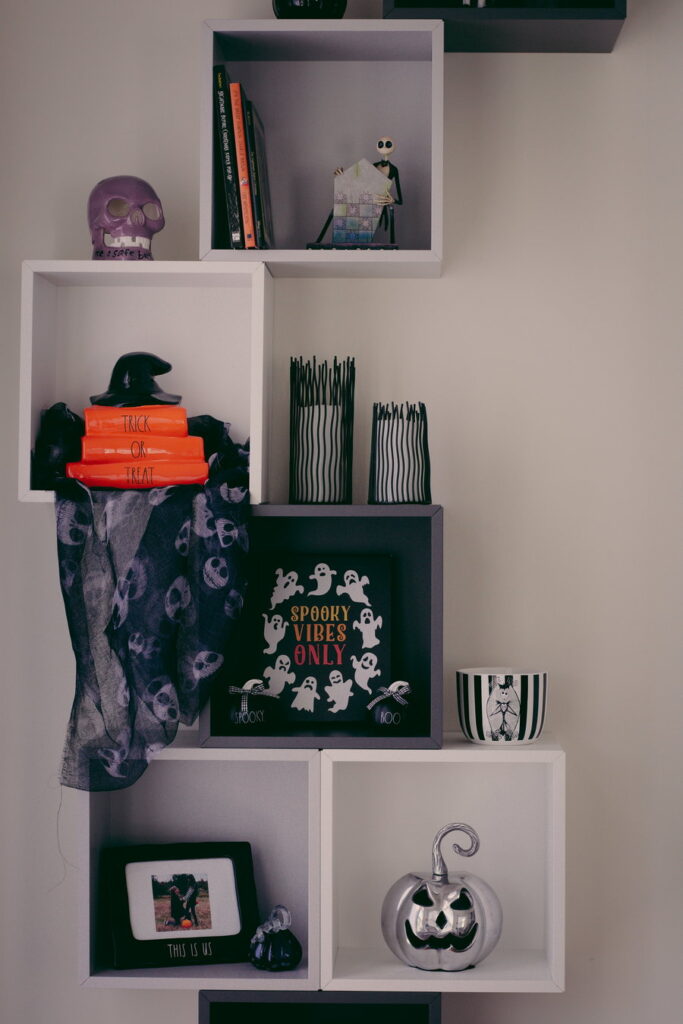 After going through the process of purchasing, putting all seven cubes together, hanging them on the wall, and cleaning them off, it was time to decorate! When I was figuring out what decorations to use, I decided to stick with a specific color scheme. The colors I focused on are gray, black, and white, with pops of orange and purple. I also wanted to include different objects, not just all pumpkins or skulls. 
Top Three Eket Cubes
Starting at the top of my Halloween Eket Cube Wall, I needed decorations that were tall enough so they could be seen from below. I chose this skeleton bride and groom that was a decoration at my bridal shower last year. I added a skull I painted and a black glass pumpkin to the tops of the cubes to add some dimension.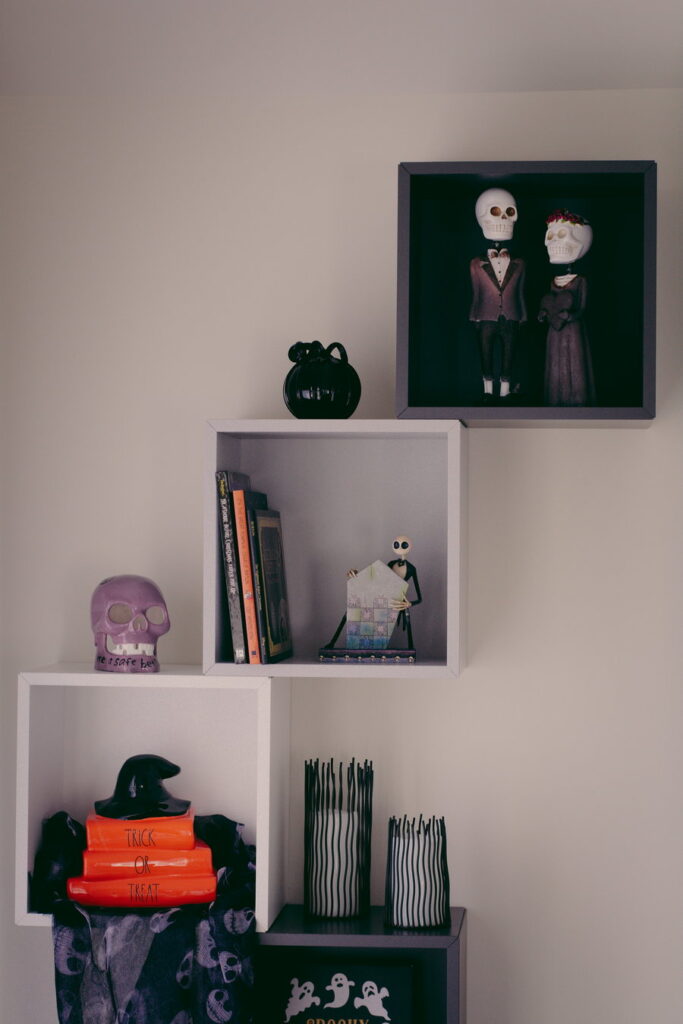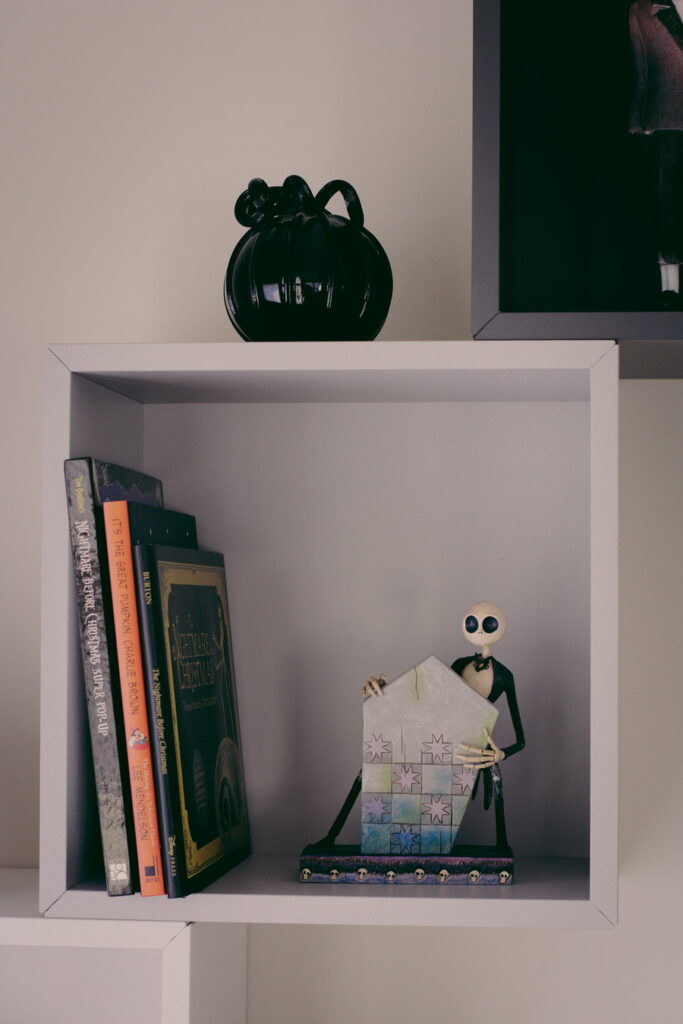 Inside of the light gray cube I thought it would be neat to display a few Halloween books. To complete this cube I added a Jack Skellington from Jim Shore's collection. Inside the white cube I added texture with a Jack Skellington cheesecloth. The cheesecloth made the shelf look extra spooky. I also displayed a new Rae Dunn Halloween Trick or Treat decoration I got this year. 
Middle Eket Cube 
Inside the middle dark gray cube I displayed a "Spooky Vibes Only" sign along with two little Rae Dunn pumpkins. I added a Nightmare Before Christmas vase outside the cube. On top of the light gray cube I placed two spooky candle holders with led candles in them.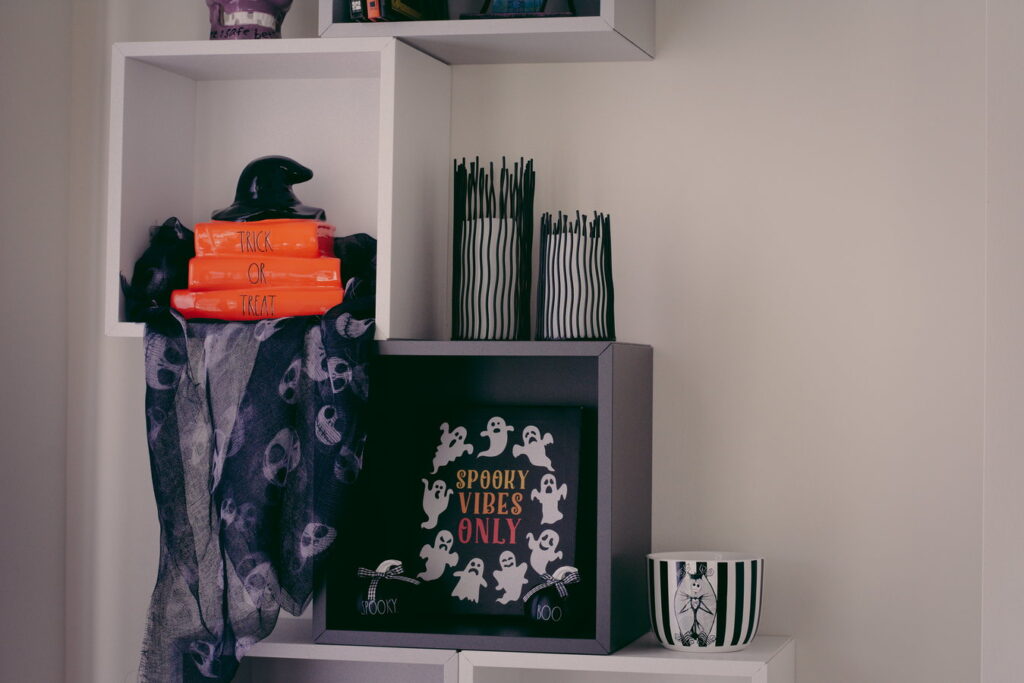 Bottom Three Eket Cubes
On the bottom three cubes I displayed a few pumpkins, a photo of Alex proposing to me in a pumpkin patch (which you can read more about here), and another Nightmare Before Christmas vase. In this bigger vase I put all of the remotes for the devices in our family room (t.v. etc). Alex added the tree eating snake around the silver Jack pumpkin, which was a great idea!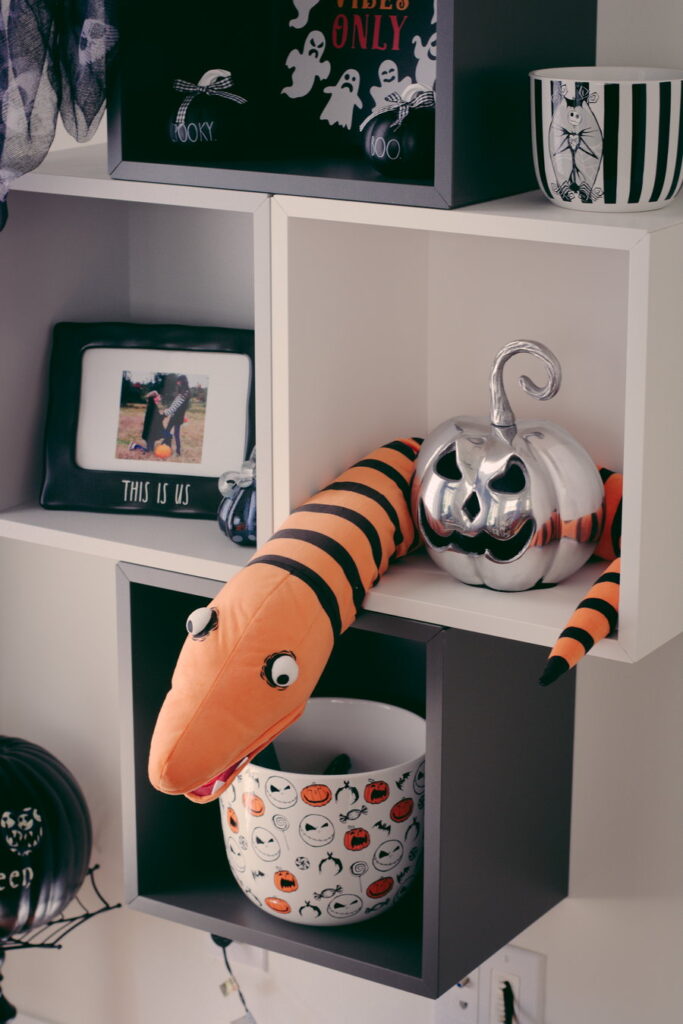 Under Eket Cube Wall
Once I was finished decorating all of the cubes, I decided to add some decor below the cube wall. For decorating this area I wanted to use objects that were different heights. I put taller items on the outside and shorter items in the middle. The "This Is Halloween " pumpkin I actually made using my Circut machine. I have a whole post about it from a previous Blog-O-Ween that you can read about here.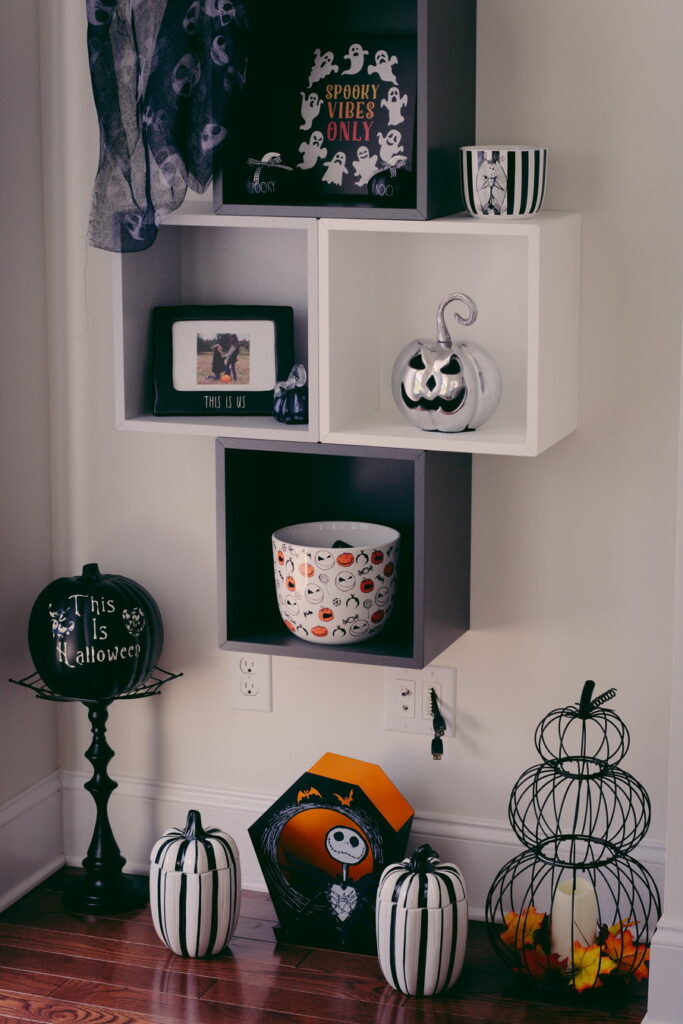 Our Halloween Eket Cube Wall was so much fun to decorate! I love how it turned out and I find myself staring at it every time I am in the family room. The Eket Cube Wall is exactly what I wanted in our family room; something unique, useful, and fits perfectly on the wall. I would definitely recommend this shelving system if you are looking for something different and fun. Even though I am going to keep Halloween items on these cubes all year, it will be fun to switch up the decorations for different holidays.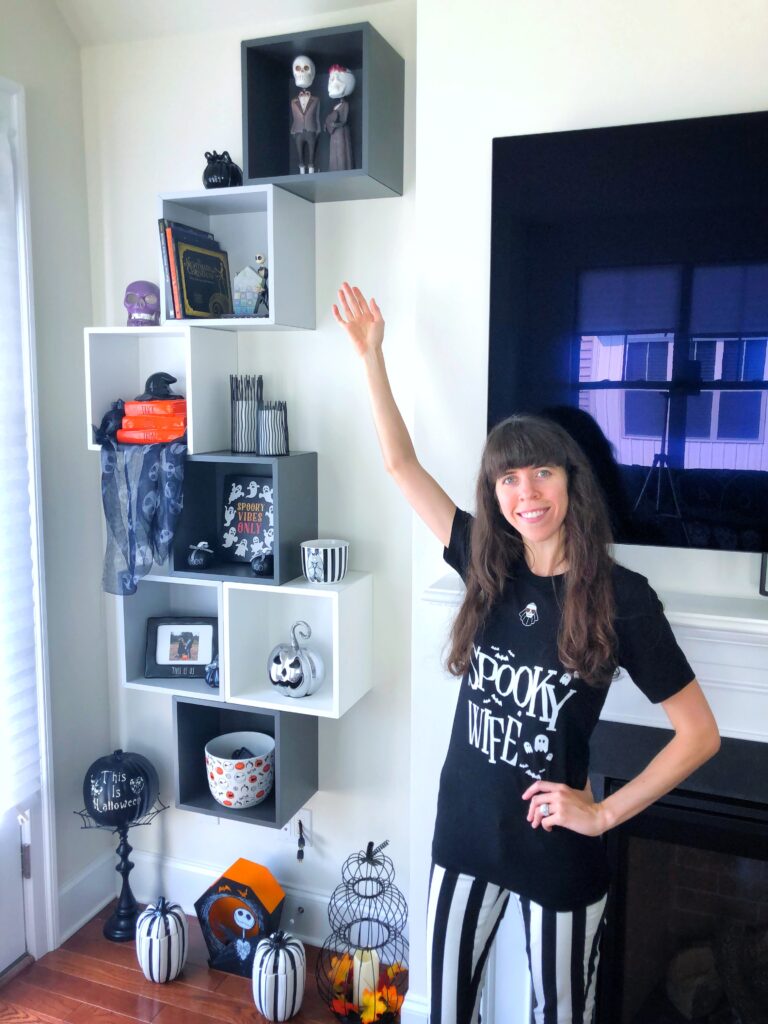 I hope you have enjoyed Blog-O-Ween Day 4 and seeing how I decorated our Eket Cube Wall for Halloween. Hopefully this post has inspired you to create something unique in your own home. Make sure to come back tomorrow for the next Blog-O-Ween post!
Stay Spooky!
-Caroline 🙂
Check out the other 2022 Blog-O-Ween posts:
Nightmare Before Christmas Coffee Corner
Spooky Honeymoon In Salem- Day 2
Spooky Honeymoon In Salem Day 3