Something spooky and sweet is being brewed at this year's Halloween Bar! While I was decorating this year I decided to mix things up and create a spooky bar area to enjoy. Today on Blog-O-Ween Day 20 I am going to show you how I created my creepy bar. Mix yourself an apple cider mixed drink and keep reading!
Halloween Bar Decorations
When creating my bar, the first thing I did was find any drink inspired Halloween decoration I had. I found a few decorations that fit the bar perfectly. These card board drink bottles that say "Poison", "Witch's Brew", and "Bat Wings" fit great around the perimeter of the counter. I also had a Halloween Book of Spells and Potions decoration that looked great in the corner.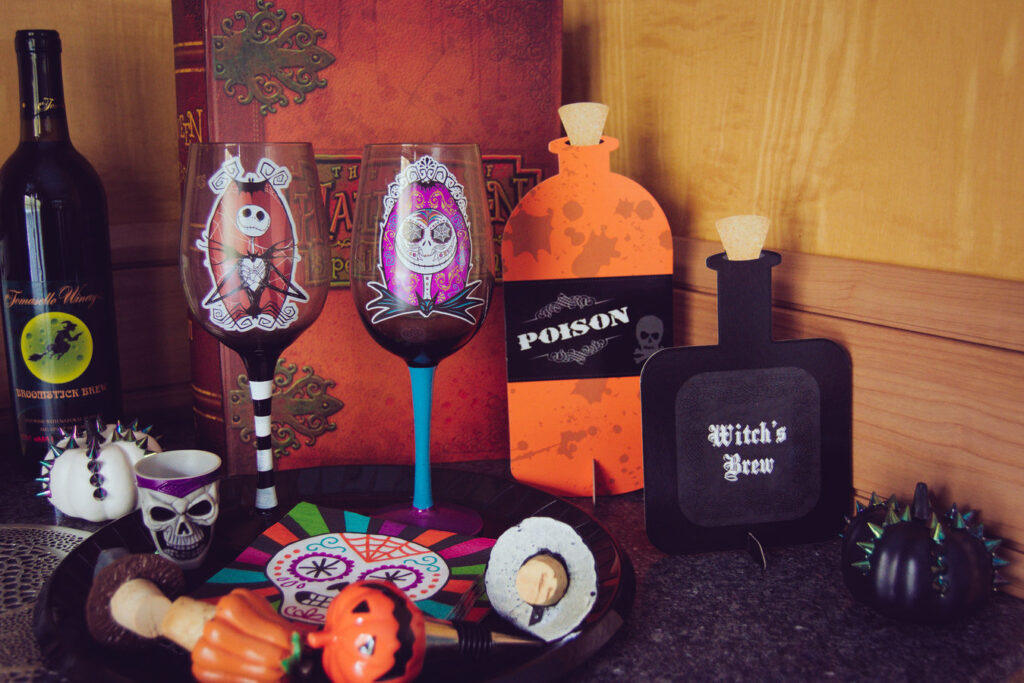 A few other Halloween bar inspired decorations I have are this skeleton with a serving tray and a tile of two skeletons drinking. I actually purchased this tile a few years ago in San Diego. My dad made the awesome Nightmare Before Christmas frame that the tile is in.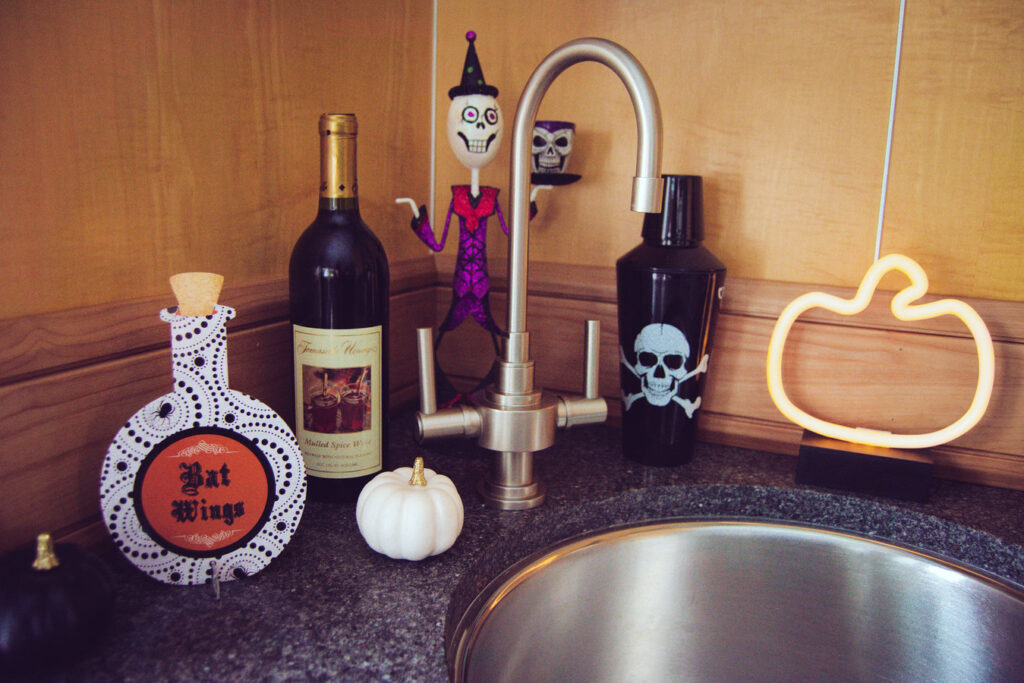 Barware
A Halloween bar would be nothing without barware and glasses. Two of my favorite wine glasses are these Nightmare Before Christmas ones and they were perfect to display in this area. I purchased these glasses from Walgreens a few Halloween seasons ago.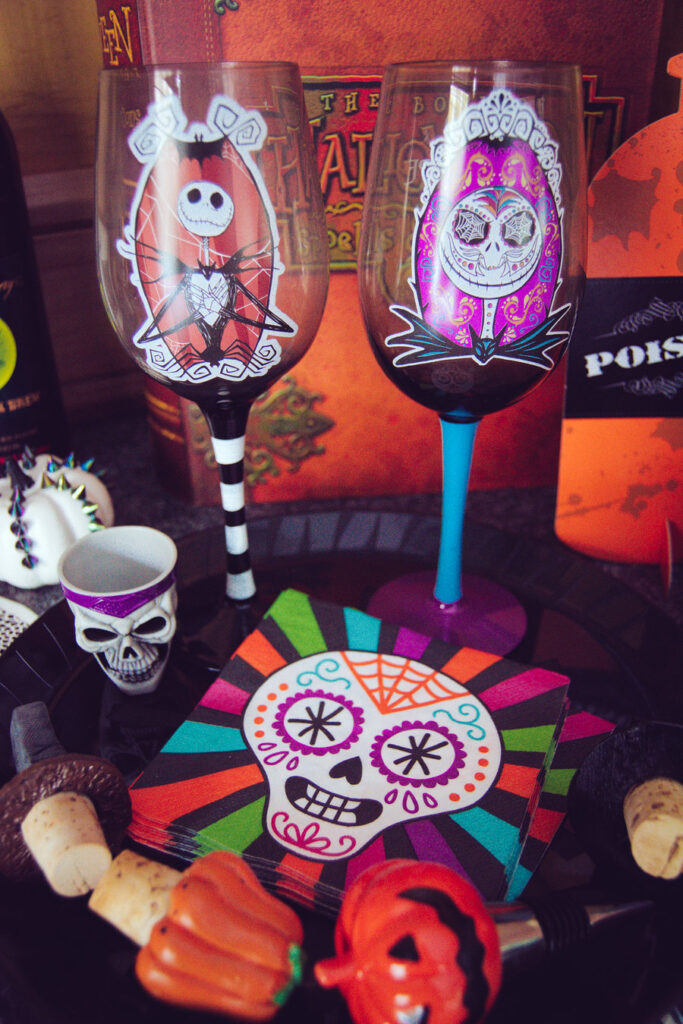 Other Halloween barware items I used to decorate are: Halloween wine bottle stoppers, a skull shaker, a few skull shot glasses, and some cute sugar skull napkins.
Halloween Wine
You cannot have a bar without drinks so I displayed one of my favorite Halloween wines. This wine is the Broomstick Brew from Tomasello Winery. Alex and I have had this wine every Halloween season for the past few years. It tastes like fall and it is even better warmed up with a cinnamon stick.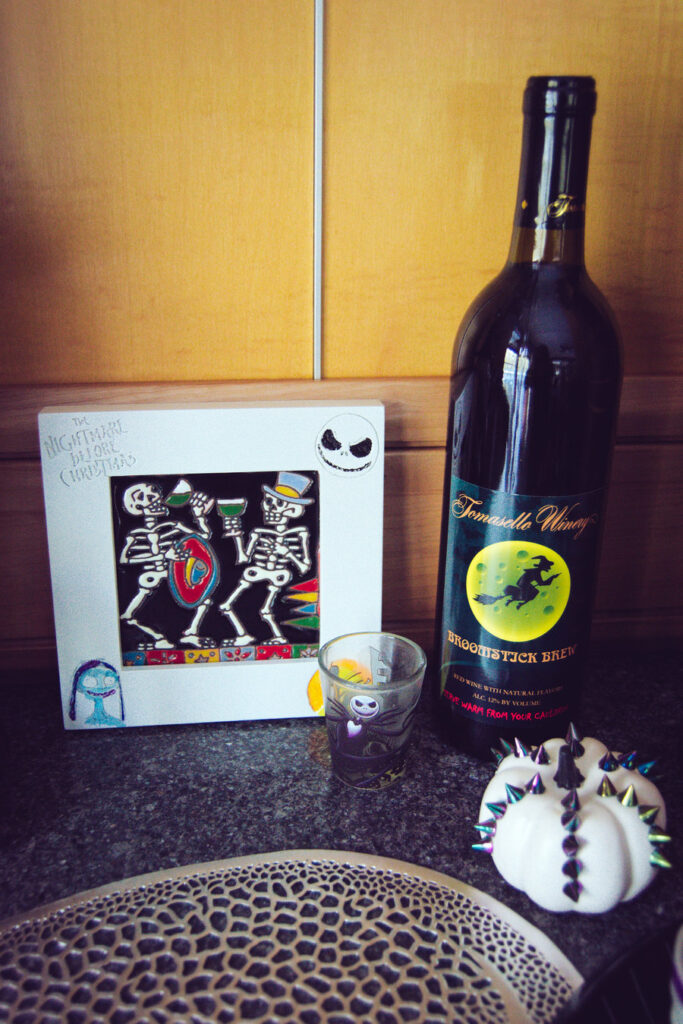 Another wine I put on display at my Halloween bar is the Mulled Spice Wine from Tomasello Winery. This wine is very similar to the Broomstick Brew and it is also a great wine to drink warmed up.
Other Decorations
I added a few other decorations to my Halloween bar to make sure it was extra spooky. Studded pumpkins were definitely necessary at my bar and so was this circus looking skeleton. I also added a neon pumpkin light to finish off the spooky bar vibe.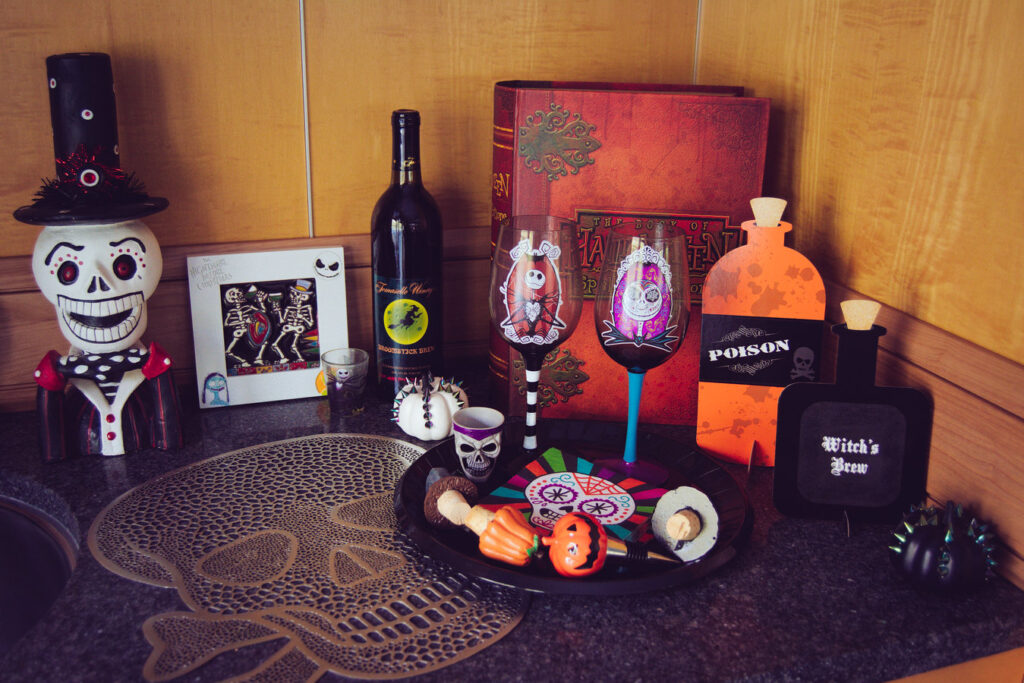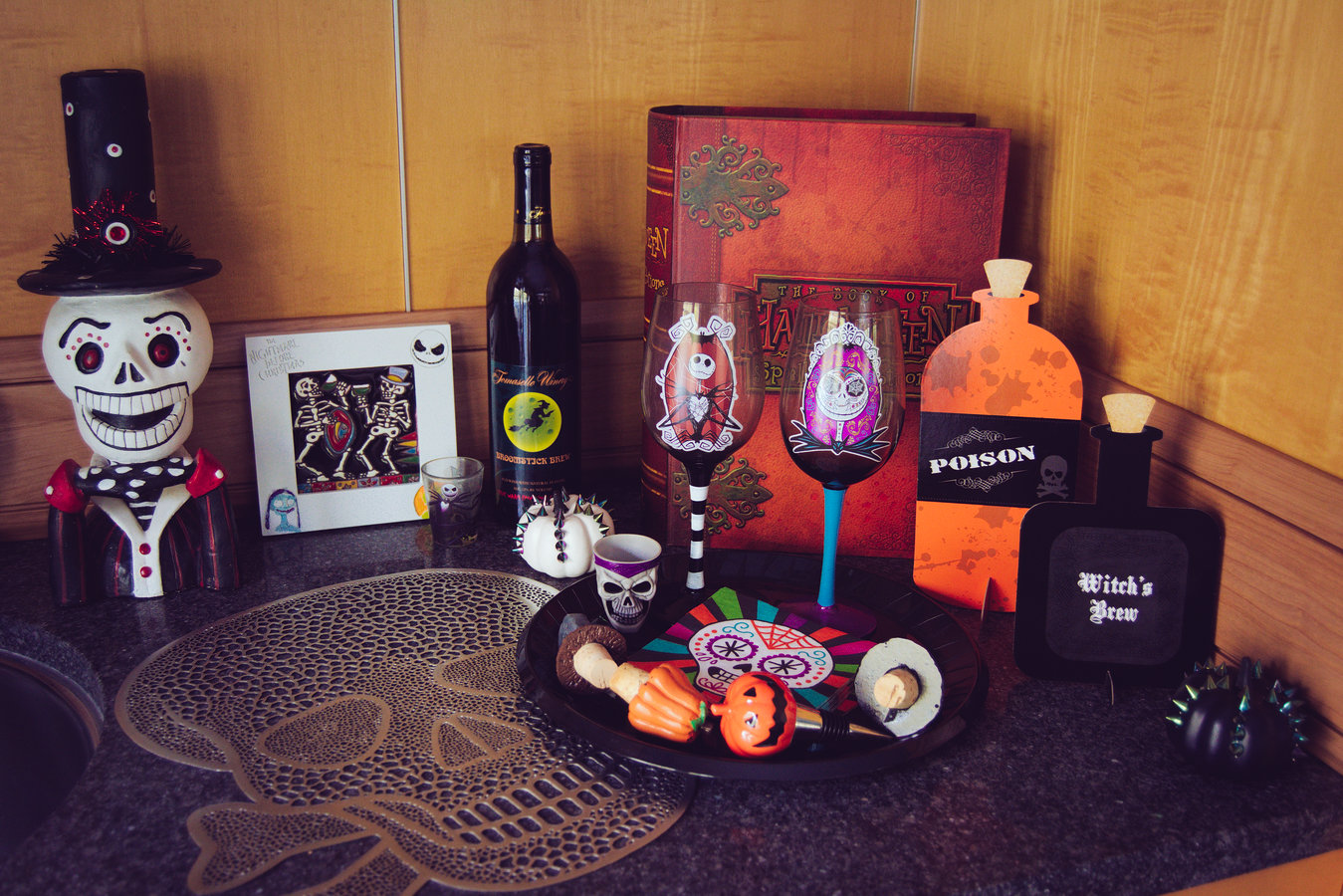 I had a lot of fun decorating and creating my Halloween bar. These are just a few of many ideas you can use to create your own spooky bar area. I hope you have enjoyed Blog-O-Ween Day 20 and I hope it gave you some inspiration to create your own bar!
Make sure to check out some of the other Blog-O-Ween posts such as Blog-O-Ween Day 13- Halloween Fort and Blog-O-Ween Day 6- Nightmare Before Christmas Coffee Bar.
Stay Spooky!
-Caroline 🙂
Shop my Stay Spooky Collection!