As much as I love summer, I also really enjoy cozy and spooky nights during October watching a scary movie. Over the weekend Alex and I had a fun Halloween day of baking skull pumpkin bread and watching a scary show. However, I wanted to make our night extra spooky and comfy by building a Halloween fort.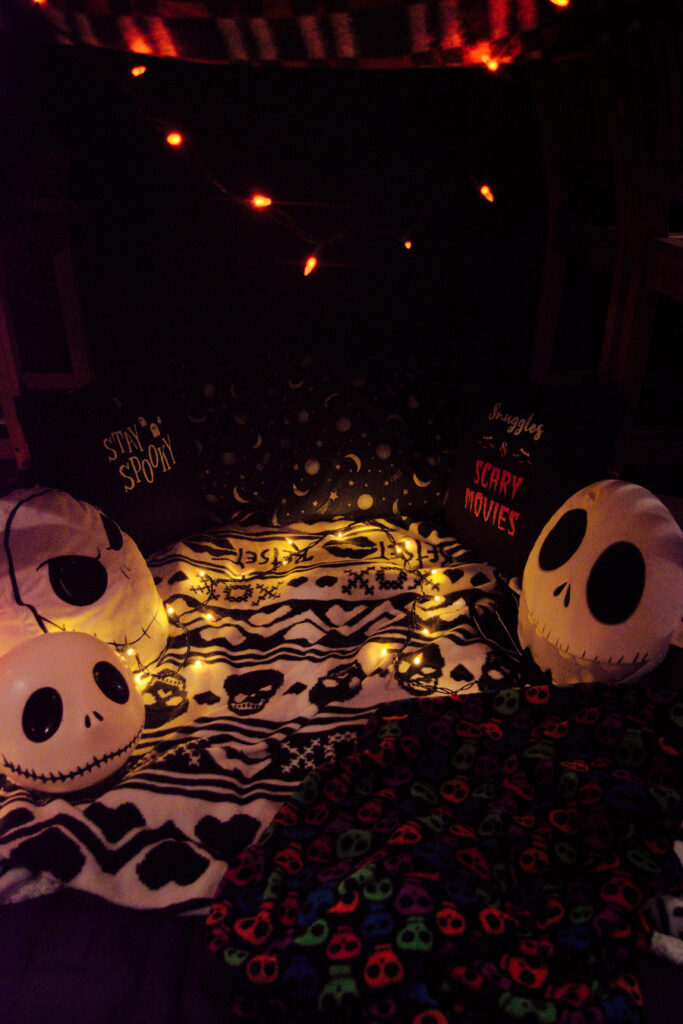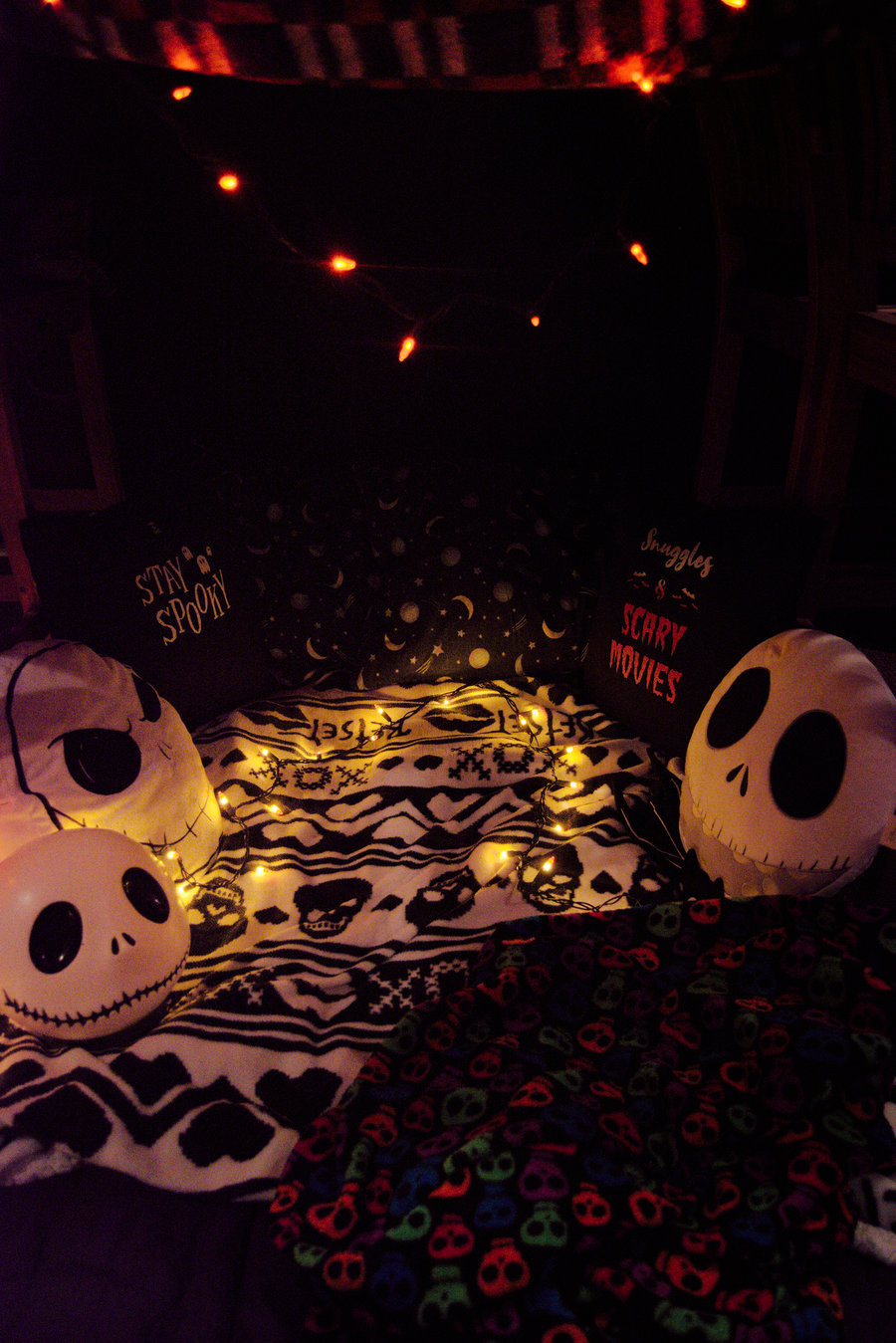 Creating our fort did not take long at all. You do not need too many items and you can make your fort as big or small, spooky or non-spooky, as you want. The possibilities can be endless when it comes to fort building.
Building The Fort
Alex had a good idea of using tall chairs for our fort. These chairs are around the height of bar stools. We used four of these chairs as the foundation for our Halloween fort. Using taller chairs gave the ceiling to our fort more height. This made it easy for us to watch a spooky show without the blanket ceiling being too low.
We set the chairs up with the seat facing outside of our fort. Next we took a queen size comforter and put it between the chairs to create the floor of our fort. This Halloween fort was built in a room that has an elevated level from the ground floor. There is a little step in this room, which made a perfect place to prop up some pillows in the back of our fort. You can also do this if you are making your fort against another piece of furniture such as a couch.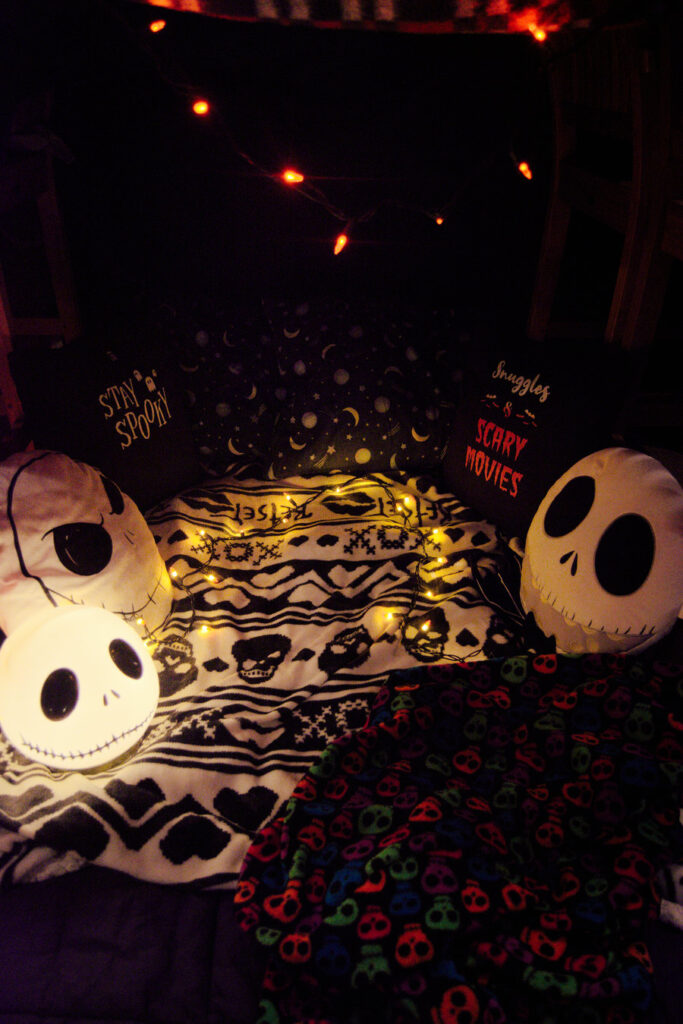 After the comforter was down, I added a skull blanket on top of it for some extra spookiness.
Next, we draped a blanket across the top of the chairs to create the ceiling of our fort. We also draped a blanket on the side of the chairs that would make the back of the fort. Both of these blankets are pretty big. They would probably fit a queen size bed.
Decorating The Fort
Once most of our Halloween fort was in place, it was time to decorate it. We added orange string lights to the top opening of our fort. I put a bunch of pillows, some from the Stay Spooky Collection and others were Jack Skellington ones, inside our fort. I also added candy corn string lights to the floor. For a final touch, I put my Jack Skellington Skull lamp in the fort as well.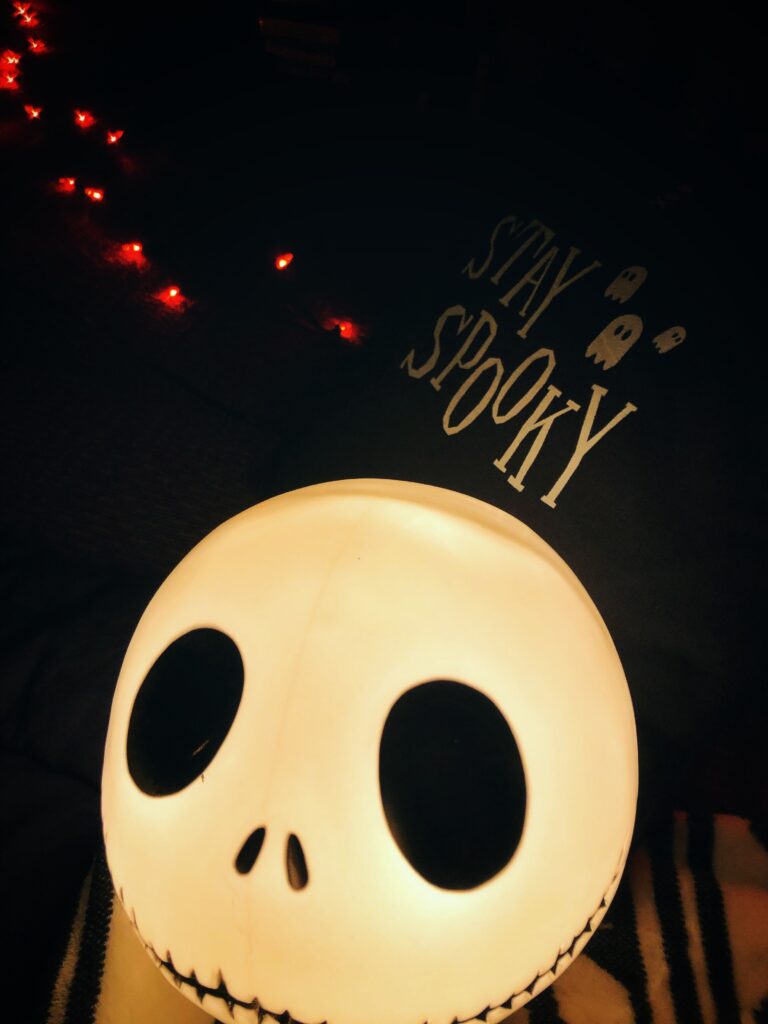 After our Halloween fort was ready to go, we grabbed our skull pumpkin bread, another skull blanket, and put Netflix on. We watched the first episode of the Haunting of Bly Manor.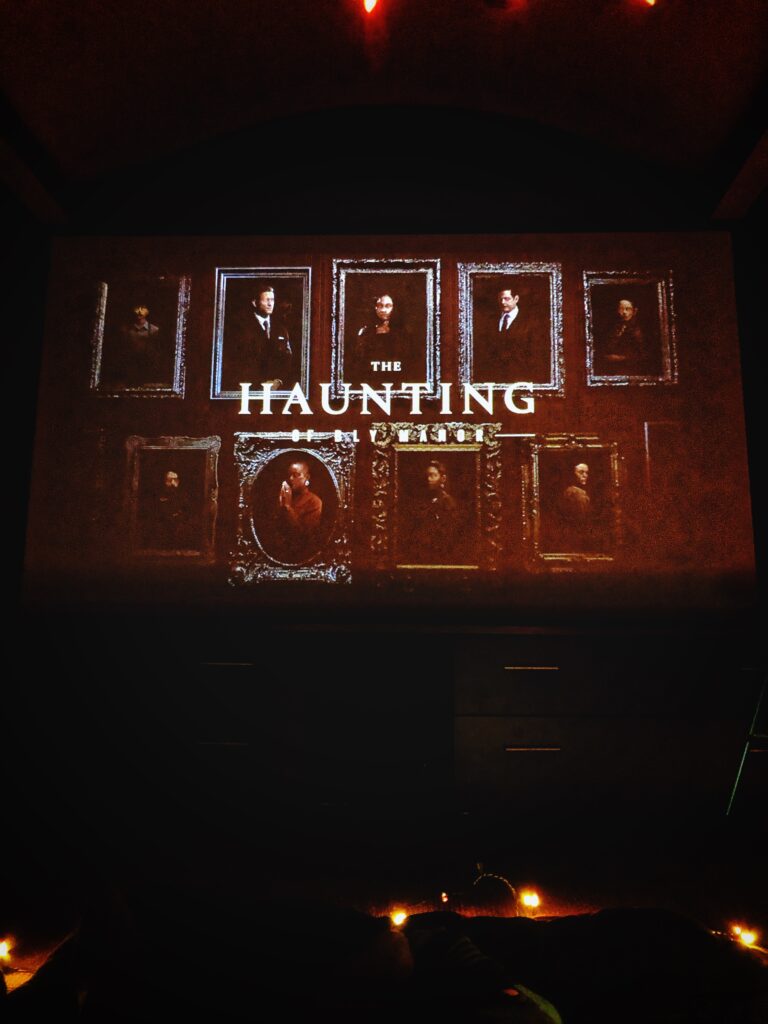 This Halloween fort was super cozy and spooky. We both loved it so much and did not want to get out of it. It was a fun and different way for us to watch a spooky show.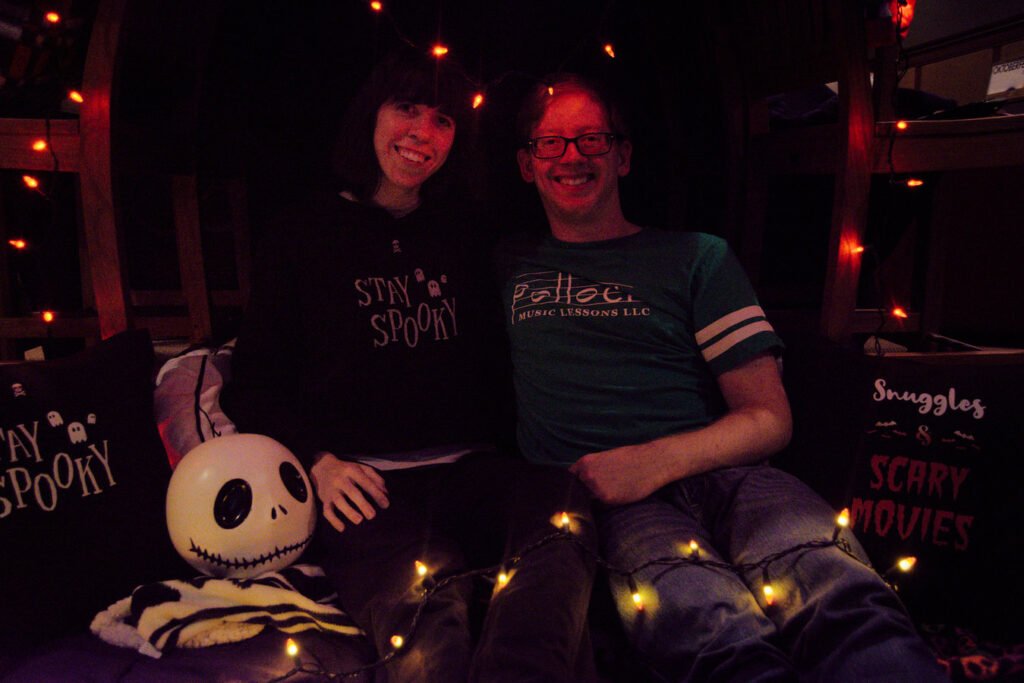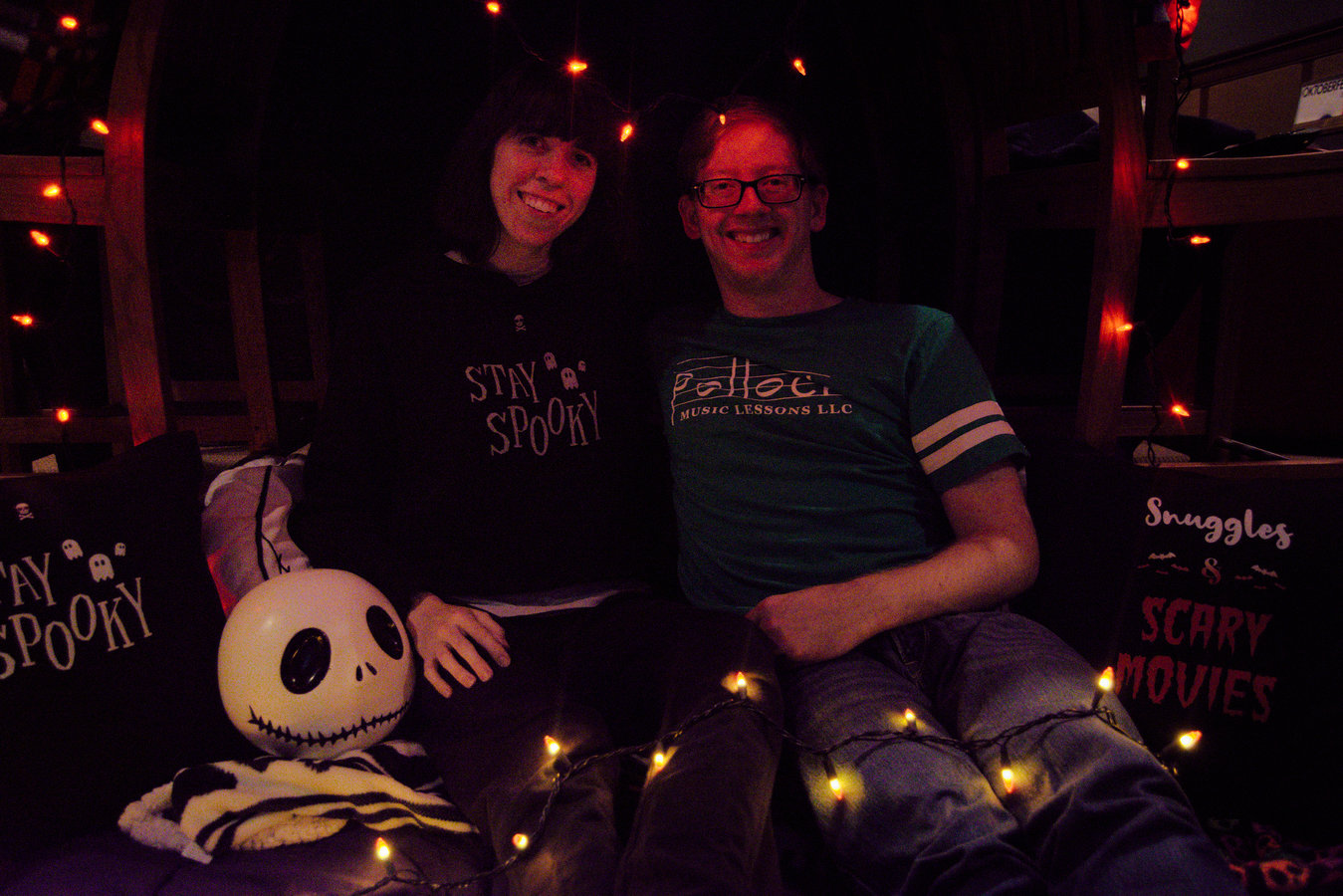 If you are looking for a fun Halloween activity to do at home, I would definitely recommend building a spooky fort. My only suggestion would be to create it earlier in the day so you can enjoy it longer.
I hope you have enjoyed Blog-O-Ween Day 13 and it gave you some cozy and spooky inspiration. Make sure to check out some of the other Blog-O-Ween posts, such as the Animated Halloween Movie List and how to make a This Is Halloween Pumpkin.
Stay Spooky!
-Caroline