Fall is the season where everything starts to get spooky and cozy. The leaves start to change, homes are decorated for Halloween, and we start to wear sweaters and drink hot lattes. I love going outside and enjoying everything fall has to offer such as pumpkin picking and haunted attractions. However, I also love to create a cozy atmosphere at home and watch a scary movie. Today on Blog-O-Ween Day 21, I am going to tell you about six cozy fall items you need to create the perfect atmosphere at home.
Sweatshirts
Before you get your space cozy, you have to get yourself cozy first. There is no better way to stay warm than with a comfortable sweatshirt, sweater, or hoodie. Lately, I have been loving pullover crew neck sweatshirts. Of course I have been living in the Snuggles & Scary Movies and Stay Spooky sweatshirts from my collection, which you can shop here.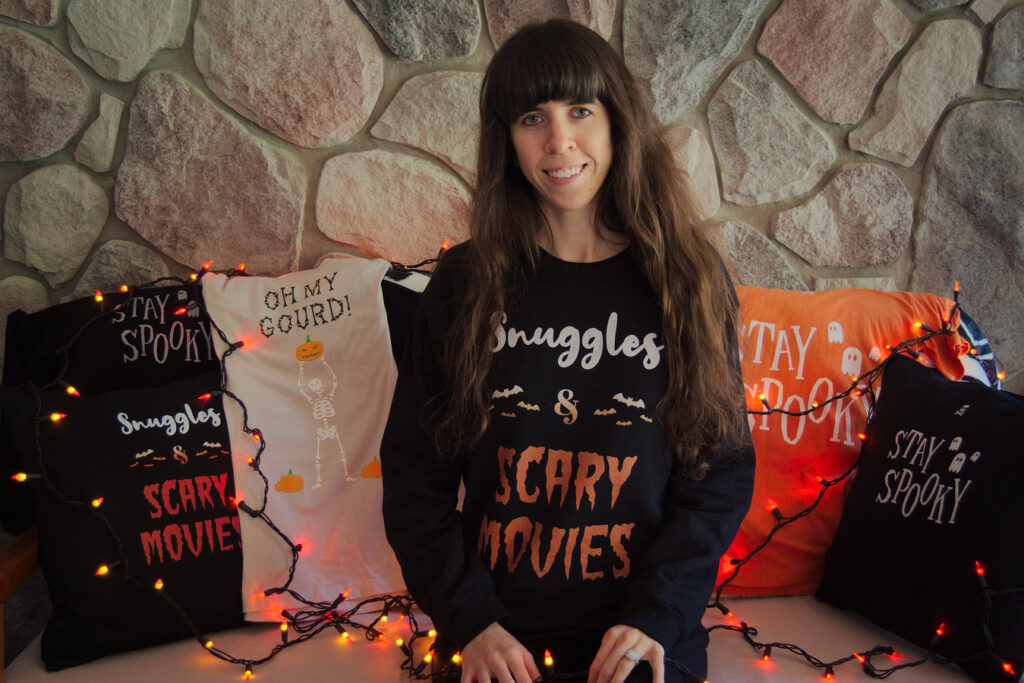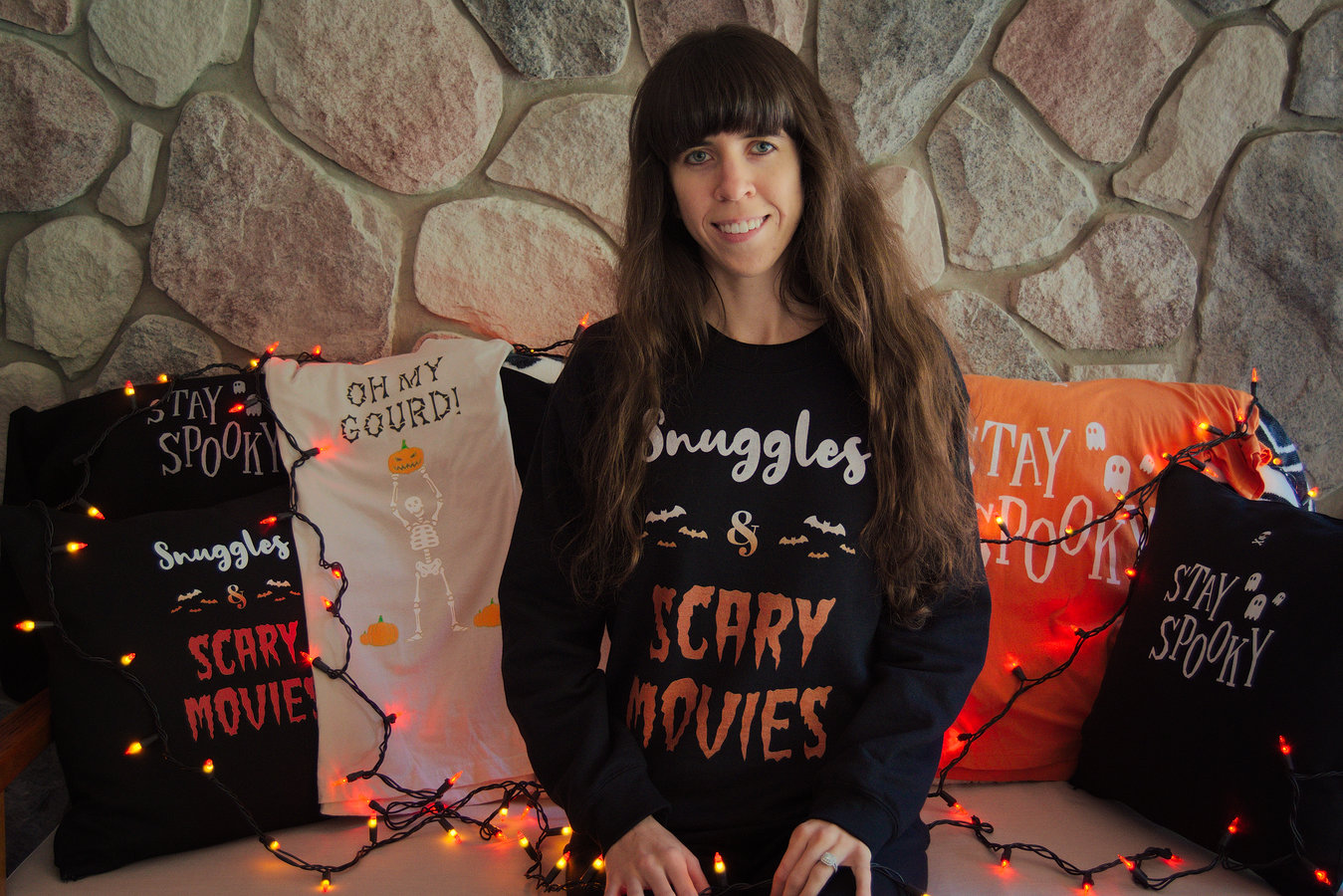 However, I do have other Halloween sweatshirts that I love, such as my Great Pumpkin Charlie Brown and Jack Skellington ones.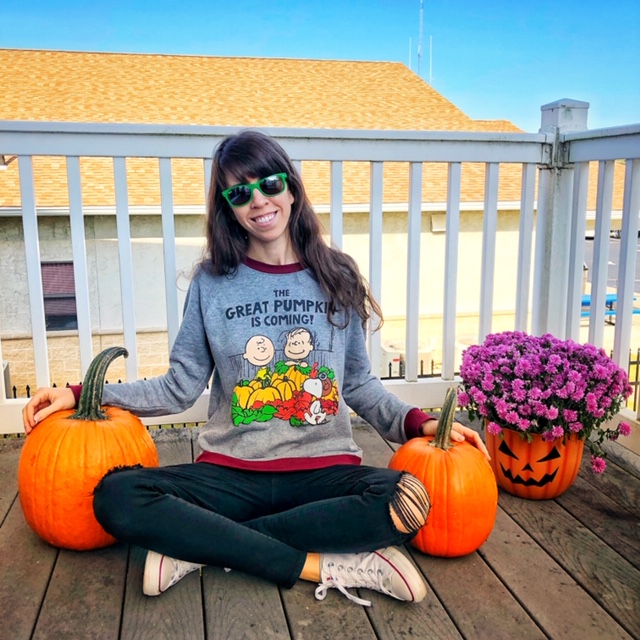 Slippers
You need to keep your feet warm and cozy with some spooky slippers. I always love wearing my Jack Skellington slippers. Cozy socks are also another great option to keep your feet warm if you are not a fan of slippers.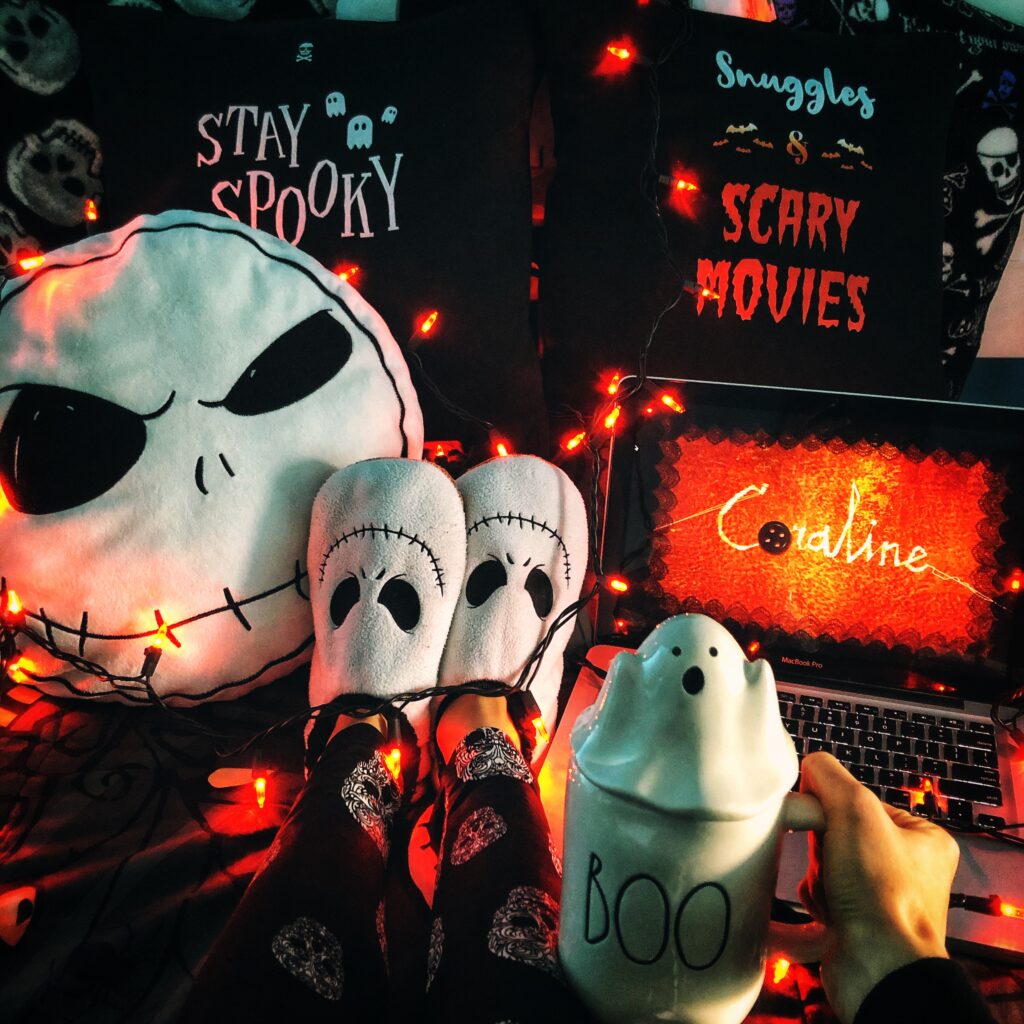 Pillows
After you have yourself all comfortable, it is time to get your area cozy and ready for a fall night. I enjoy having a bunch of pillows around when I am creating a warm atmosphere. Recently, my favorite pillows are also from the Stay Spooky Collection. However I always have my Jack Skellington ones around too. It is almost a guarantee that any store selling Halloween decorations will also have some spooky decor pillows.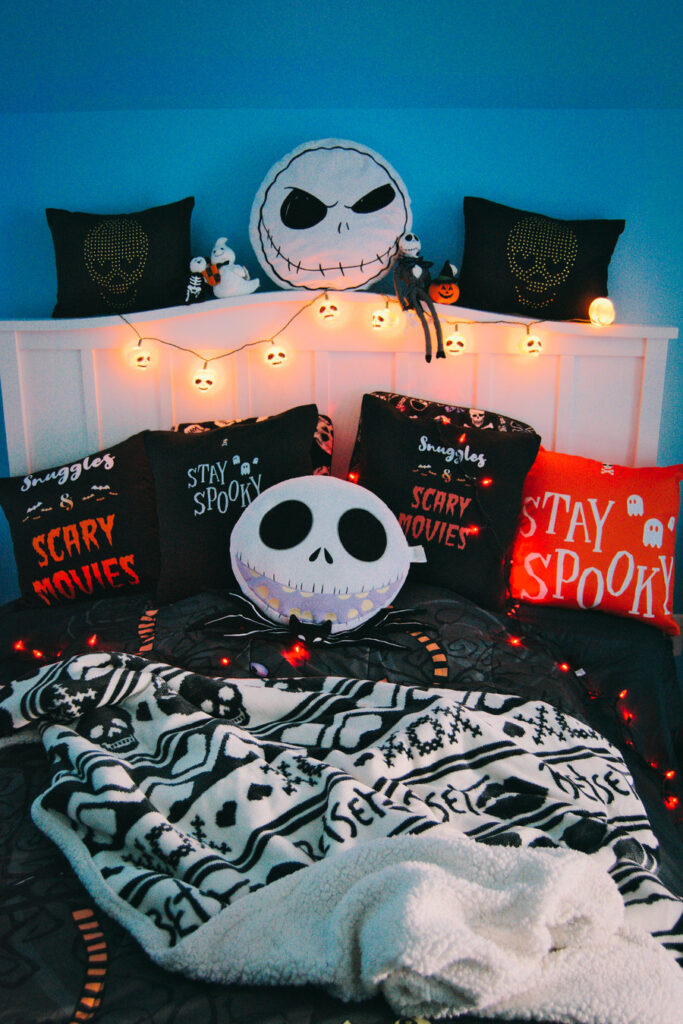 Blankets
No cozy and spooky area would be complete without blankets. I always have a lot of blankets around since I am always cold. Skull blankets are what I use all year and they are especially great for the Halloween season. If you are looking for some Halloween blankets, I have seen a good selection of them at T.J. Maxx this year. Even if you do not have Halloween blankets, any soft blanket you like is perfect for a cozy fall night.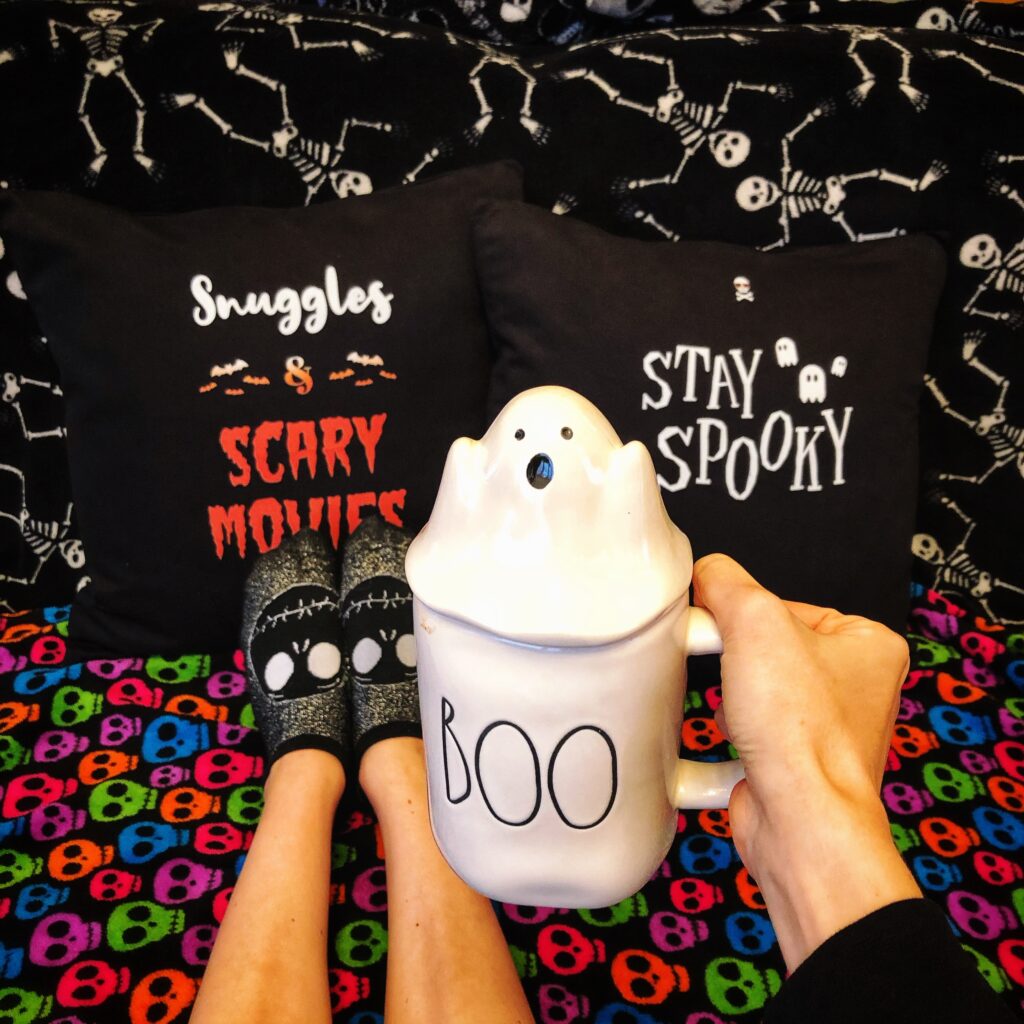 String Lights
This item does not sound comfortable, however it creates such a cozy fall vibe. If you want to make your space extra welcoming, string lights are a must have cozy fall item. You can hang string lights outside your house, around the inside of your house, or around your bed like I did. Alex and I even had string lights in our Halloween fort a few weeks ago. String lights really help bring together the cozy and
spooky atmosphere.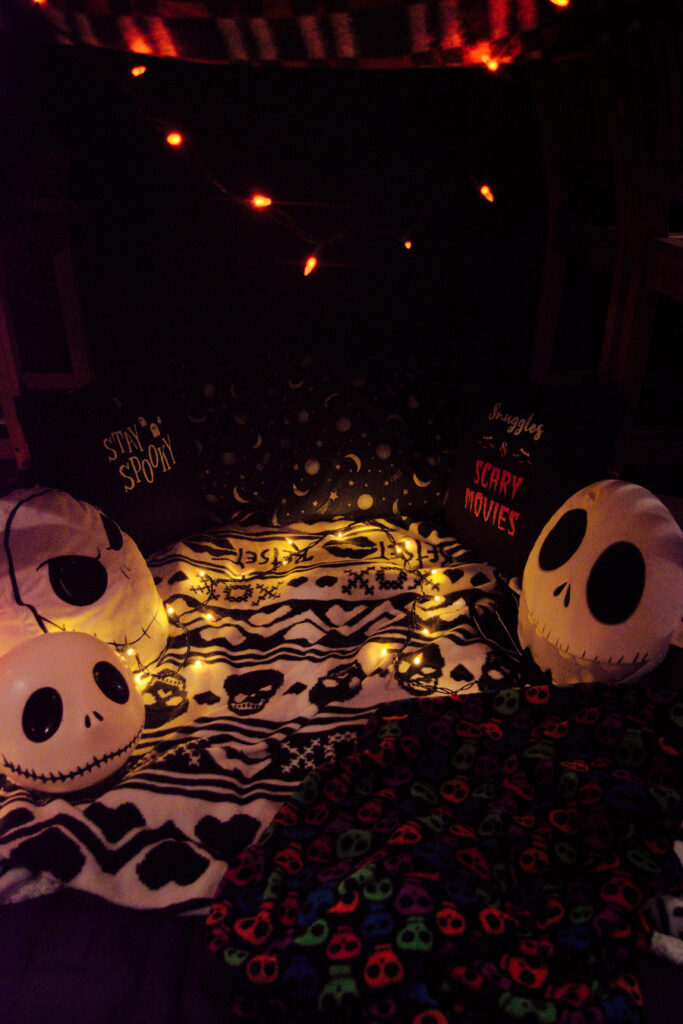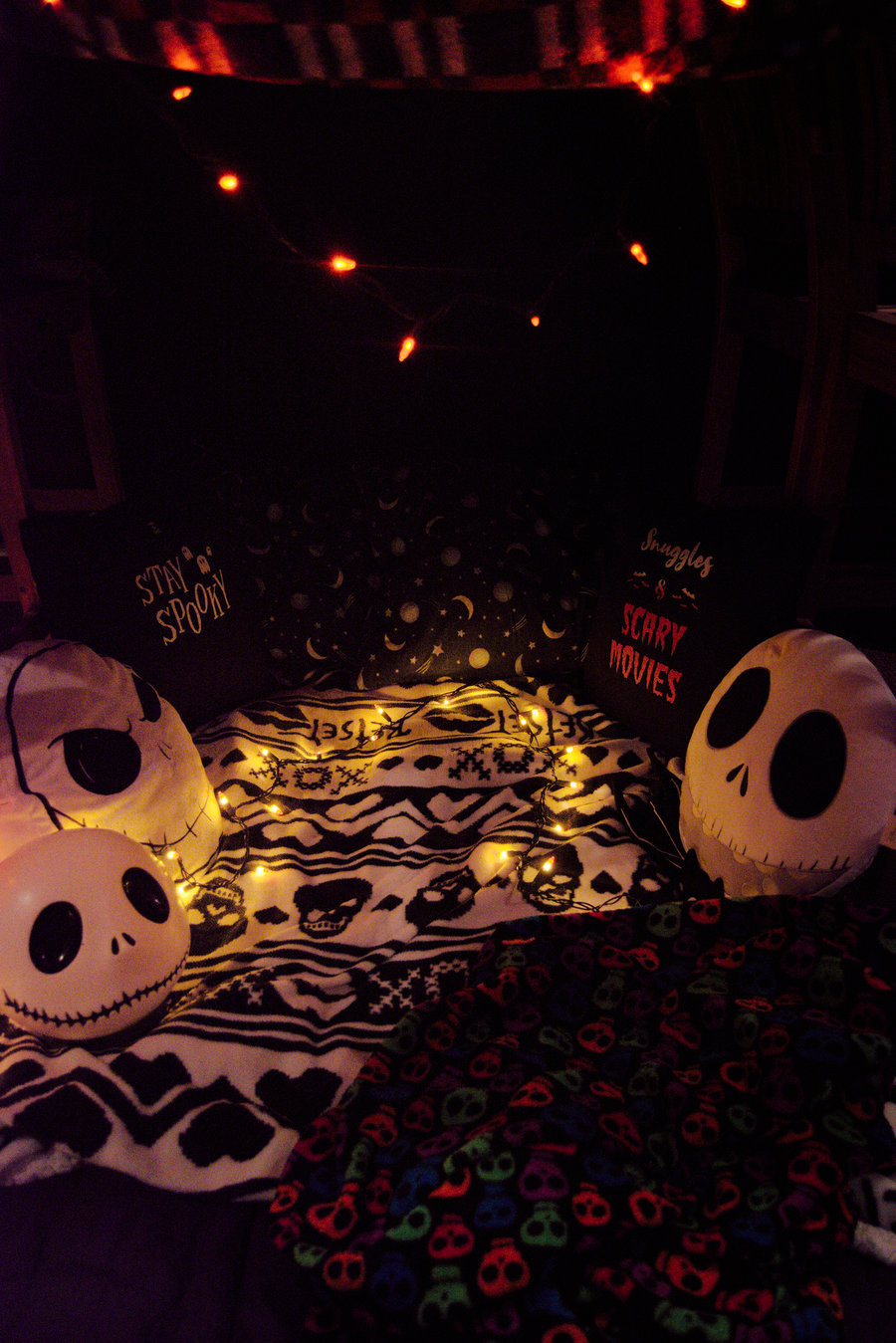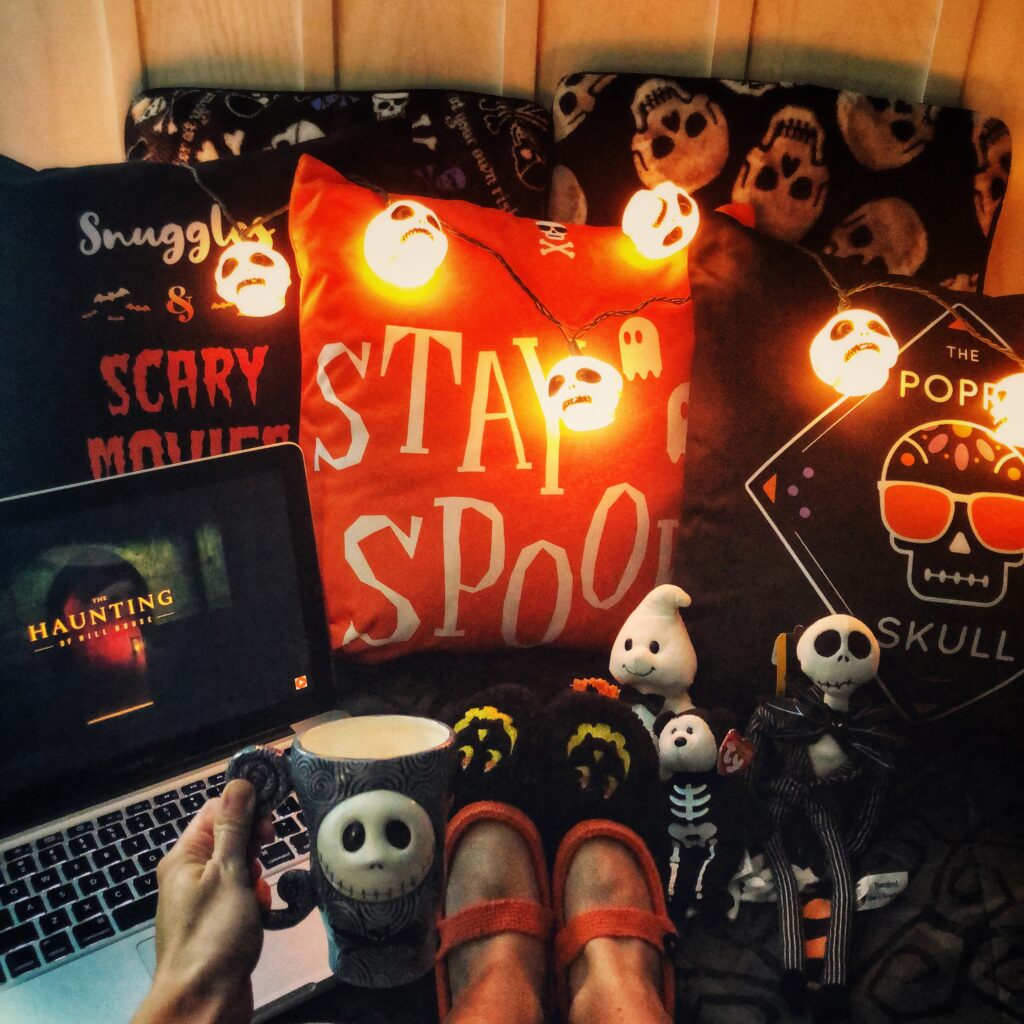 Oils and Candles
The sixth and final cozy fall item you need is something to make your room or house smell like fall. I enjoy using essential oils, candles, and wax melts. Depending on what I feel like smelling that day helps me decide if I want to burn a candle or diffuse an essential oil.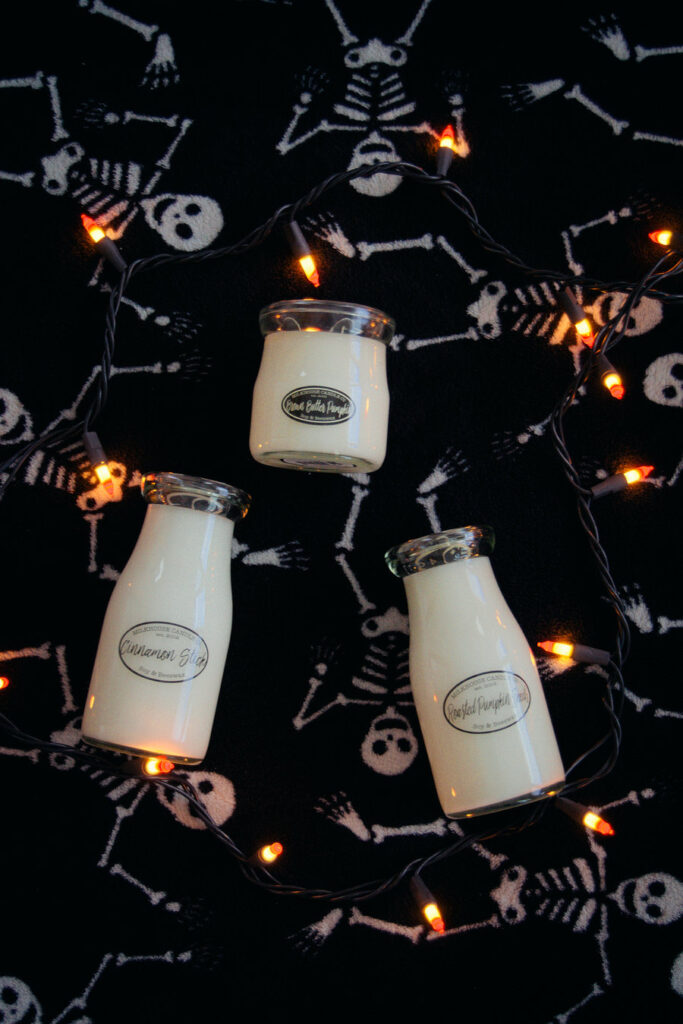 Lately, my favorite essential oils have been from the brand Woolzies. I first stumbled upon this brand at T.J. Maxx and did some research to make sure these were actual essential oils. Stores like T.J. Maxx can be a great place to find oils, however you have to be careful because some of them are not real. My mom and I found some great fall oils from Woolzies at T.J. Maxx. The fall oils we purchased were Pumpkin Pie, Honey Apple, and the Cozy Fireside Set.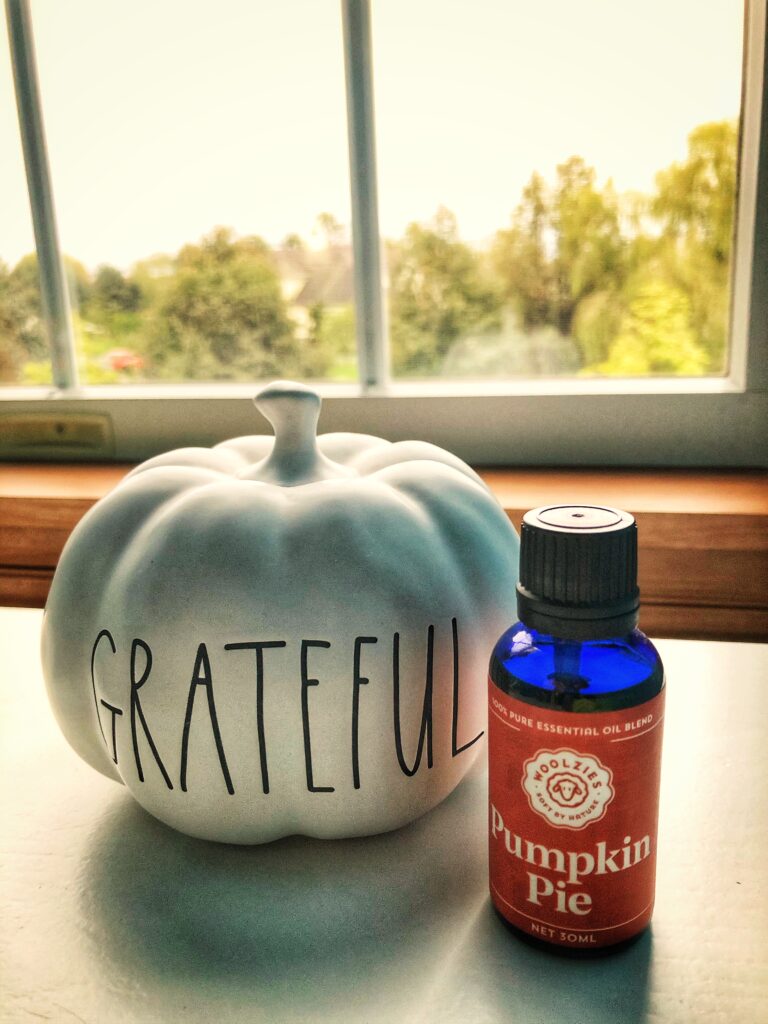 I am also a fan of candles and have been using more soy candles recently. I still have some fall and Halloween ones from Bath and Body Works that I enjoy burning.
Another way I like to create a fall scent is my using my Jack Skellington Scentsy. I received this as a gift last year along with the Jack Obsession scent. Scentsy has even more Nightmare Before Christmas wax melts this year that you should definitely check out!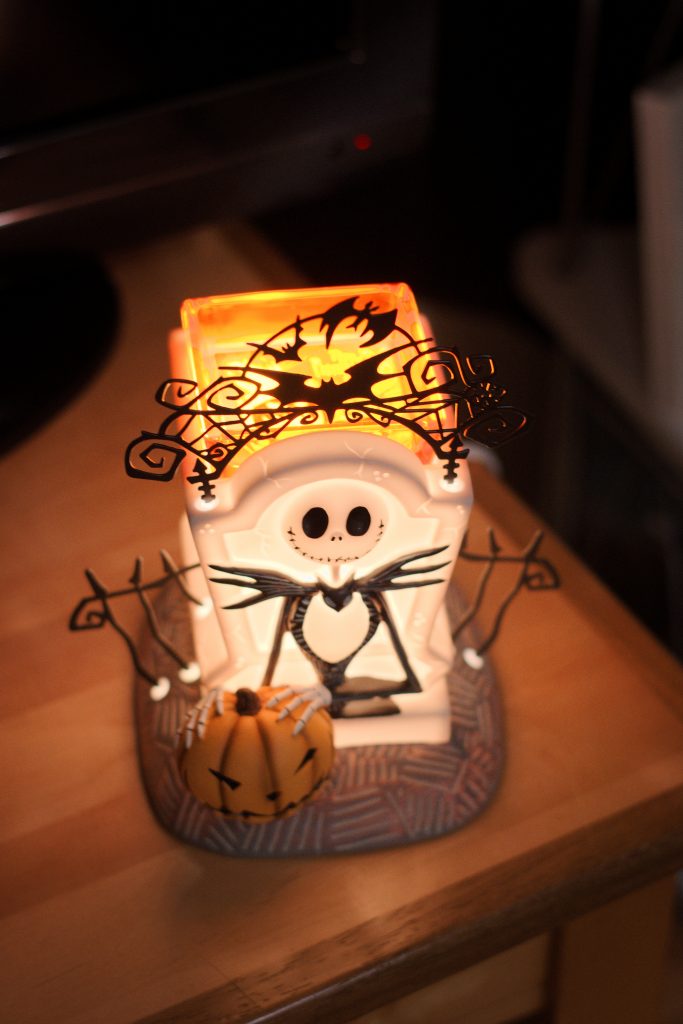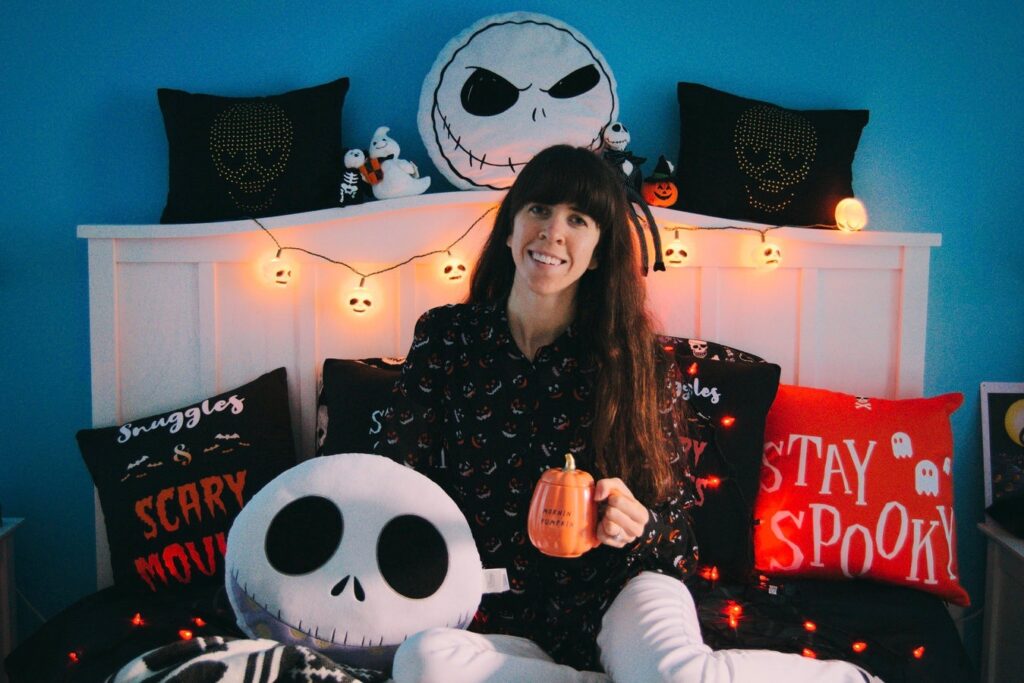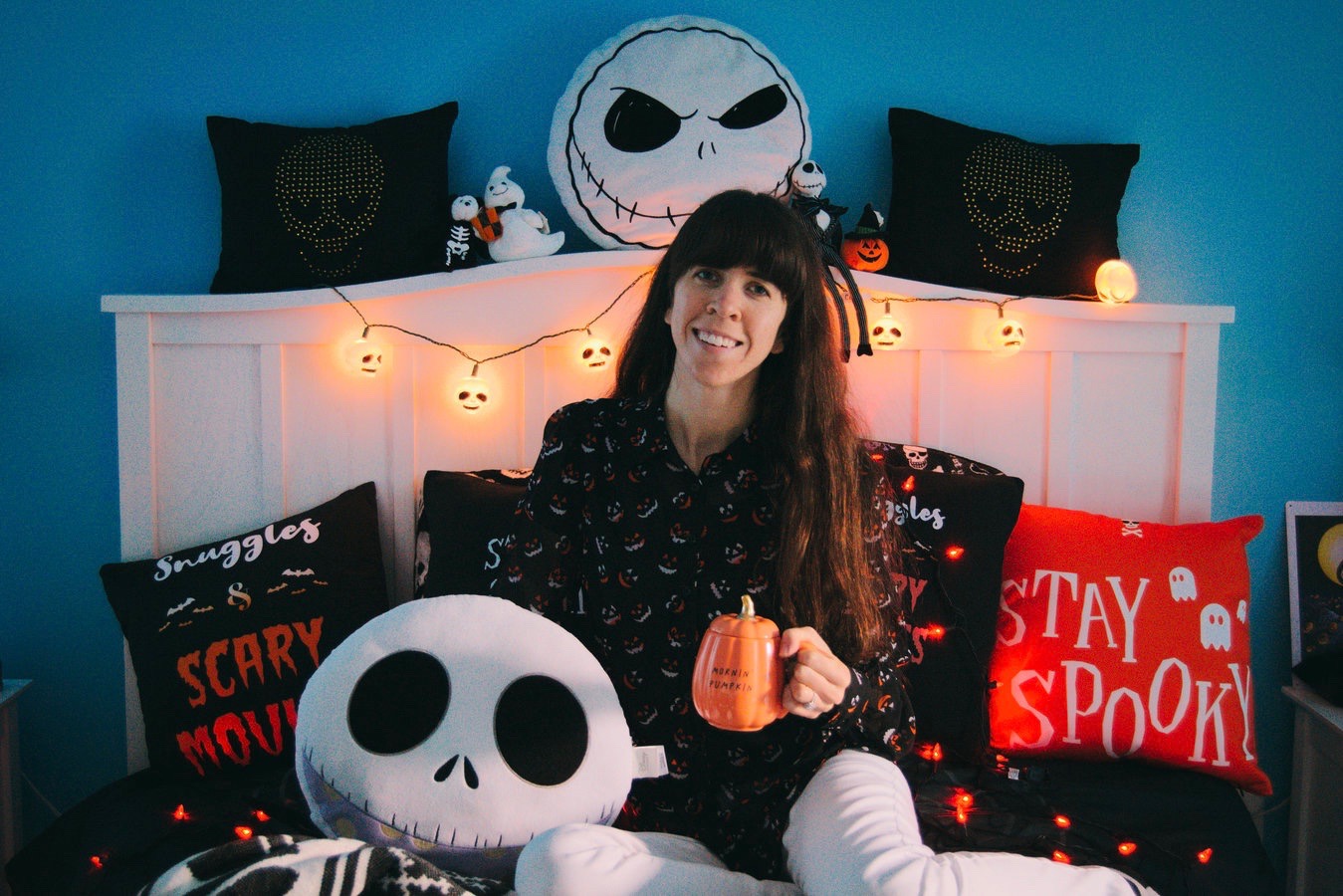 I hope you have enjoyed Blog-O-Ween Day 21 and my list of cozy fall items you need. These items will definitely help you create that comfortable fall atmosphere during the day and night. Make sure to check out some of my other Blog-O-Ween posts, such as my Halloween Haul and Blog-O-Ween Day 13- Halloween Fort.
Stay Spooky!
-Caroline 🙂
Shop the Stay Spooky Collection!