All hail the Pumpkin King while you make yourself a pumpkin spice latte! Today for Blog-O-Ween Day 6, I am showing you how I created my Nightmare Before Christmas Coffee Bar. I hope these tips and tricks give you some inspiration to create your own spooky coffee area.
Mugs
Obviously one of the most important items necessary for a Nightmare Before Christmas coffee bar are mugs! You cannot have coffee without mugs. I have quite a collection of Halloween and Nightmare Before Christmas mugs that I use at my coffee bar. These mugs have been collected over the years and there are even more that are not pictured.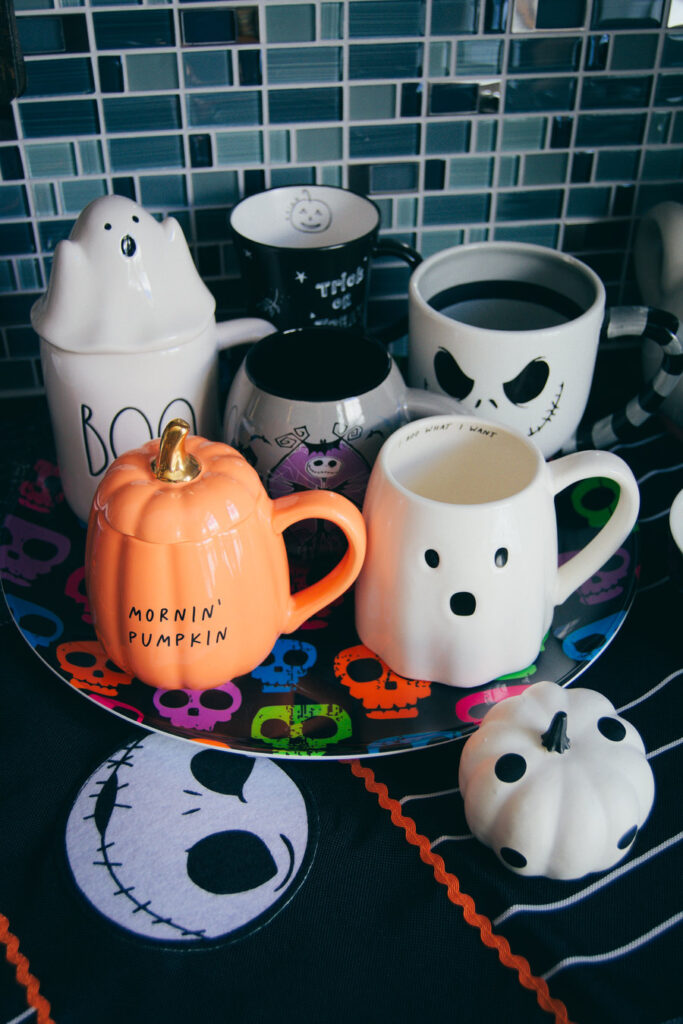 You can find Nightmare Before Christmas mugs at Hot Topic, The Disney Store, and Box Lunch Gifts. I have also seen Jack Skellington mugs at T.J. Maxx, Walgreens, and Amazon.
Shelf/ Tiered Trays
After you have your mugs ready to go, you will need something to display them on. I frequently see many pictures of mugs displayed on tiered trays. I think a tiered tray would work great for a Nightmare Before Christmas coffee bar and you could make it spooky. However, I do not own a tiered tray and I couldn't find one that I liked. I decided to get creative and use this coffin Nightmare Before Christmas shelf that I have to display some of the mugs!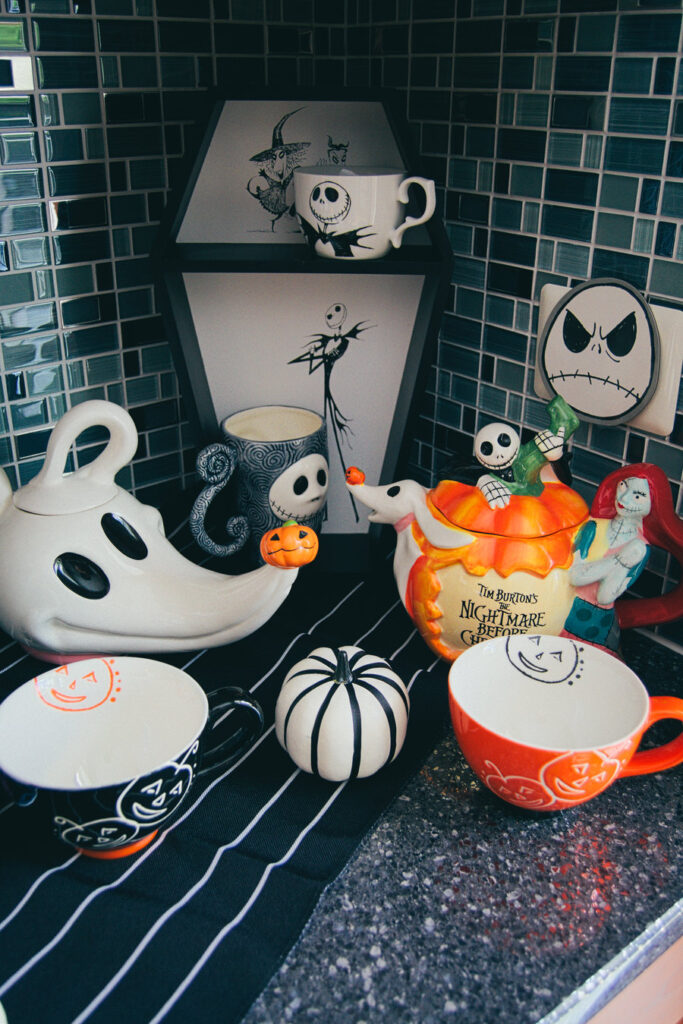 This shelf can sit on a table or hang on a wall. It works out perfectly to display mugs at my coffee bar.
Platter
Another way to display your Halloween mugs is on a spooky platter. I used a big skull plate that I purchased at Target a few years ago to keep more mugs on. Any spooky plate or platter would work great. You could also just use a bigger black plate or platter to keep your mugs on as well.
Table Runner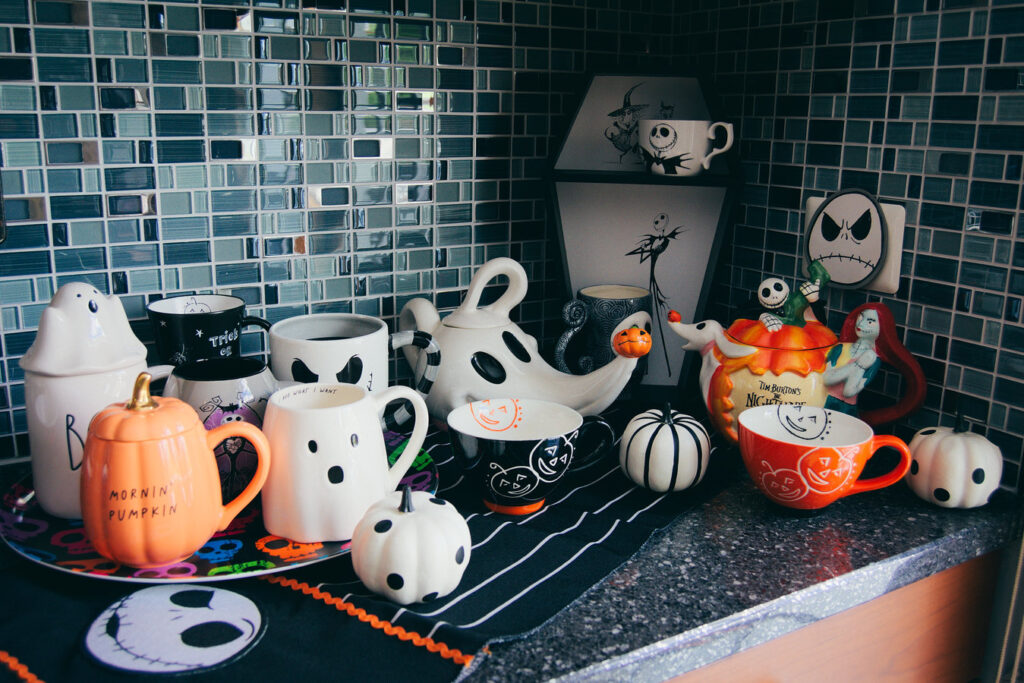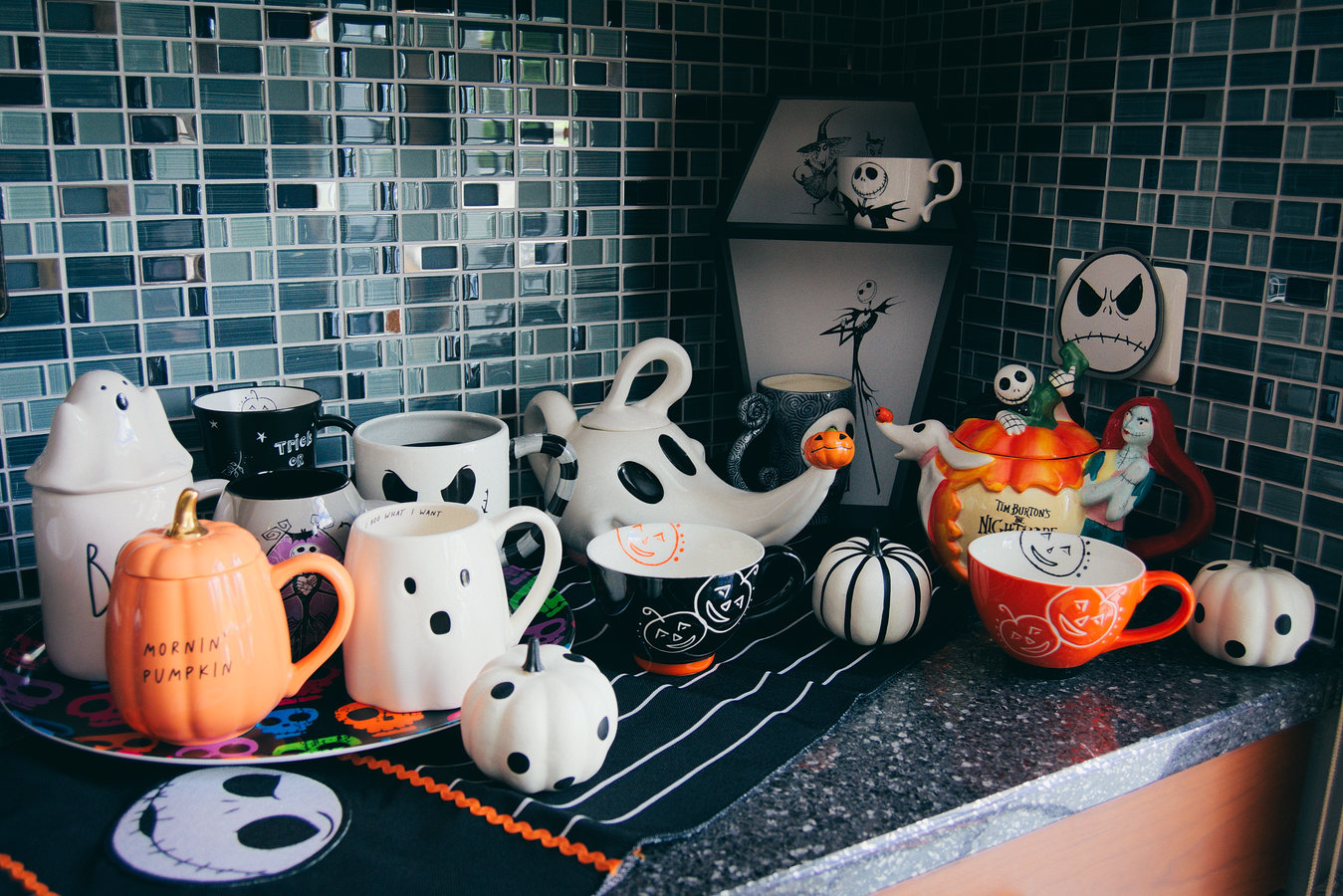 I added my Jack Skellington table runner to the coffee bar. I folded the runner in half so it would fit nicely. This definitely helps add a spooky touch to the coffee bar. You could also use other skull table runners or place mats. This Nightmare Before Christmas table runner is from my surprise party last year. You can find a similar one here.
Bowls
Another great item to have at your Nightmare Before Christmas coffee bar are bowls. Bowls are great to keep k-cups and sweeteners in. This Jack Skellington bowl is from Walgreens last year. It is hard to find online, however other Halloween and skull bowls work great too!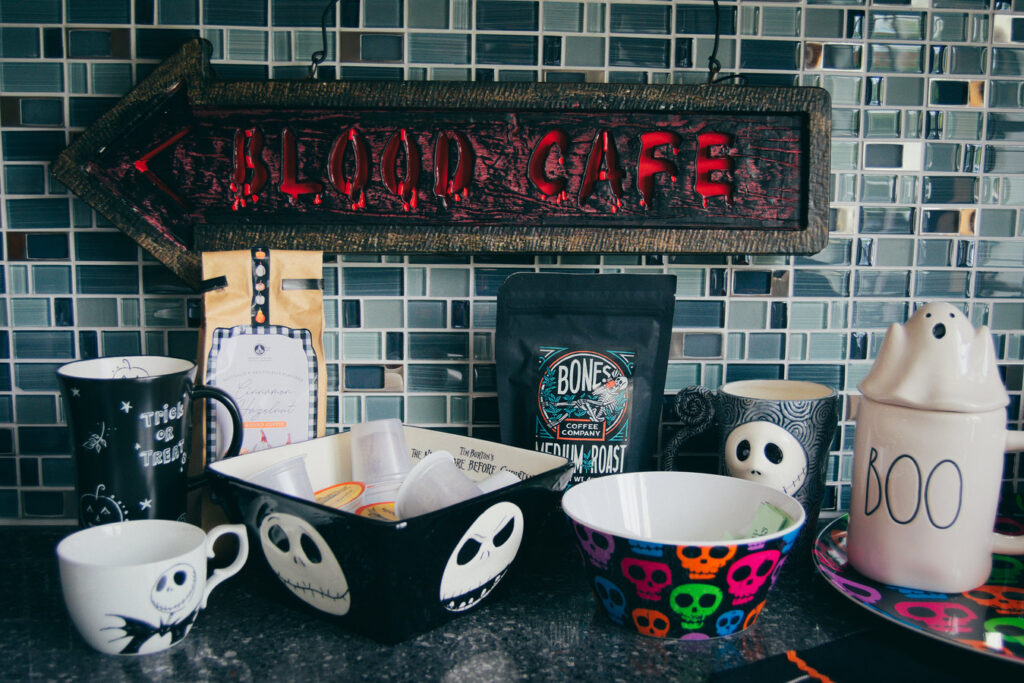 Signs
To make your Nightmare Before Christmas coffee bar extra spooky, add some Halloween signs! We have two coffee areas so I hung up a sign at each one. The Blood Cafe sign lights up at night and looks extra spooky. At the other coffee bar I displayed this Lucky Raven Cafe sign. It worked very well for this coffee bar theme.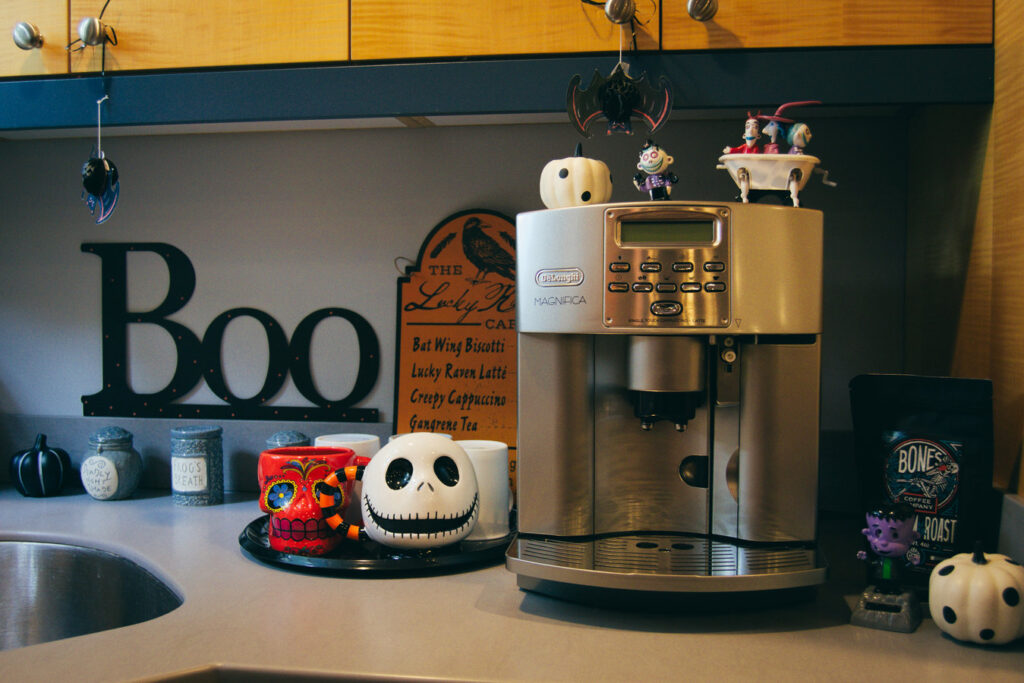 Trinkets
I also added some Nightmare Before Christmas trinkets to make the coffee bar even more festive. The items I displayed are the Deadly Night Shade jars and my Nightmare Before Christmas tea pots.
Halloween Decorations
The last items I added to my coffee bar are some Halloween decorations. I added cute black and white pumpkins, which fits the Jack Skellington theme perfectly! I also hung paper bats from the knobs on the cabinets. Another fun idea is to display Nightmare Before Christmas figures and toys in the coffee bar area.
If you are looking to create a fun and spooky coffee bar for Halloween, I hope this post helped you and gave you some ideas. You can get very creative and festive with putting together a themed coffee bar.
Make sure to check out some of the other Blog-O-Ween posts while sipping on your pumpkin coffee!
Stay Spooky!
-Caroline
Shop the Stay Spooky Collection!