Let the Master of Fright haunt your bathroom all year! Today, for Blog-O-Ween Day 2, I am sharing my Nightmare Before Christmas bathroom. I hope this gives you inspiration and ideas for your own spooky bathroom!
Rugs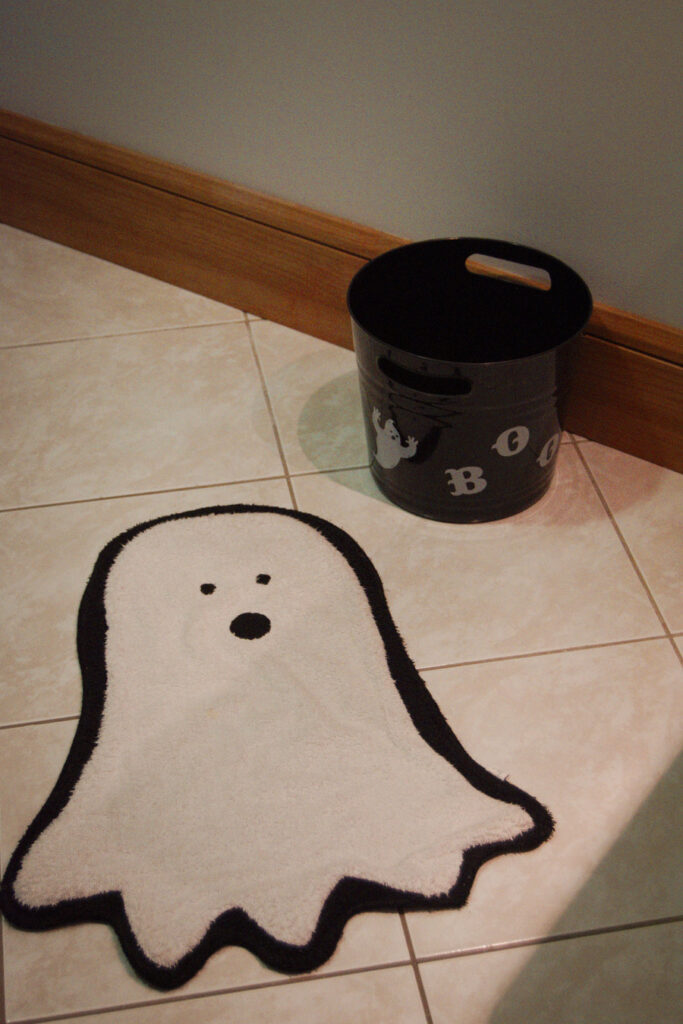 The first thing that will help bring Halloween Town to your bathroom is rugs and bath mats. I purchased this ghost rug at Target many years ago. I use it as a decoration because I want to keep it in good condition. It is super cute though, and adds a spooky vibe to my bathroom.  I have found other spooky rugs that you can shop below! They do make Nightmare Before Christmas bath mats and rugs which would be perfect for a Halloween bathroom.
Wall Decals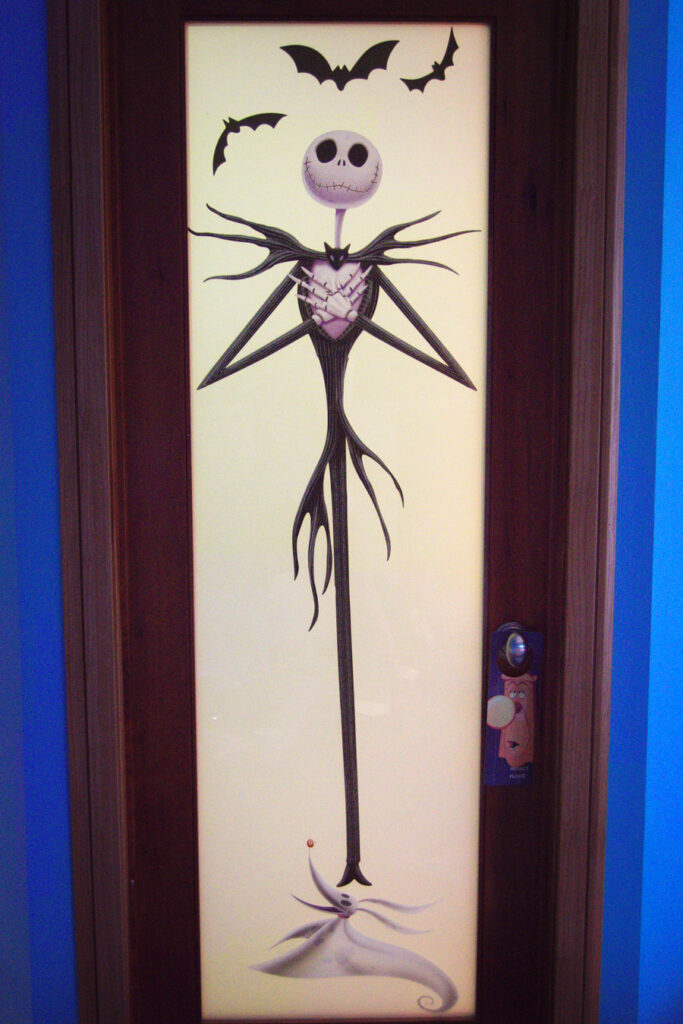 This Jack Skellington decal was used at my surprise Nightmare Before Christmas birthday party last year. After the party was over, my mom had the idea of putting the decal on the glass part of my bathroom door. I really like having the decal there and it helps to make the bathroom spooky!
You should be able to put these decals on any glass surface, including mirrors and possibly the outside of a glass shower door.
Bath towels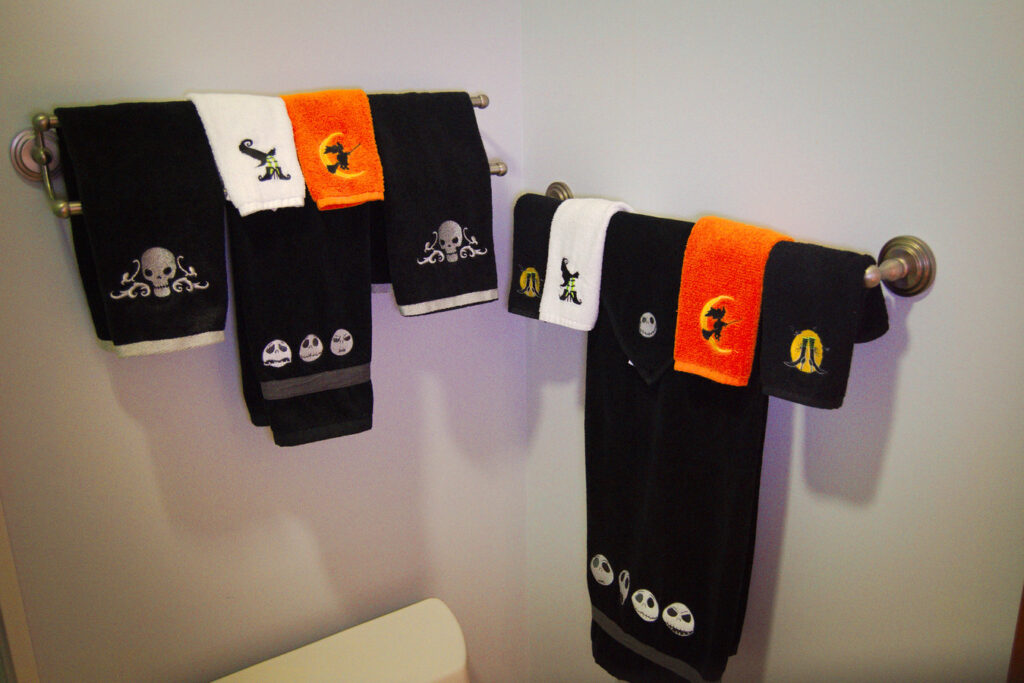 There are many different bath towels and washcloths out there that would help create a frightful Nightmare Before Christmas bathroom. I have a mixture of towels that I like to display and use in my bathroom.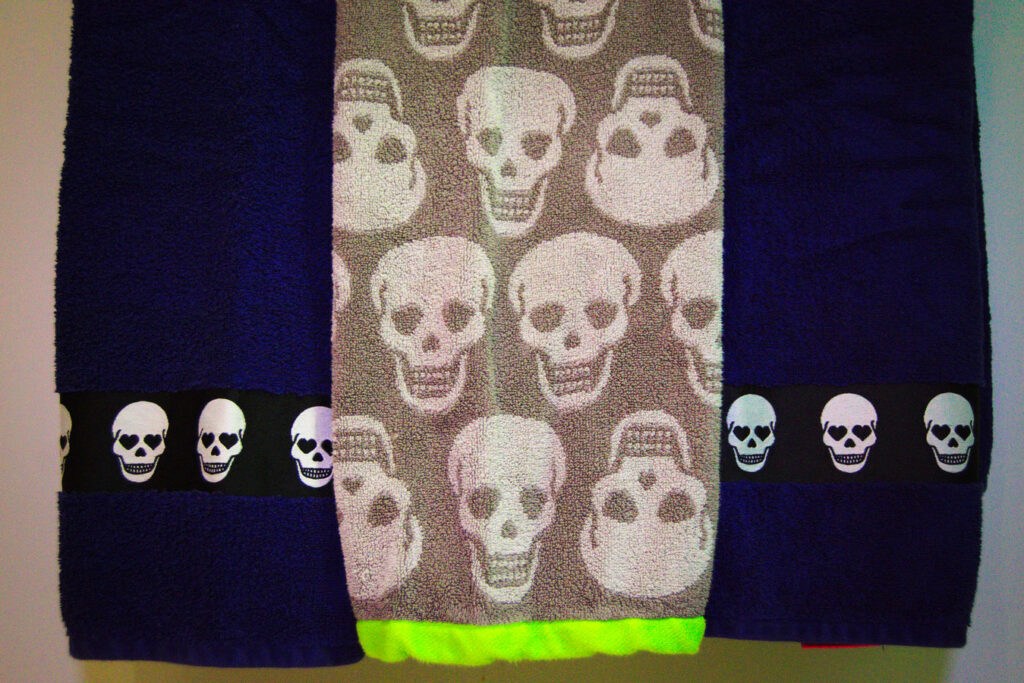 I have plain black hand towels and washcloths that I use daily. For more decorative towels though, I display my Nightmare Before Christmas and other Halloween towels. The Jack Skellington ones are from the Disney store and I received them as a gift a long time ago. I also love to use these Betsey Johnson skull towels. I actually found these at T.J. Maxx a few years ago. They have held up very well and are a lot of fun to have in your bathroom.
Beauty Accessories
I have a few Nightmare Before Christmas beauty items that I use and keep in my bathroom. The first item that has been used the most is my Jack Skellington makeup bag. I think you can tell by looking at it that it has been used a lot! I got this makeup bag from Hot Topic at least ten years ago. It still works great even though it is worn.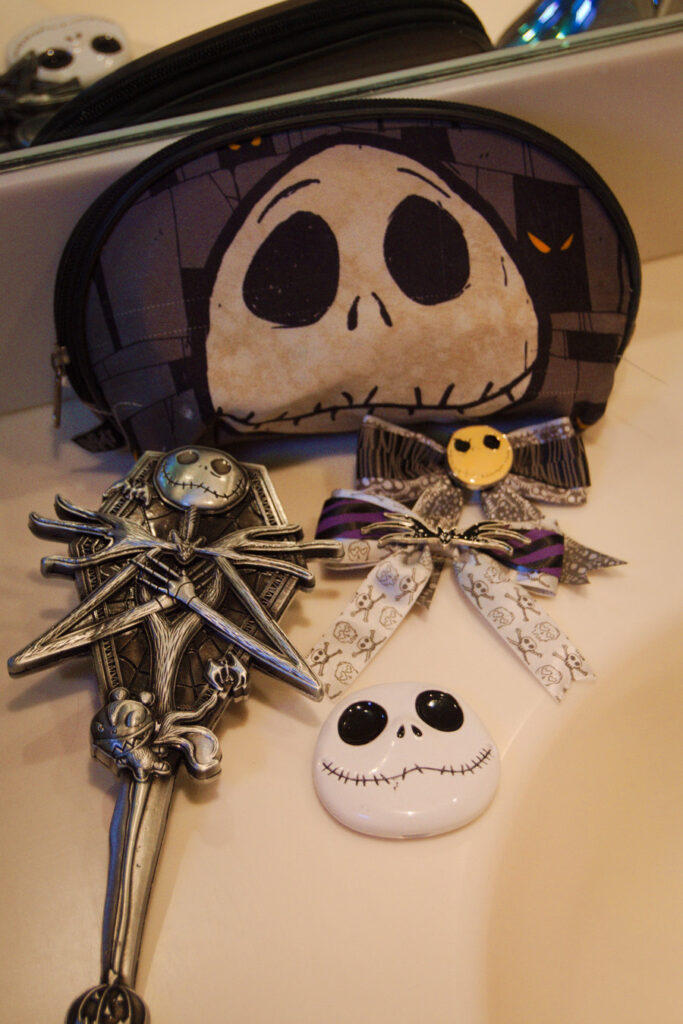 I got this Nightmare Before Christmas hair brush a Christmas or two ago. It works very well but you have to be careful because it is heavy and I have hit my face on it before, haha. This hairbrush also makes a great decoration to display in your bathroom. I also like to put these Nightmare Before Christmas bows in my hair sometimes. They are fun to wear and easy to use.
Another cute Nightmare Before Christmas item to have is this little compact mirror with lip gloss inside. This Jack Skellington compact is perfect to keep in your bathroom or in your purse.
Hand Soap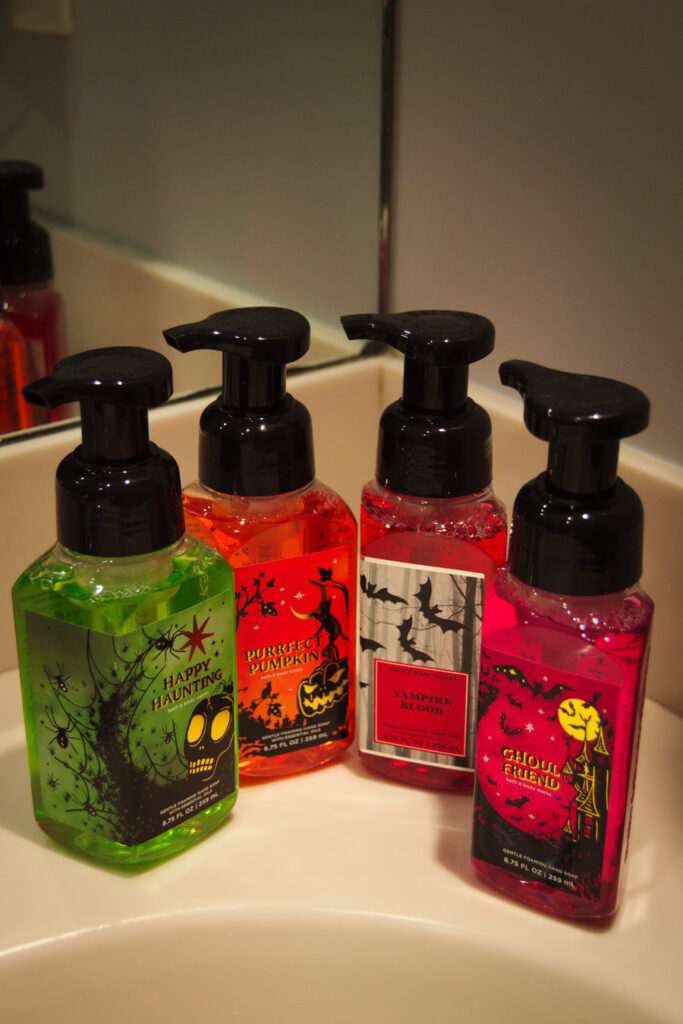 You obviously need hand soap in your bathroom, and there is no better soap than a spooky one! I love getting these foaming Halloween hand soaps at Bath & Body Works every year. There are a lot of other stores where you can get fall scented soap as well.
Other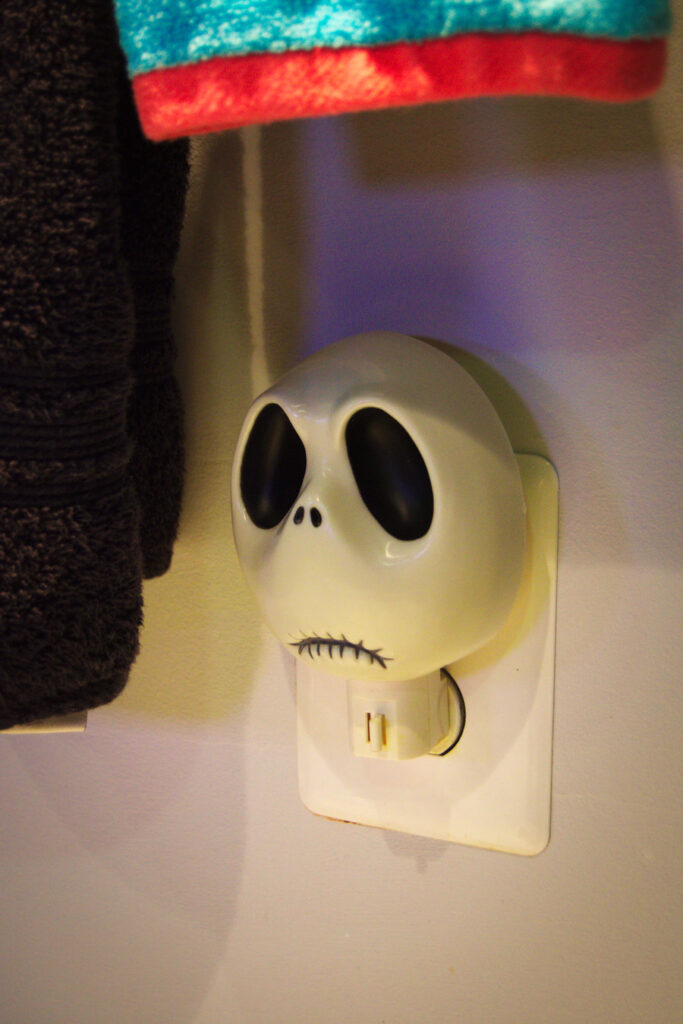 A few other Nightmare Before Christmas bathroom items I have are this Jack Skellington nightlight and a Halloween trash can. The nightlight is super cute, even if you just use it for decoration. The Halloween trash can is actually a bucket I purchased from Target in the Halloween section. I decided to use it as a bathroom trash can since it would match my theme nicely.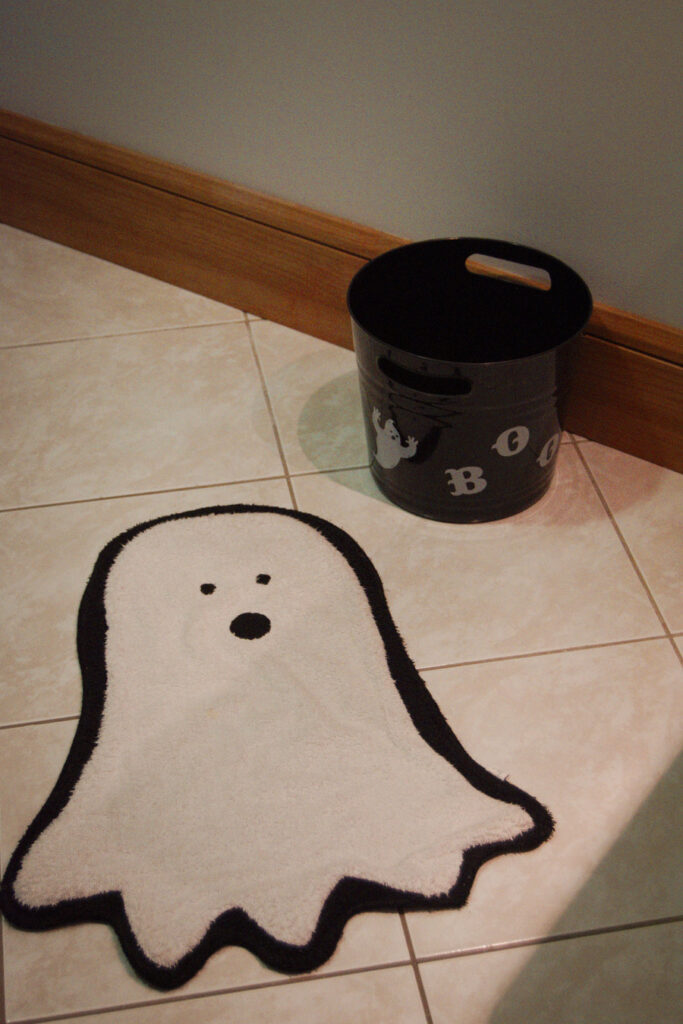 There are many other Nightmare Before Christmas Bathroom items available that I do not have, such as a tissue box and toothbrush holder. I have also seen Jack Skellington shower curtains that are really neat.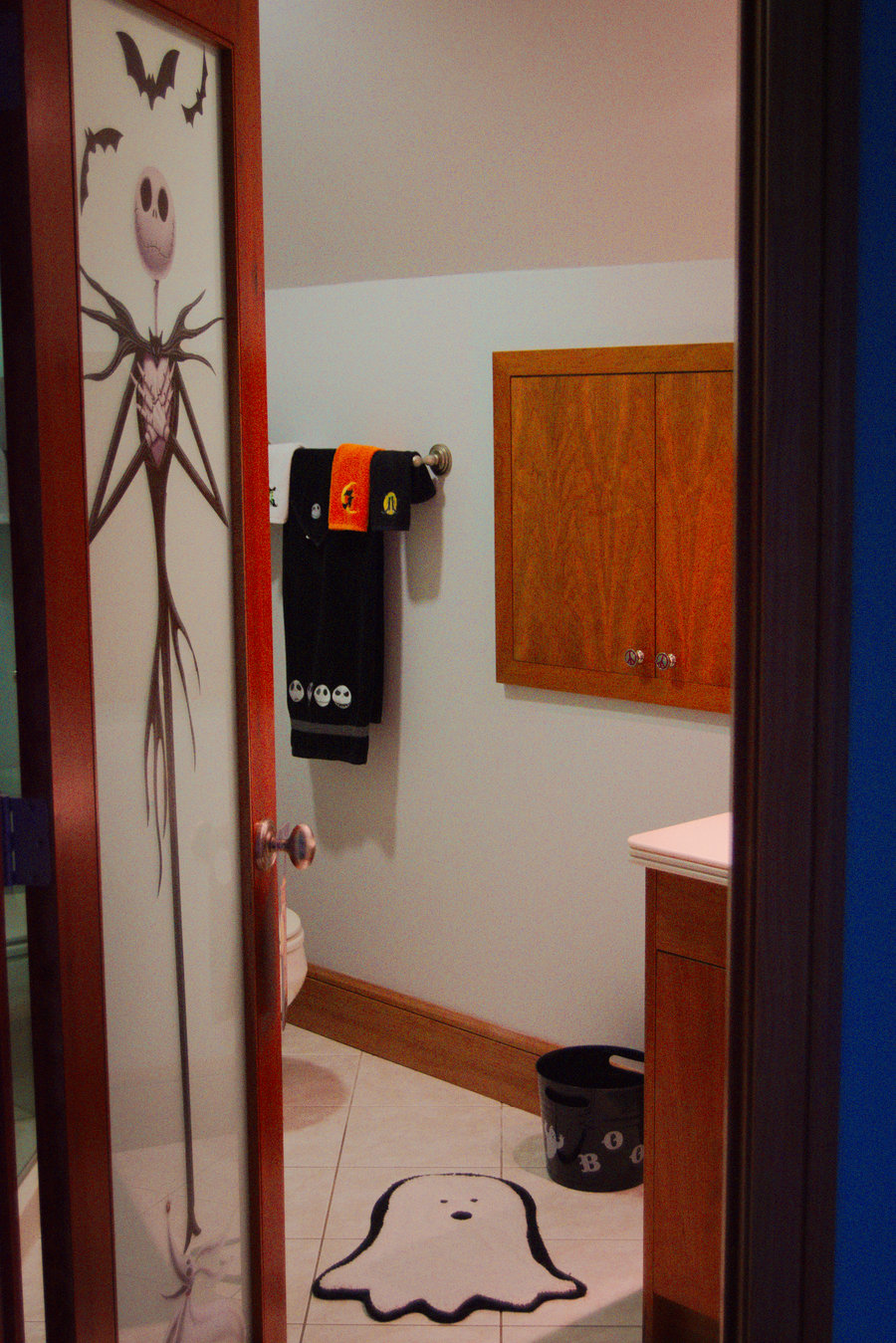 No matter how big or small your bathroom is, you can definitely create a Nightmare Before Christmas bathroom. The possibilities are endless and there are so many items available that you can use to decorate. I hope reading about my bathroom has given you some spooky inspiration and you are able to create your own Nightmare Before Christmas Bathroom!
Stay Spooky!
-Caroline
Shop the Stay Spooky Collection!
Check out more Nightmare Before Christmas home inspiration below:
The Nightmare Before Christmas Kitchen
Nightmare Before Christmas Home