October is a great month to start getting cozy at home and watching scary movies at night. One thing that helps to make a home cozy and spooky is a Halloween fireplace decorations. Today for Blog-O-Ween Day 18 I am sharing my Halloween Fireplace Decor with you!
Halloween Hearth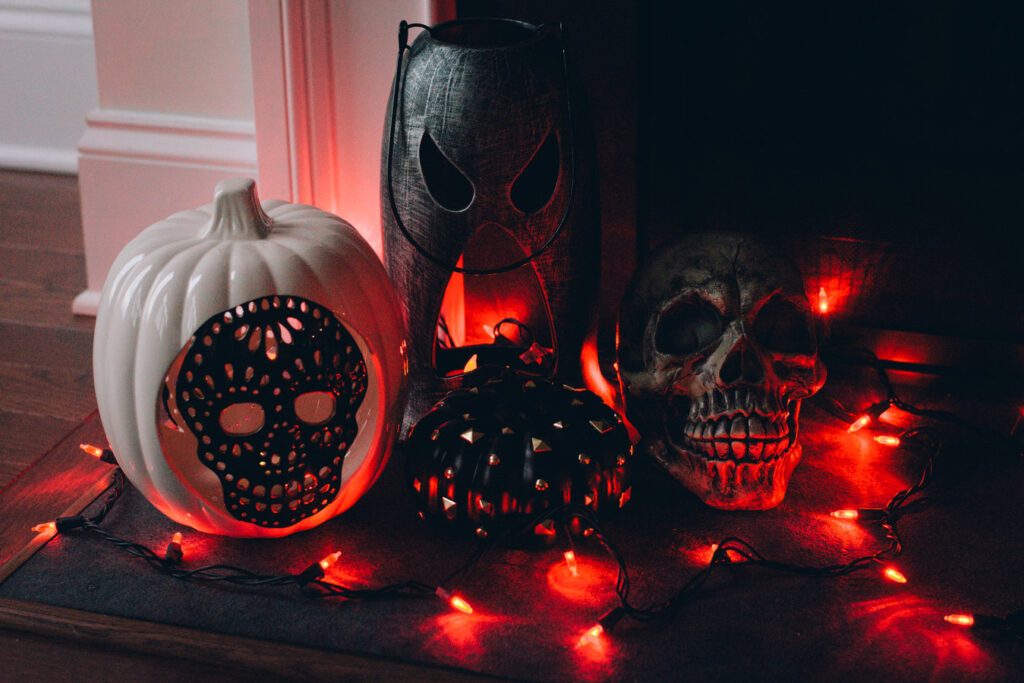 I started with decorating the hearth of our fireplace. I knew bigger Halloween decorations would fit well sitting in front of the fireplace, such as a big studded pumpkin and a light up skull pumpkin. Each side of the hearth has a group of decorations that are different in size and height. I also placed a Nightmare Before Christmas round spinning light in front of the big pumpkin.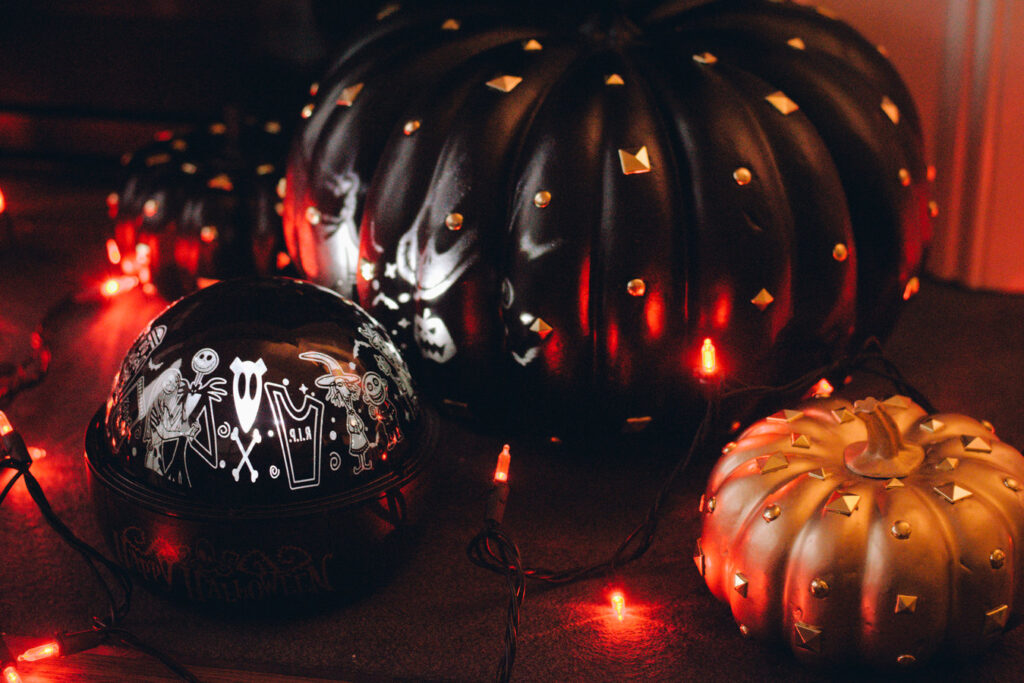 In the middle of the hearth I placed this awesome Rae Dunn Happy Halloween vase. I spotted this in Home Goods a few weeks ago and had to get it. This vase is great because you could use it to decorate in so many different ways.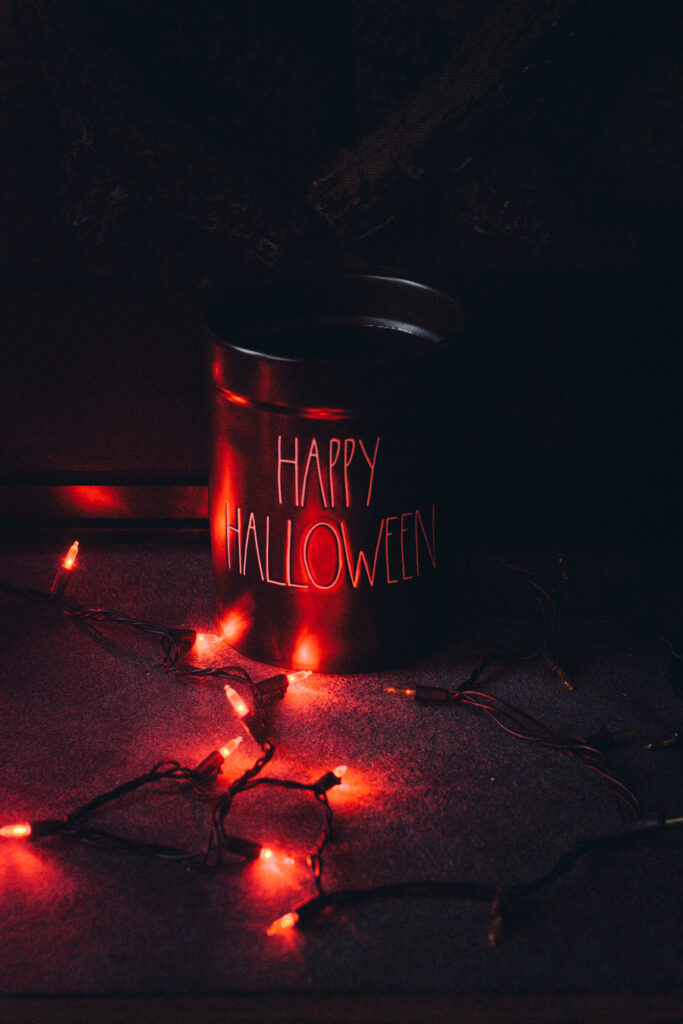 Once I got all the decorations placed how I wanted them, I added orange string lights. I love adding festive strings lights to my decorations. String lights help to bring the festive atmosphere to life. They also make it feel extra spooky at night when it is dark expect for the string lights.
Halloween Mantel
Next it was time to decorate the mantel. I have a few of these Nightmare Before Christmas cheesecloths and I knew it would be perfect for our mantel. I made sure to drape the cloth so it would look spooky and so you could see Jack's face. After getting the cloth in place I added some small Halloween decorations. Our t.v. sits right above the mantel so I am not able to put tall or large decorations on our mantel. Luckily though I have a lot of Halloween decorations in all shapes and sizes.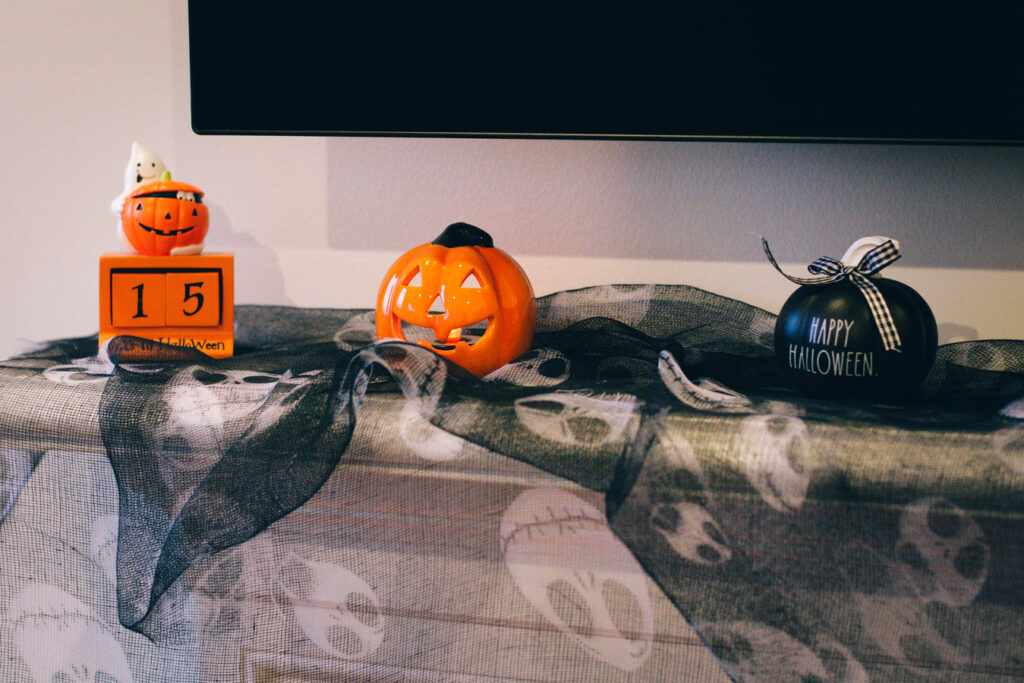 I placed a few of these super cute mini Rae Dunn pumpkins along the mantel. I also added some Lock, Shock, and Barrel toys and a count down to Halloween. The Jack and Sally figures are technically salt and pepper shakers but I just use them as decorations. Once again I had to add some string lights. Since I used orange string lights on the hearth, I decided to switch it up and have purple ones our on mantel.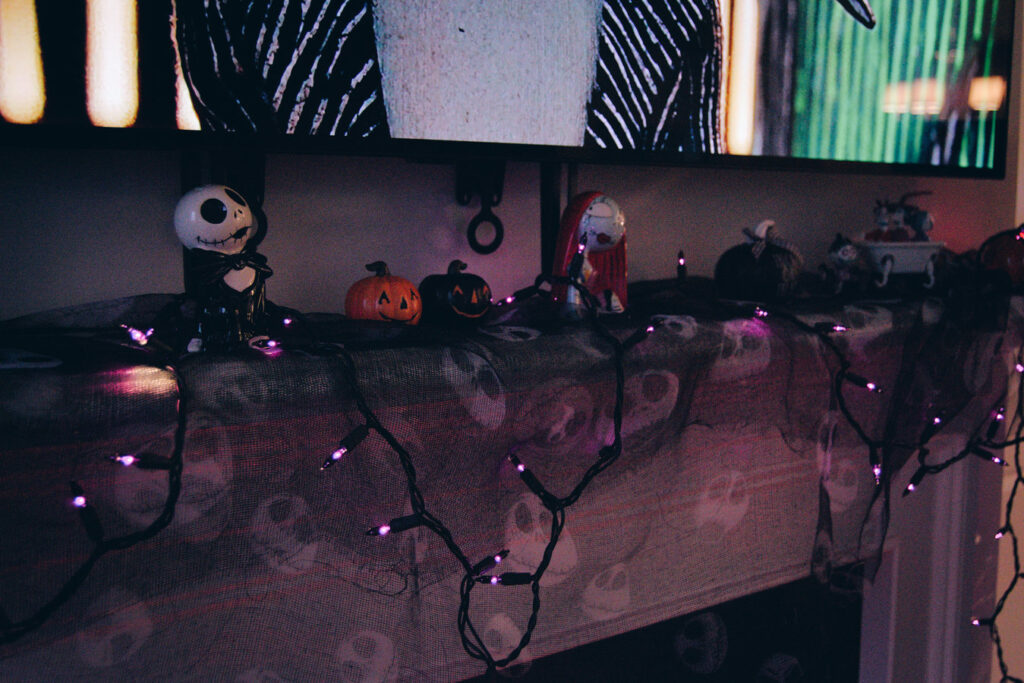 Halloween Fireplace Decor
Once the hearth and mantel were decorated, our Halloween fireplace was complete. An item that I feel totally brings the whole spooky fireplace to the next level is my Nightmare Before Christmas floor lamp. I got this lamp for Christmas last year and I absolutely love it. We keep the lamp next to our fireplace all year, not just during the month of October. It works great and gives off the perfect amount of light. If you are Nightmare Before Christmas fan I would definitely recommend getting one.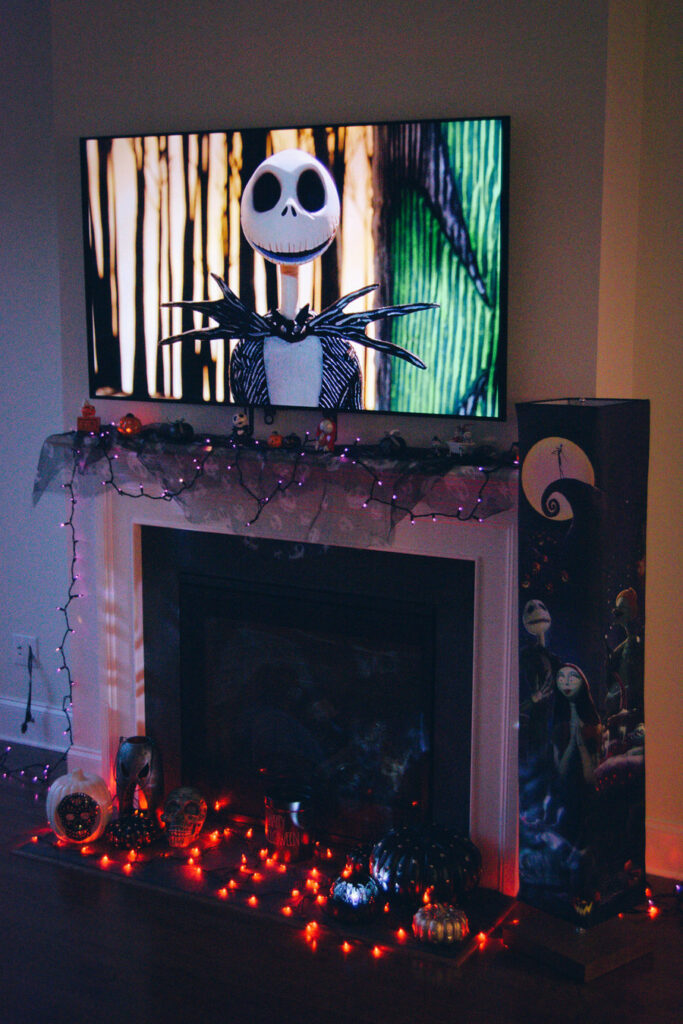 Alex and I have been enjoying watch scary movies in front of our spooky Halloween fireplace. I usually plug all of the string lights in at night, whether we are watching a movie or not. I hope you have enjoyed Blog-O-Ween Day 18 and that it has given you some ideas for your own Halloween fireplace decor.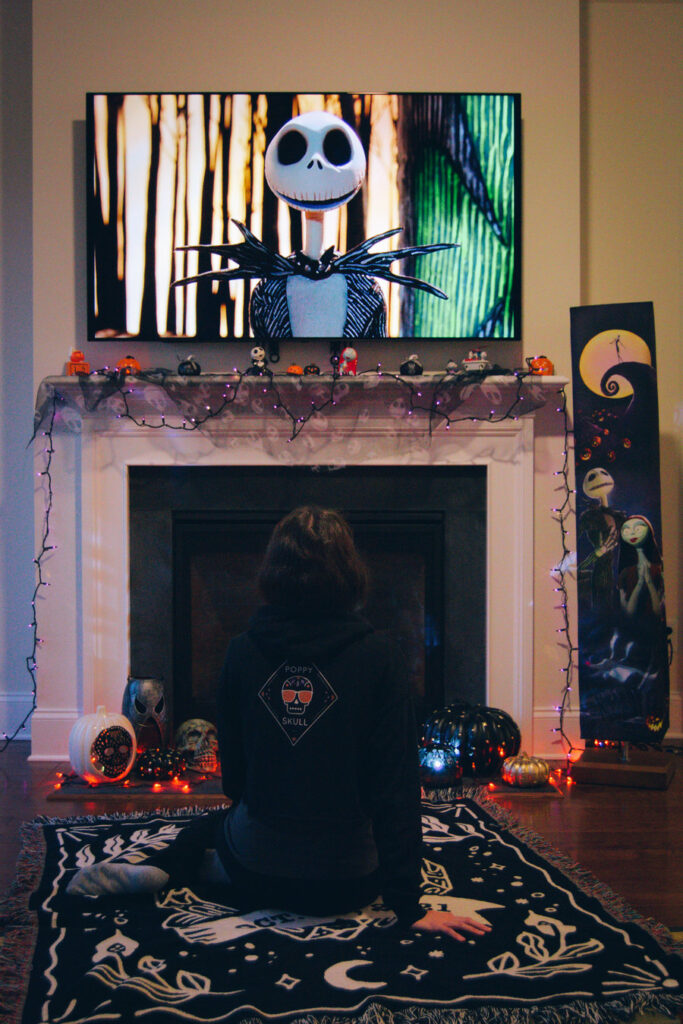 Stay Spooky!
-Caroline 🙂
Shop the Stay Spooky and Hallowedding Collection here!
Check out some of the other Blog-O-Ween posts below:
New Nightmare Before Christmas Kitchen