Jack-O-Lanterns are a festive part of the Halloween season. Whether you like to carve pumpkins into jack-o-lanterns or purchase plastic jack-o-lanterns, they are a fun way to get into the Halloween spirit. A few years ago my fiancé, brother, and I went to The Glow, which was a fun trail lined with jack-o-lanterns. They unfortunately do not have this event anymore. However we did check out a new local event last night, the Chadds Ford Great Pumpkin Carve!
Chadds Ford Great Pumpkin Carve
Location:
Chadds Ford Historical Society
1736 Creek Road, Chadds Ford, PA 19317
(610) 388-7376
www.greatpumpkincarve.com
Alex and I have never attended the Chadds Ford Great Pumpkin Carve before. Since it is currently happening this weekend and we had some free time, we decided to check it out. This event happens every October in Chadds Ford. Local artists carve giant pumpkins on a Thursday. The jack-o-lanterns are then lit and displayed on Friday and Saturday.
We decided to check out this event last night, Friday October 15th. I honestly did not realize how popular this local pumpkin carve was. It took us awhile to get into the parking lot because so many people were there last night. They do not sell timed tickets or tickets online ahead of time. You purchase your ticket when you arrive.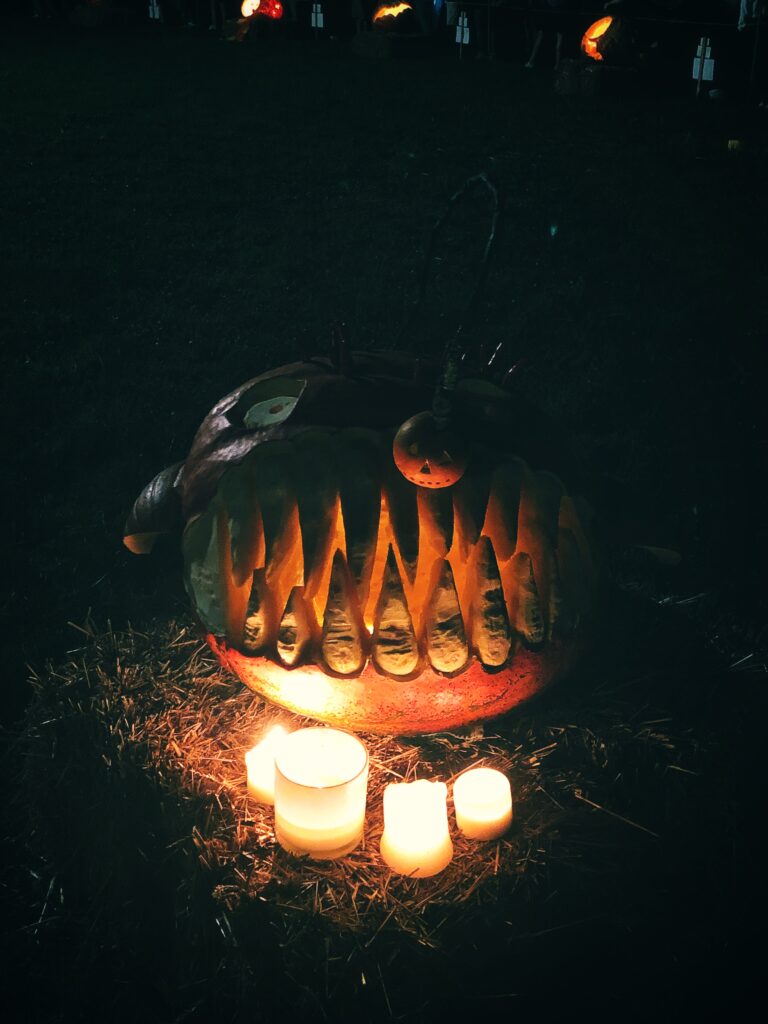 Once we got into the Chadds Ford Great Pumpkin Carve we walked around to see what the event had to offer. In one area there were food trucks, a stage with a live band playing, local vendors selling items, and festive sitting areas with hay stacks. There were also actual tables and chairs to sit at. This section also had strings lights hung between the trees which created a great nighttime fall festival atmosphere.
After we explored the food and drink area we walked over to where all of the huge jack-o-lanterns were displayed. The jack-o-lanterns were set up in three huge circles that are roped off. They are all sitting on top of a hay stack so you can see them better.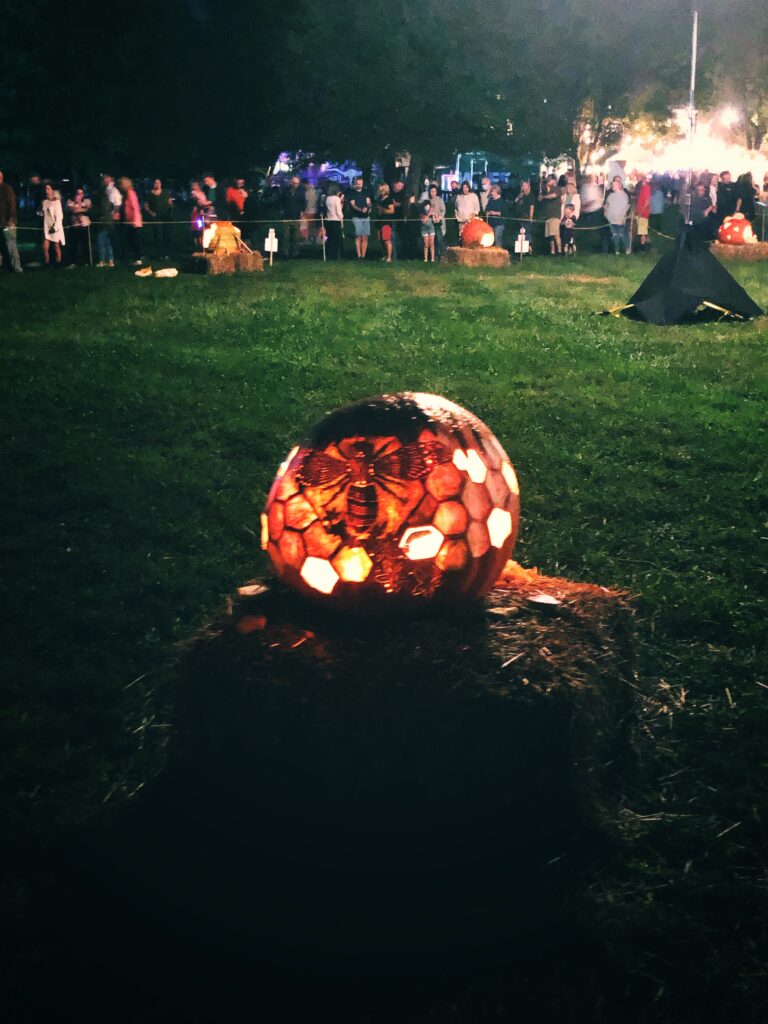 The Chadds Ford Great Pumpkin Carve has over 70 carved pumpkins on display! Every single pumpkin was massive. We made our way around all three circles of jack-o-lanterns admiring all of them. You can also vote for your favorite one by using your entry ticket and placing it in the voting box next to each pumpkin. I am sure you can guess from my pictures which pumpkin I voted for.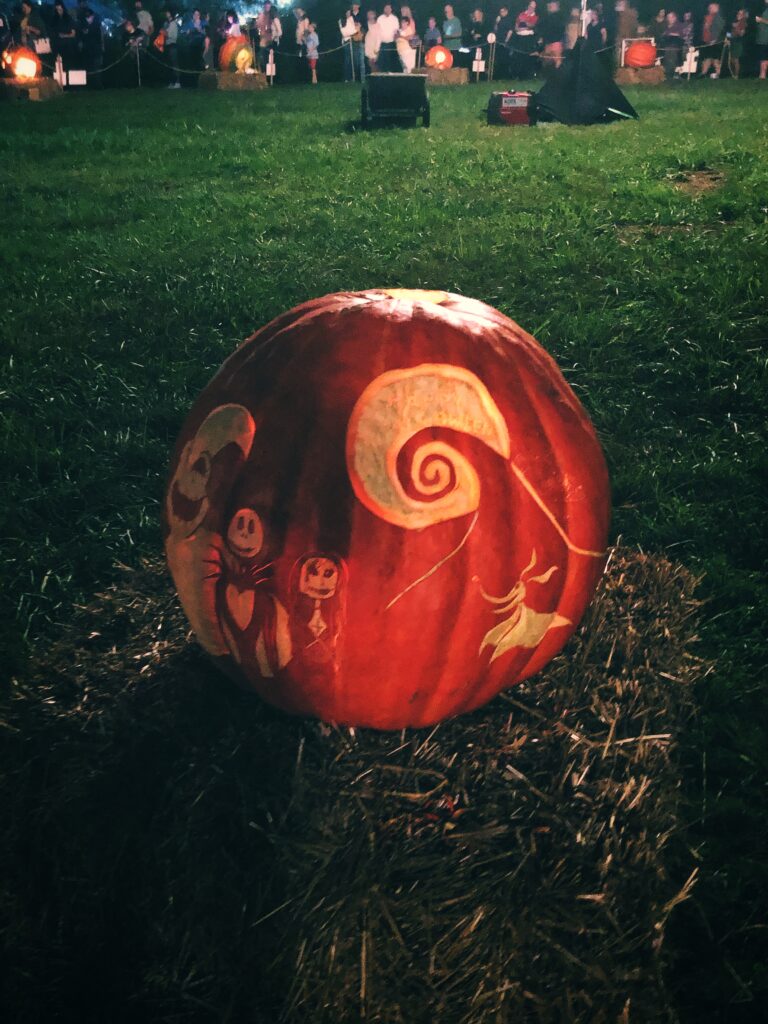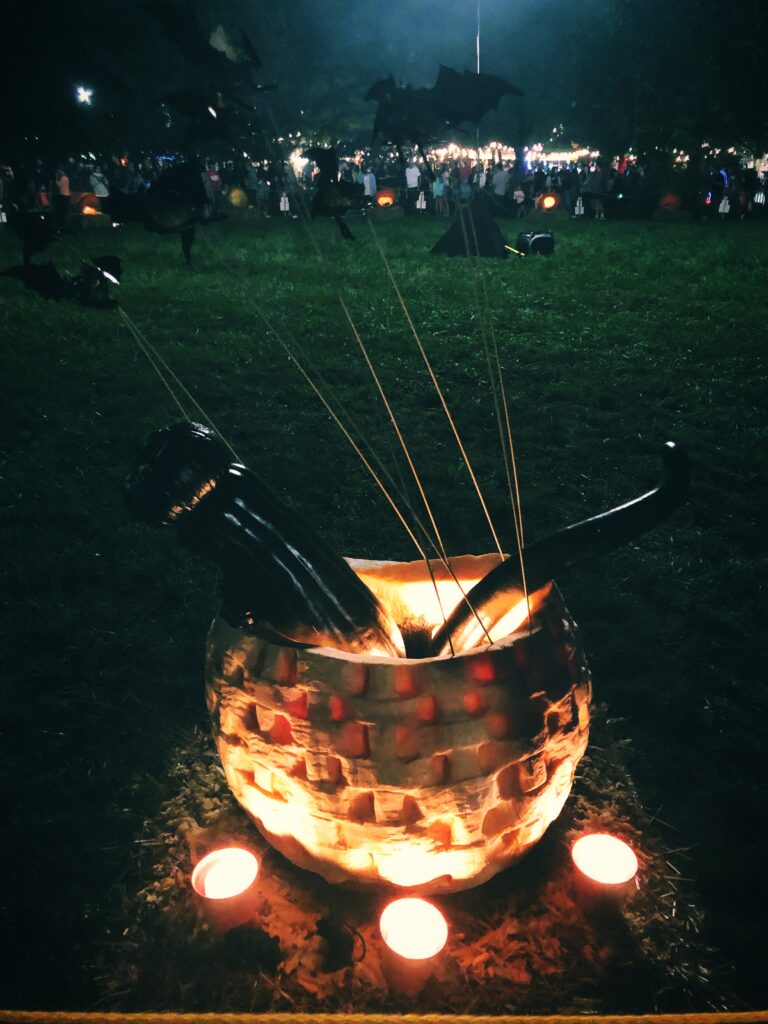 After seeing all of the amazing jack-o-lanterns, we took a walk through the haunted trail. This trail is kid friendly but it was still fun for us. The whole event is family friendly and perfect for all ages. Once again I did not realized how popular of an event this is and how crowded it would be.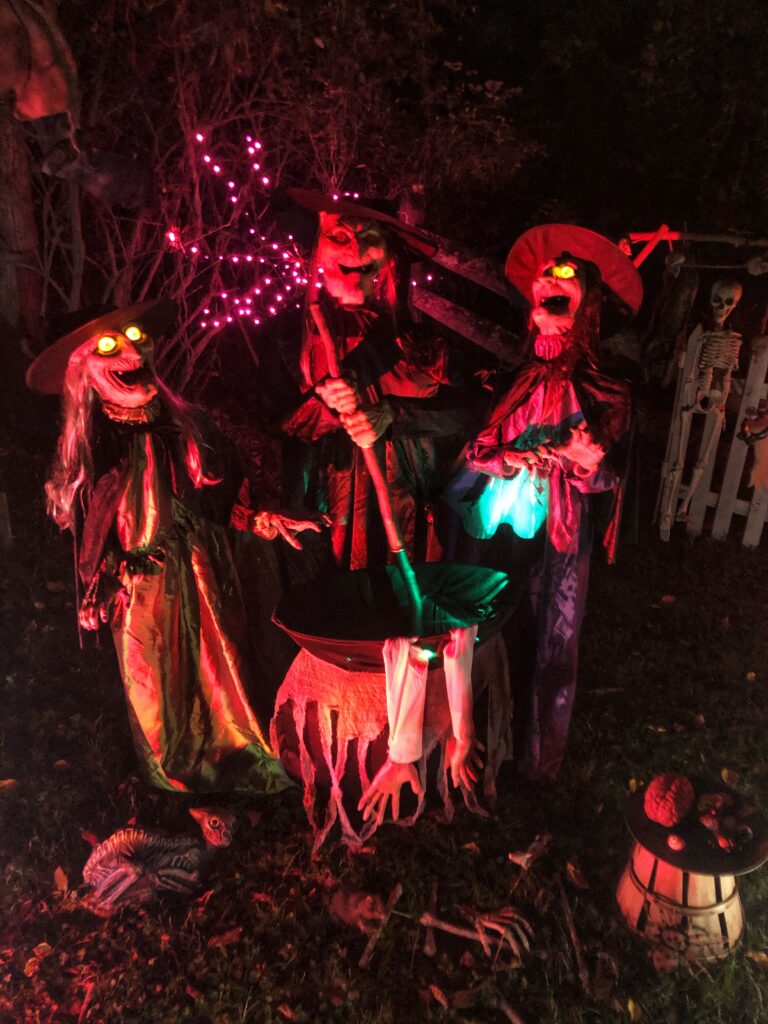 Alex and I had a fun time last night at the Chadds Ford Great Pumpkin Carve! If you have never been before, it is a fun event to check out. It is amazing the ideas and talent some people have to carve very intricate pumpkins. This event is also a great place to hang out with your family or friends. If you want to attend, today Saturday October 16, 2021 is actually the last day of the event. Check out their website here for all of the details.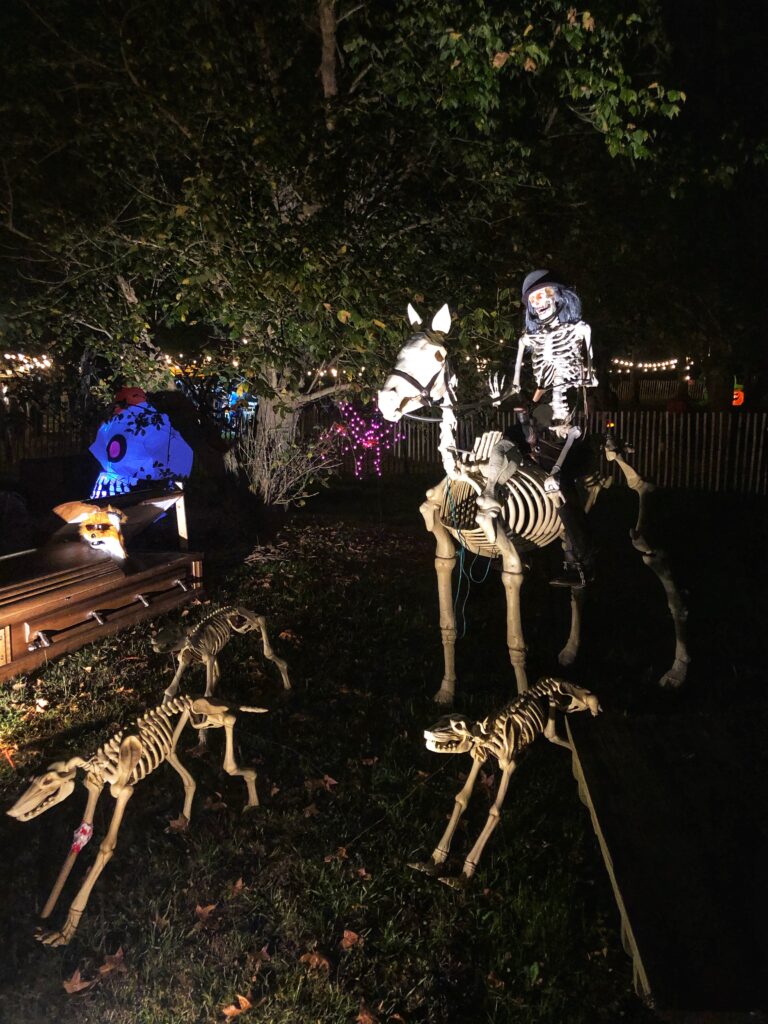 I will also mention that this event is completely outside and on a big grassy area. Wear shoes that are comfortable and that you are alright with possibly getting dirty. There are also only portable restrooms there not actual restrooms.
I hope you have enjoyed Blog-O-Ween Day 15 and getting a sneak peak of the Chadds Ford Great Pumpkin Carve! Let me know if you have ever attended this event or if you have a similar event near you!
Stay Spooky!
-Caroline 🙂
Shop my Stay Spooky and Hallowedding Collection here!
Check out some of the other Blog-O-Ween posts:
Nightmare Before Christmas Pin Collection
Chaddsford Winery Adult Trick or Treat