Our Honeymoon in Salem Adventure begins with Alex and I leaving for Salem on Thursday, November 4th. We were leaving from Jersey and according to the map the Hawthorne Hotel (where we were staying) is a five hour and forty two minute drive. One of Alex's students suggested we make a stop along our way in Sleepy Hollow, New York since it is a spooky place.
Sleepy Hollow
Alex and I got on the road Thursday morning around 10:00am and made our way to Sleepy Hollow. We drove up the Jersey Turnpike, to the Garden State Parkway, and over the Tappan Zee bridge to Sleepy Hollow. The drive on the Parkway had beautiful foliage and great scenery.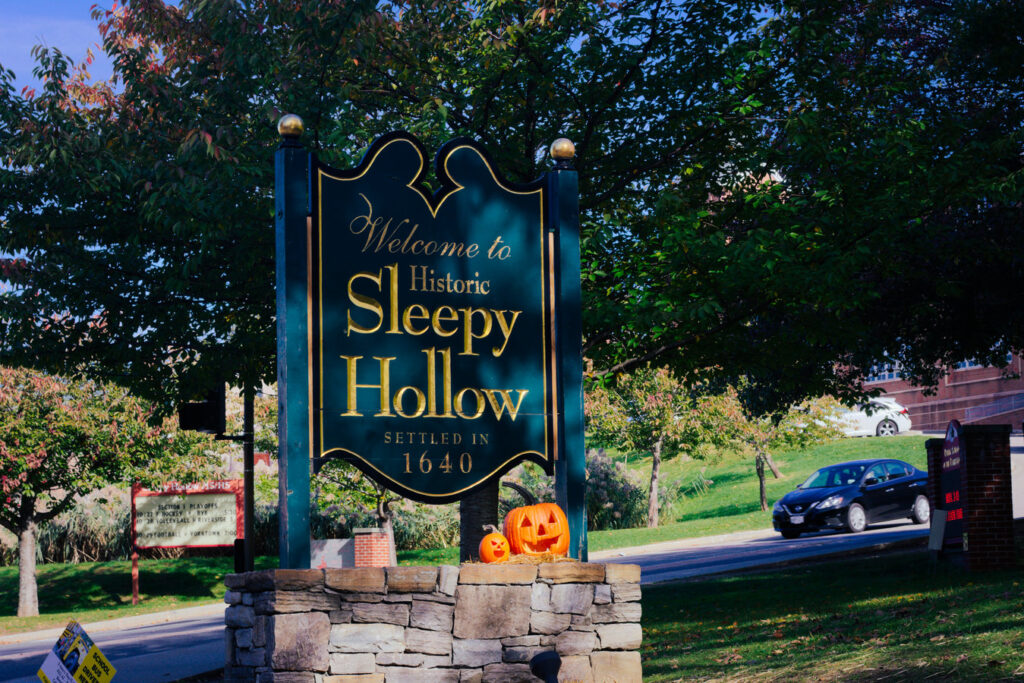 After arriving in downtown Sleepy Hollow we walked around for a bit. I honestly thought the downtown area would have more shops and things to check out but there was not much going on. We decided to get back in the car and drive to the Sleepy Hollow Cemetery.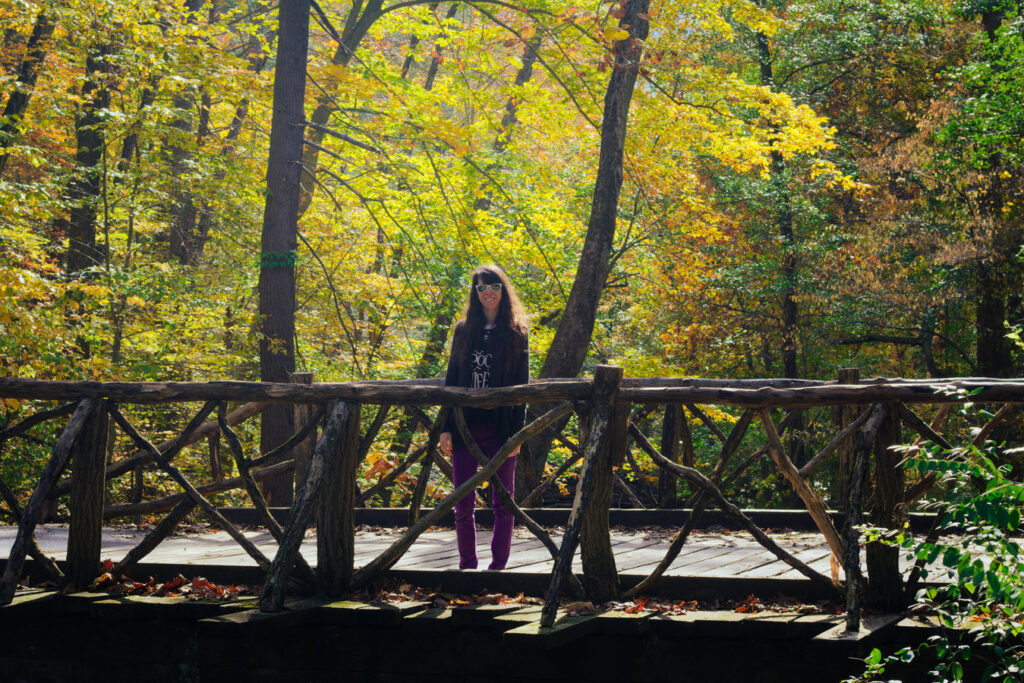 The Sleepy Hollow Cemetery ranges across 90 acres and it is beautiful in the fall. Sometimes it felt like we were in a big park rather than a cemetery. We carefully drove around and would only park on roads that had enough space for other cars to pass. You are allowed to drive and walk around Sleepy Hollow Cemetery, you just had to be respectful. They do offer free maps for a self guided tour. In the fall they also have group walking tours that you can purchase tickets for.
Alex and I drove around and explored the cemetery for a bit. We parked near some beautiful scenery, explored, and took photos. We probably explored Sleepy Hollow Cemetery for 45 minutes to an hour and then decided we should continue our drive to Salem. If you are ever in the Sleepy Hollow area, I would definitely recommend taking some time to explore the cemetery, especially in the fall.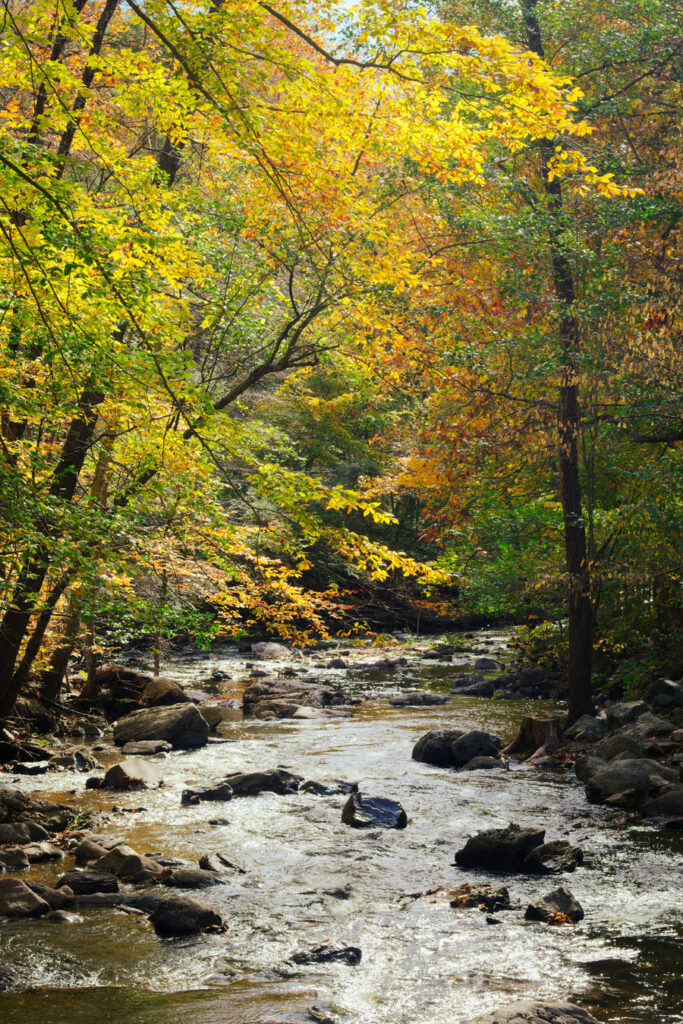 Drive To Salem
Alex and I continued our fun drive to Salem. We listened to my Spooky Salem Road Trip Playlist and made a few stops along the way at Starbucks. The foliage on our drive was beautiful and we really did not run into any traffic.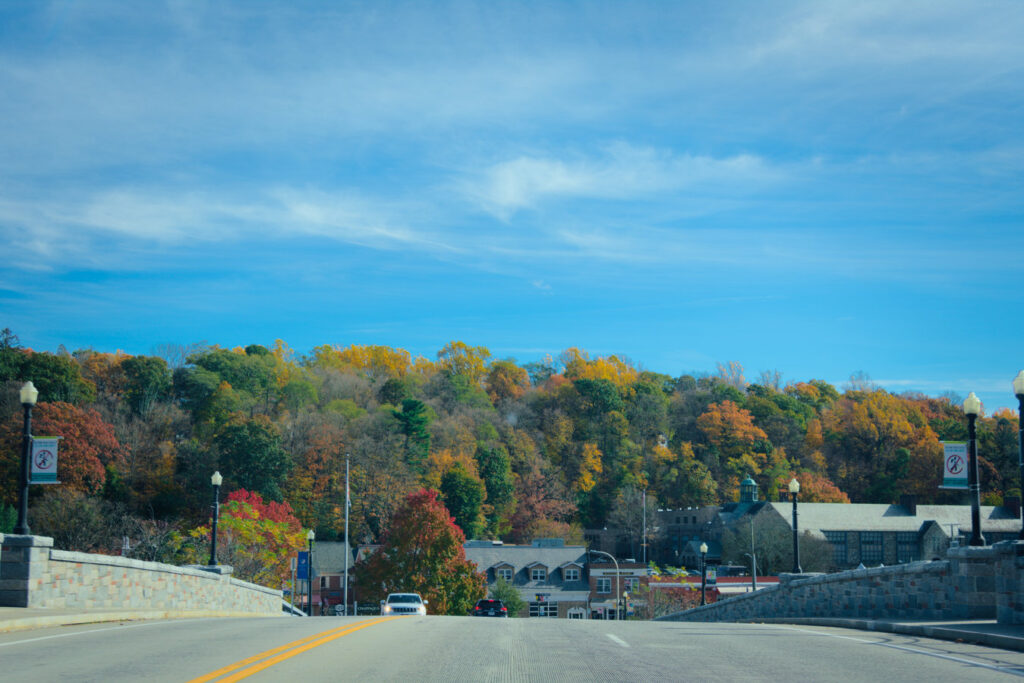 We arrived at the Hawthorne Hotel in Salem around 7:00pm. They have their own parking lot and parking is included with your stay, which is awesome. We made our way into the cozy lobby and checked in. Our room number was 310, which is not on the haunted floor, however my lucky number is three so I thought that was fitting. Before heading up to our room we made a reservation at The Tavern, one of the restaurants located inside the hotel.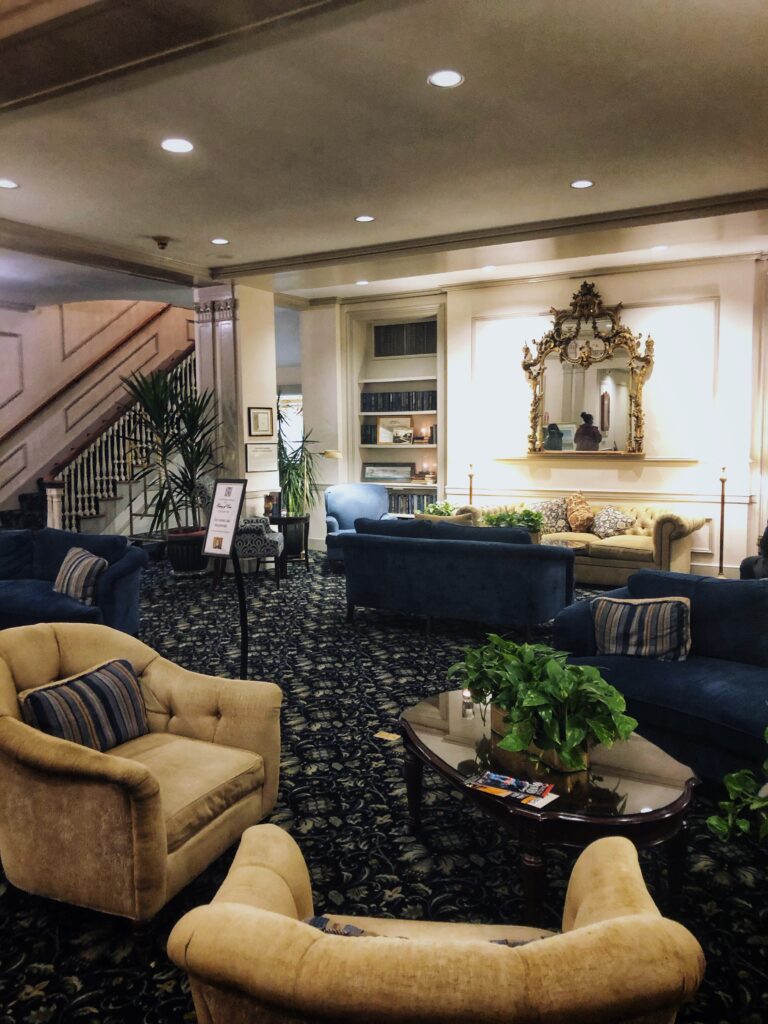 Hawthorne Hotel
The room we booked was a standard king room overlooking historic Salem, which was a wonderful view! Since the Hawthorne Hotel is a registered historic hotel, the room felt a bit smaller than modern hotel rooms. However we enjoyed our room, the view from our room, and we ended up not needing much extra space since we were out exploring a lot.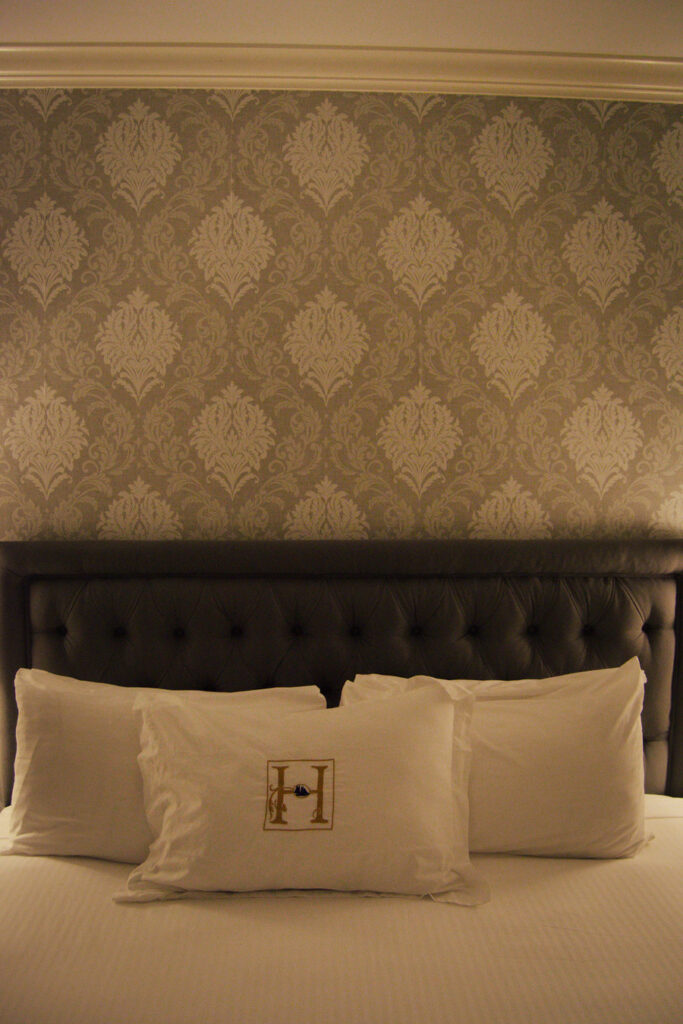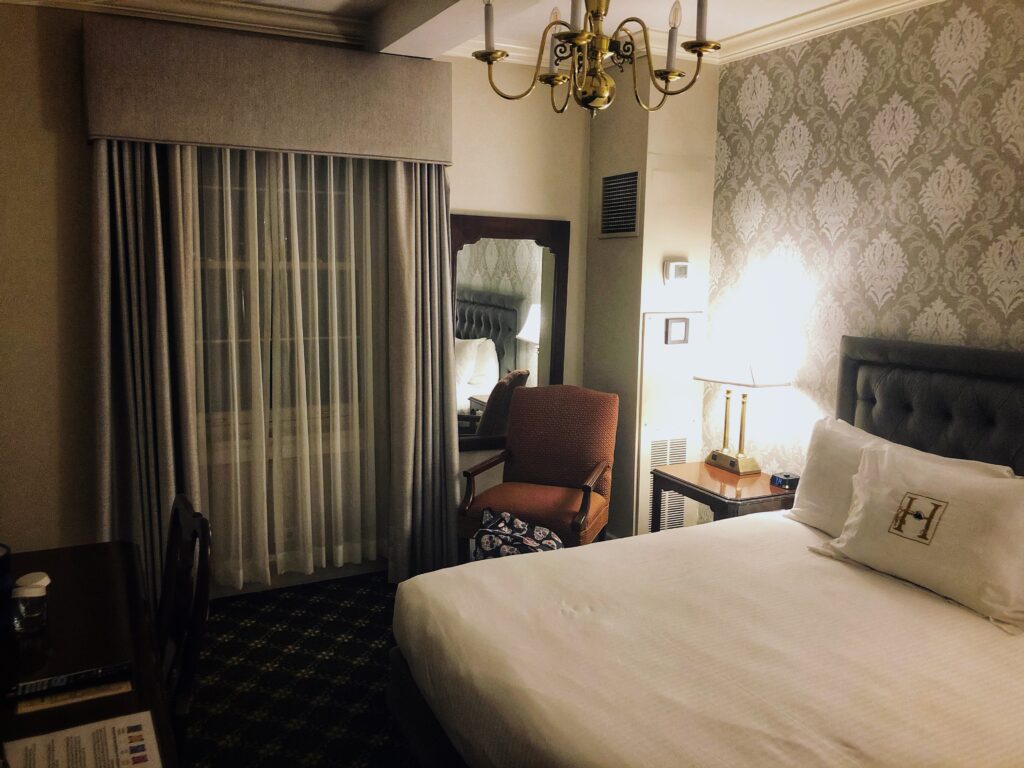 After getting settled in our room, we made our way back down for our dinner reservation at The Tavern. Before heading into dinner, we saw the Hawthorne Hotel serving complimentary hot apple cider and of course we had to get a cup.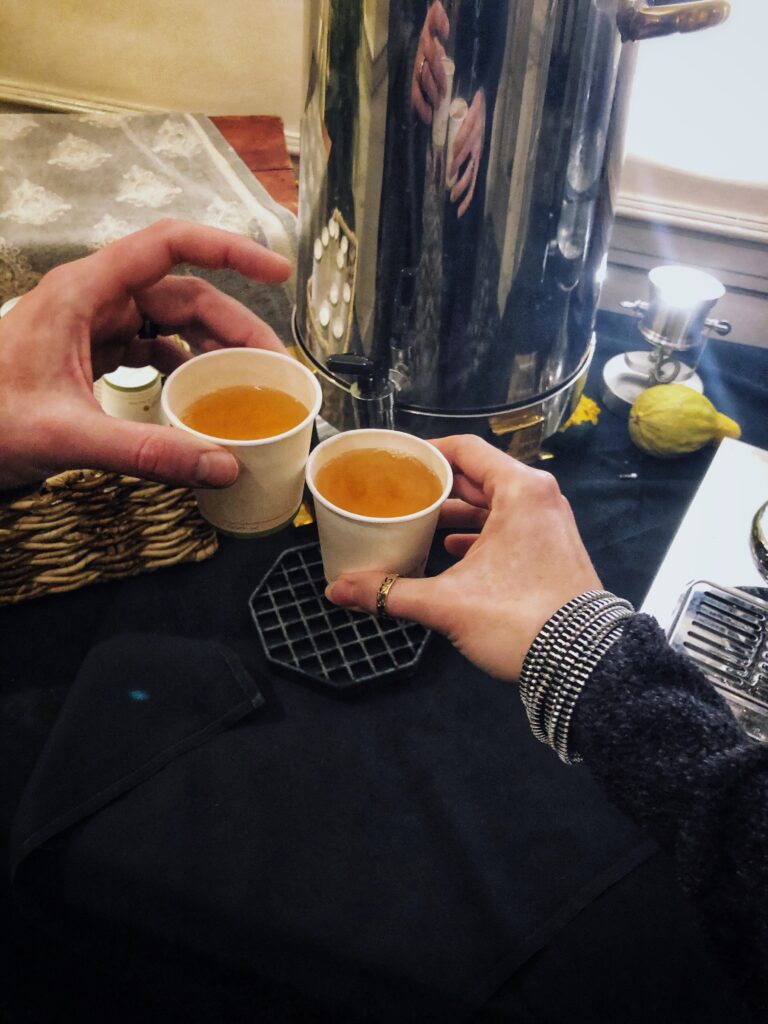 The atmosphere inside The Tavern was comfortable and cozy. Alex and I ordered some drinks and delicious pumpkin hummus as an appetizer. I got a quinoa salad for dinner and it was also delicious!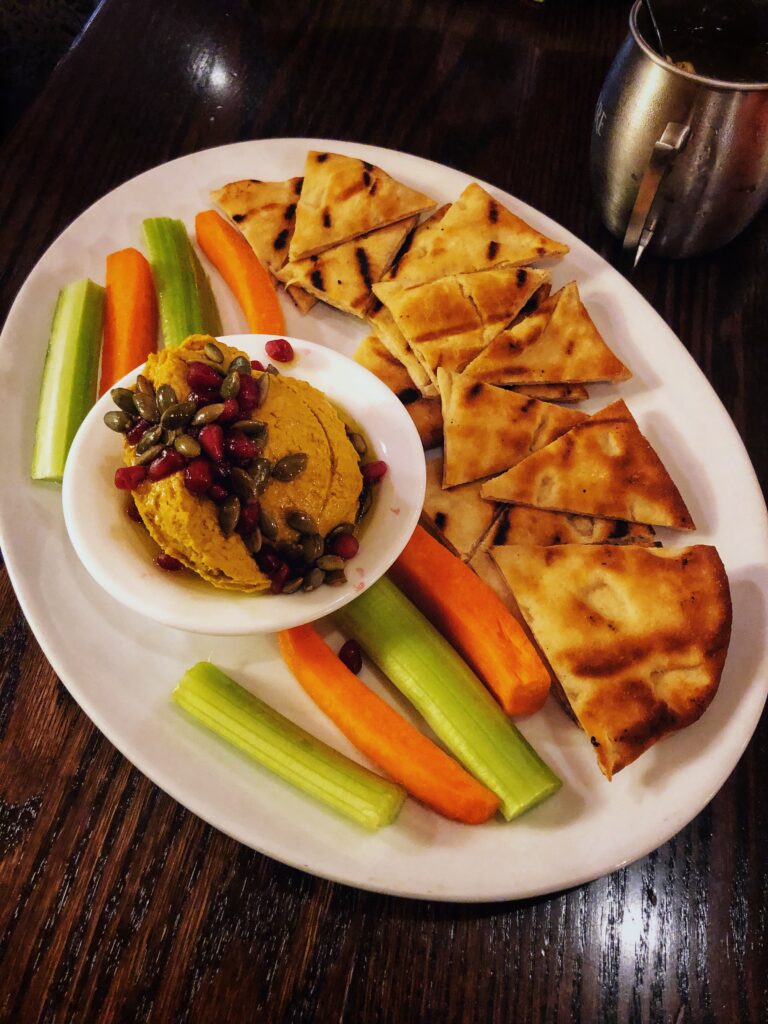 After enjoying our yummy dinner and the wonderful atmosphere, we decided to call it a night. We had a fun travel day and we were excited to start exploring Salem the next day.
I hope you have enjoyed Blog-O-Ween Day 24 and reading about our Honeymoon Adventure up to Salem. Stay tuned for the next part of our Honeymoon in Salem where I will share what we did on our first full day!
Stay Spooky!
-Caroline
Shop the Stay Spooky and Hallowedding Collection here!
Check out some of the other Blog-O-Ween posts: