When I decorate for Halloween not only do I decorate the inside of our home but also the outside. One day I would like to do a really big outside Halloween display. For this year however, I decided to stick with decorating our front steps. We usually place some pumpkins on our steps but I added a few new things to make the steps look extra spooky. Today for Blog-O-Ween Day 14 I am sharing our Halloween Front Steps.
Halloween Front Steps
To start decorating our front steps, Alex and I went pumpkin picking at Milburn Orchards. You can read all about our experience by clicking here. After picking a few pumpkins, including a massive 40 pound one, we were ready to start getting the front steps spooky for Halloween. We arranged the pumpkins on the perimeter of the steps so no one would trip over them.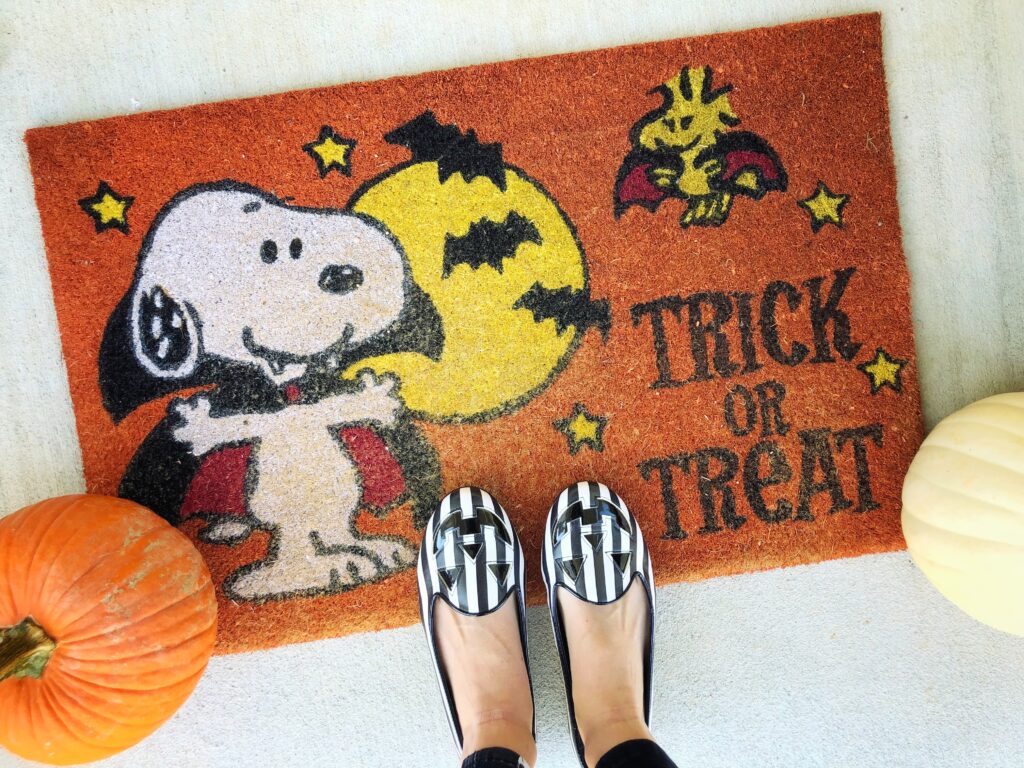 Next, I grabbed our Snoopy Trick or Treat doormat and switched it out with our usual mat. This definitely adds a spooky touch to the steps. After that was in place I got our two new outside decorations for this year. The first one is a Jack Skellington outdoor flag. My mom got this for me and I knew it would look super cute by our front door.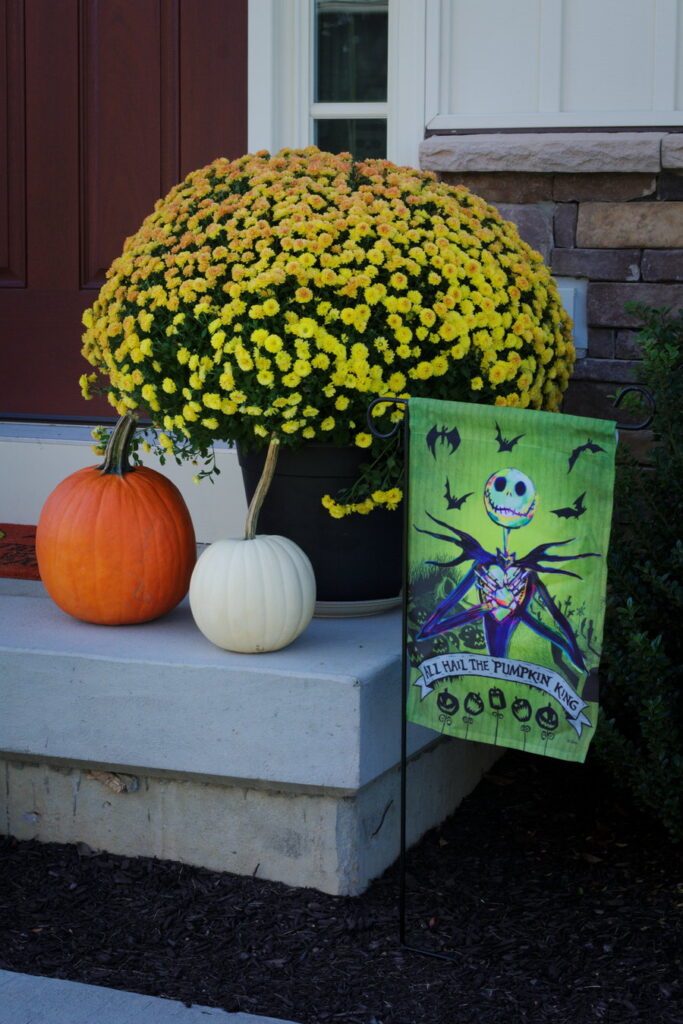 My mom also found this amazing Jack Skellington Happy Halloween sign. You can either put this sign in the ground or have it stand on its own. I thought it would look awesome on our front steps next to the giant pumpkin.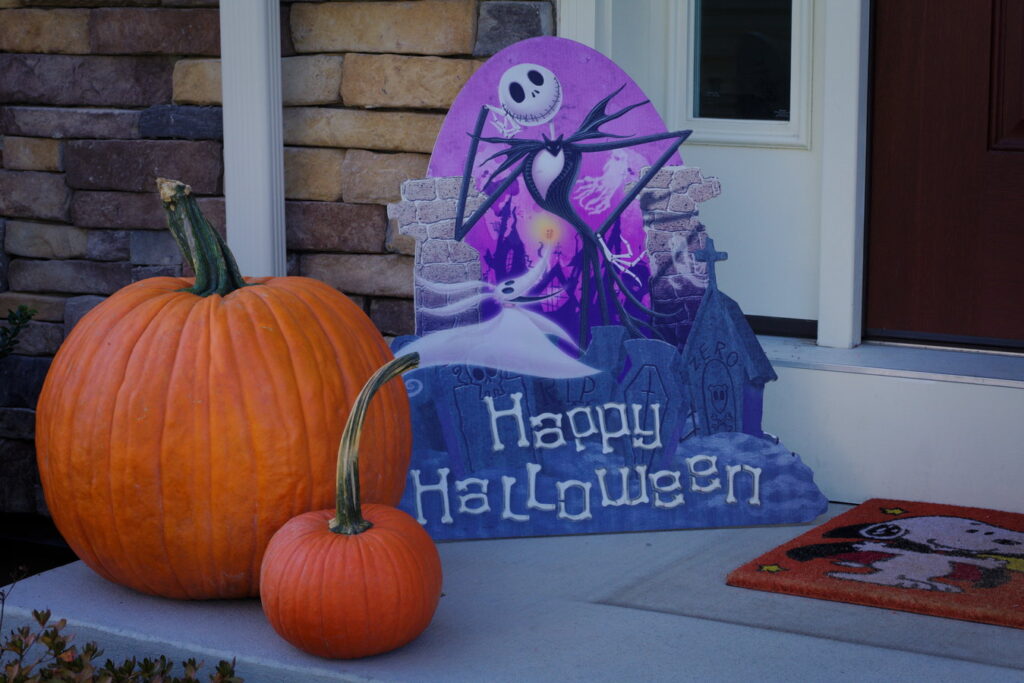 To finish off our Halloween Front Steps we added the biggest mum we have ever seen! This mum is from Costco and it is huge!!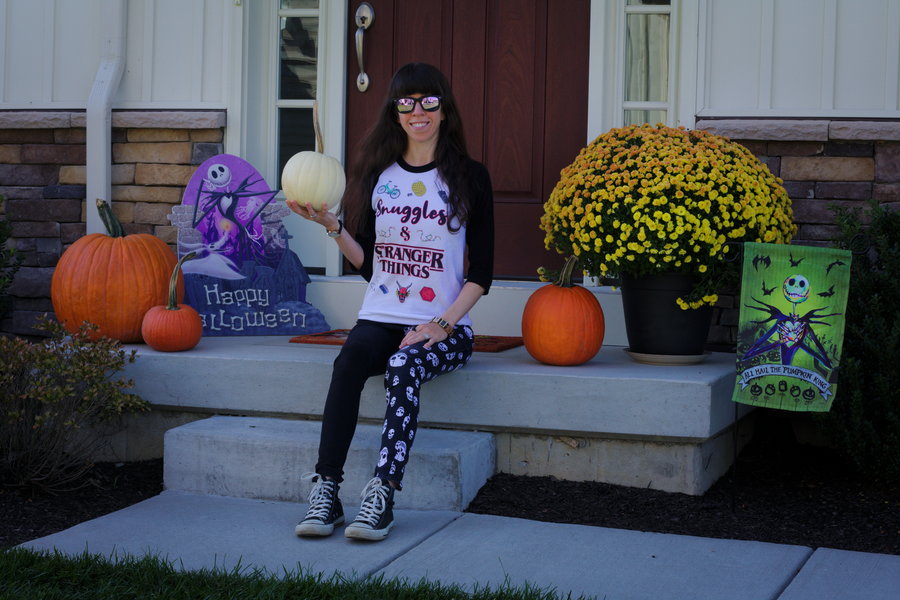 I absolutely love decorating the inside and outside of our home for Halloween. I always feel like when I decorate our front steps it spreads the Halloween spirit throughout neighborhood. It also makes our house look extra spooky. I hope Blog-O-Ween Day 14 has given you some inspiration to decorate your front steps!
Stay Spooky!
-Caroline 🙂
Shop my Snuggles and Stranger Things shirt here!
Check out some of the other Blog-O-Ween posts: