During these crazy Covid 19 times of being told to stay home, I thought it would be fun to put together an Emo Quarantine Playlist. After all, isn't this what all the emo kids are good at, staying at home in their room?!
I hope you enjoy the playlist below and you listen to it a lot during this time of solitude. Please share, save, and let me know what songs you would add to it!
Stay home and enjoy! 🙂
Emo Quarantine Playlist
-Hold On Till May- Pierce the Veil
-Lonely Day- Phantom Planet
-It Must Get Lonely- The Wonder Years
– Lonely, Lonely, Lonely- Taking Back Sunday
-Walking at Night Alone- Armor For Sleep
-Be Alone- Paramore
-Are You Alone- The Starting Line
-Lonely Girl- The Scene Aesthetic
-Fallin' Apart- All American Rejects
-Tearin' Us Apart- Plain White T's
-Worlds Apart- Silverstein
-Miles Apart-Yellowcard
-Mona Lisa- All American Rejects
-The Downfall of Us All- A Day To Remember
-Back Home- Yellowcard
– A Daydream Away- All Time Low
-Disconnect- Basement
-We'll Be O.K.- Bayside
-I Miss You- Blink 182
-Brand New- No Control
-Think of You Later- Every Avenue
-We're So Far Away- Mae
-Miles Away- The Maine
-Hard Times- Paramore
-Solo- The Story So Far
-Days Go By- Valencia
-Isolation- Joy Division
Make sure to save this playlist on Pinterest!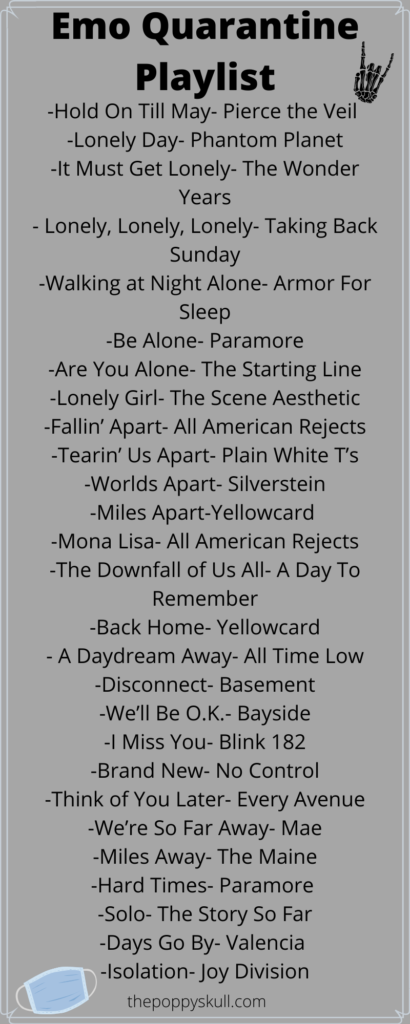 If you enjoyed this playlist, check out some of my other ones here!
Make sure to check out The Poppy Skull Store!
Stay Spooky and Healthy!
-Caroline