Halloween would not be complete without a good night of fright. During the month of October, I enjoy going through local haunted attractions. Not everyone likes these but I think they are fun. Even though I do scream while going through them, I have a great time (except if there are spiders and clowns). For Blog-O-Ween Day 5, I thought I would share a list of local South Jersey Haunted Attractions, plus a few in the Philly area. If I have missed any or if you have any recommendations, please comment and let me know.
South Jersey
Night of Terror at Creamy Acres
Mullica Hill, NJ
My boyfriend and I have gone to the Night of Terror at Creamy Acres a few times and we always enjoy it. One year we purchased the VIP tickets, which was worth it because it was so crowded. In doing this, we skipped a lot of the lines and were able to go through all of the attractions. Last year, we went during opening weekend and it was not crowded at all so we were able to purchase general admission tickets.
This year they have 4 haunted attractions plus a haunted paintball hayride. We have not gone yet this season, but I hope to soon.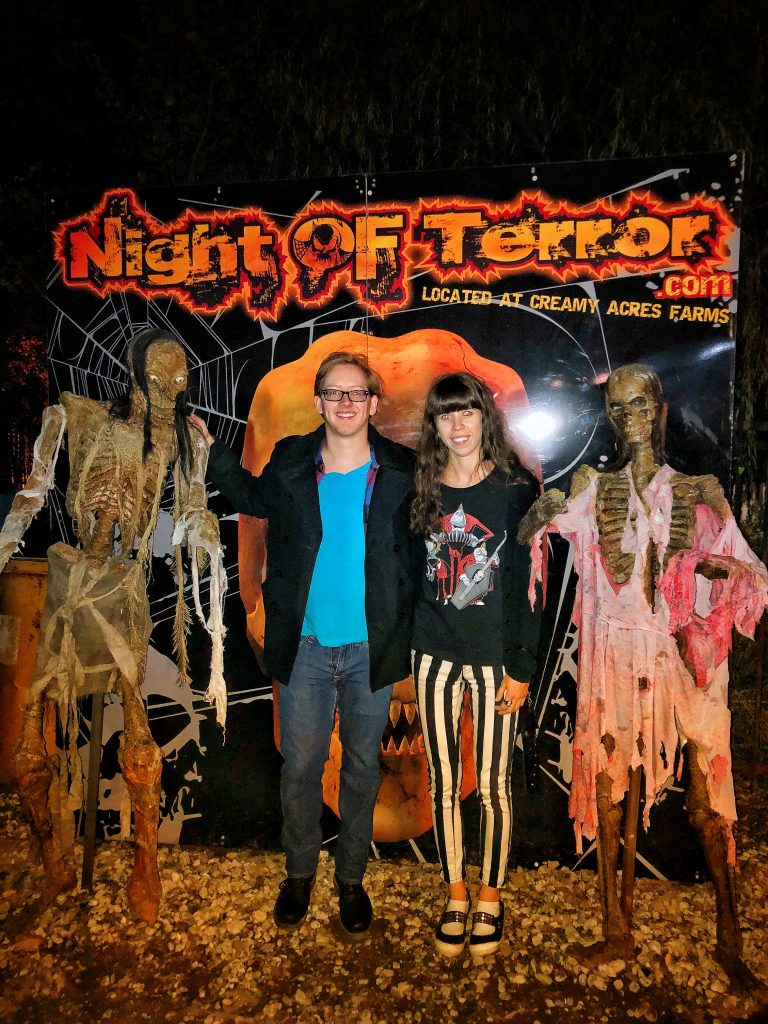 Night of Horror
Shamong, NJ
They seem to have family friendly and non-family friendly haunts. Their site has different activities, such as Flashlight Corn Maze, Hayride, Smore's & More, Jersey Devil Haunt, and Zombie Invasion Hayride.
I have not attended this one but you can check out their site here.
Bloodshed Farms Fear Fest
Columbus, NJ
This farm has a lot of haunted attractions. There are 4 attractions that can be purchased with a combo pass. They also have two extra attractions, The Blood Shed, and The Camper Escape Room. The crazy thing about the Blood Shed, is only one person goes in at a time while the rest of your group watches from a night vision camera side monitor.
I have not been to this haunted attraction yet but it seems like it would be a good one to go to. Check out more info here.
Philadelphia Area
Terror Behind The Walls
Philadelphia, PA
I have not been to this attraction since I was in 5th grade but I remember loving it. I just haven't had a chance to go back yet. There are six attractions at Eastern State Penitentiary, where the haunted is located. Check out more info here.
PennHurst Asylum
Spring City, PA
PennHurst Asylum has 4 haunted attractions. They also have a few dates in November called Black out and High Intensity, which makes the attractions even scarier. I have always wanted to attend the PennHurst Asylum attractions but have not be able to yet. I have heard these attractions are very scary though. Check out more information here.
The Bates Motel
Glen Mills, PA
There are three haunted attractions here plus two add on activities, Zombie Hunt and Double Edge Axe Throwing. Find out more here.
I hope you have enjoyed this list of South Jersey Haunted Attractions plus some from the Philly area. I will continue to add to this list throughout the month of October. Please comment down below if you have been to any of these and if there are any I should add to this list.
Make sure to check out my other Blog-O-Ween posts to keep you in the Halloween spirit.
Stay Spooky!
Caroline