**** Updated July 17, 2020****
If you are looking to create your very own Nightmare Before Christmas kitchen, you have come to the right place. I have a lot of Nightmare Before Christmas kitchen items to share today. A lot of these items I have collected over the years. I love displaying and using all of these items in my kitchen. If you are looking to create your own spooky kitchen for yourself or someone else, keep reading!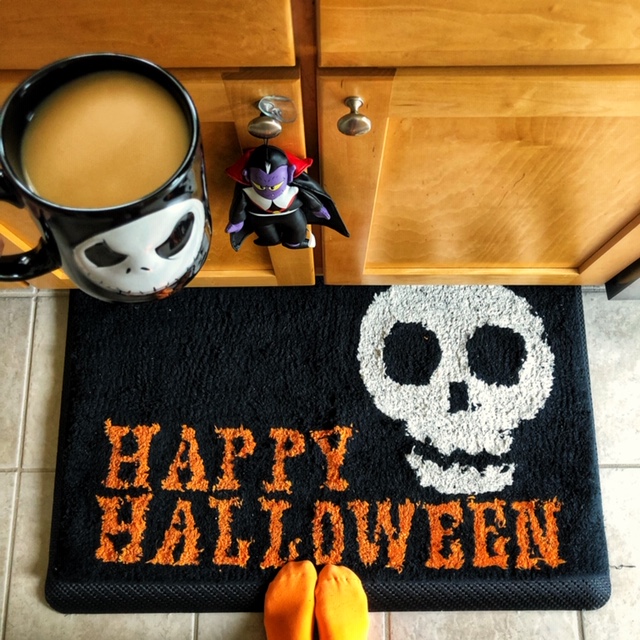 Slow Cooker/Crock-pot
I received this Nightmare Before Christmas crock-pot for Christmas and I absolutely love it! Not only does it work great but it looks extra spooky in your kitchen. I have used to to cook meatballs and chili and both meals turned out great. This is definitely a Nightmare Before Christmas kitchen must have!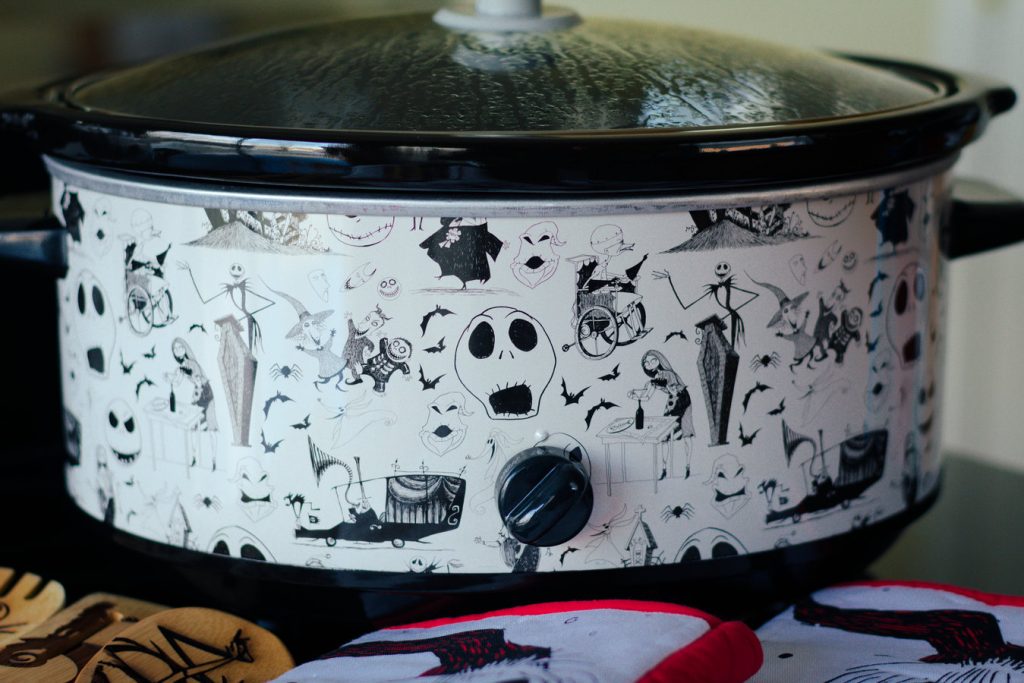 Oven Mitts/Pot Holders
If you are cooking you definitely need pot holders and oven mitts, so why not have some spooky ones?! I got these Sandy Claws oven mitts for Christmas and they are a lot of fun to use. They protect my hands and add to the theme of my kitchen. Nightmare Before Christmas oven mitts and pot holders would also make great decor if you hang them up in your kitchen.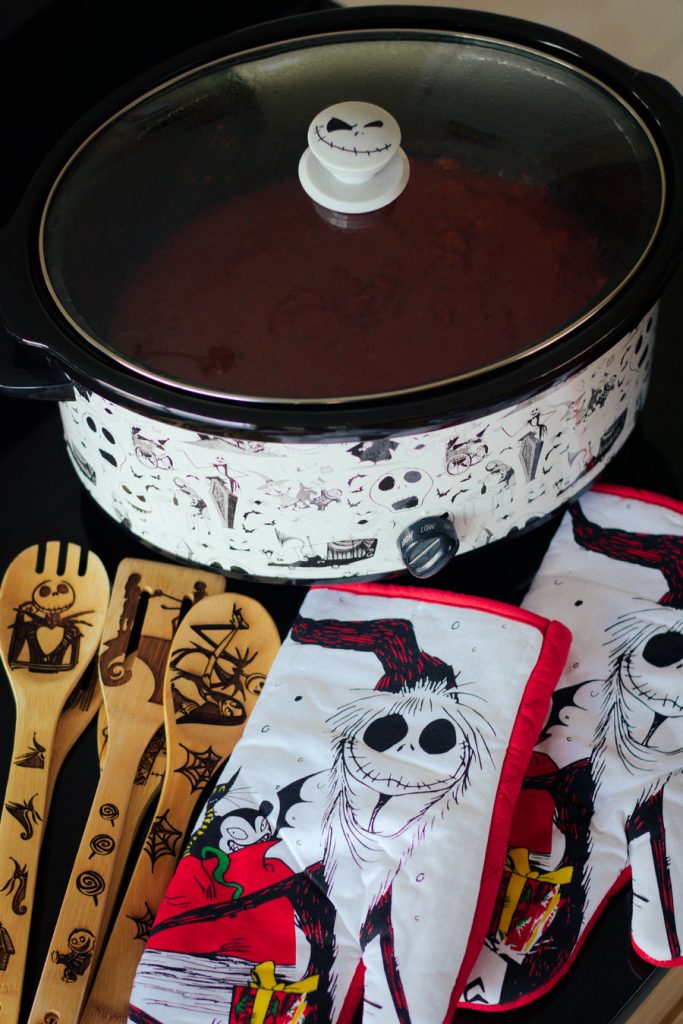 Plates and Bowls
Every kitchen needs plates and bowls because what else would you eat off of?! Plates are good to have, but Nightmare Before Christmas plates are awesome to have! They are so much fun to use on a daily basis. One day I would like to display them in a China cabinet. Nightmare Before Christmas plates also make great appetizer and dessert plates for parties.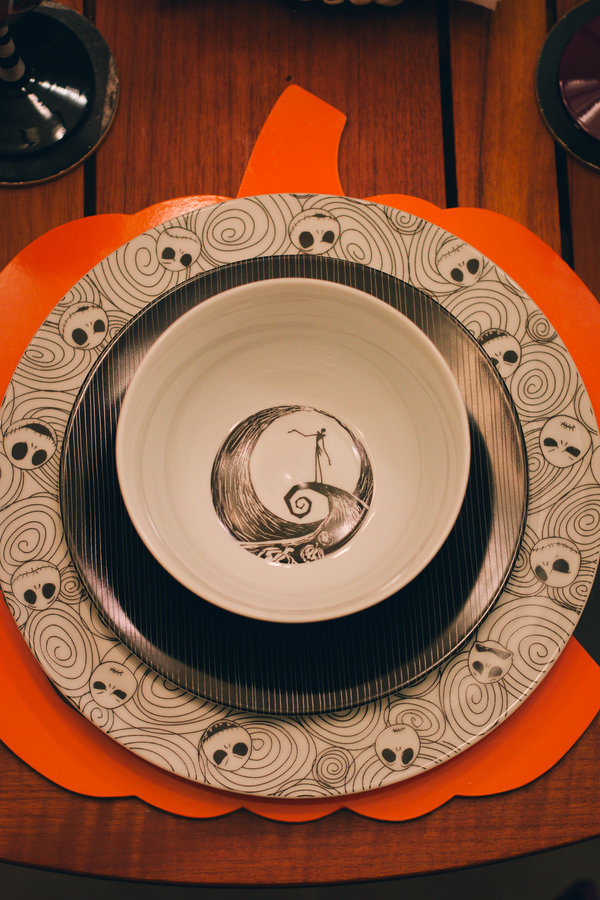 Shop:
Wooden Spoons
One of my guitar students gave me these amazing Nightmare Before Christmas wooden spoons as a gift. I did not want to damage them by cooking with them, so instead I decided to use these spoons as kitchen decor. My fiancé helped me out with this little project and used command strips to attach them to a wall in the kitchen. I love how this display turned out and I enjoy looking at these spoons every time I am in the kitchen.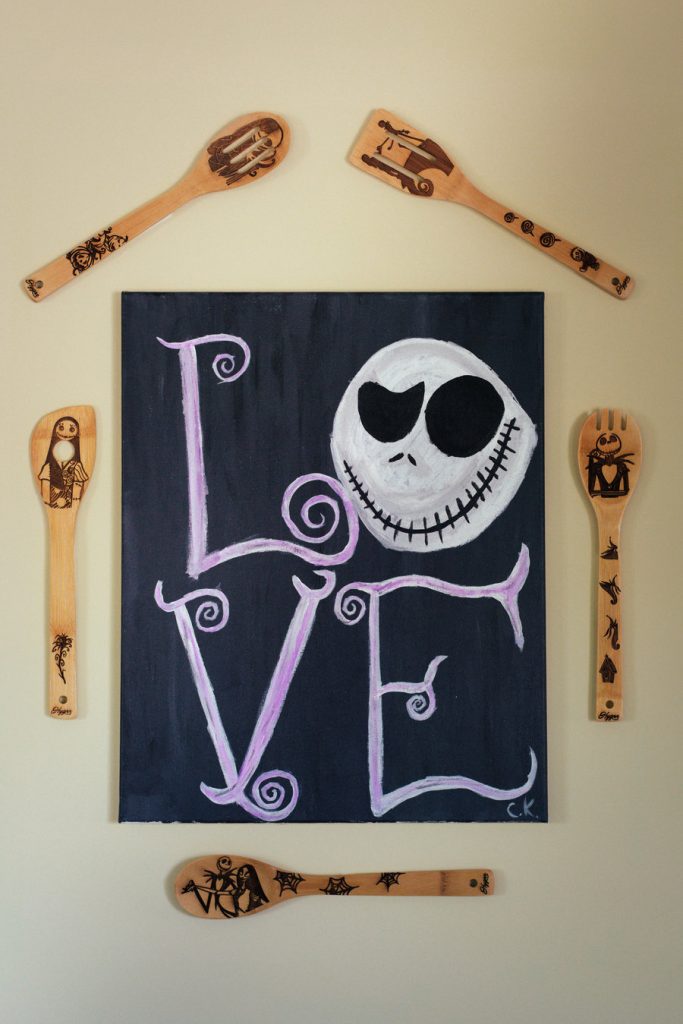 Apron
Whether you actually wear an apron to cook or you just hang them in your kitchen for decoration, a Nightmare Before Christmas one is a must have! I usually not do wear an apron to cook, however this Jack Skellington apron is fun to wear and helps to make my kitchen spooky.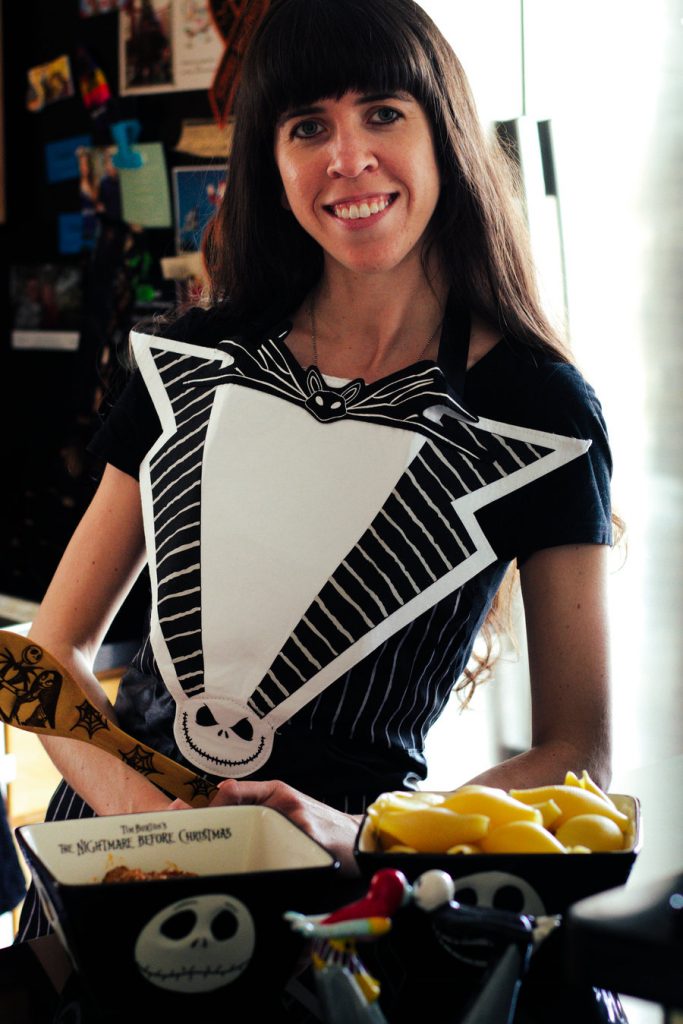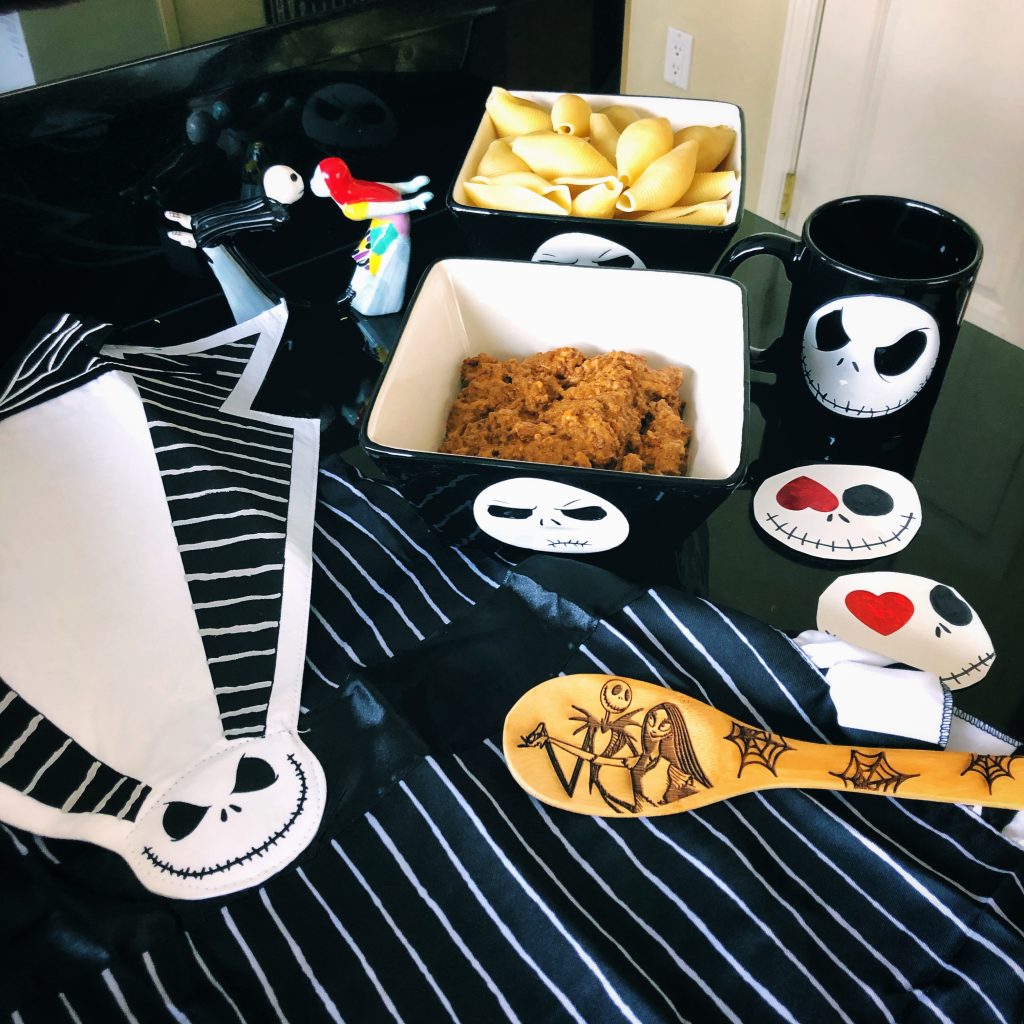 Wine Glasses
One of the best ways you can drink wine is with a Nightmare Before Christmas wine glass. It makes your wine extra fun and spooky. A lot of my Nightmare Before Christmas wine glasses I have found at Walgreens. These glasses are also a lot of fun to use during parties.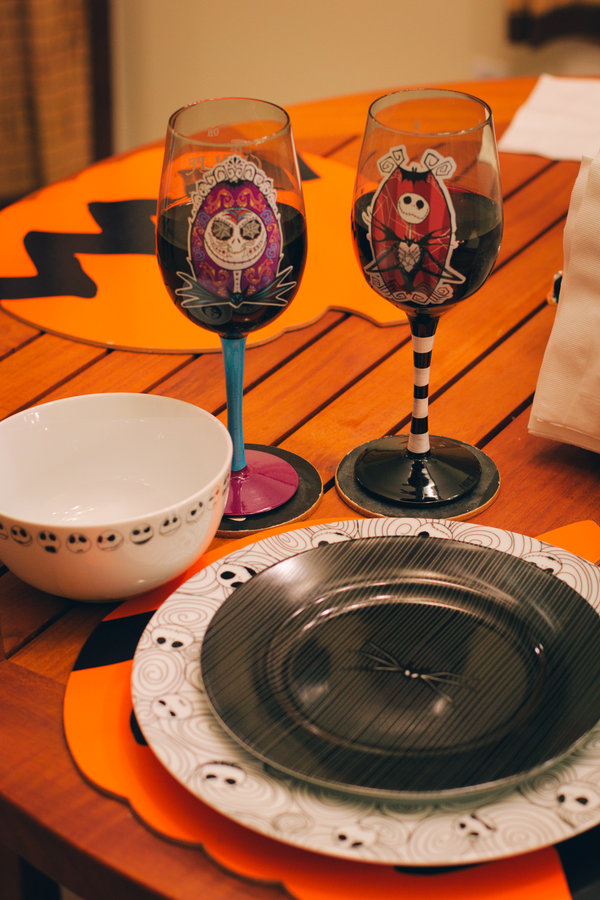 Shop:
Cookie Jar
Even though I don't put cookies in this cookie jar, I love displaying it. Big cookies jars like this one help bring The Nightmare Before Christmas to your kitchen. Right now, I keep mine on top of my fridge. This way, everyone can see it, but it won't accidentally get hit.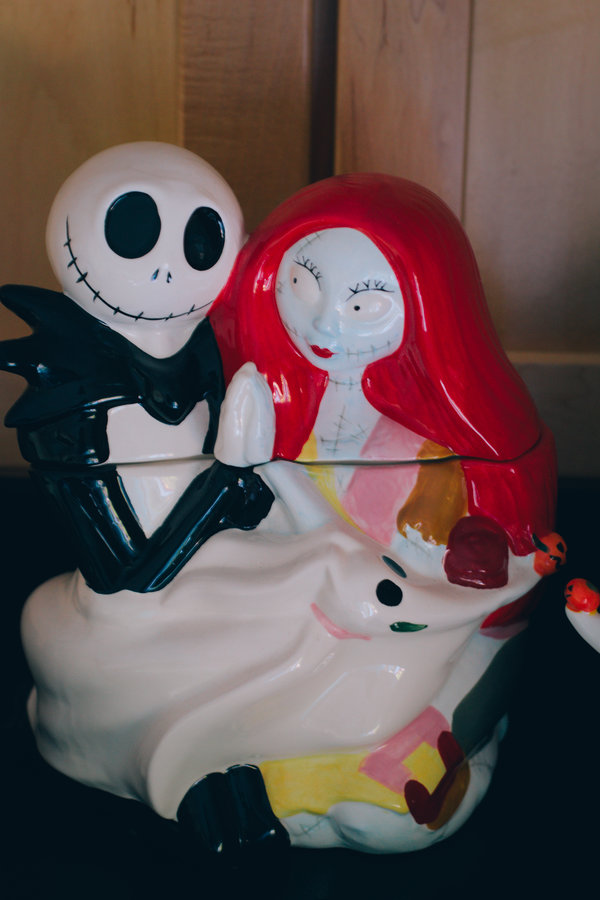 Shop:
Tea Pots
Whether you are a tea or a coffee drinker (or both like me), Nightmare Before Christmas tea pots are a must have for a spooky kitchen. I have used both of these tea pots before and they work great. I have even used them at a family tea party and they were so much fun. Just like the cookie jar, I keep these tea pots on top of my fridge. It is a good place to display them, and it keeps them out of harm's way. Displaying the tea pots and cookie jar together, creates a fun little area of unique Nightmare Before Christmas kitchen items.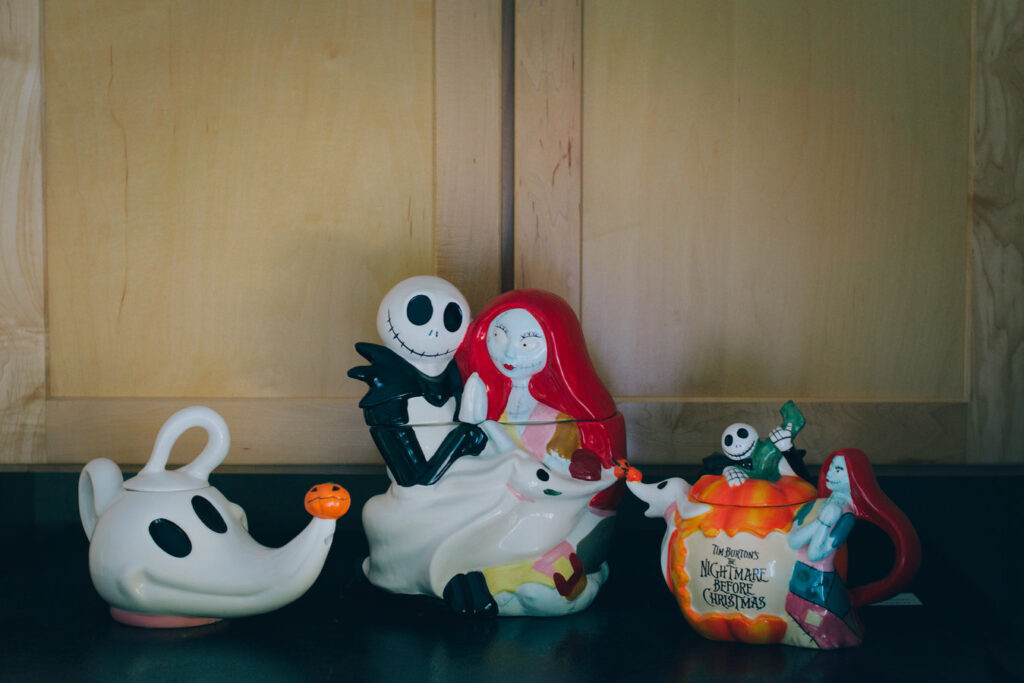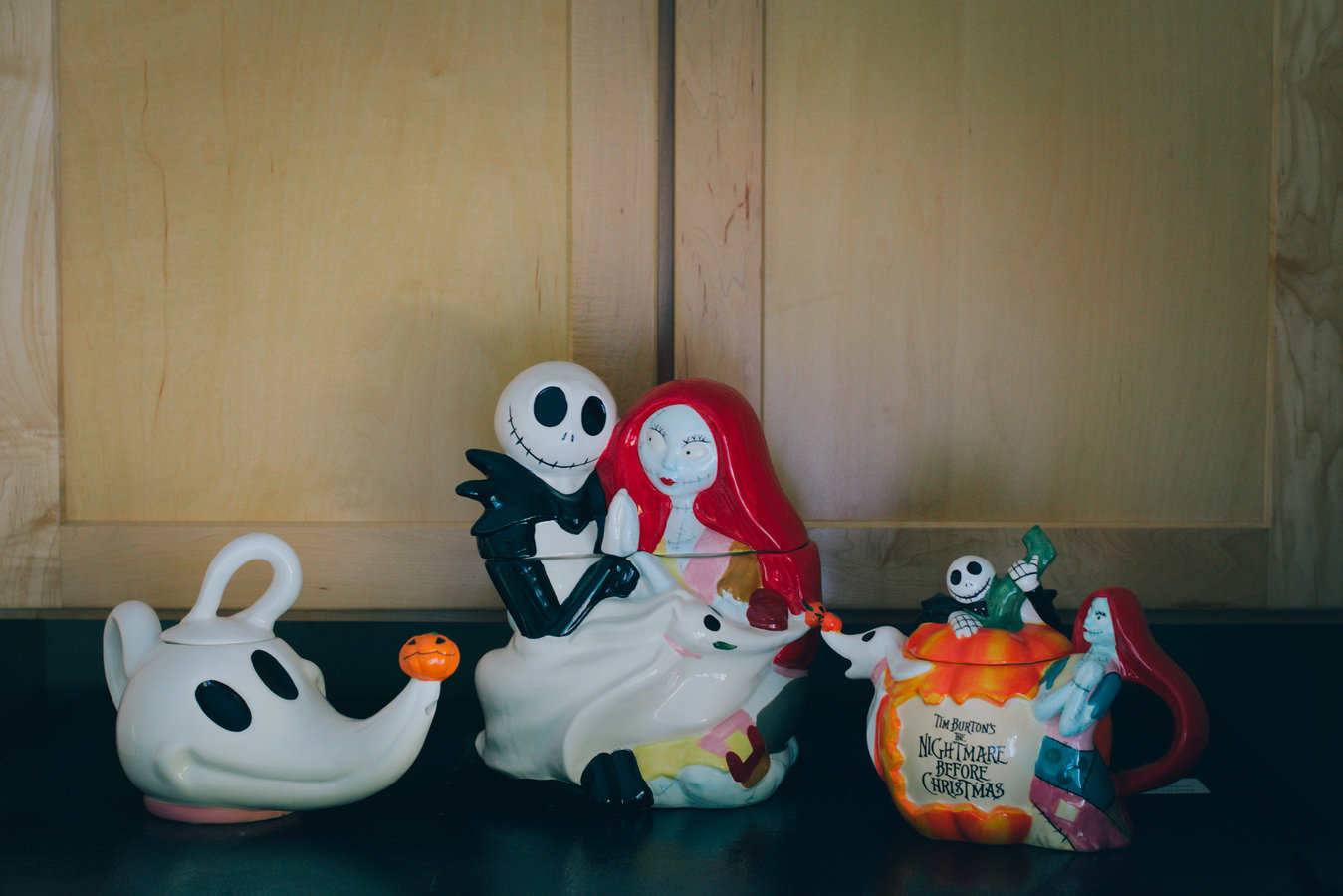 Shop:
Mugs
If you have Nightmare Before Christmas tea pots, you have to have mugs. I have so many Nightmare Before Christmas mugs (way more than what is pictured), that I use all the time. You can purchase these anywhere, from Hot Topic and Box Lunch Gifts, to T.J. Maxx and Home Goods.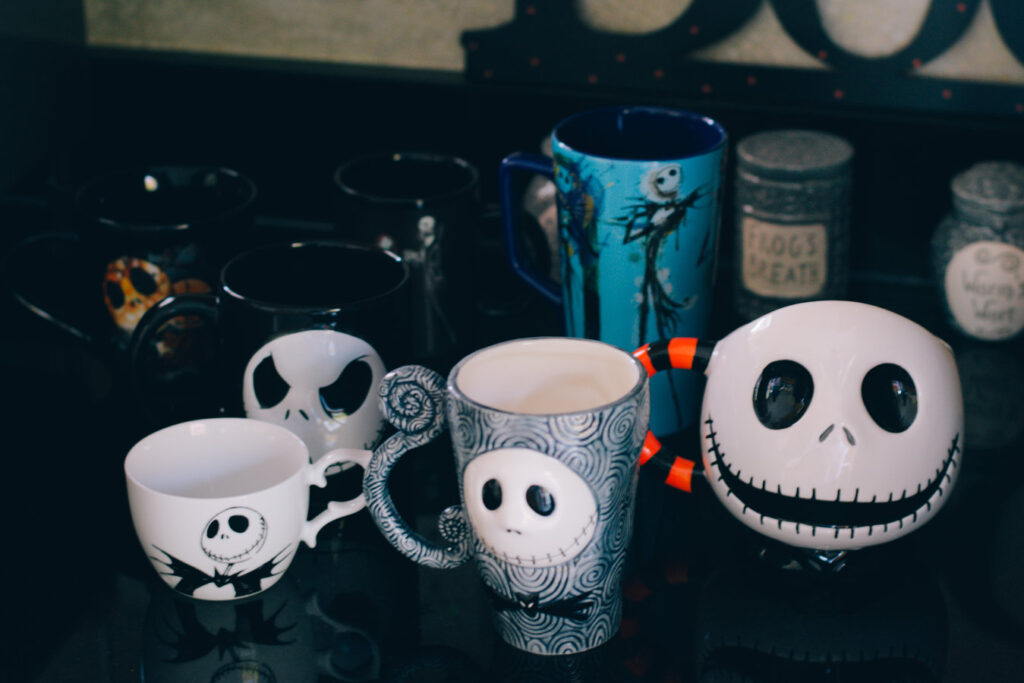 Shop:
Dish Towels
To help tie the whole Nightmare Before Christmas kitchen theme together, I like to hang Jack Skellington dish towels in my kitchen. These towels are great for decoration or for actually drying dishes. I have found a few of these at Walgreens as well, but I have also seen them at Box Lunch Gifts.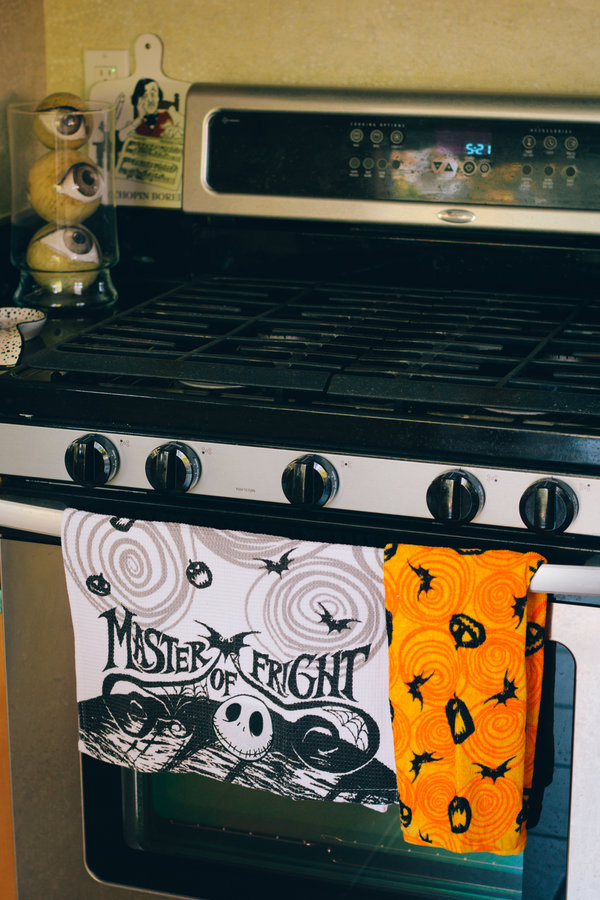 Shop:
Jars
One of my favorite Nightmare Before Christmas kitchen items are these trinket jars. They are very cute and look like the ones in the movie. I do not keep anything in mine, instead I just use them for decoration. These are great to display in any area of your kitchen.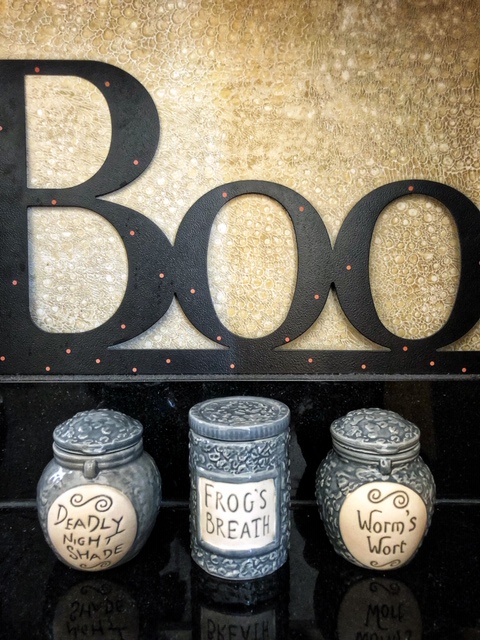 Shop:
Salt & Pepper Shakers
Another Nightmare Before Christmas kitchen item I use for decoration is salt and pepper shakers. There are quite a few Jack & Sally salt and peppers shakers available. I got these as a gift a few years ago and I love them. They are always on display on the island in my kitchen.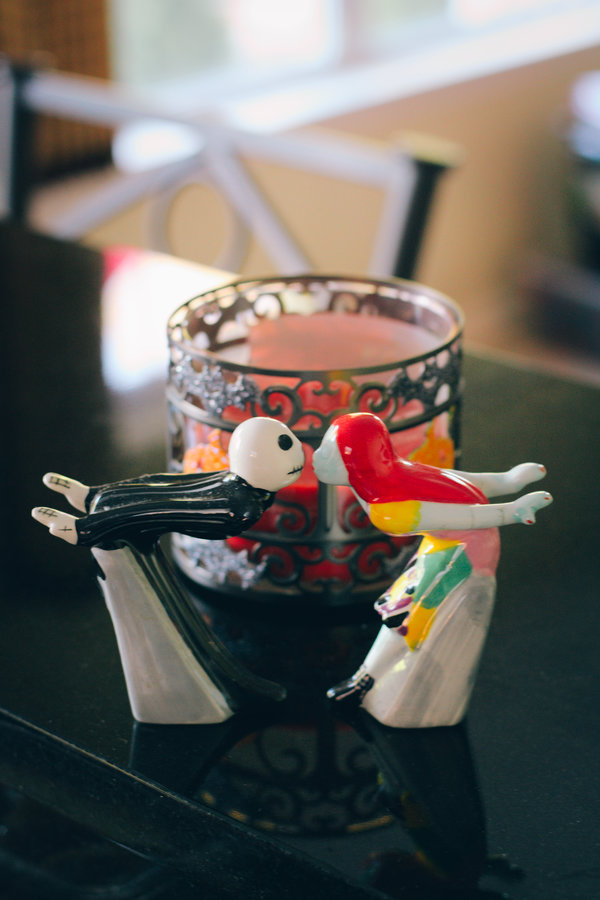 Shop:
All of these kitchen items are so much fun to have. The kitchen is one of the rooms in your house that you spend the most time in, so why not decorate your kitchen in a unique and fun way?! I love going into my kitchen and seeing all of the Nightmare Before Christmas items.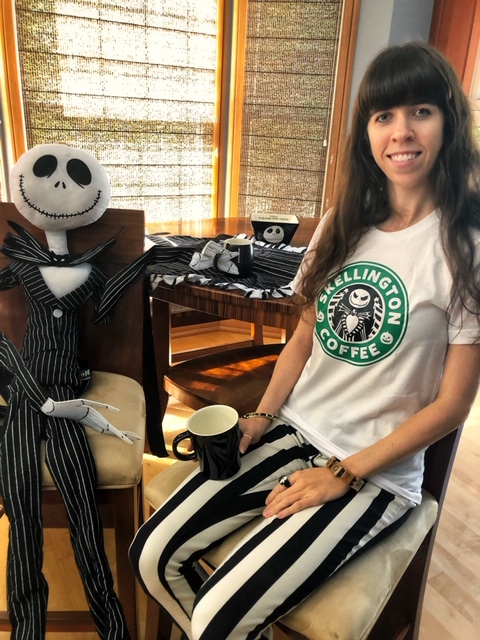 I hope these Nightmare Before Christmas kitchen items have given you some inspiration to create your own spooky kitchen. I have linked some other Nightmare Before Christmas kitchen items below as well. If you are looking for more Nightmare Before Christmas home decor, check out my other post here.
-Jack Skellington Measuring Spoons
Stay Spooky!
-Caroline