It is no secret that The Nightmare Before Christmas is my favorite movie. My house is decorated with all different kinds of Jack Skellington decor and trinkets all year. This Halloween season I was able to do something new and create a spooky table setting on our new dining room table. Today for Blog-O-Ween Day 17 I am sharing my Nightmare Before Christmas Table Setting! 
Dinning Room Table
Our beautiful dining room table was handmade by my dad! The design is perfect for our home and we love that it is one of a kind. My dad put many, many hours of love and labor into this table. Alex and I find ourselves staring at our dining room table throughout the day and admiring how beautiful it is.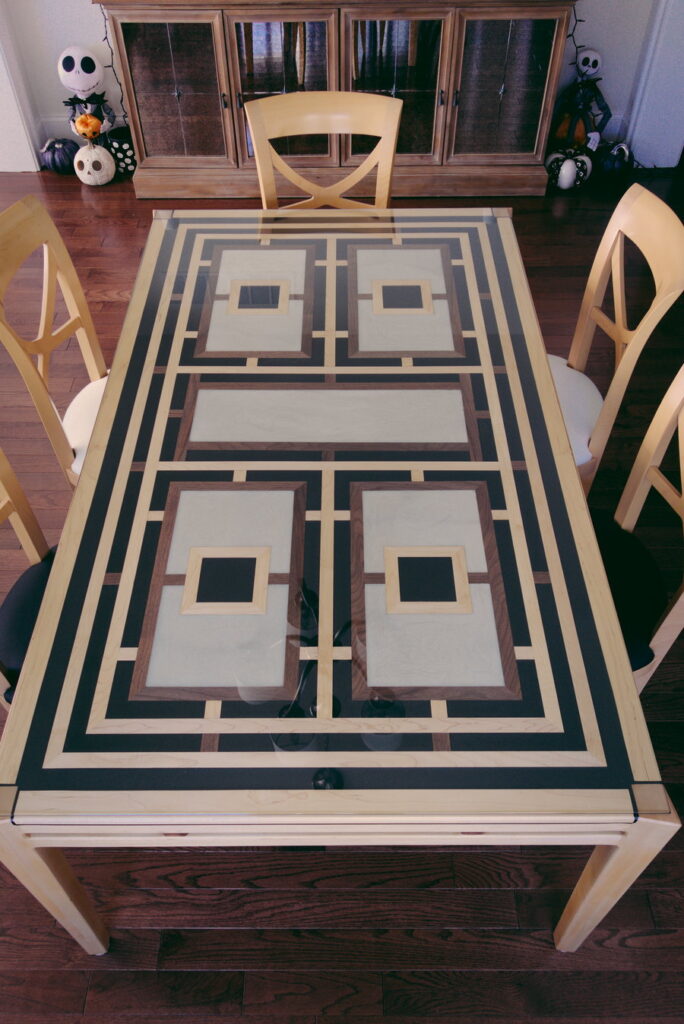 Since our table is a show piece of its own, I did not want to cover too much of it up when creating my Nightmare Before Christmas Table Setting. I did not add any table clothes, placemats, or a table runner, this way you could still see the beautiful work of art on the table. 
Nightmare Before Christmas Dishes
I have quite a few sets of Nightmare Before Christmas dishes that I decided to mix and match. I set large dinner plates at each seat and put small appetizer plates on top. Next I placed any Nightmare Before Christmas coasters I had at each seat.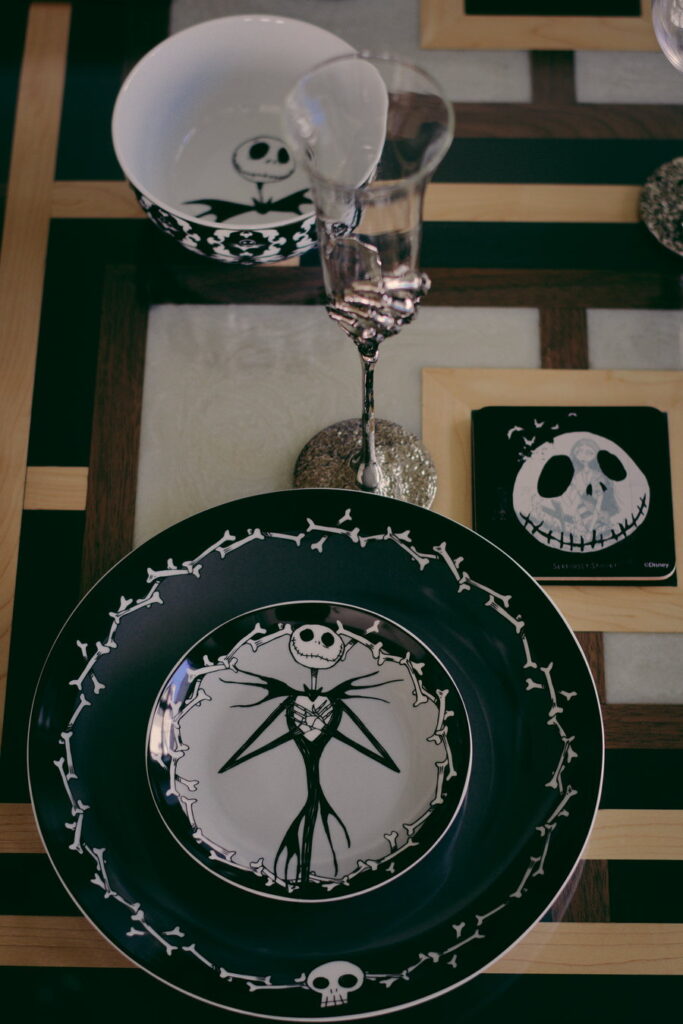 Once the dishes and coasters were in place, it was time to add some spooky glasses. We have an amazing set of skeleton glasses that my bridesmaids gave me last year. I also decided to mix and match between wine glasses and champagne flutes.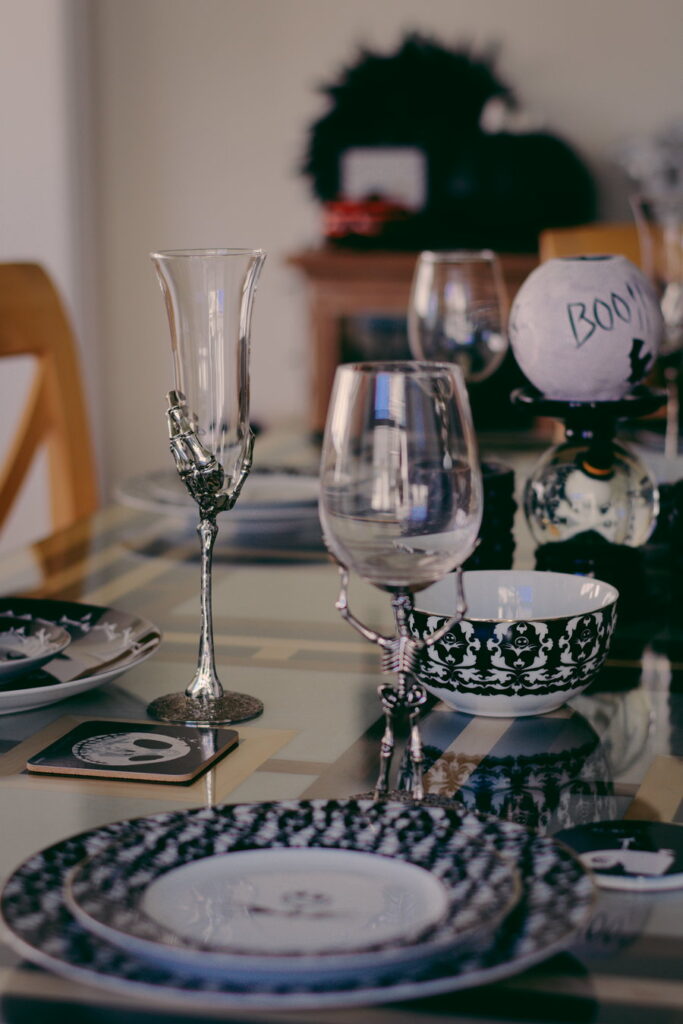 Centerpiece
For the center of the table I placed two Nightmare Before Christmas bowls on each end. I knew I wanted candles in the middle of the table, including a Jack Skellington one. I decided to place two studded flameless candles on each side of a spooky candle holder. I topped the candle holder off with this amazing Jack Skellington candle I purchased in Sedona, Arizona. Once the candles were set the table was complete!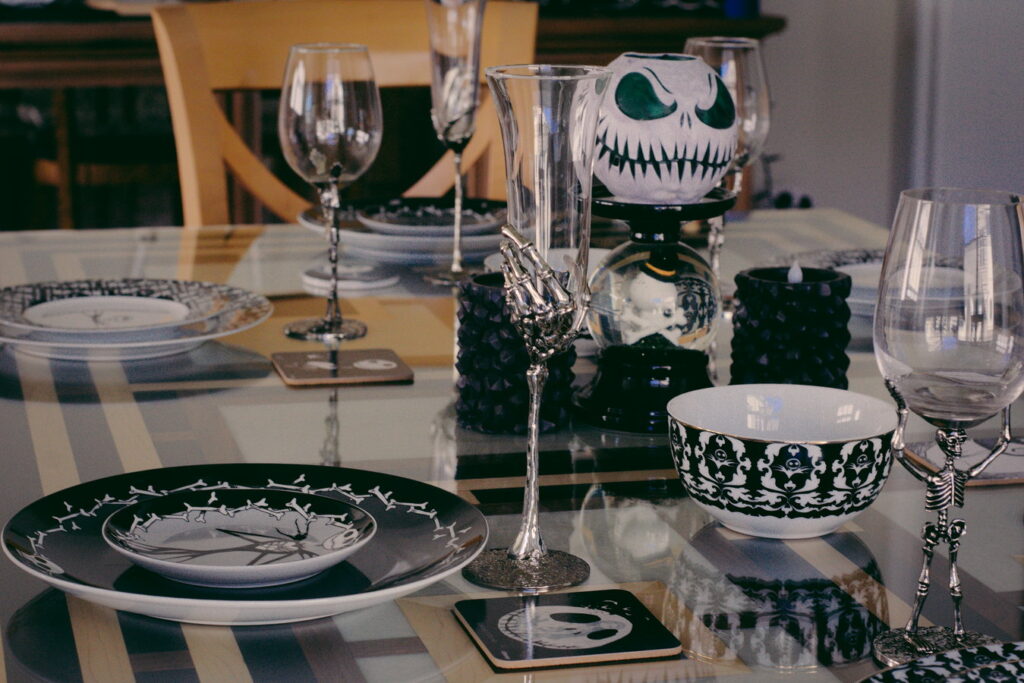 I absolutely love how our Nightmare Before Christmas Table Setting turned out! It looks super spooky and matches all of our other decorations. It also matches the theme of our house perfectly. I might even keep the table like this all year, haha.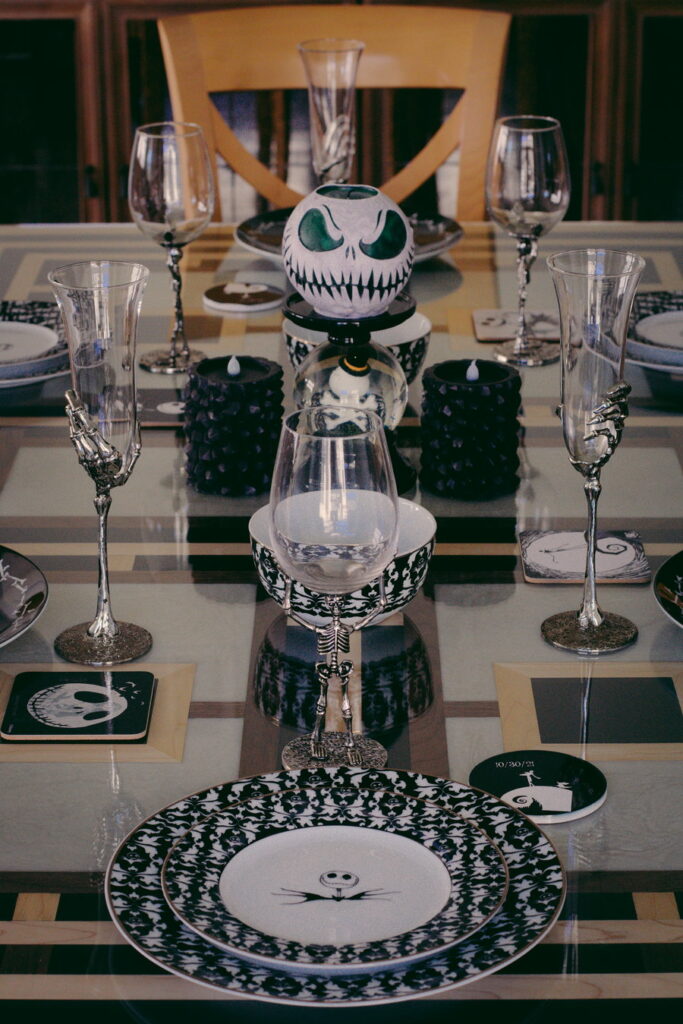 I hope you have enjoyed Blog-O-Ween Day 17 and my Nightmare Before Christmas Table Setting.
Stay Spooky!
-Caroline 🙂
Check out more of my Blog-O-Ween posts:
Create Your Own Glass Pumpkin Patch
Shop my Stay Spooky Collection!