Fall is in full swing and that means it is time for pumpkin picking, Halloween shopping, and drinking cider! During the fall I not only enjoy drinking apple cider but hard cider as well. Alex and I recently found out there is a local cidery not too far from us and we had to check it out. Today for Blog-O-Ween Day 7 I am sharing our adventure to Old Stone Cider!
Old Stone Cider
Location:
959 Chesterville Rd
Lewisville, PA 19351
Old Stone Cider is located in Lewisville, PA which is actually right above the border of Maryland. I read about this cidery in a local magazine last month and I thought it would be fun to take a trip out there. Alex and I visited Old Stone Cider on a beautiful Saturday at the end of September.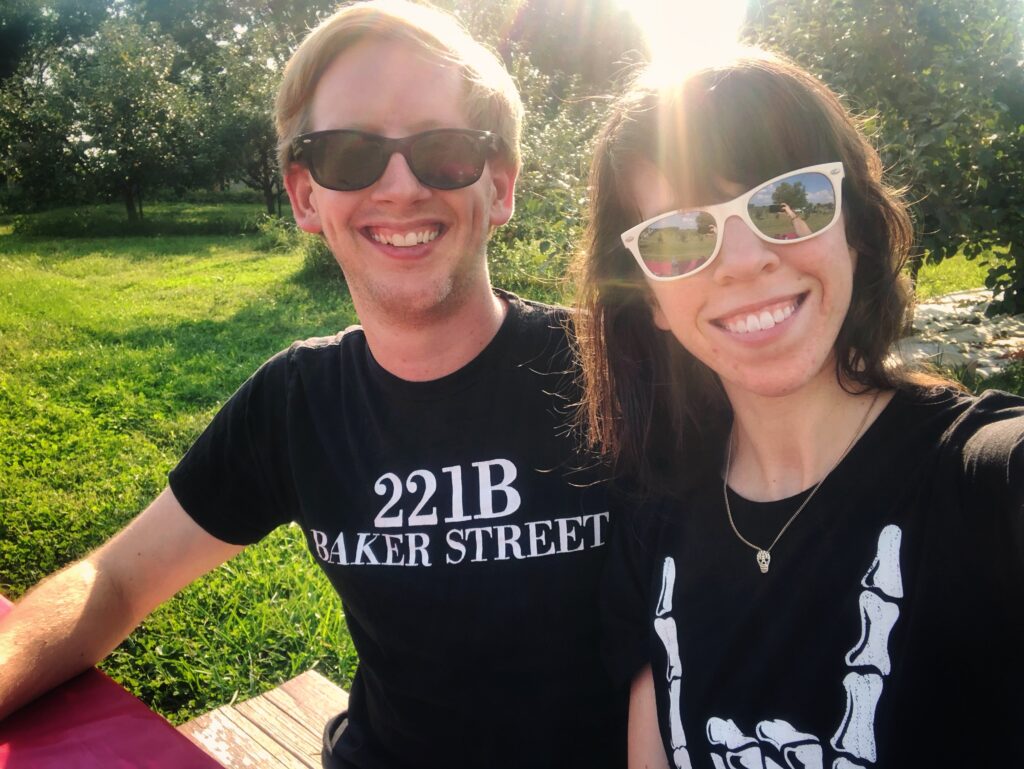 When you arrive at Old Stone Cider, you will find a spacious tasting room looking over rolling hills and a Christmas tree farm. This cidery is part of Old Stone Farm, which is a Christmas tree farm, where you can cut-your-own trees in December. The landscape of the farm is beautiful and peaceful.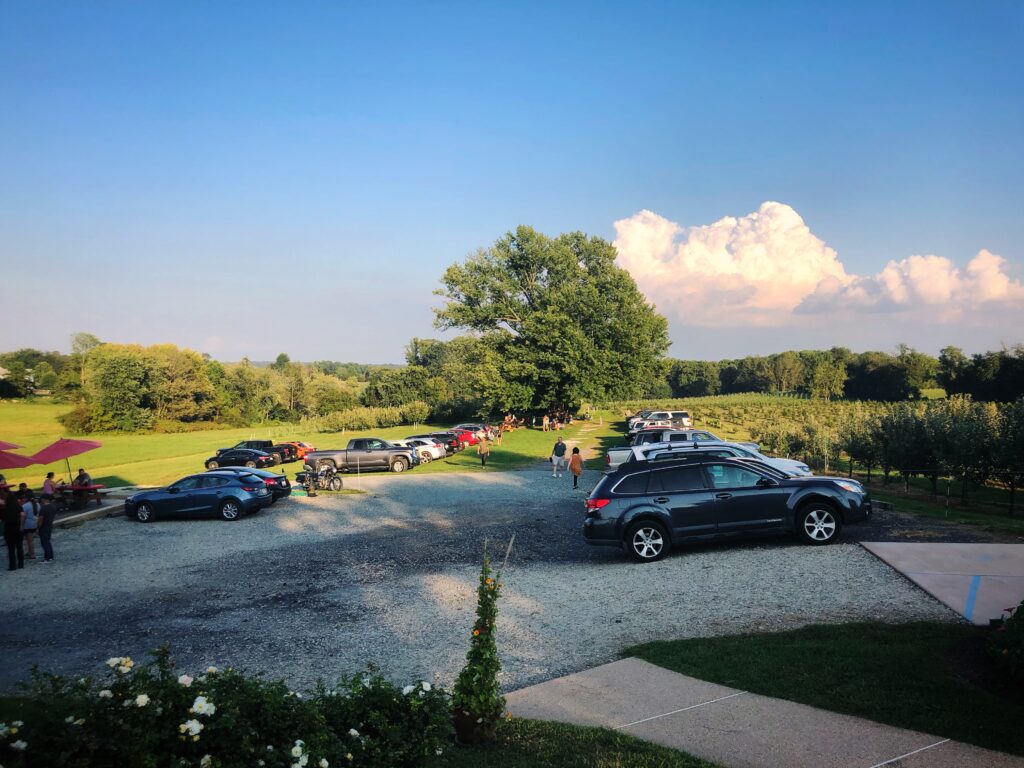 Once we arrived, we went into the tasting room to see which ciders they had on tap. There were six different ciders available so Alex and I decided to each get a flight. We were able to get all six ciders between the two of us so we could taste them all.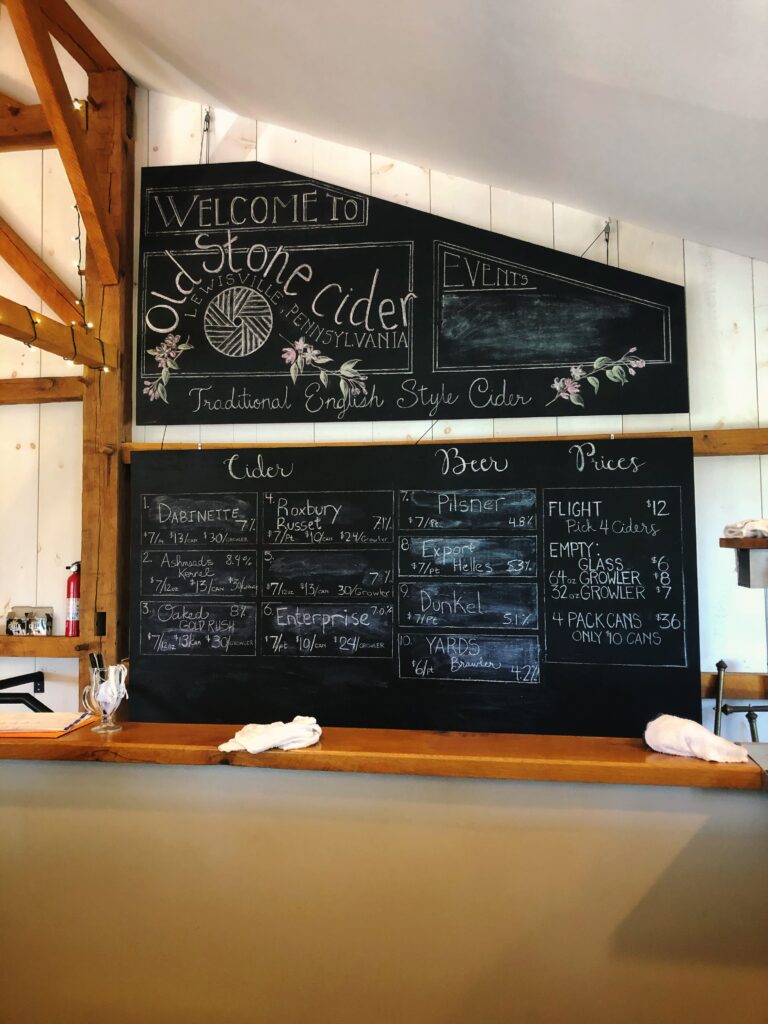 Old Stone Cider has plenty of seating in their tasting room, however we wanted to explore the property and sit outside. They have picnic tables at many different locations around the property. Some tables are on the patio, some near the trees, and others are right by the apple orchards.
First Alex and I sat at a table next to the apple orchards. This table overlooked the little pine trees growing at the Christmas tree farm. After having our first cup of delicious cider and enjoying the beautiful view, we decided to see what the other parts of the farm were like.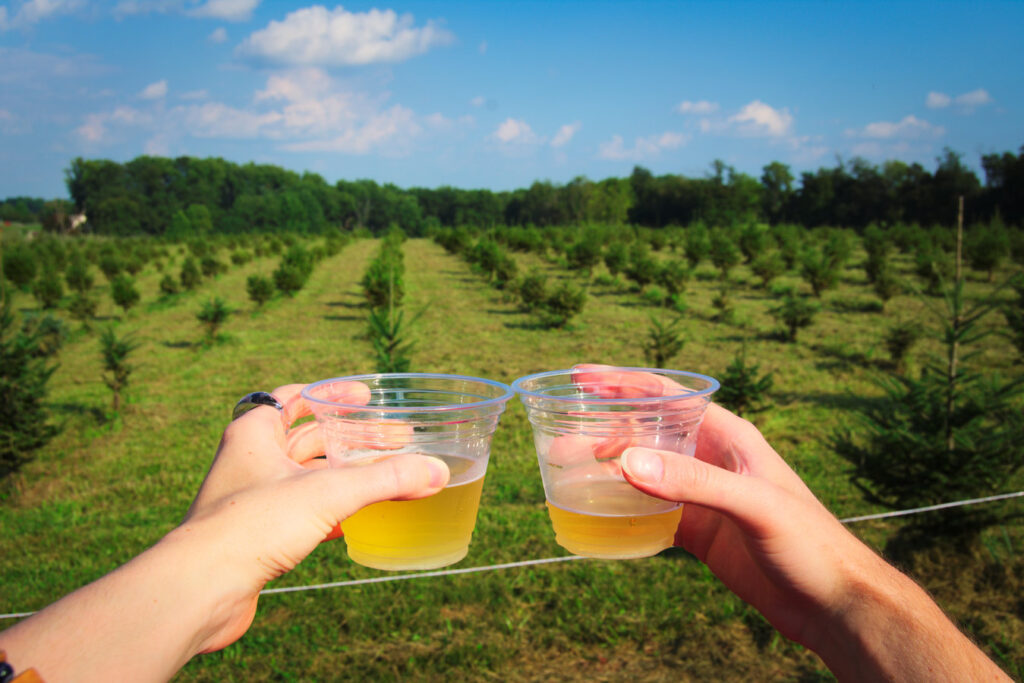 We moved to a picnic table on the patio which is located right outside the tasting room. There were other people on the patio too enjoying the day and their cider. The patio has plenty of picnic tables and string lights.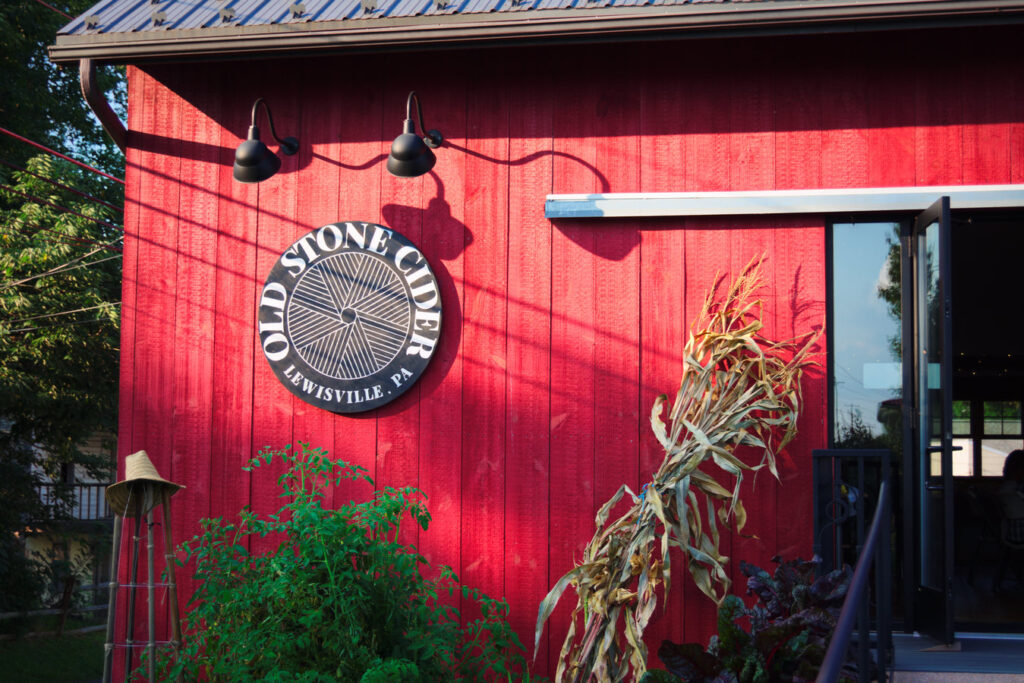 After finishing another cup of cider we moved to another patio area. This area is in between the tasting room and orchards. There was also a food vendor at this patio selling BBQ. Alex purchased a pulled pork sandwich and said it was delicious!
Once we were on our last cider we decided to walk around the farm a little more. We explored the apple orchards and walked further back to get a better view of the Christmas Tree farm.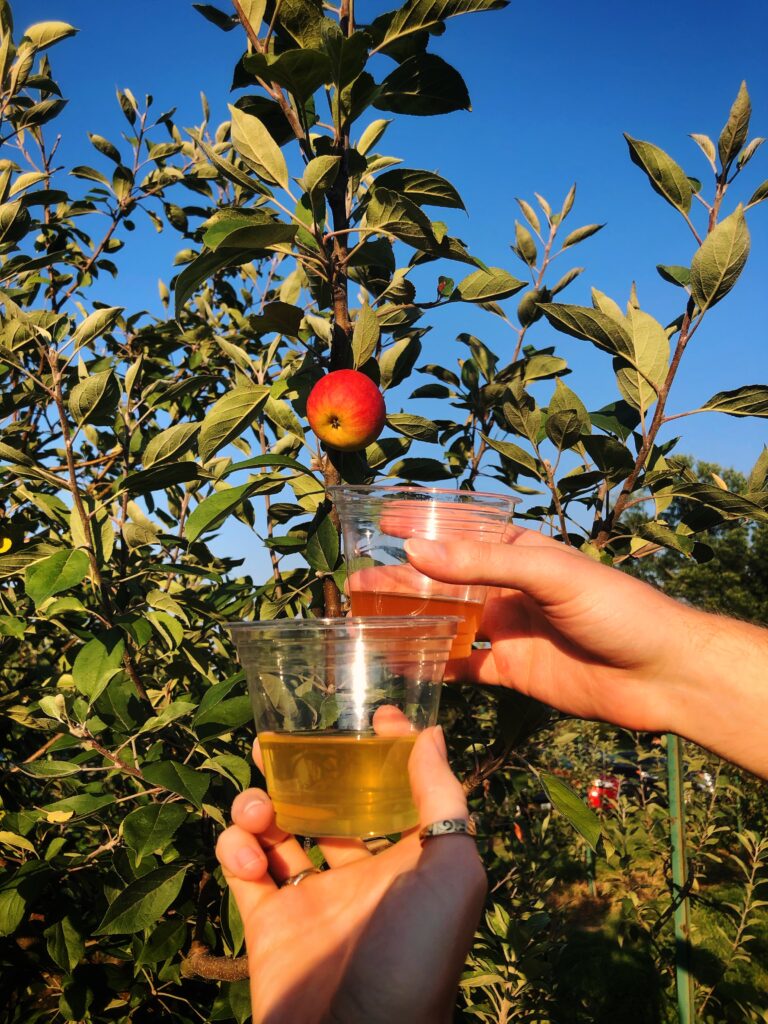 Old Stone Cider is a great place to visit in the fall, especially if you have never been to a cidery like us! They have delicious hard cider and a beautiful view. There is a huge area of grass and some big trees where families were hanging out and children were playing. A lot of people brought their own chairs and blankets to relax on.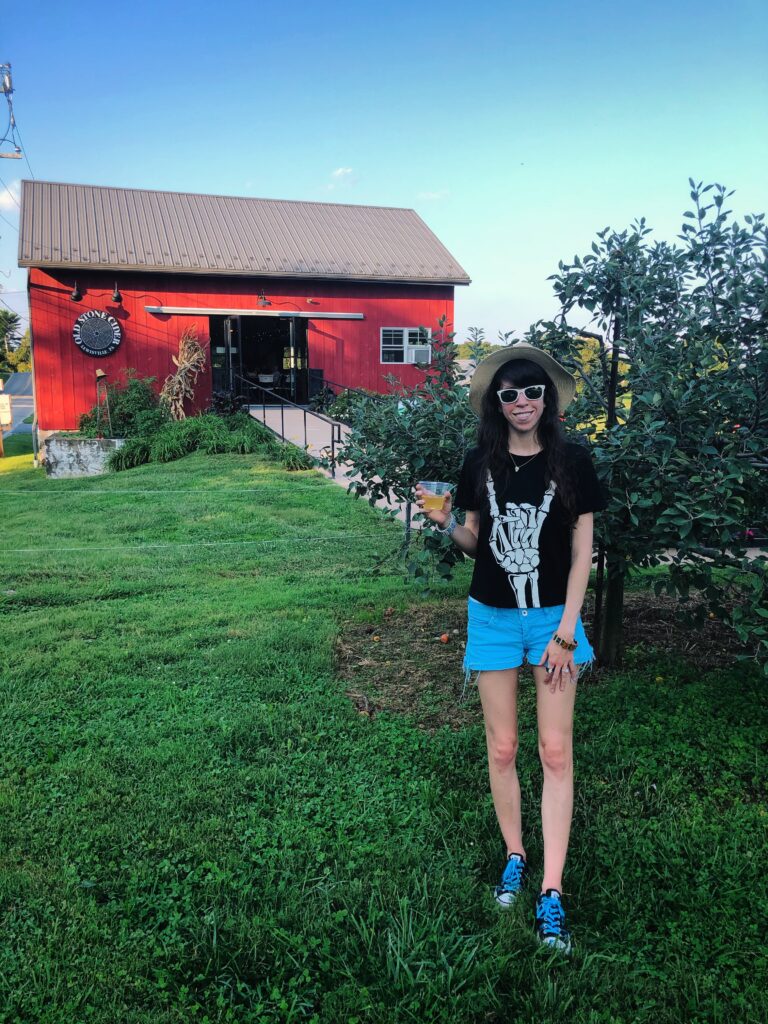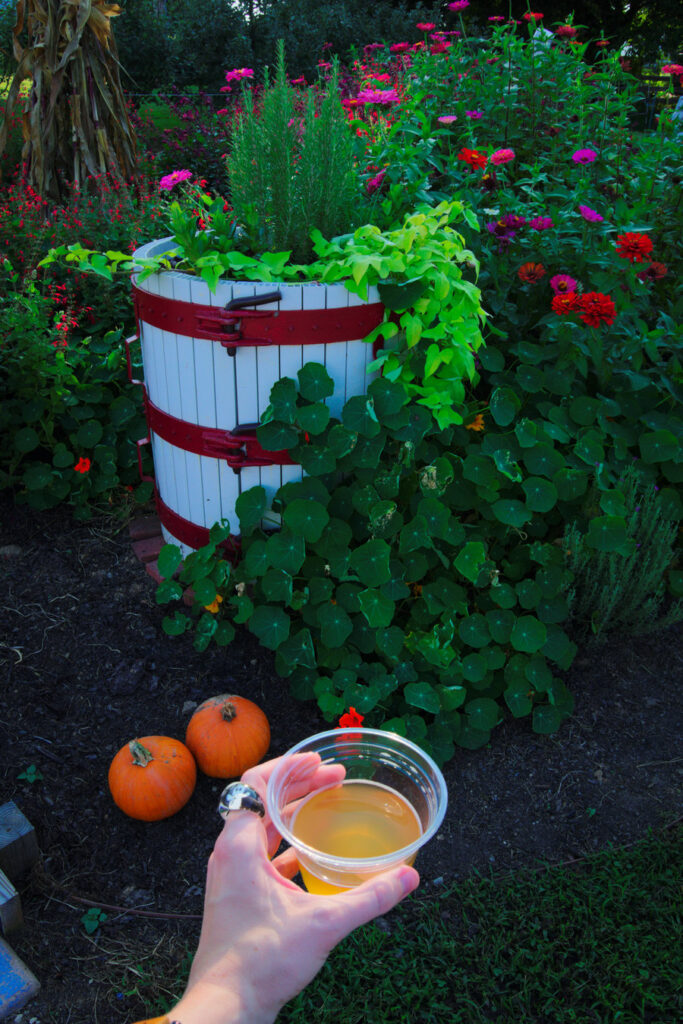 Alex and I really enjoyed our trip to Old Stone Cider. We would definitely recommend this cidery to anyone in the area. It was a fun change for us because we normally visit wineries. Keep in mind Old Stone Cider does close in the winter after the Christmas season. Over the weekends in October, Old Stone Cider has live music and food trucks. You can check out their calendar and learn more Old Stone by clicking here. Make sure to go now and enjoy some hard cider during this crisp fall season!
Stay Spooky!
-Caroline 🙂
Shop the Stay Spooky Collection!
Check out the other Blog-O-Ween posts below: