What's this?! What's this?! The Nightmare Before Christmas shoes?! But not just any shoes, Vans!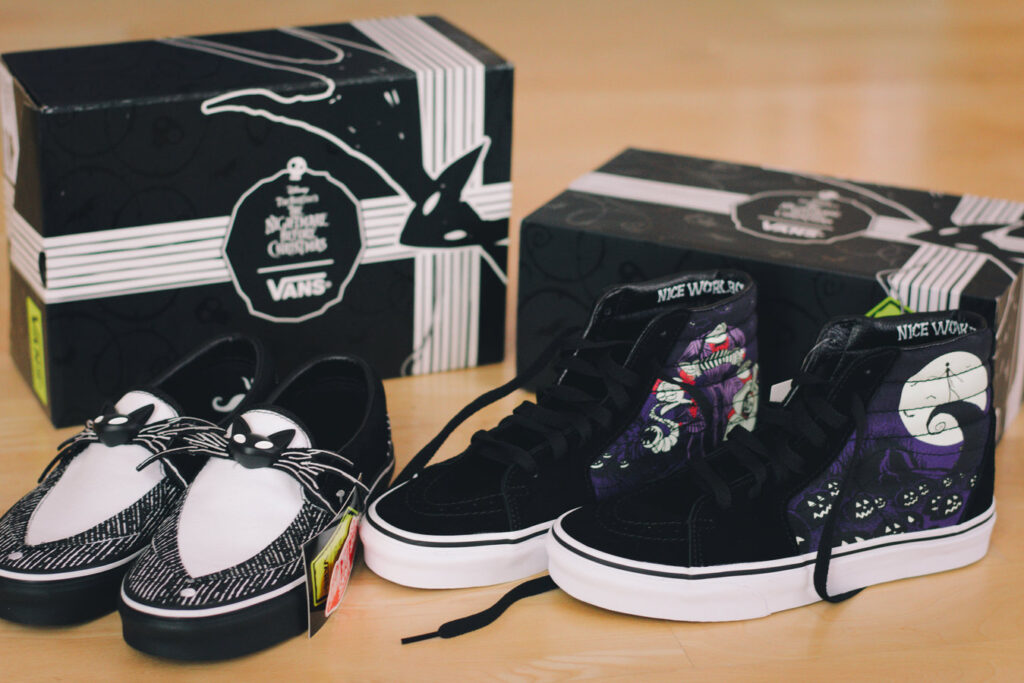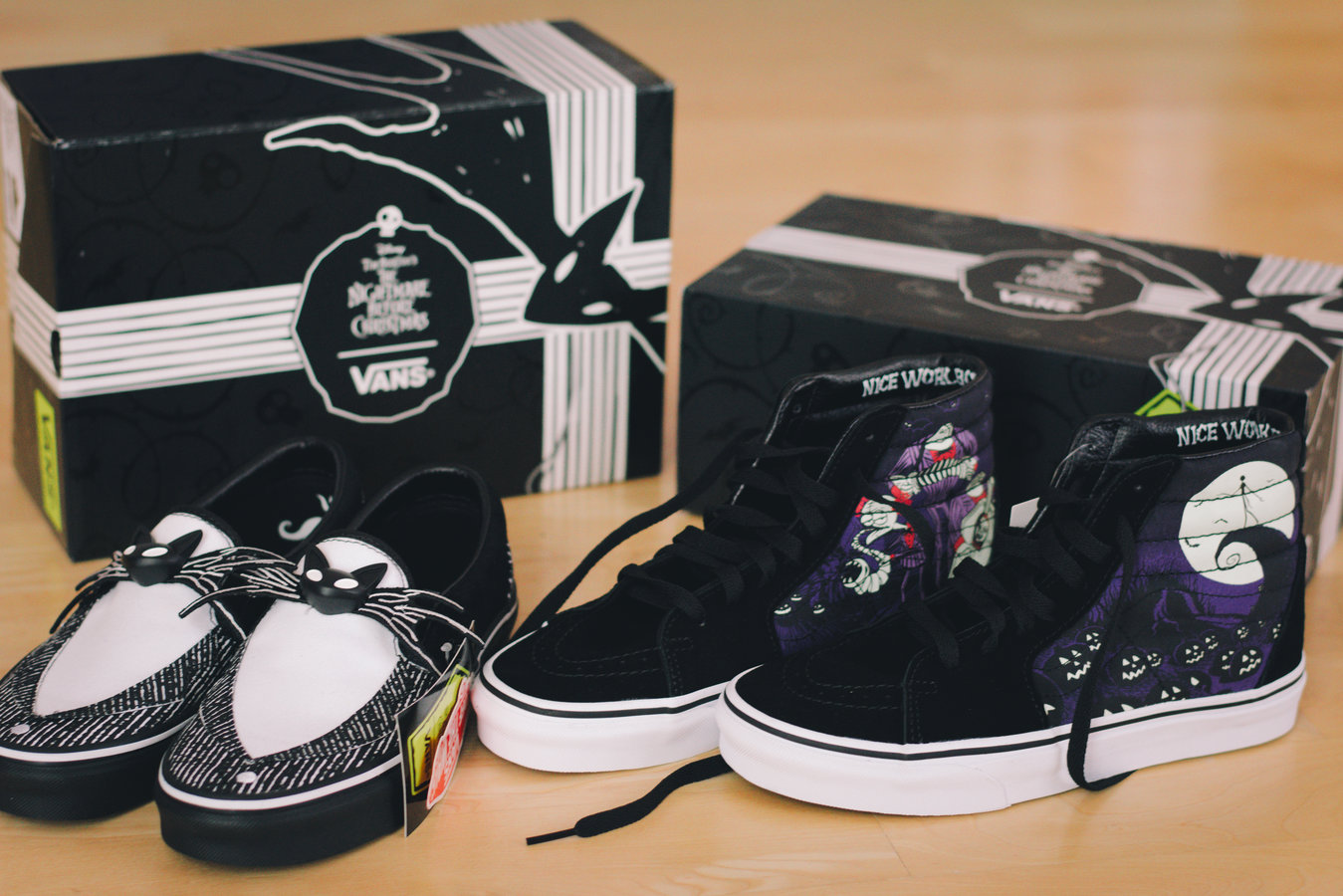 If you have not heard, last month Vans released their Nightmare Before Christmas collection. I was lucky enough to get my hands on two pairs of The Nightmare Before Christmas Vans as soon as they went on sale.
The Nightmare Before Christmas Vans collection has so many different shoes and other merchandise to choose from. They have shoes for adults, kids, and toddlers. All of them are so cool and quite a few of the styles are either completely sold out, or have limited sizes left. There are still some available on the Vans website, so it is definitely worth checking out. They also just added a new pair to the collection, just in time for Christmas.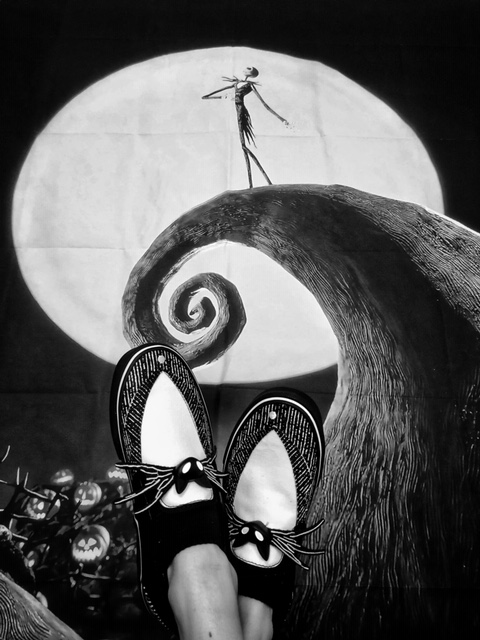 The two pairs of Nightmare Before Christmas Vans I got are, The Nightmare Before Christmas Jack Classic Slip-ons and Jack Sk8-Hi. I will be honest though, I purchased these over a month ago and I have never worn them out of the house, haha. I have tried them on and walked around the house with them. They are very comfortable and so much fun to wear! I plan on wearing them to the right occasion. I would like to wear them everyday, but I do not want them to get too messed up.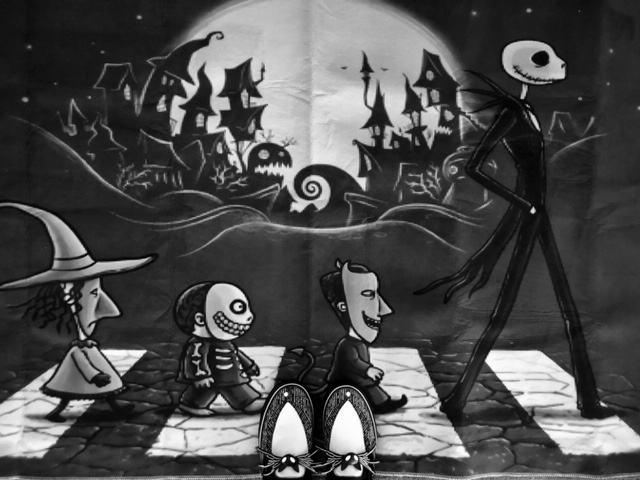 The packaging for these shoes is extremely awesome. I was shocked when I opened the shipping box and saw the shoe boxes. The outside of the shoe box looks like a wrapped present with Jack Skellington's bat bow tie on top.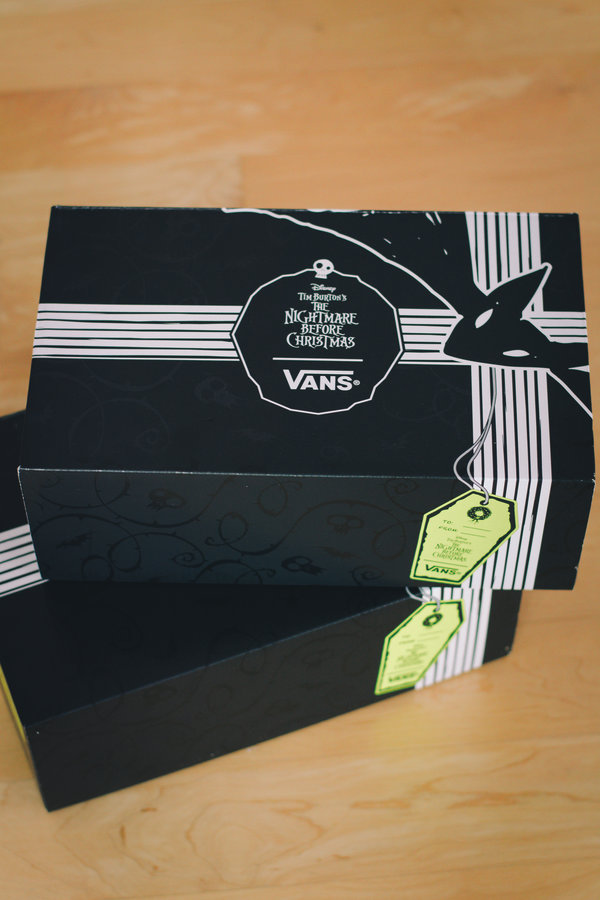 Once you open the shoe box, you will find more cool packaging! On the inside of the lid, there is a drawing of scenes from The Nightmare Before Christmas. The tissue paper the shoes are wrapped in is covered with little jack-o-lanterns.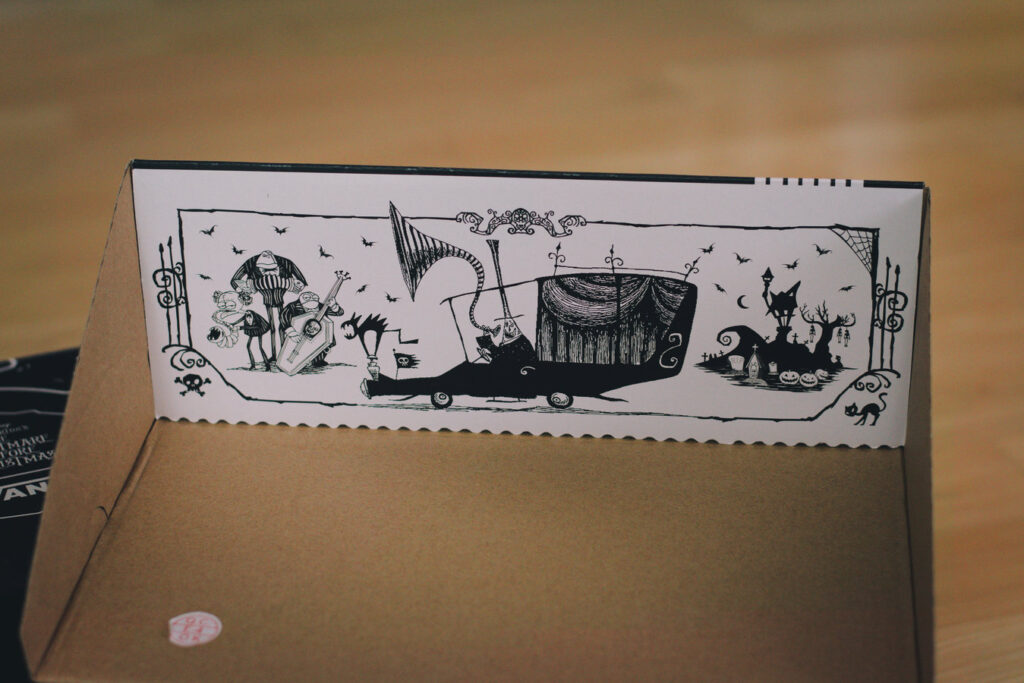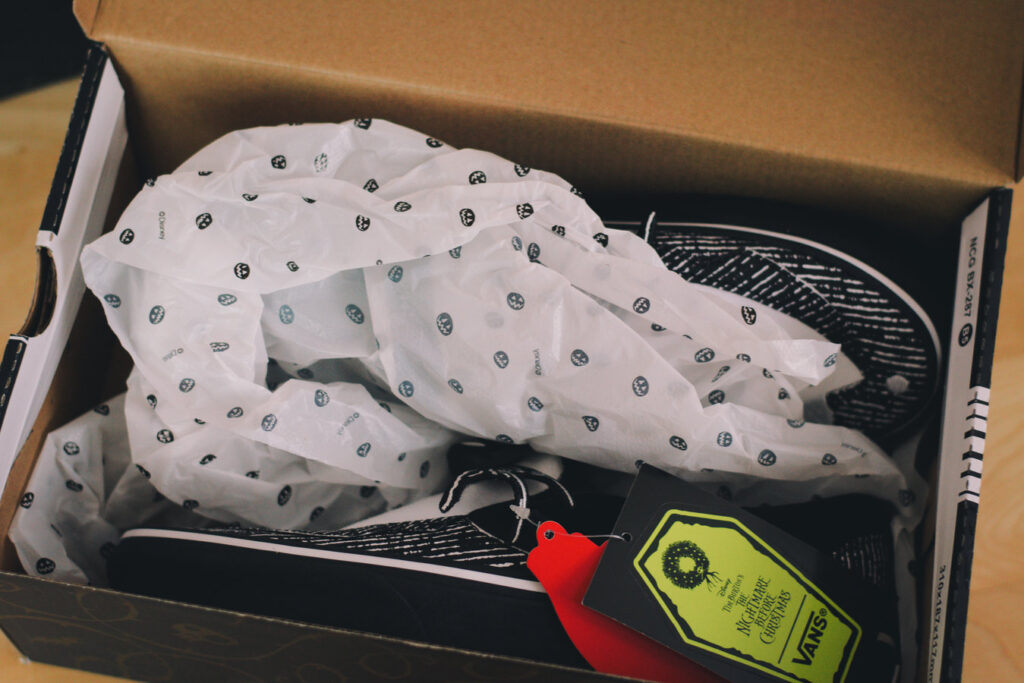 After you finally get passed all of the amazing packaging, you find the most incredible shoes you have ever seen! It has been over a month and I am still very excited about these shoes!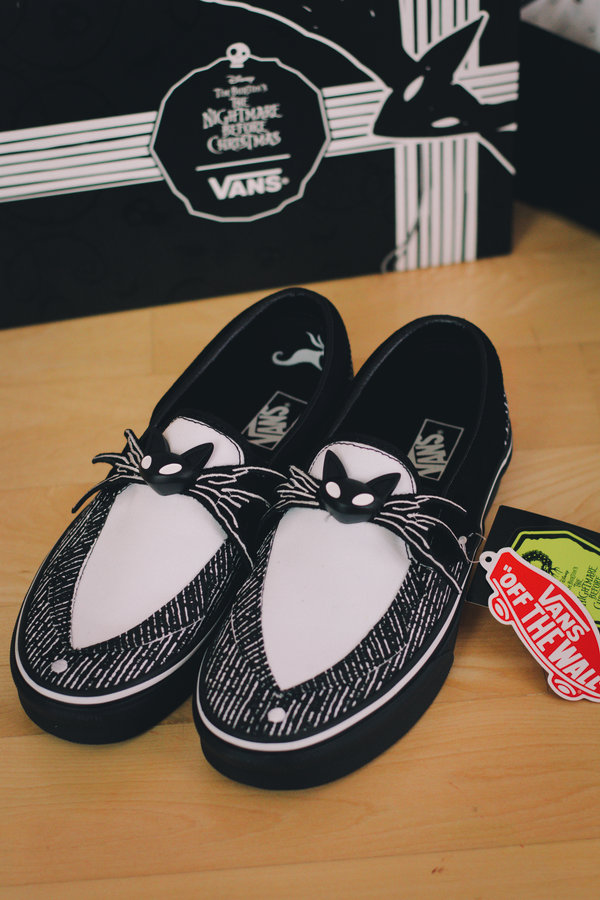 Jack Slip-On Vans
The first pair I got, are slip-on Vans that look like Jack Skellington's outfit. These shoes have everything Jack does, the pinstripes, button on his suit jacket, and even his bat bow tie. The awesome part about the bow tie is, it is an actual bat bow tie attached to the top of the shoe! There are more details all over this shoe, including the back and inside of it.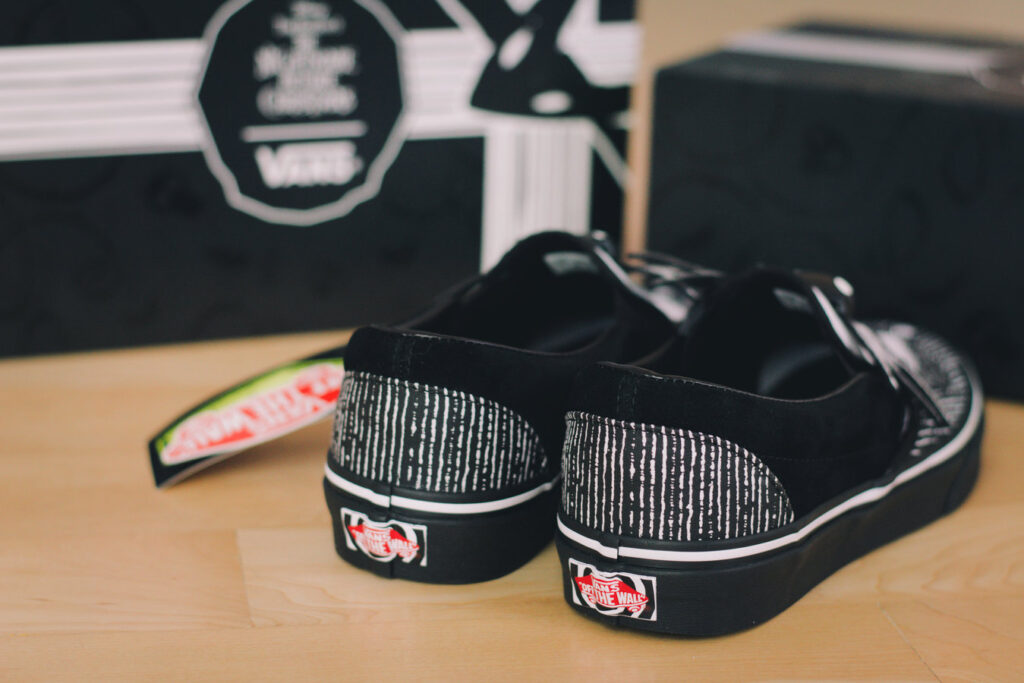 Jack High-Top Vans
The second pair of Nightmare Before Christmas Vans I got are the Jack Sk8-Hi ones. These shoes came in the same awesome packaging as the first pair. This pair of Vans are high-tops with laces. The material is very nice; sturdy canvas and suede on the top.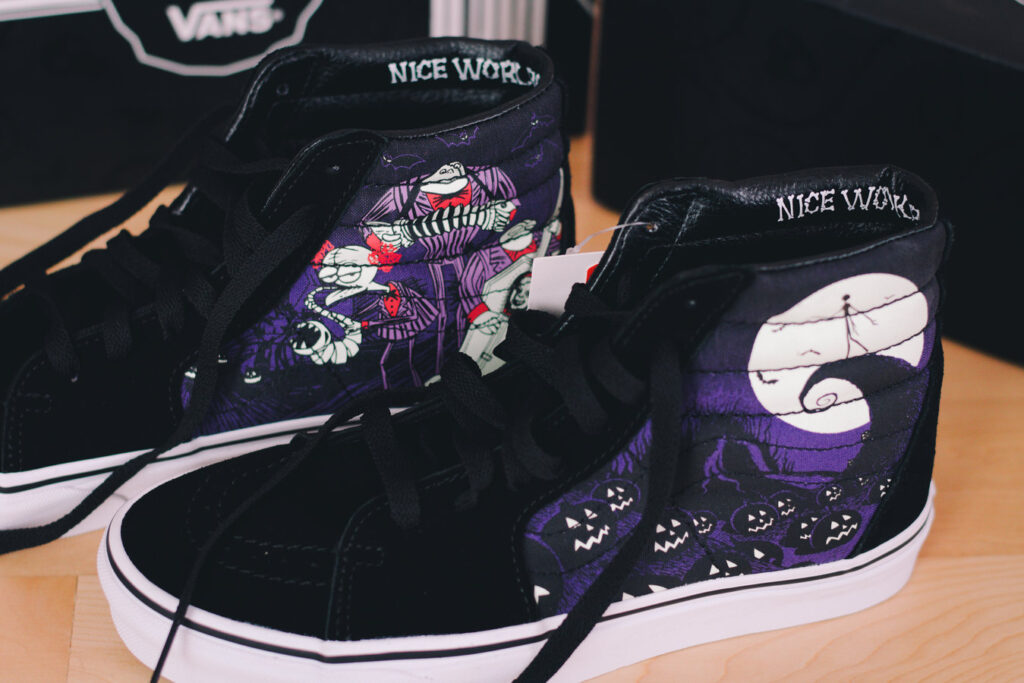 These shoes have different scenes and characters from The Nightmare Before Christmas on both sides. You will see Jack on the spiral hill, the zombie band, Zero in the graveyard, and Sally in the graveyard.  As if these shoes couldn't get any cooler, they glow in the dark!! Say what?! Etched into the inside perimeter of both shoes is "Nice Work, Bone Daddy!".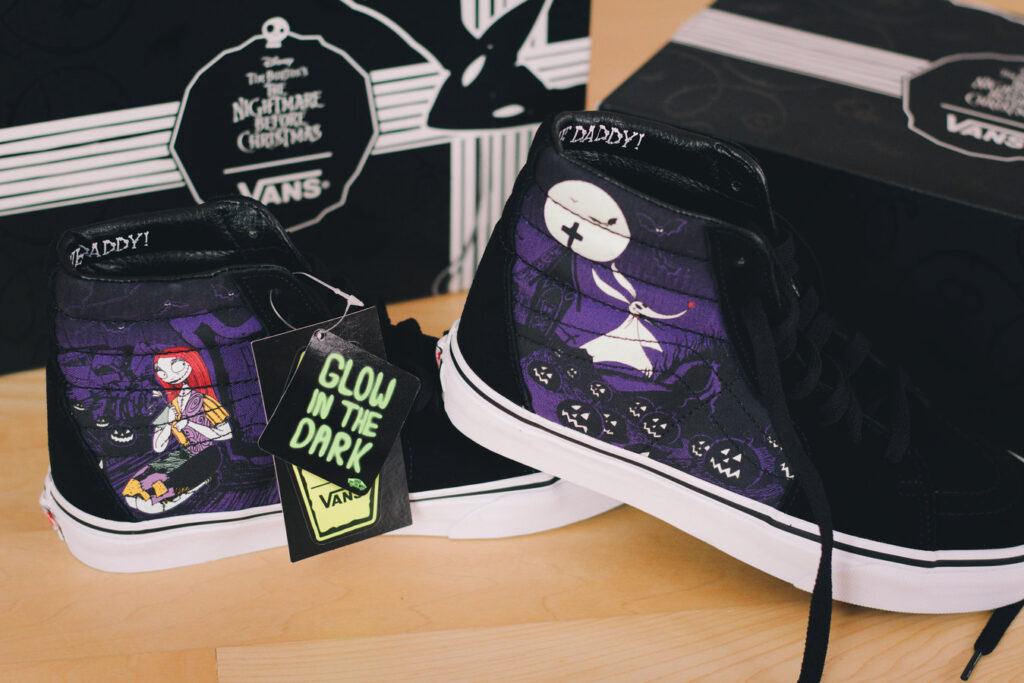 The Vans Nightmare Before Christmas collection is a must have for any Nightmare Before Christmas fan. I am so happy I was able to get the two pairs that I wanted in my size. As I mentioned at the beginning of the post, there are still some styles available and a new Christmas one. The Christmas Town ones are really neat and have scenes of Jack in Christmas Town on them. This would definitely be a great pair to add to your collection or to wear on Christmas!
Make sure to check out my other Blog-O-ween posts here! If you are looking for more awesome Nightmare Before Christmas fashion, check out this super cool Nightmare Before Christmas Dooney and Bourke Bag.
Stay Spooky!
-Caroline