During the fall months, the weather gets chilly and it starts to get dark early, which makes me want to stay inside more. I'm sure I am not the only one that does not enjoy the cold, dark days and would rather be at home all warm and cozy. If you are looking for a few easy ways to make your home warm and cozy for those awesome fall days where you get to stay home, I have a few fall home essentials for you!
Fall Candles
One super easy way to make your house nice and cozy is with fall scented candles. To me, lighting a Pumpkin Apple candle creates such a different atmosphere that I love during the fall months. A lot of my fall candles are from Bath and Body Works. I have scents such as, Pumpkin Apple, Pumpkin Pecan Waffles, Cinnamon Stick, and Vampire Blood. All of these candles smell so good.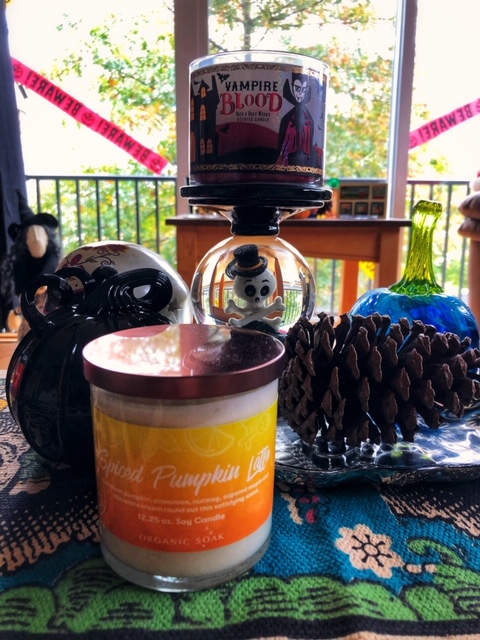 Whether I am practicing guitar, doing computer work, or watching a show at night, I always light a fall candle. You can find fall scented candles at so many different stores, not just at Bath and Body Works. I have seen different fall scents at Target, T.J. Maxx, and Home Goods. I also have an awesome fall candle from a local candle maker, which is also a great idea to shop local.
Fall Pillows
Another great fall home essential is pillows. Pillows are an easy and cozy way to decorate for any season. I have a few Nightmare Before Christmas and Sugar Skull decor pillows that I keep out all year since it goes with my decor theme. If spooky isn't your style but fall is, there are a lot of cute fall decor pillows in stores as well. One of my new favorite decor pillows is this Snoopy Trick or Treat one my mom found. It is still festive but not spooky if that is what you are looking for.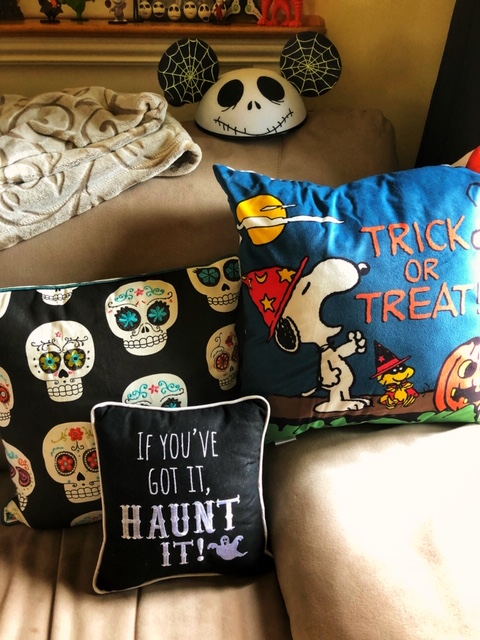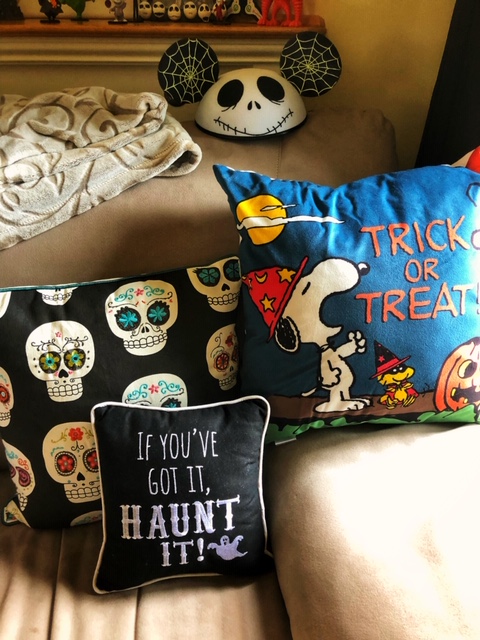 I have seen fall pillows in many stores such as, Target, T.J.Maxx, and Home Goods.
Lights
My third and final fall home essential is string lights. I love to decorate with string lights. They are so easy to put up and they help create a great atmosphere at night. A few of my favorite places to put my string lights are, on the railings to the upstairs steps, on ledges and shelves, and a new spot I found this year was around my T.V.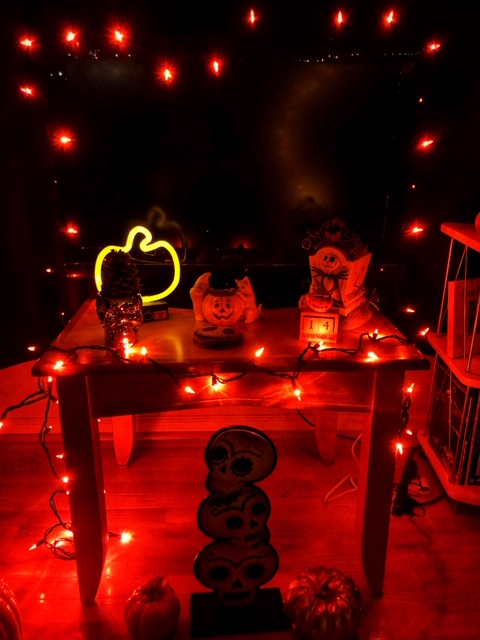 I like to plug these lights in every night, turn off all the other lights, and enjoy the cozy fall vibes. I have a few different colors of string lights as well. Some are orange and others are purple. I also have a set of skull pirate lights. There are so many different types of string lights out there that you will not have a hard time finding a set you like. Some of these lights can also be hung outside if you wish to add fall colors to your house at night.
All it takes is three easy fall home essentials: candles, pillows, and lights, to create a cozy fall atmosphere in your home. You will love it so much that you will never want to leave! A lot of these items are easy to find at a variety of prices. If you are looking for something simple, the good news is it does not take a lot of time to decorate with these items.
I hope you have enjoyed these fall home essentials for Blog-O-Ween Day 22! Make sure to catch up on all of the other Blog-O-Ween posts here! If you are looking for more decorating tips, check out my Unique Halloween Decorating Tips!
Stay Spooky
-Caroline 🙂