One fun area in our home I have enjoyed decorating the past two years, is the buffet in our dining room. I usually turn this into a spooky bar and today for Blog-O-Ween Day 19 I am showing you how to create your own spooky bar. 
Choose Your Theme
The first thing I like to do when creating a spooky bar is decide what the theme is going to be. Obviously drinks would be the main theme but what color scheme are you going to use? Do you have any Halloween wine glasses that could be used for decorations? For me I chose a color scheme of black, white, and purple with a few pops of orange. 
Gather Decorations 
After you have an idea of how you want your spooky bar to look, gather all of your decorations you want to use. Make sure to look everywhere for these items. Some of my decorations were in my Halloween bins, others like the wine glasses were in my kitchen.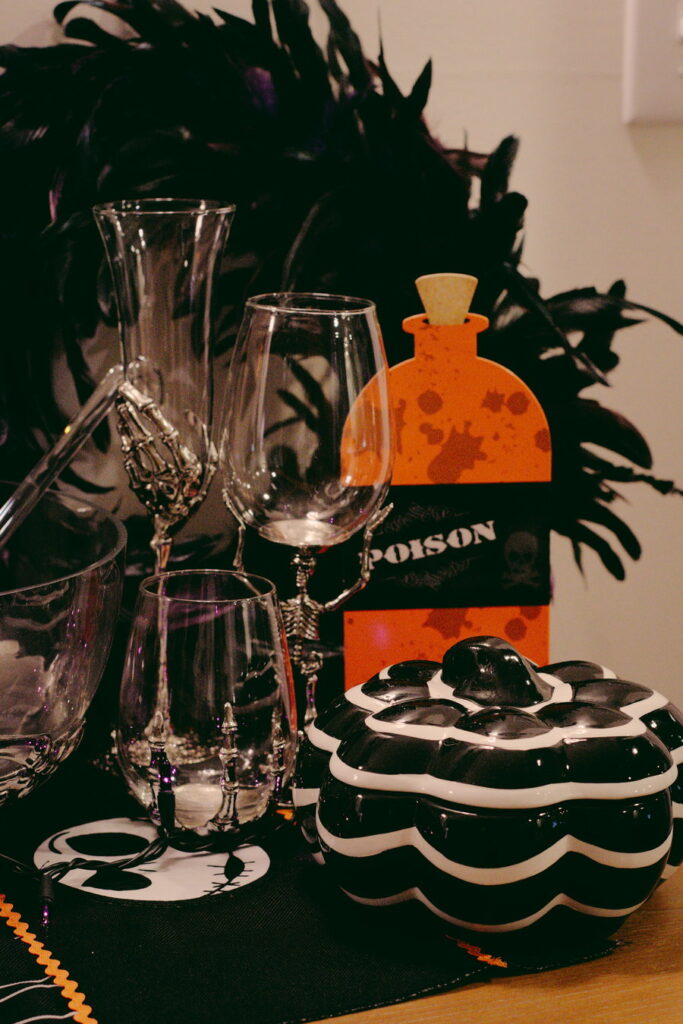 Create A Spooky Bar
Once you have everything you need it is time to start decorating! I started with putting a Jack Skellington table runner on my buffet. Then I placed the black and purple feather wreaths of each end for symmetry. Next I layered bigger items in front of the wreaths, such as our Peanuts candy bowl and our skeleton punch bowl. After the bigger items were in place I was able to easily decorate other items around them.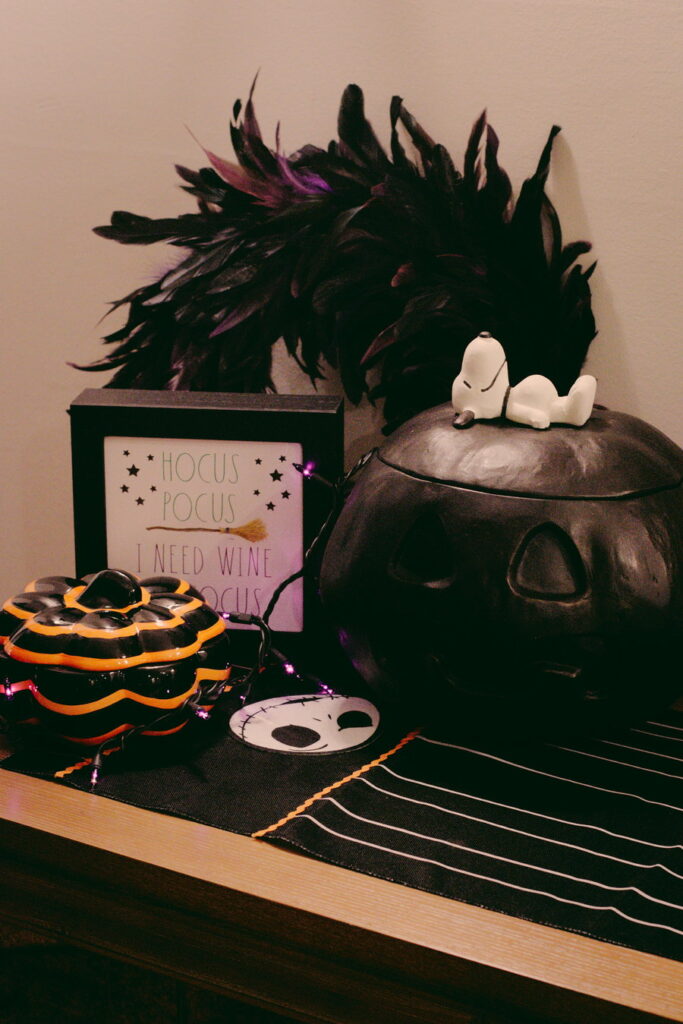 I also like to balance the decorations on each end of the buffet. For instance, I placed striped pumpkins on each corner and spooky drink signs behind the pumpkins. I created a focal point in the center by displaying my Nightmare Before Christmas candelabra and serving tray in the middle of the buffet.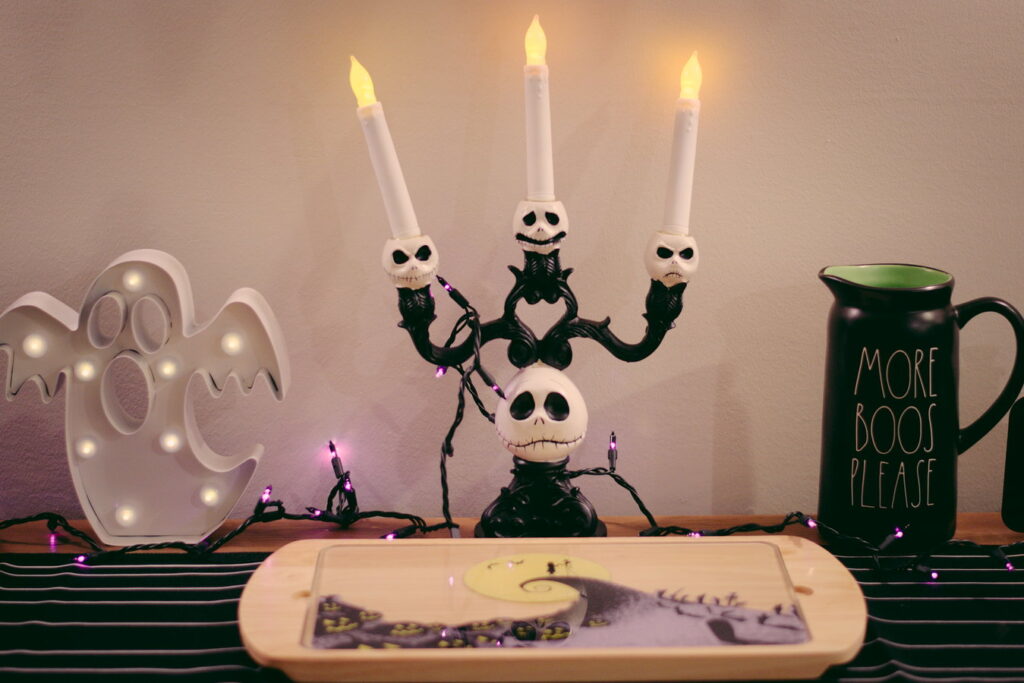 Final Touches
Once I was satisfied where I placed everything I added spooky purple string lights and tied a skull banner to our sconces. I also decided to decorate the area around our buffet. I placed various types of pumpkins and Jack Skellington figures on each side of the buffet. This made our buffet look even more spooky and interesting. Sometimes I forget placing decorations on the floor can be done in a cool way.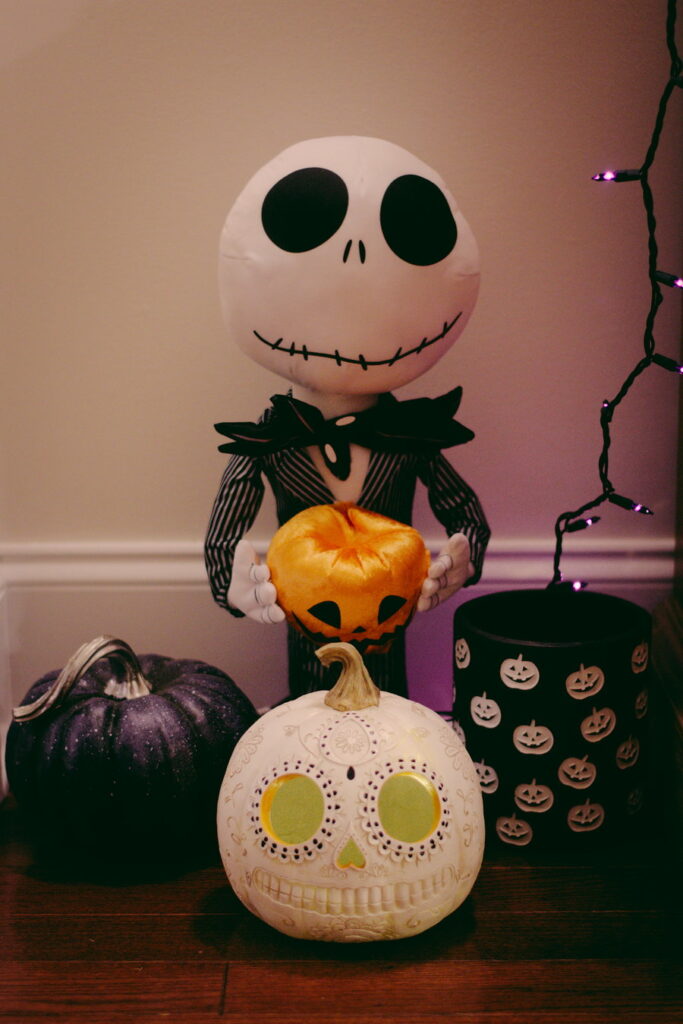 I am so happy with how our spooky bar turned out! When we had some friends over for Halloween we actually did not even use this area for drinks, it was more of a display. I am definitely going to keep the buffet like this for a bit longer before switching it up for Thanksgiving.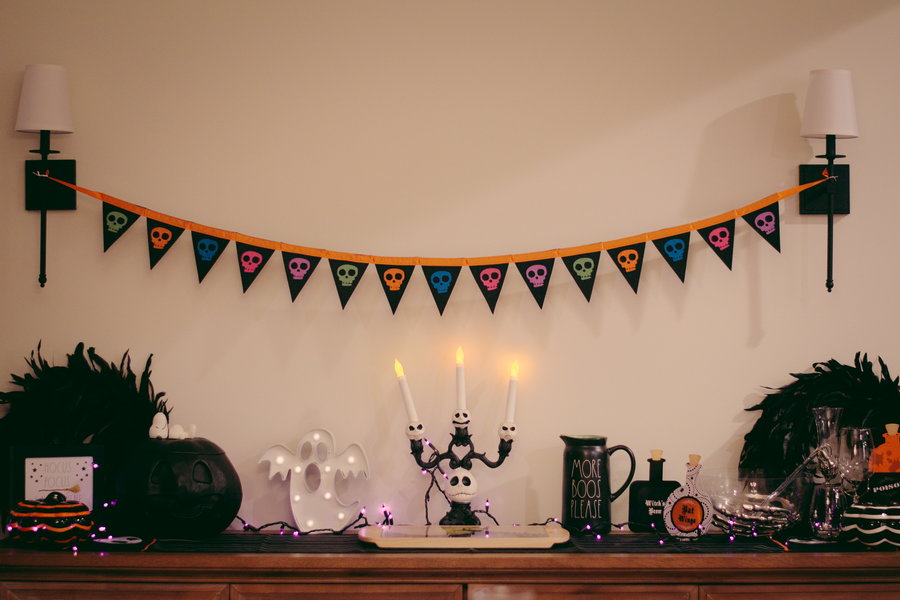 I hope you have enjoyed Blog-O-Ween Day 19 and it gave you some ideas of how to create your own spooky bar.
Stay Spooky!
-Caroline 🙂
Check out some of the other Blog-O-Ween posts below:
The Corpse Bride Halloween Costumes
2022 Nightmare Before Christmas Coffee Corner
The Wickedest Town In The West
Shop my Stay Spooky Collection!