******In 2019 my family and I took a trip to Miami, Florida for a classical guitar convention and competition. I started this post after we got back but never finished it. Today I am excited to share our stay at The Biltmore with you! Just keep in mind a few aspects might be different today since we went two years ago before Covid 19.*****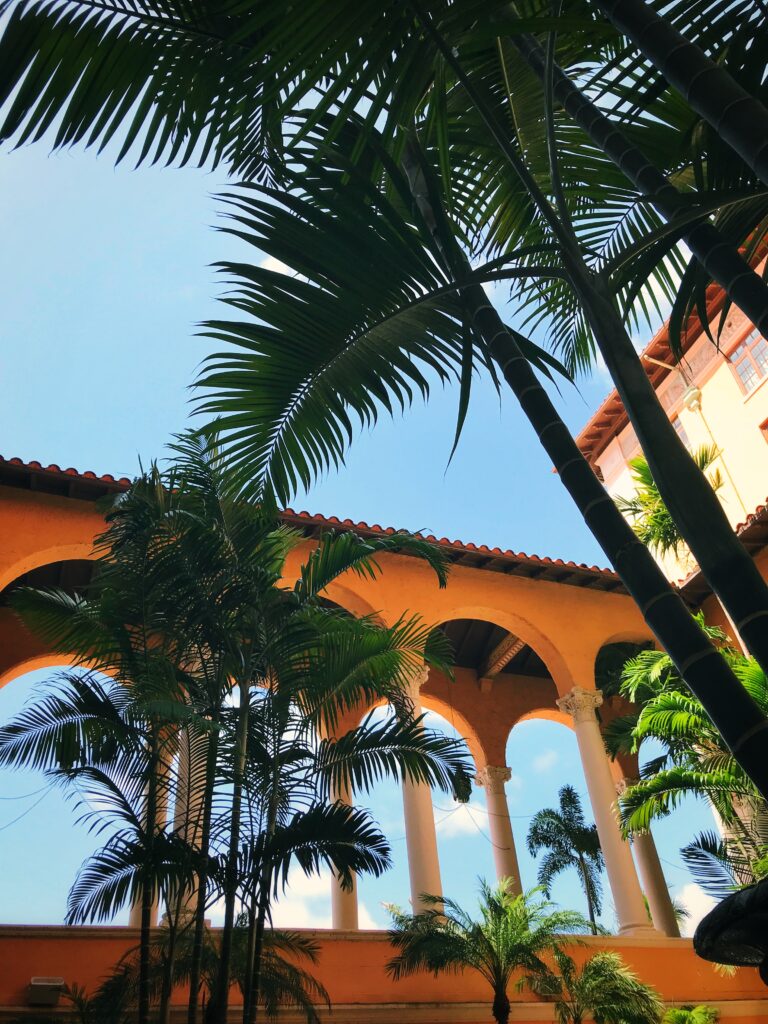 Biltmore Coral Gables History
The Biltmore Miami- Coral Gables had its opening gala on January 15, 1926. Since then the hotel has acquired quite a history. This hotel has had many famous guests, from Al Capone and Judy Garland, to Franklin D. Roosevelt. During the Jazz Age, big bands would perform at the Biltmore. The hotel would also host fashion shows, aquatic shows, and magnificent galas.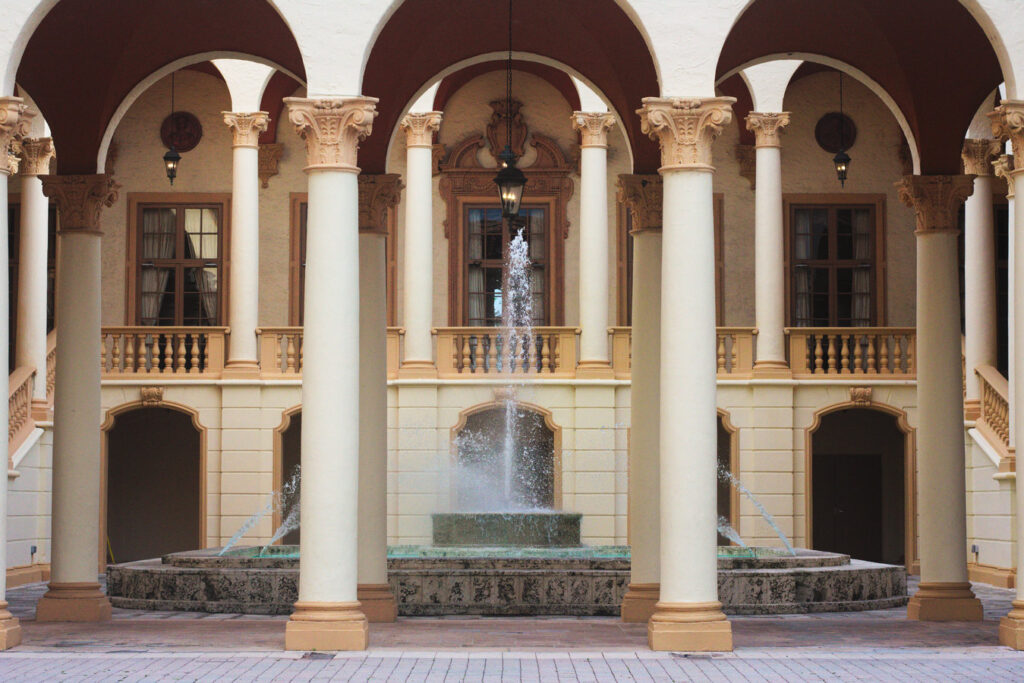 During World War II, The Biltmore was transformed into a large hospital. It was called the Army Air Forces Regional Hospital. The hotel continued to be a hospital after the war was over as the Veteran's Administration Hospital, which continued until 1968.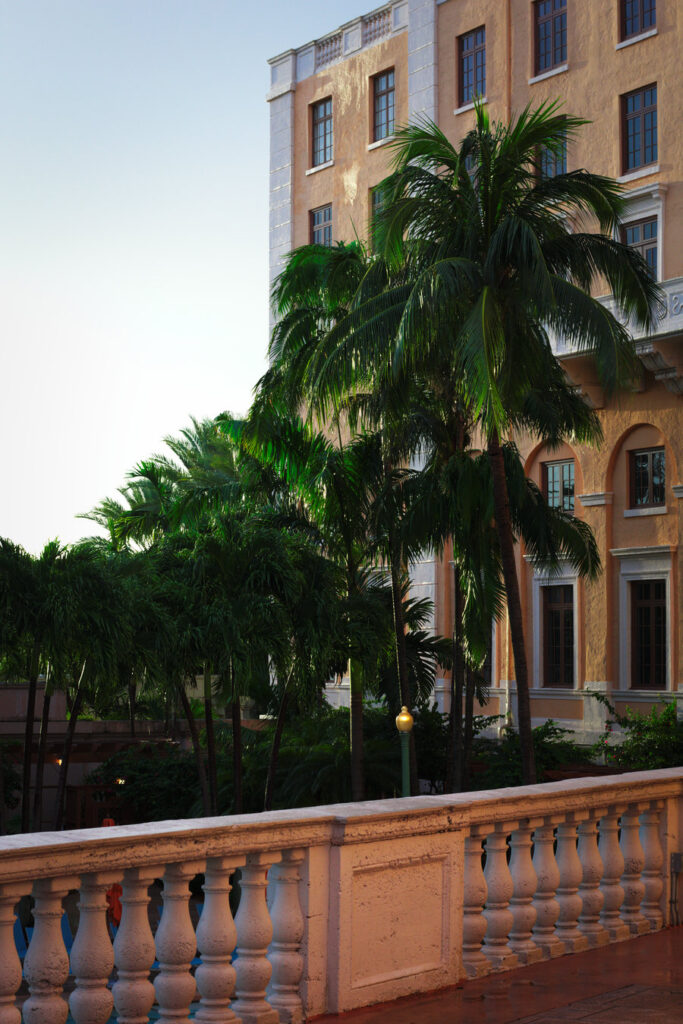 In 1973, the City of Coral Gables acquired The Biltmore. However, the hotel was empty for 10 years because the city was not sure what to do with it. In 1983 though a full restoration of The Biltmore began. After a lot of work and money, the hotel opened on December 31, 1987. This opening was unfortunately short-lived. Three years later the hotel had to close due to the economy.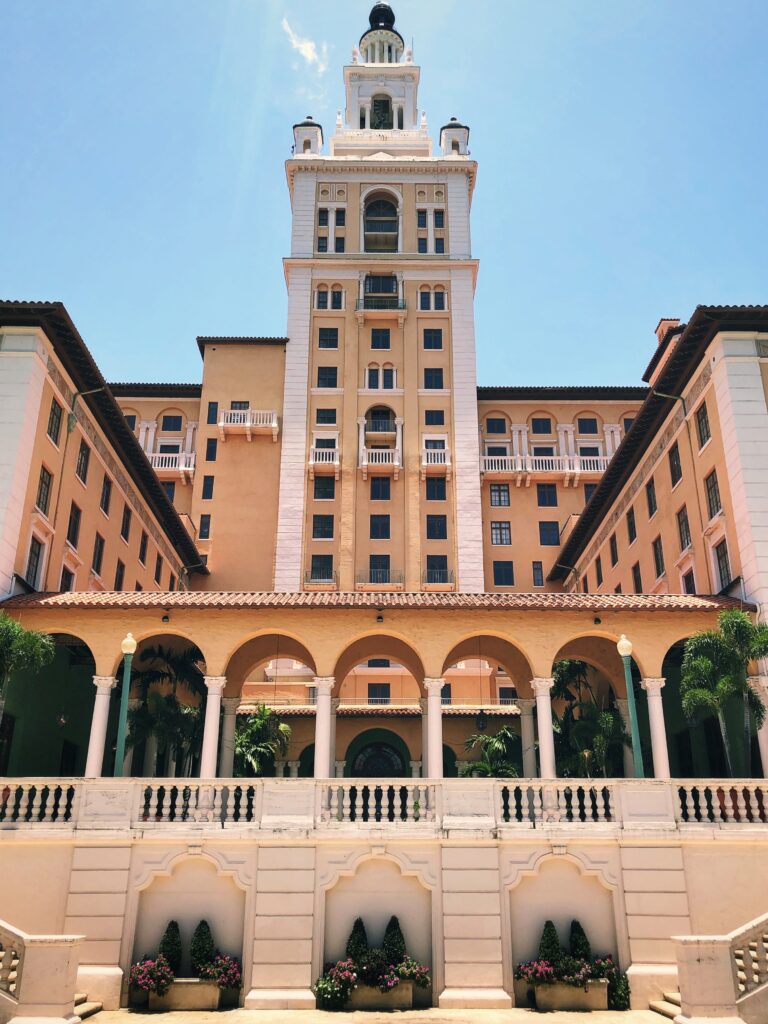 After a new management firm took over the hotel in 1992, another restoration was done. What you see today at The Biltmore is from these renovations. The hotel was also considered a National Historic Landmark in June 1996. As you can see, the Biltmore has quite a history, and you can read a more in-depth version on their website.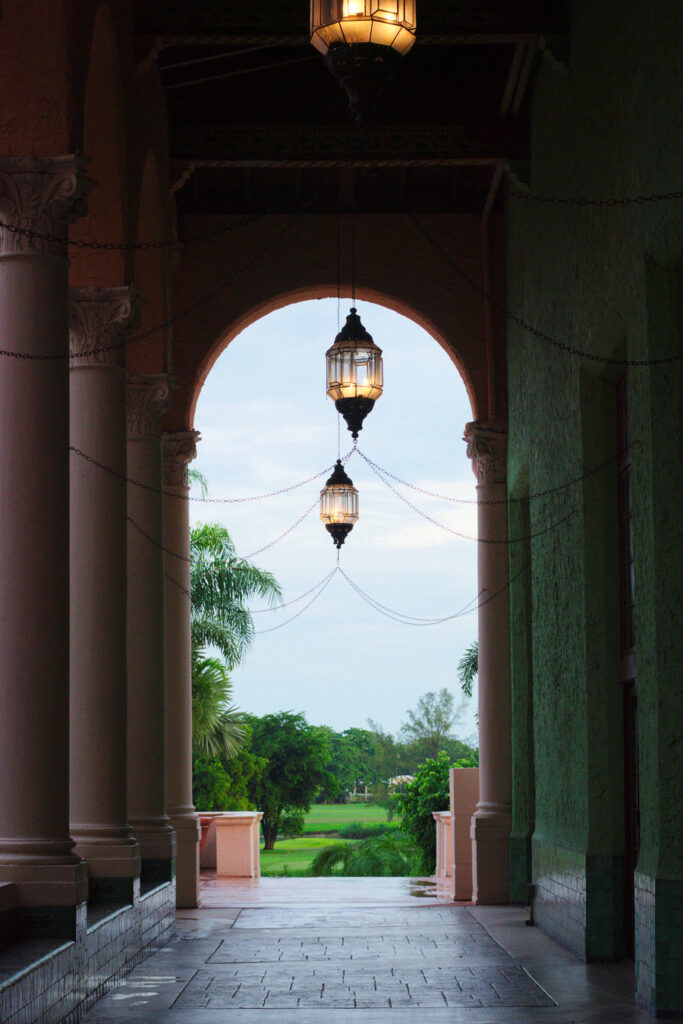 Location
1200 Anastasia Ave
Coral Gables, FL 33134
The Biltmore is technically located in Coral Gables Florida. It is a five minute drive from the Miami International Airport and a nine minute drive from the University of Miami. This location was perfect for us since the classical guitar convention we were attending was at the university. We also flew in and out of the Miami airport so the Biltmore was the perfect location for our stay.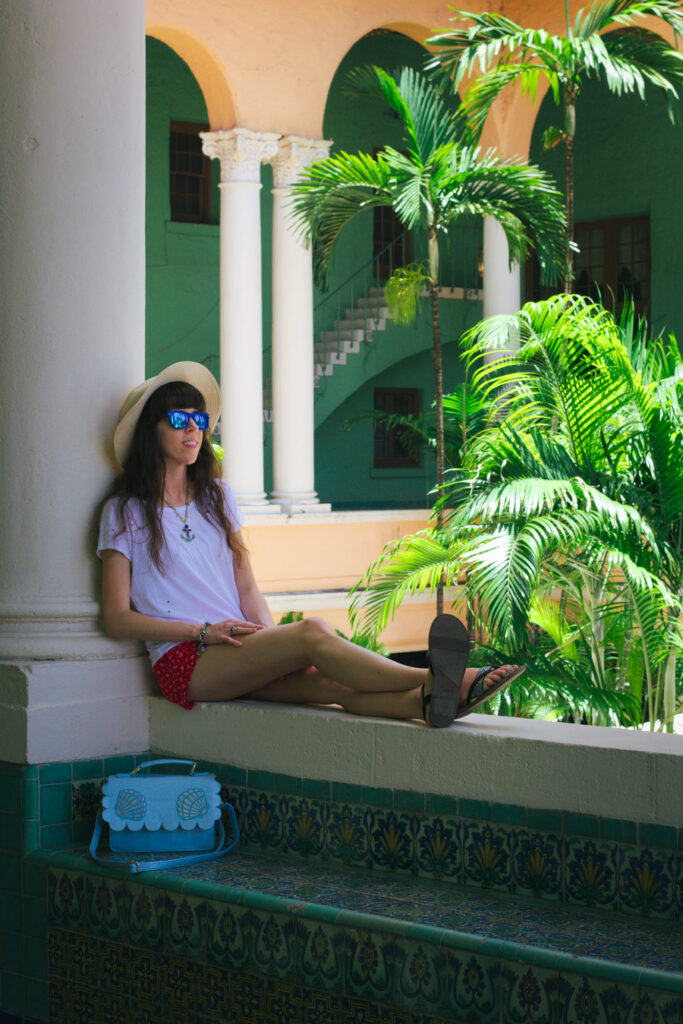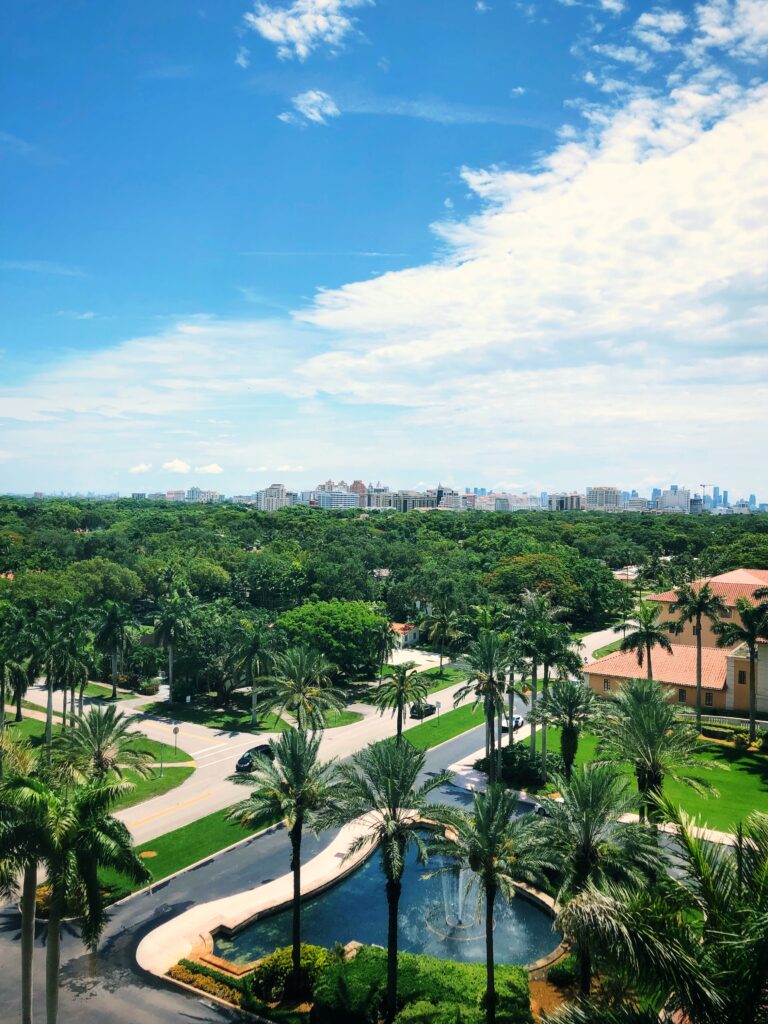 If you are looking to go to Miami Beach, the Biltmore is about a 30-40 minute drive from there. However there is plenty to do and see around the Biltmore and the city of Coral Gables.
Rooms and Suites
The rooms at the Biltmore Coral Gables are immaculate! We absolutely loved our room and we were so shocked at how amazing it was when we arrived. Other than our bedroom, we also had a beautiful sitting area when you first walk in. Our bathroom was also very spacious and clean.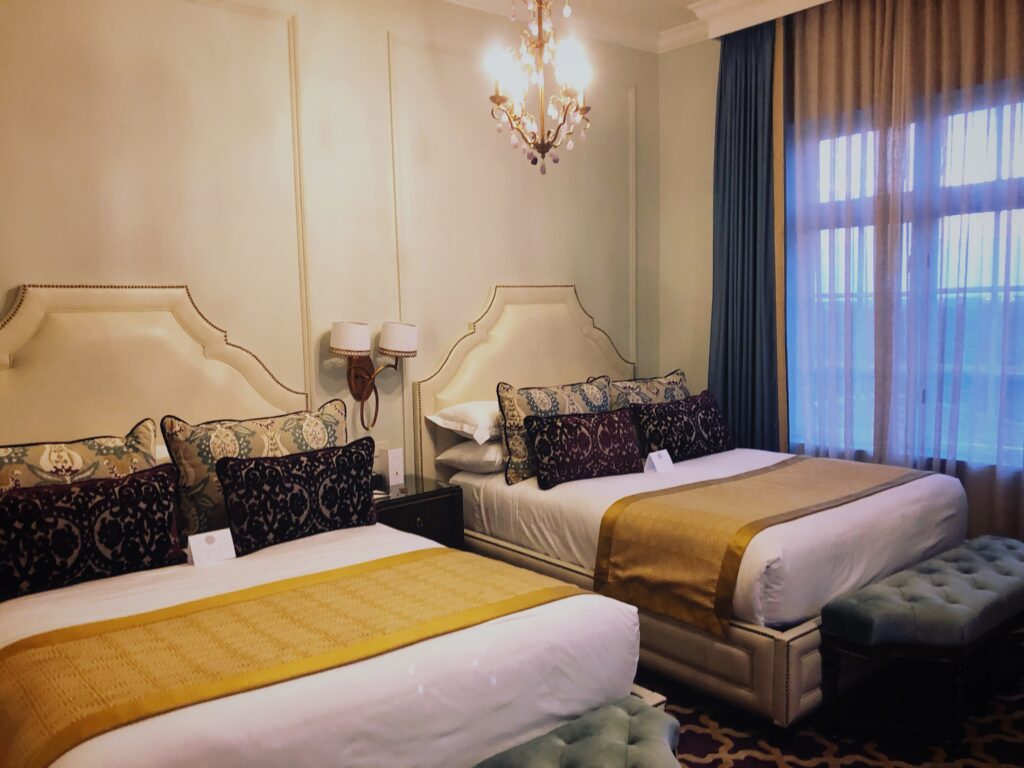 The Biltmore has many different room and suite options to choose from. Some of their suites look insane and I would love to see the inside of them in person. Their Everglades Presidential Suite is a massive two story suite that even has a grand piano in it! I definitely feel it is safe to say that no matter what room you book at the Biltmore, it will be incredible with an amazing view.
Things To Do At The Biltmore

The Biltmore has plenty of activities and dining options to offer. You could definitely spend at least a day or two there without needing to leave the hotel.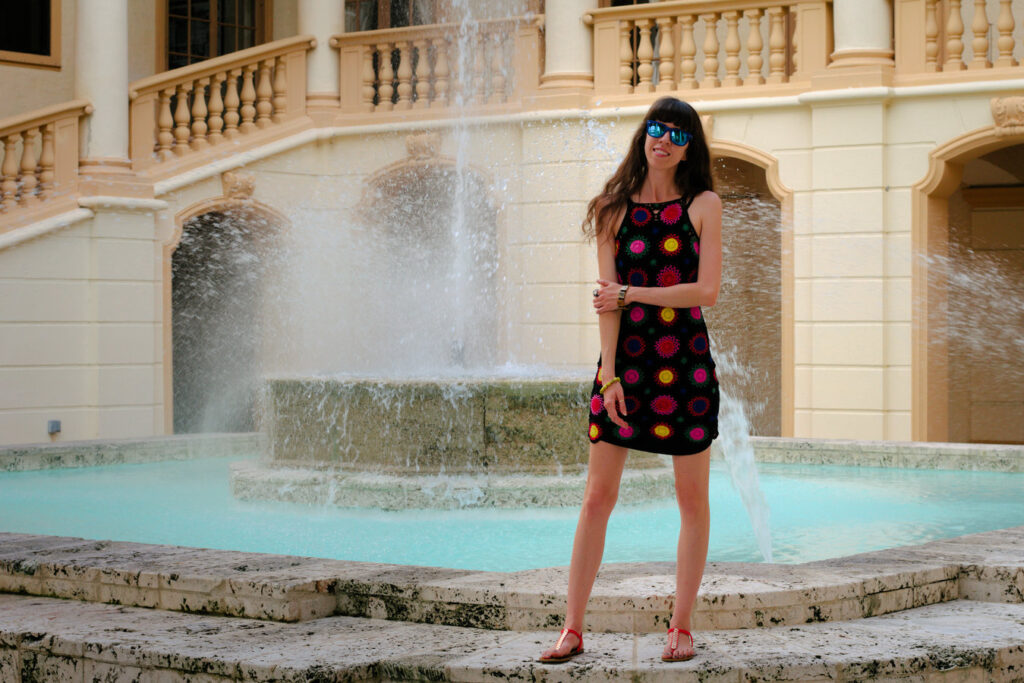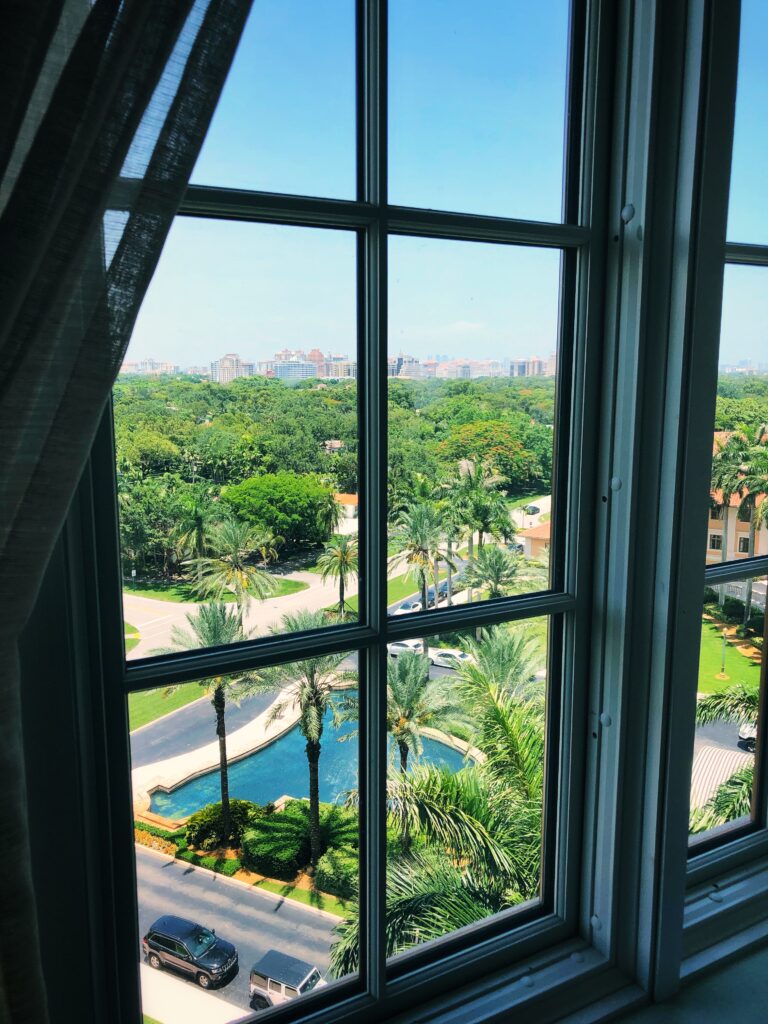 Biltmore Spa
One thing you must do at the Biltmore is visit the spa! My mom and I spent a few hours at the Biltmore spa one afternoon and it was incredible! We still talk about this spa today.
The atmosphere is extremely zen and relaxing. The changing room has a Himalayan Salt Stone Sauna and a Eucalyptus Steam Room. You can use these amenities before or after your spa appointment. We used the sauna and the steam room and they were both extremely relaxing.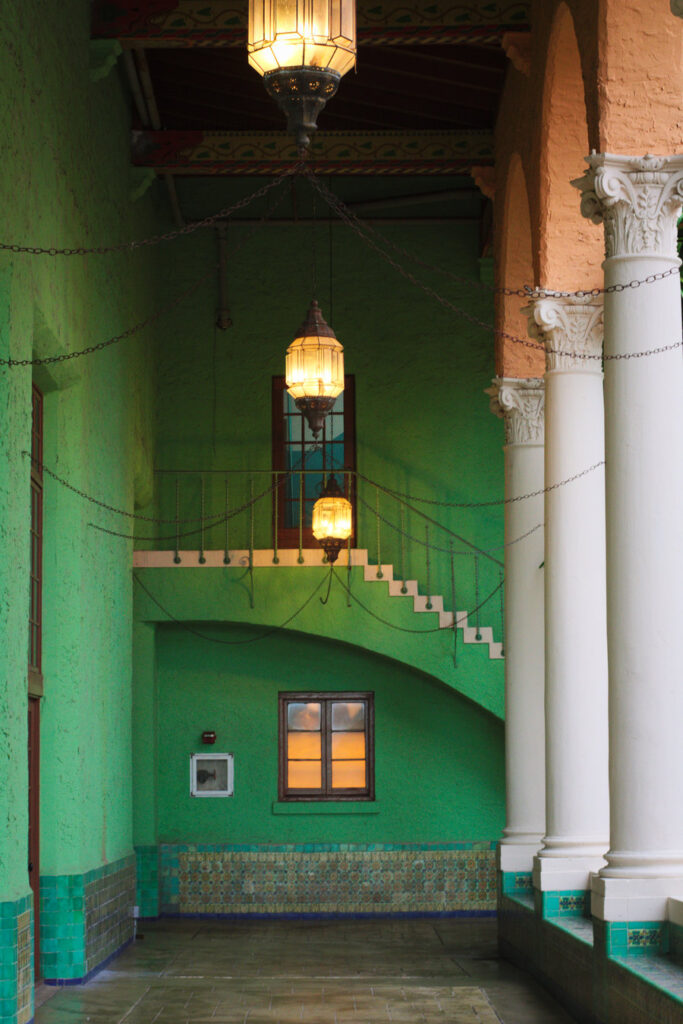 We both booked massage appointments at the Biltmore spa. Before and after our massages, we got to unwind in the relaxation room. There were comfortable chairs and lounge chairs for you to rest in before or after your treatment. Both of our massages were incredible and we did not want to leave the spa! We would definitely go back to this spa in a heartbeat!
The Biltmore spa offers many different services such as facials, massages, and body scrubs. There is also a full service salon where you can get your hair, make-up, and nails done.
Pool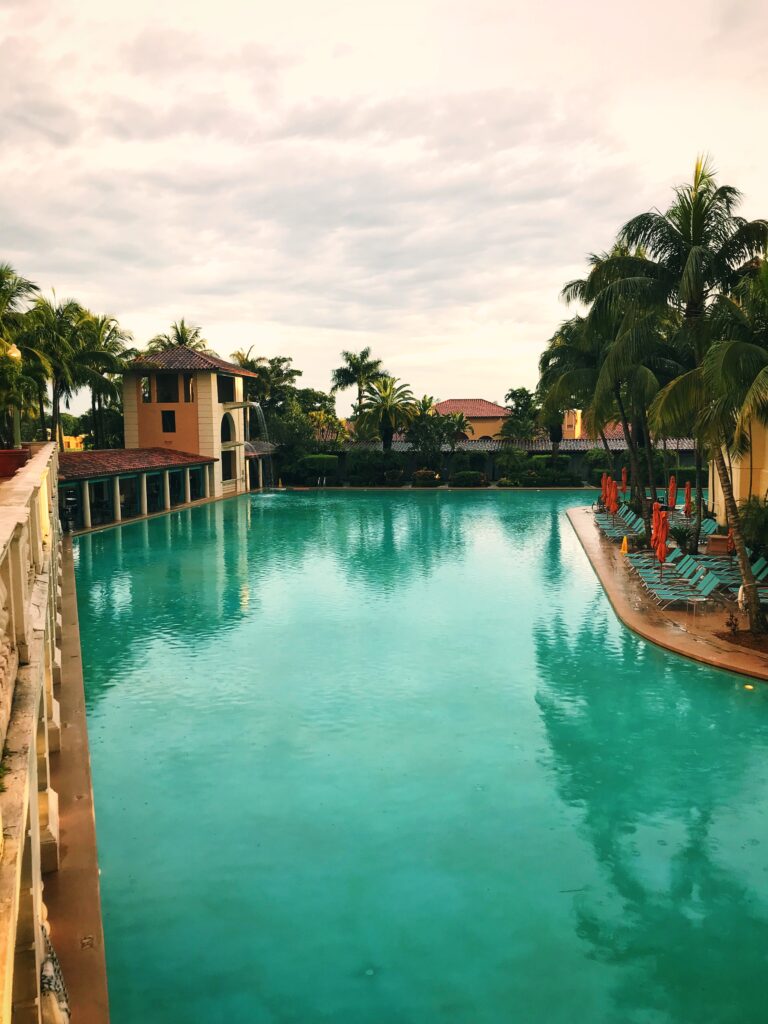 Another fun thing to do at the Biltmore is to take a dip in the massive pool! This pool has 600,000 gallons of water in it! It is one of the biggest pools in America.
One afternoon during our stay we hung out by the pool and went for a swim. This pool was a lot of fun to swim in but I will tell you, if you swim all the way around, it is a lot of work, haha!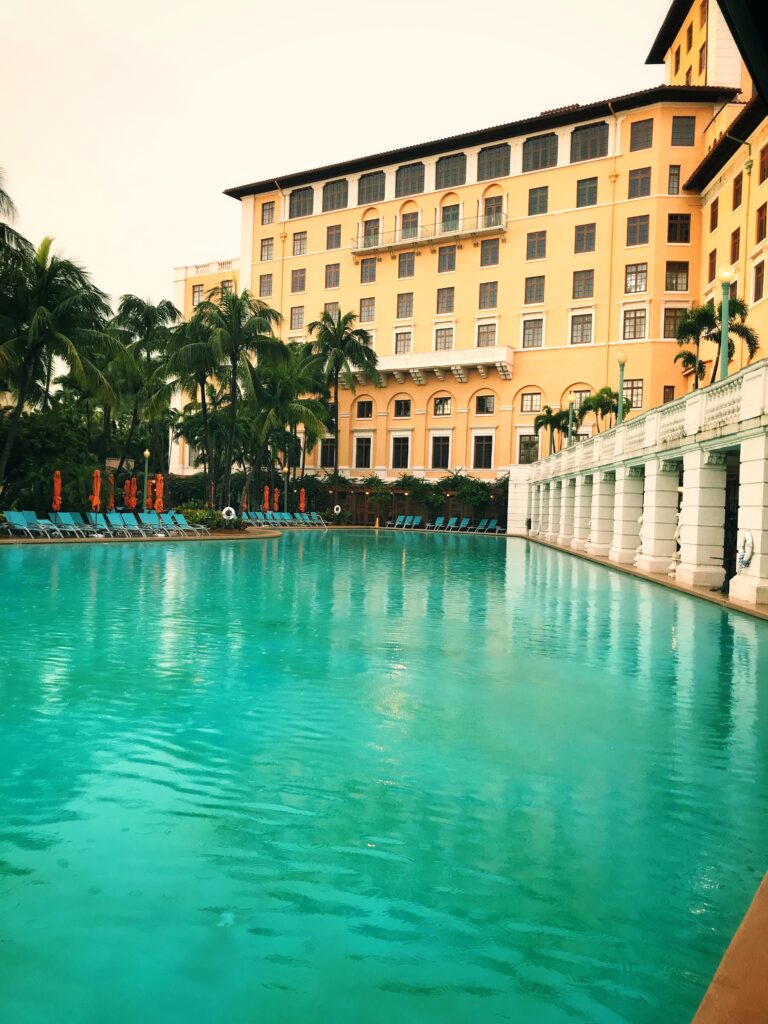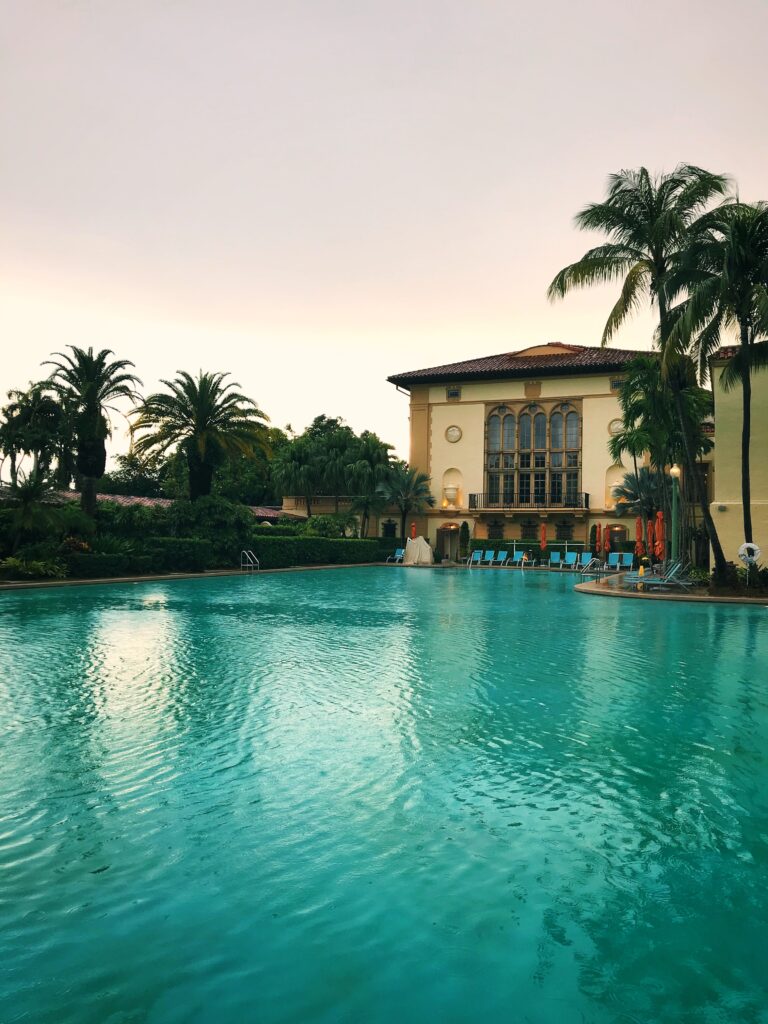 There is a waterfall in the pool that is fun to go under. The atmosphere around the pool is also wonderful. The Biltmore also offers a membership, so if you live in the area you can become a member and use many of their amenities, including their pool.
The Biltmore also has cabanas around the pool that you can rent out for the day.
Walk The Grounds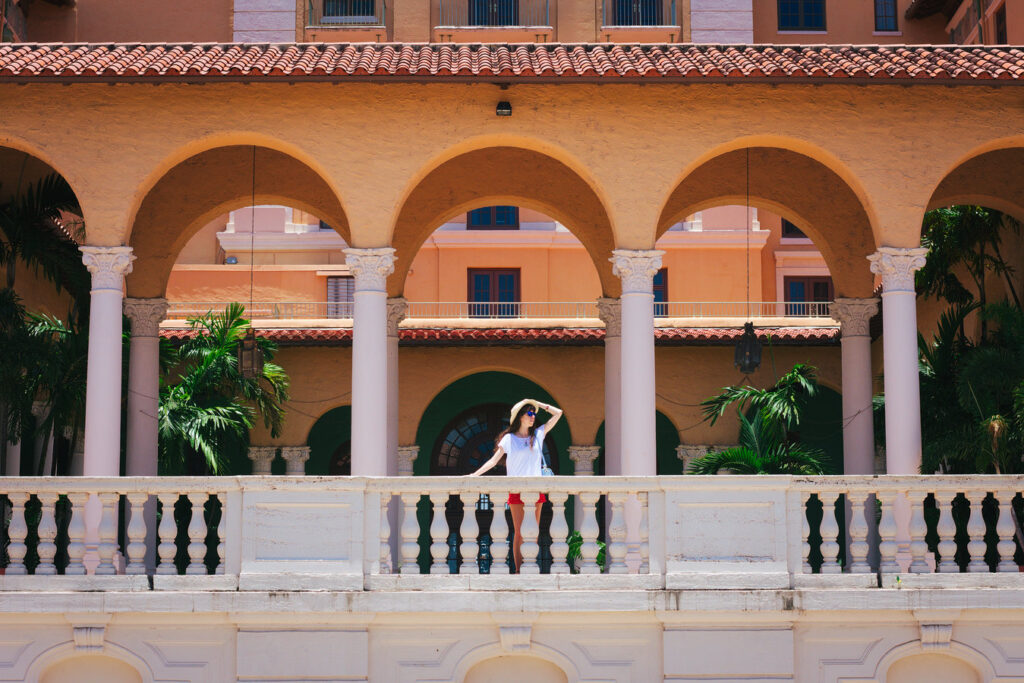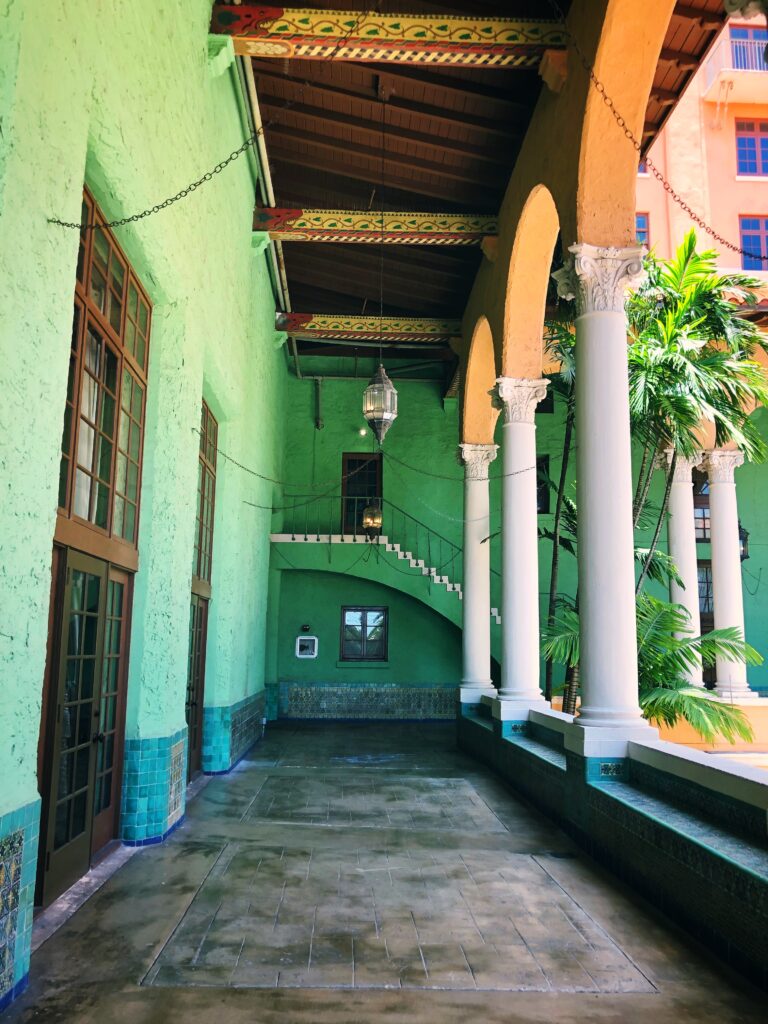 Walking around and exploring the grounds of the Biltmore is a fun activity to do. There is so much to see inside and outside the hotel. One afternoon when we had some extra time, we decided to just explore all around the Biltmore. I am glad we did because there were some beautiful sights and great pictures to take.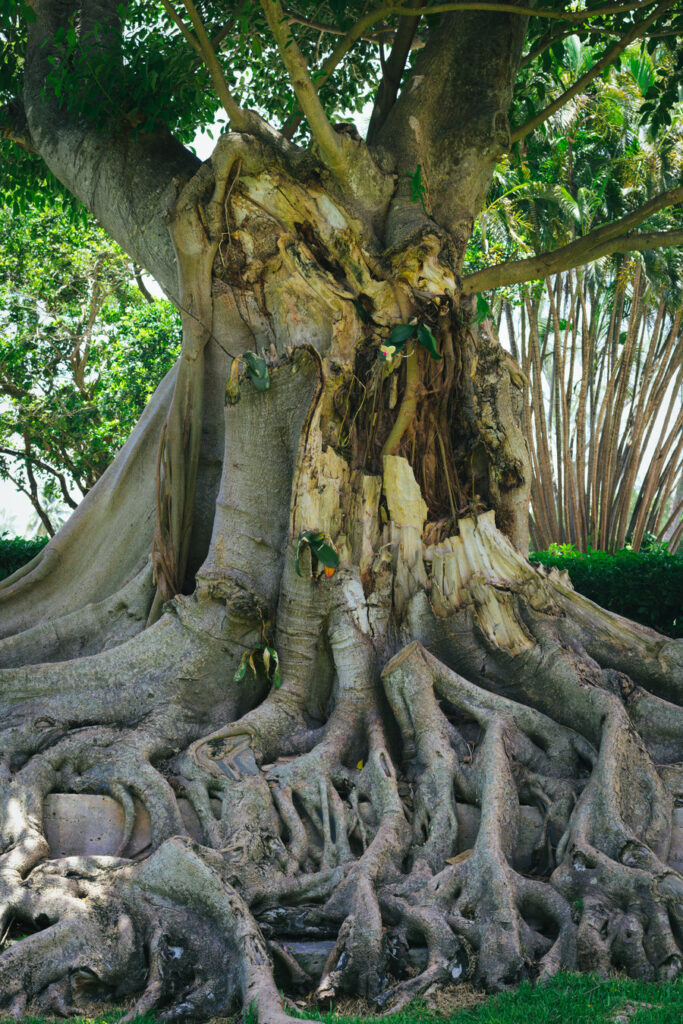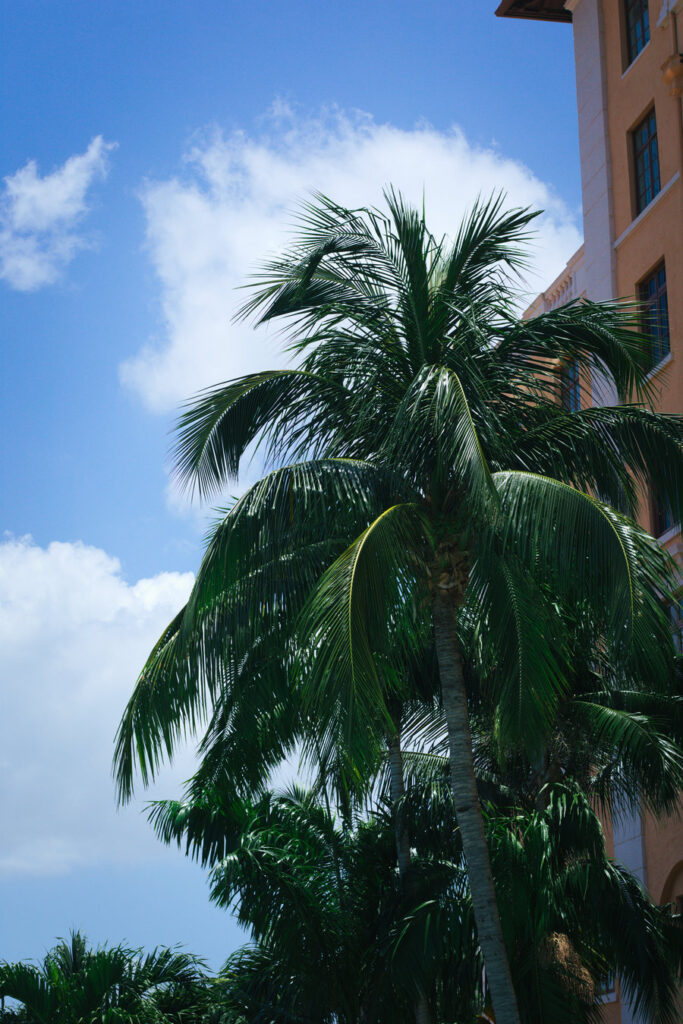 Dinning At The Biltmore Coral Gables
Breakfast at the Golf Course
There are many places to eat at the Biltmore, including the 19th Hole Golf Sports Bar and Grill. This was our favorite place to have breakfast. You can enjoy your breakfast inside or on the terrace, which has a beautiful view. My mom and I started our day with breakfast on the terrace quite a few times during our stay.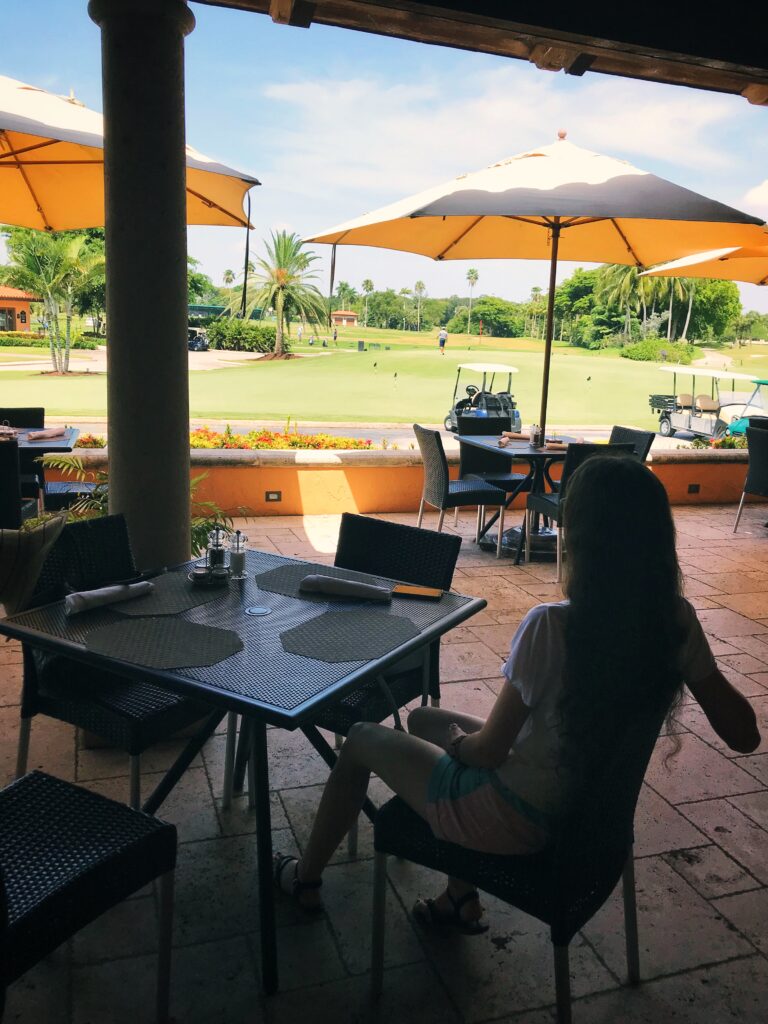 The 19th Hole also offers lunch and dinner menus. We had dinner inside the restaurant one night and we enjoyed their food. Their menu changes depending on what time of the day it is, however they are currently open from 7am- 7pm. I would definitely recommend having your breakfast here.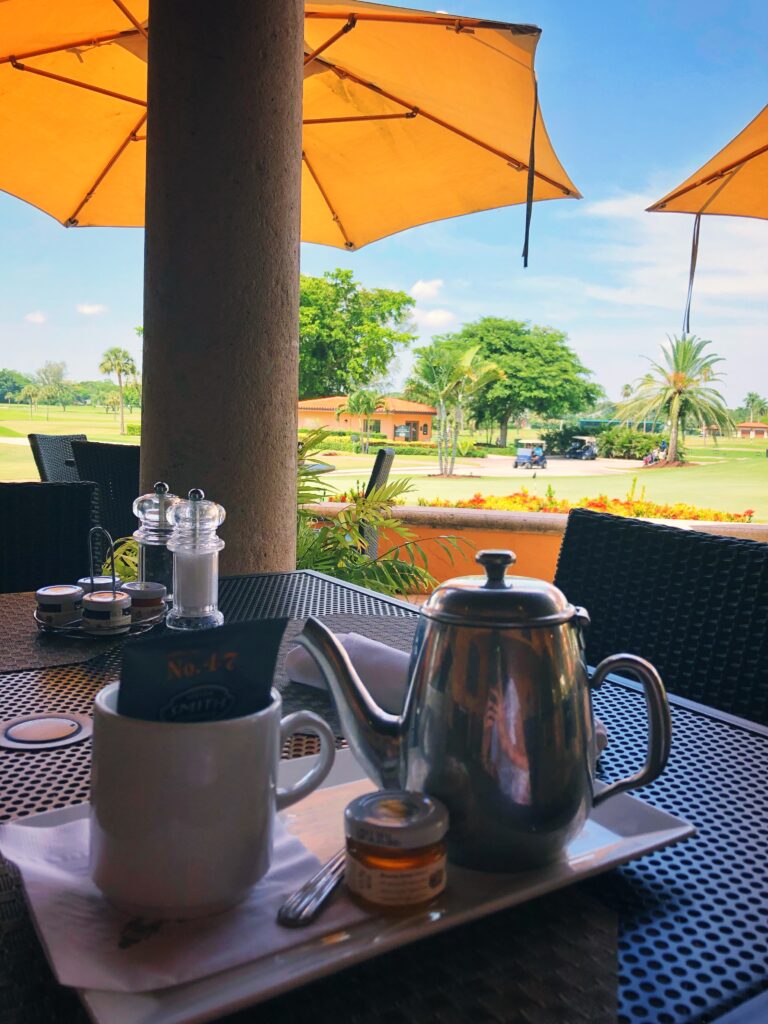 Fontana Italian Restaurant
Another great dining option the Biltmore has is Fontana. We ate dinner here our first night at the Biltmore and it was delicious. You can eat inside or outside in their courtyard, which is beautiful! Fontana also serves breakfast, lunch, and dinner.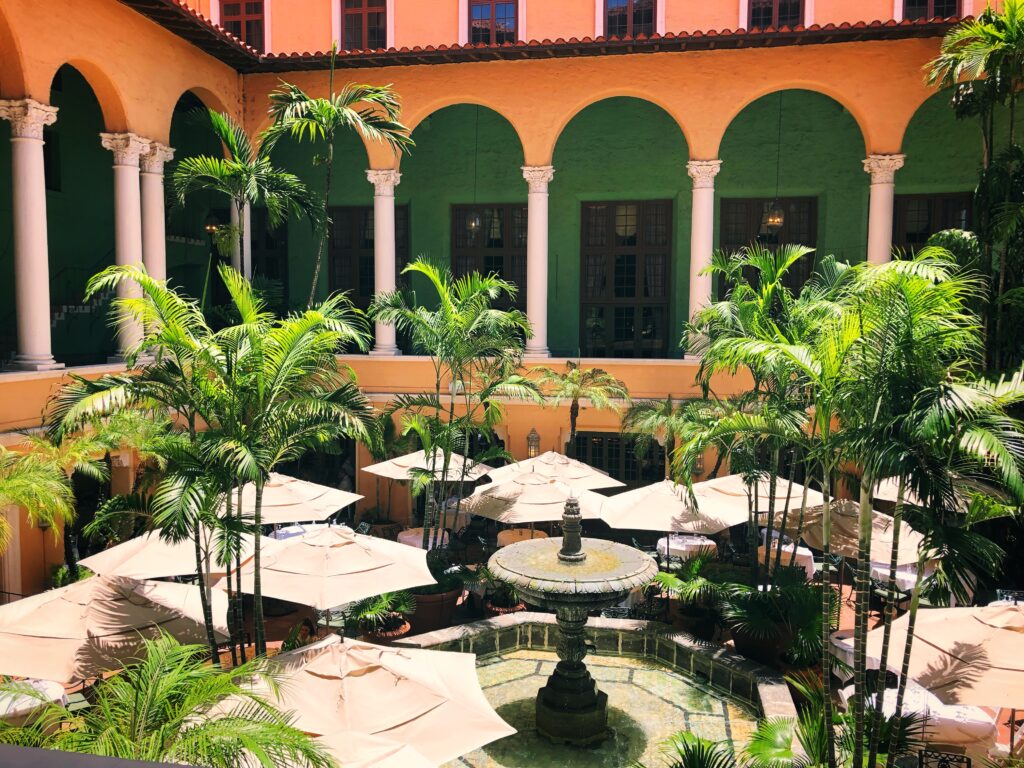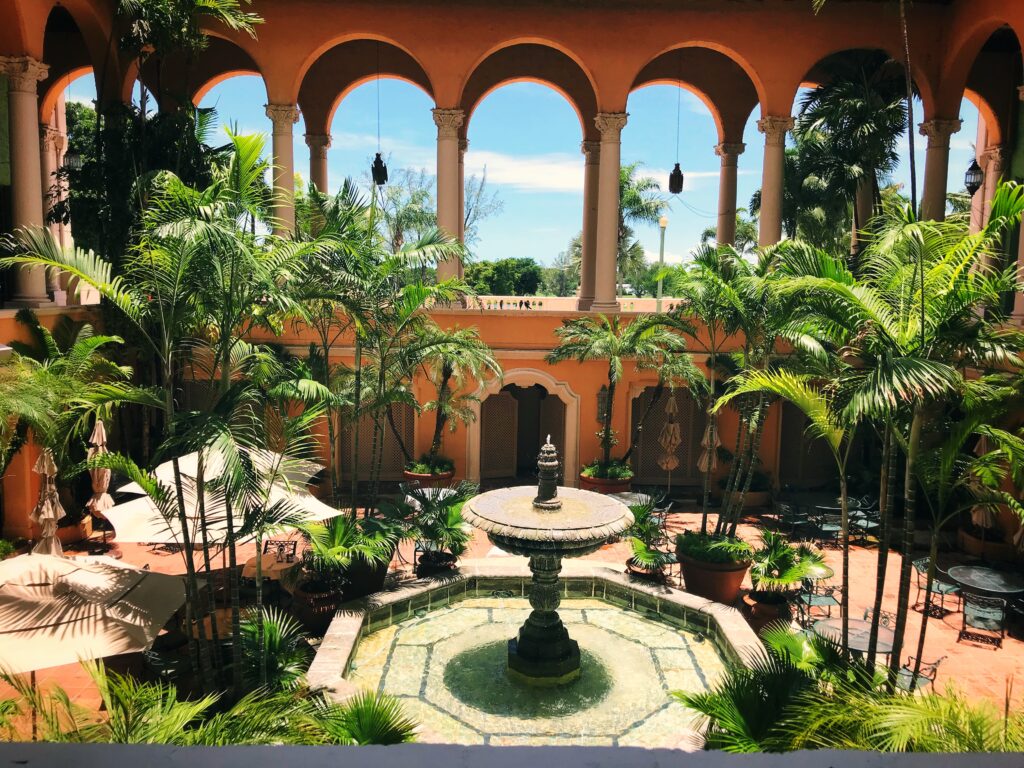 Cascade Pool Side
Cascade is another good dining option. This restaurant is right next to the pool which makes a great view. We had lunch at one of their pool side tables a few times and it was good! Cascade is mainly a lunch and afternoon snack restaurant.
Bars
The Biltmore has two in-door bars, The Cellar Club and The Biltmore Bar. We visited the Biltmore Bar one night for some drinks and a cheese plate. This bar opens later in the day at 4pm.
There were a few nights where we just wanted some hot tea and we were able to purchase that at the Cellar Club. You can also find coffee, fresh fruit, and pastries here every morning.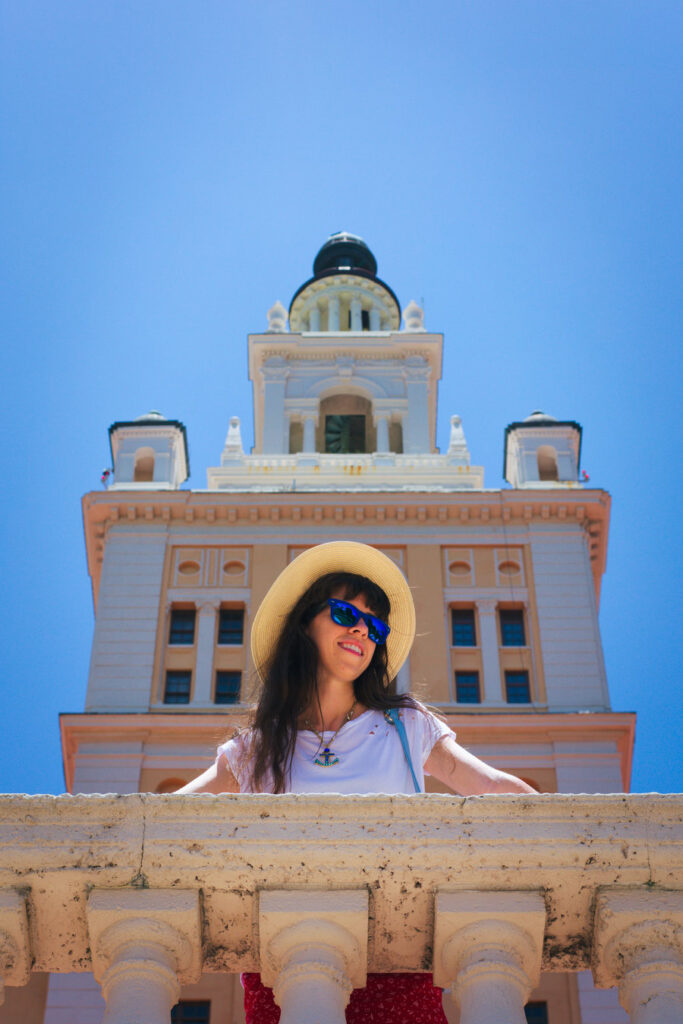 Other Amenities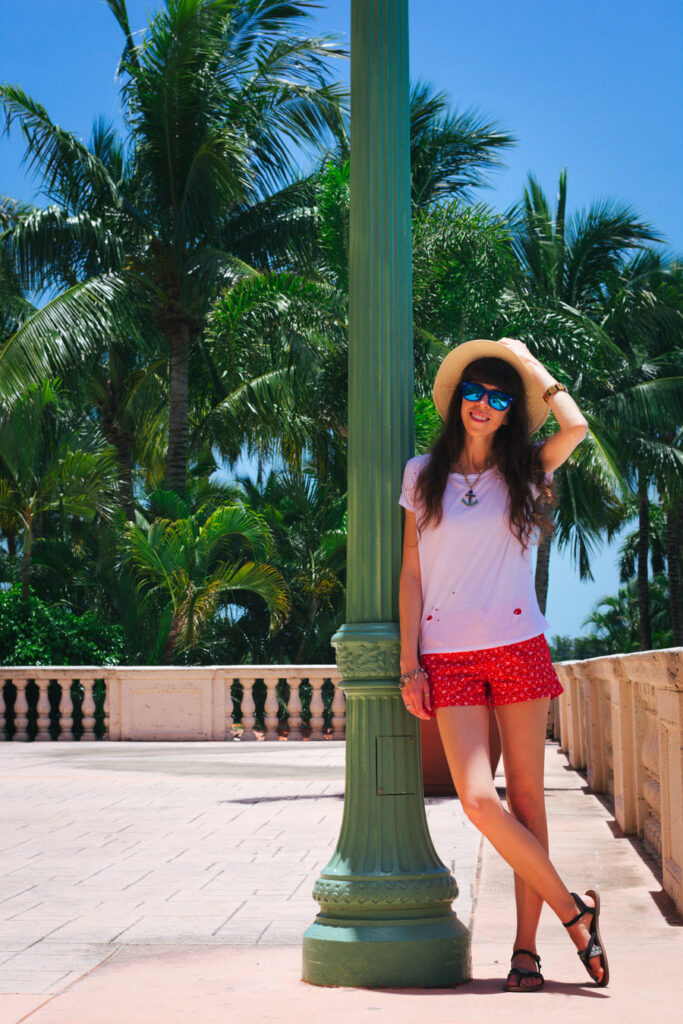 The Biltmore also has other amenities to offer that we did not use but are good to know about. These amenities include a fitness center, golf course, tennis courts, and a culinary academy. They also offer memberships which is a great thing to have if you are local to the area. The Biltmore is also a beautiful place to have a wedding. If I lived closer I probably would have looked into having my reception there haha. The hotel also has beautiful spaces to host meetings, social events, and wellness activities.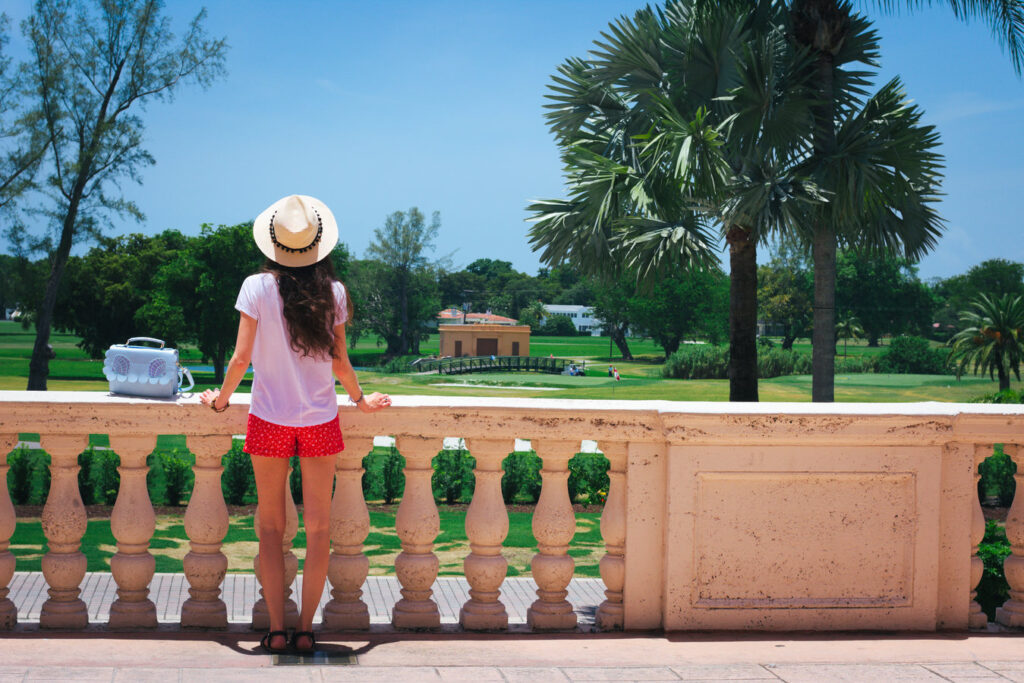 As you can see from my pictures the Biltmore is a beautiful place to stay and visit. The hotel has a lot to offer from their plush rooms to beautiful grounds. I would definitely stay at the Biltmore again and I would recommend checking it out if you are ever in the area. This place is not your average hotel but rather a beautiful place to stay, explore, and make fun memories!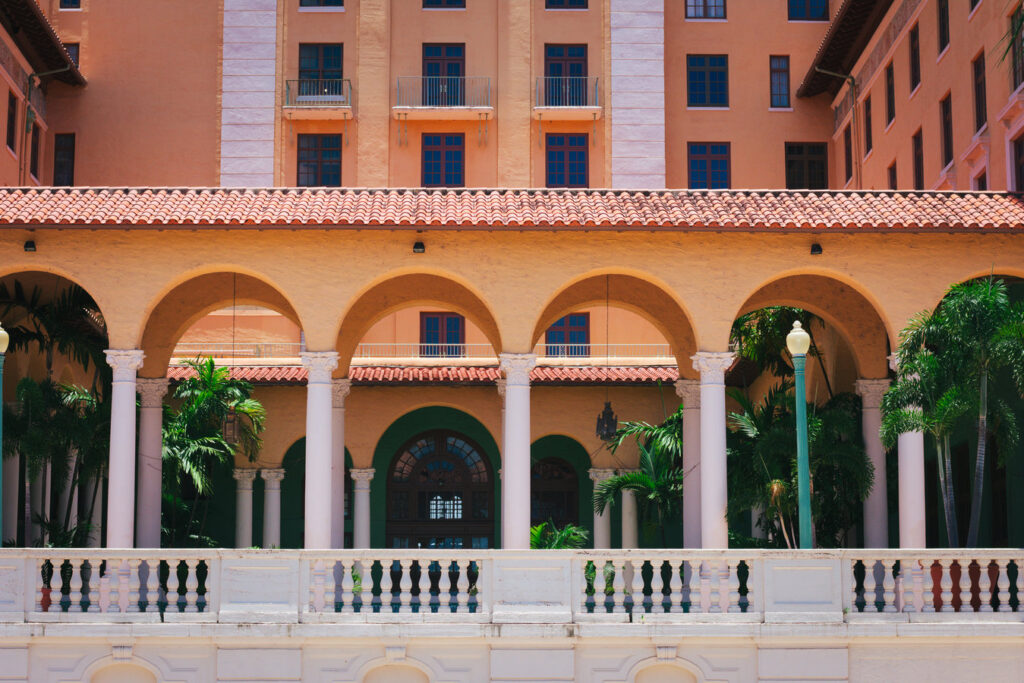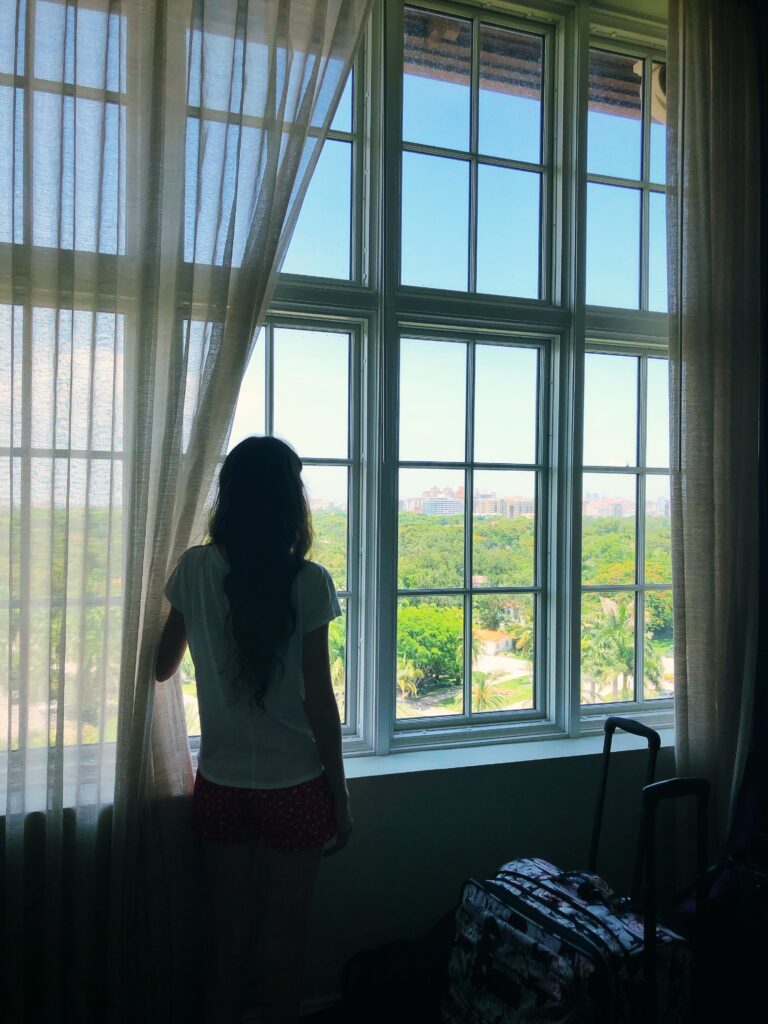 Stay Spooky!
-Caroline 🙂
Looking for more travel posts?! Check out some of my favorites below:
Weekend In Chicago- Wright Plus Housewalk and More!
Day of the Dead Festival- The Pearl District, San Antonio