Welcome to Day One of the 2021 Blog-O-Ween Series! This is my third year continuing the Blog-O-Ween tradition I created. I am so excited to share a new post everyday of October this year! Not only is it the first day of Blog-O-Ween, but it is also International Coffee Day! Since the first day of Blog-O-Ween and International Coffee Day fell on the same date, I figured there would be no better way to celebrate than with a post all about my Spooky Nightmare Before Christmas Coffee Bar!
Espresso Machine Bar
This year I have two spooky coffee bars in my kitchen. The first is the area where our espresso machine is. We just got this amazing espresso machine as a wedding gift and we absolutely love it! Since I had a lot of space in this area, I wanted to decorate it with mugs, trinkets, and fun signs.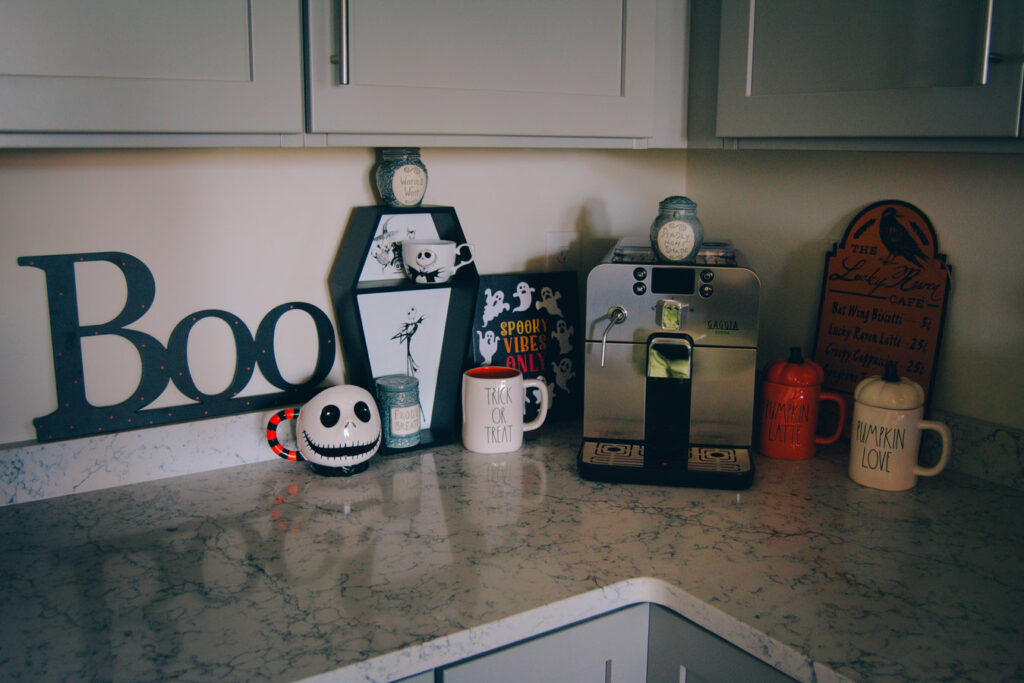 Starting on the left side of the espresso machine, I have a metal Boo sign that sits perfectly on the backsplash trim around the wall. I also had the perfect amount of space for this Nightmare Before Christmas coffin shelf. You can mount this shelf to a wall, however I like being able to move it around and display it in different places. Next to that I placed this Spooky Vibes Only sign my mom found for me this season.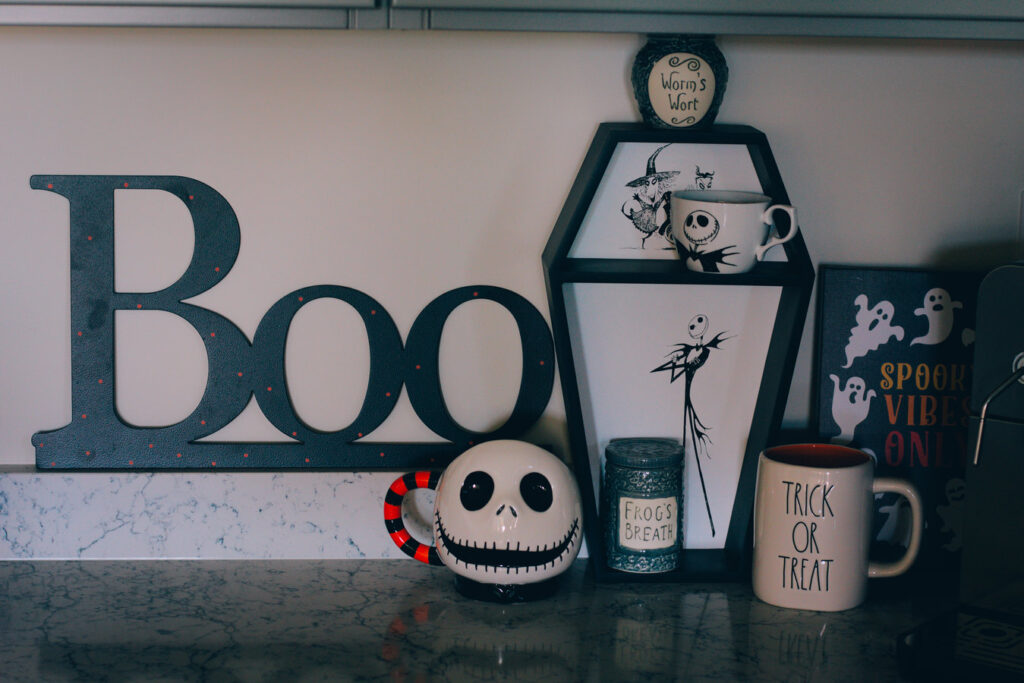 Of course I had to decorate this section with some of my favorite Nightmare Before Christmas mugs and trinkets. I added a few Jack Skellington mugs and my Deadly Night Shade trinket jars. I also could not resist displaying a Halloween Rae Dunn mug here too.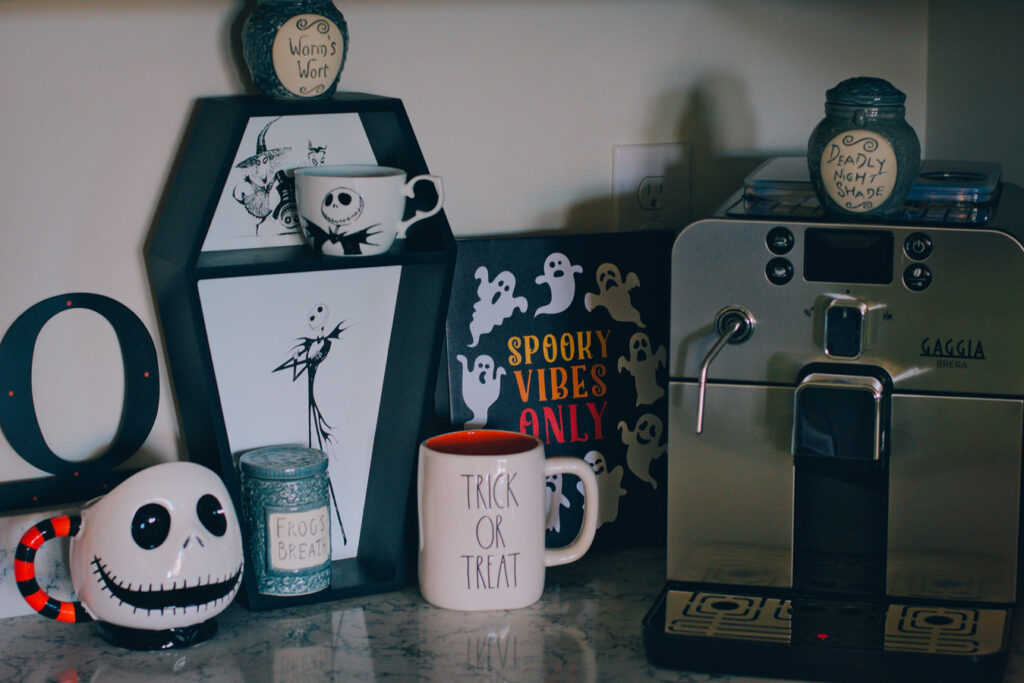 On the right side of the espresso machine we have a Lucky Raven Cafe sign. This is a perfect decor item to display at a Halloween coffee bar. I also put two of my new Halloween Rae Dunn mugs in front of the sign. This past year I have been collecting a lot of Rae Dunn mugs and other decor items. I think the topper mugs are super cute and are always festive for whatever season you are in.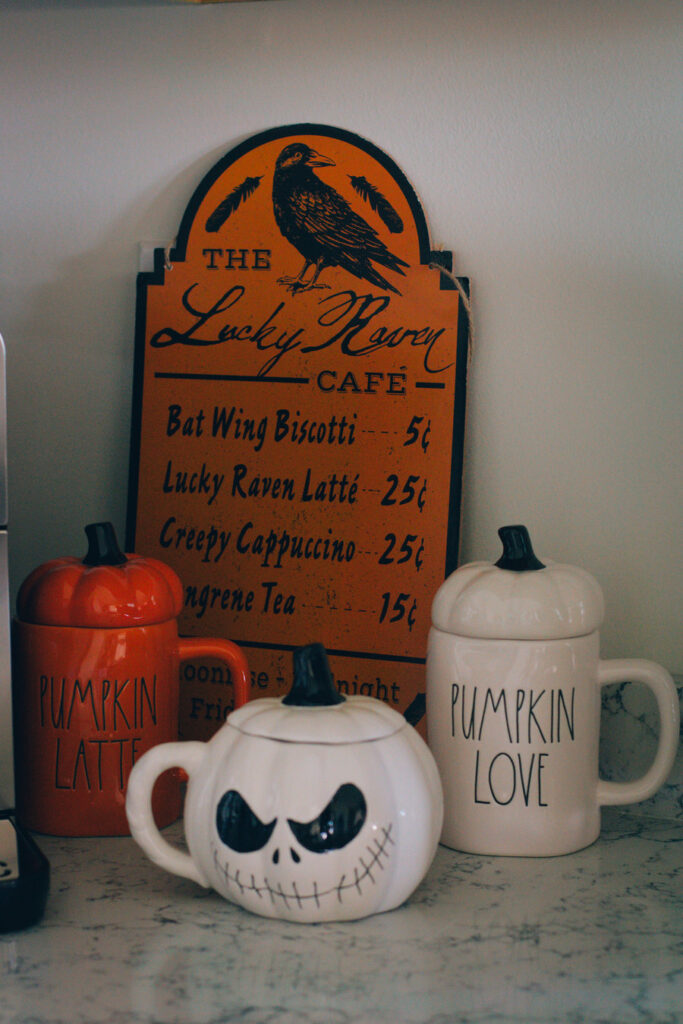 Keurig Bar
The second spooky Nightmare Before Christmas coffee bar we have is on the other side of our kitchen. This area has our black Keurig and an awesome skeleton hand tiered tray I found over the summer. I keep a few Nightmare Before Christmas and Rae Dunn mugs on this tray. We also like to keep some k-cups on the tiered tray.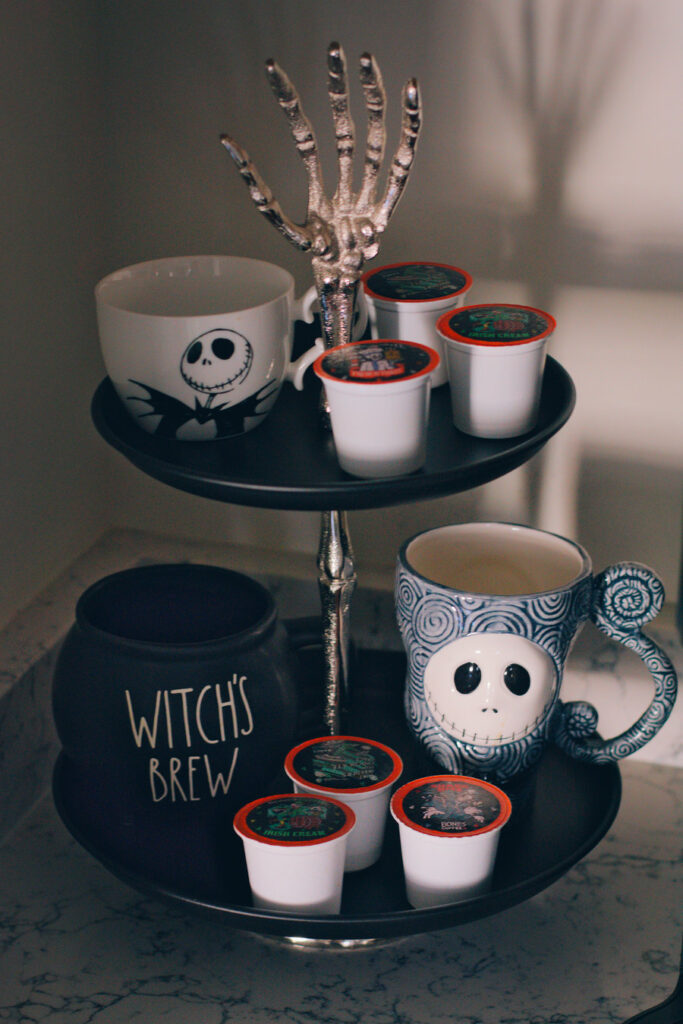 Alex and I have been really into the Bones Coffee Company the past few months.  My favorite coffee from them is Macamaniac. Since this coffee bar had more of a black, white, and silver color scheme going on, I displayed a coffee sign that would match well. As you might be able to tell, this sign is also from Rae Dunn.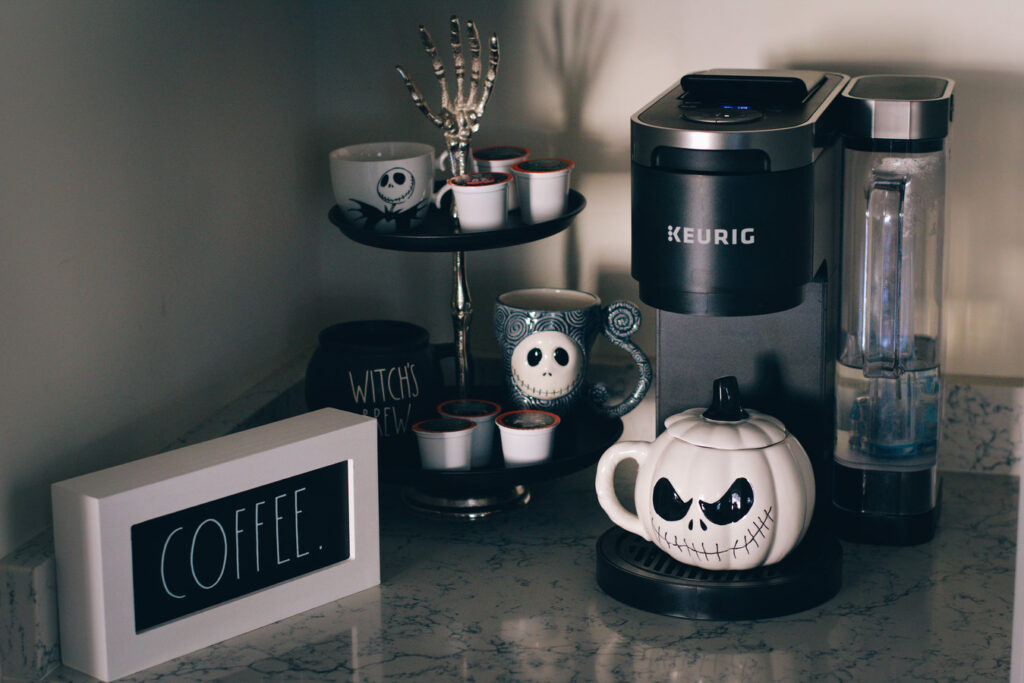 Alex recently got me this super spooky Jack Skellington pumpkin mug with a topper! Of course I had to showcase this mug at our coffee bar. I also could not decide which location to display it, so I am showing you both, haha.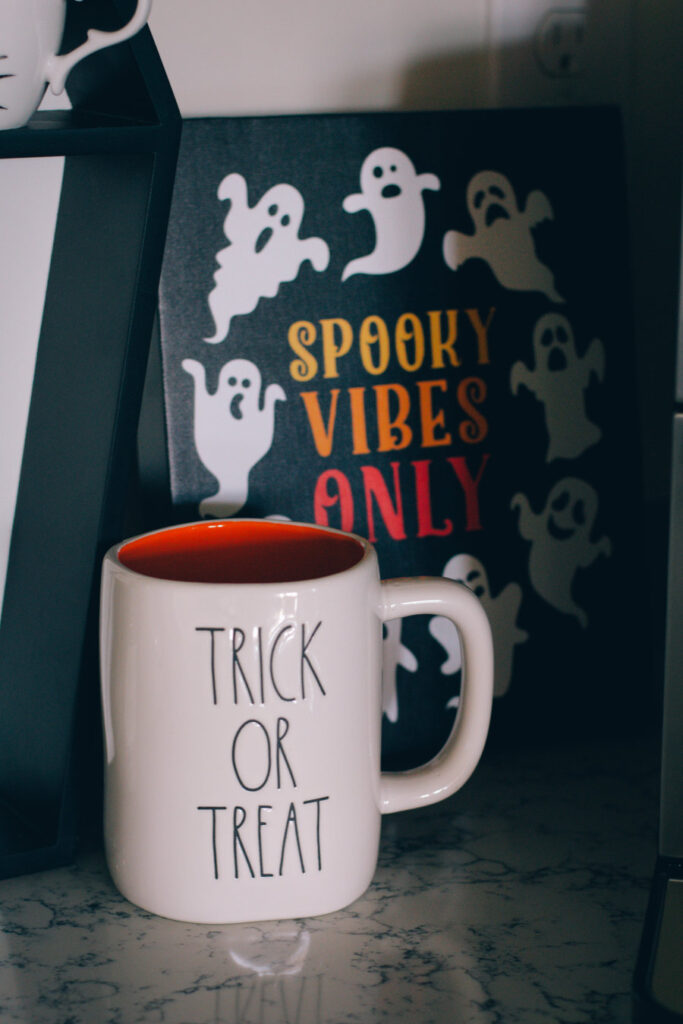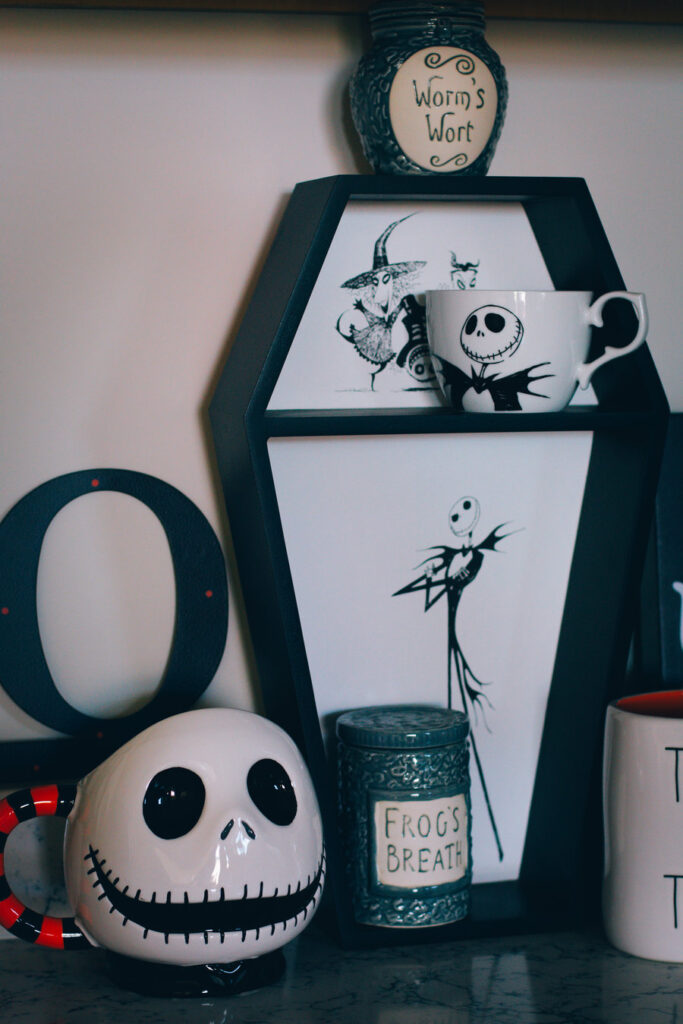 I hope my spooky Nightmare Before Christmas coffee bars have inspired you to create your own Halloween coffee bar! Keep checking back everyday this month for a new Blog-O-Ween post!
Happy October, Blog-O-Ween, and International Coffee Day!
Stay Spooky!
-Caroline 🙂
Shop my collection: