***This post is in collaboration with Basic Invite. Thank you to Basic Invite for sponsoring this post! All opinions on the birhtday invitations are my own.**
It is hard to believe that we have passed the halfway point to Halloween. I feel like the days have been flying by, especially during this time of being at home. As much as I love summer and warm days by the pool, I am thinking about Halloween and how it is on a Saturday this year! My birthday is just a few days after Halloween, and that week always feels like one big party to me. I have daydreamed a few times recently about my ideas for Halloween and my birthday this year. Luckily I was able to bring some of my ideas to life thanks to birthday invitations from Basic Invite!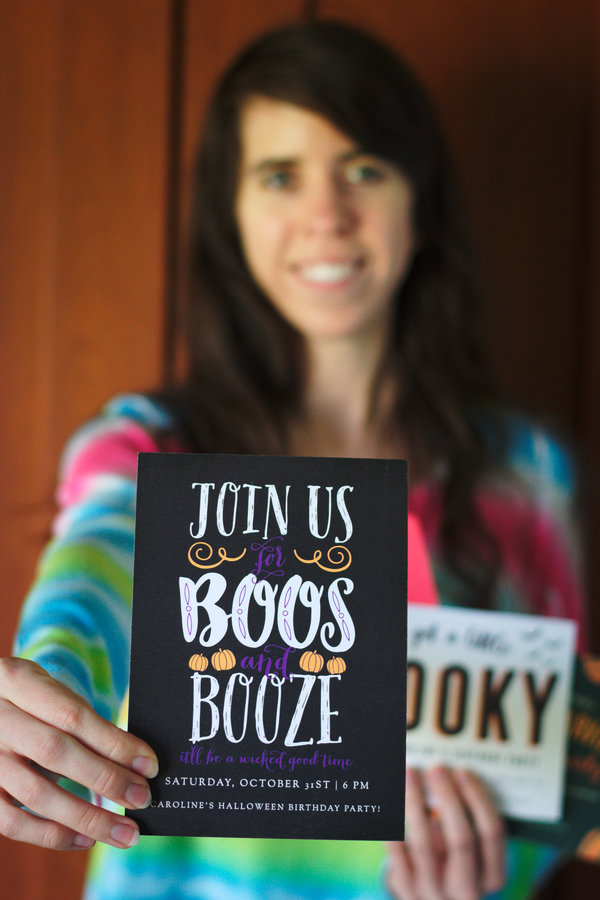 I customized five different Halloween birthday invitations that I wanted to share with you today. Basic Invite's website was super easy to use and it did not take me long to create these personalized birthday invites.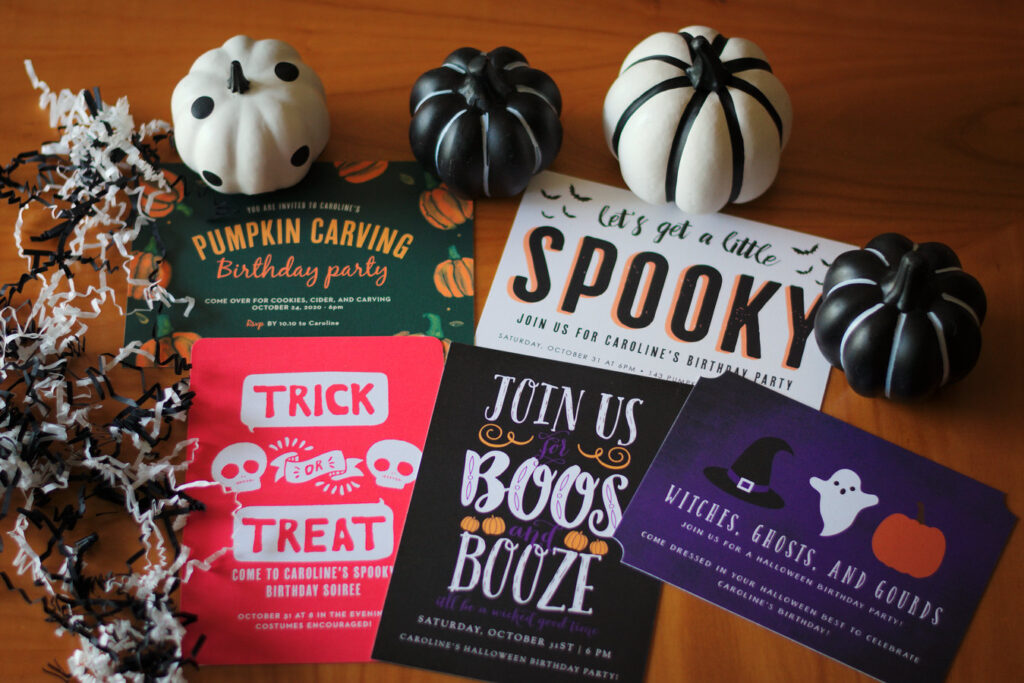 To start creating my birthday invitations, I went to basicinvite.com and searched for Halloween invitations. Basic Invite has so many birthday invitation party templates that it was hard to choose a few! Once I narrowed down the ones I wanted to customize, I clicked on them and started to make them my own.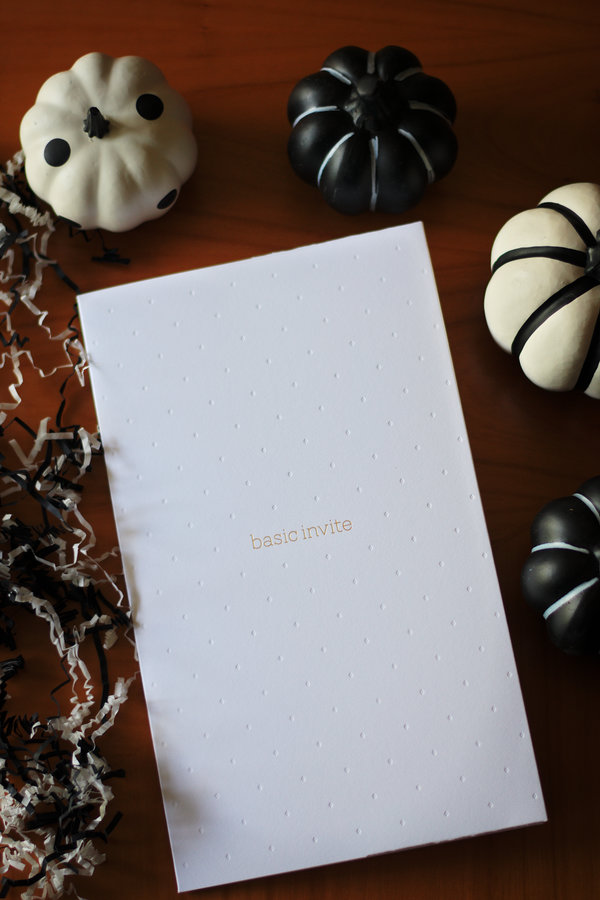 You are able to customize so many aspects of their birthday invitation party templates. First, let's start with the color of the invitations. Basic Invite allows you infinite color combinations with instant online previews. You also have the options of changing any element on the birthday invitation. If I wanted to make the pumpkin on my invitation blue instead of orange, I totally could!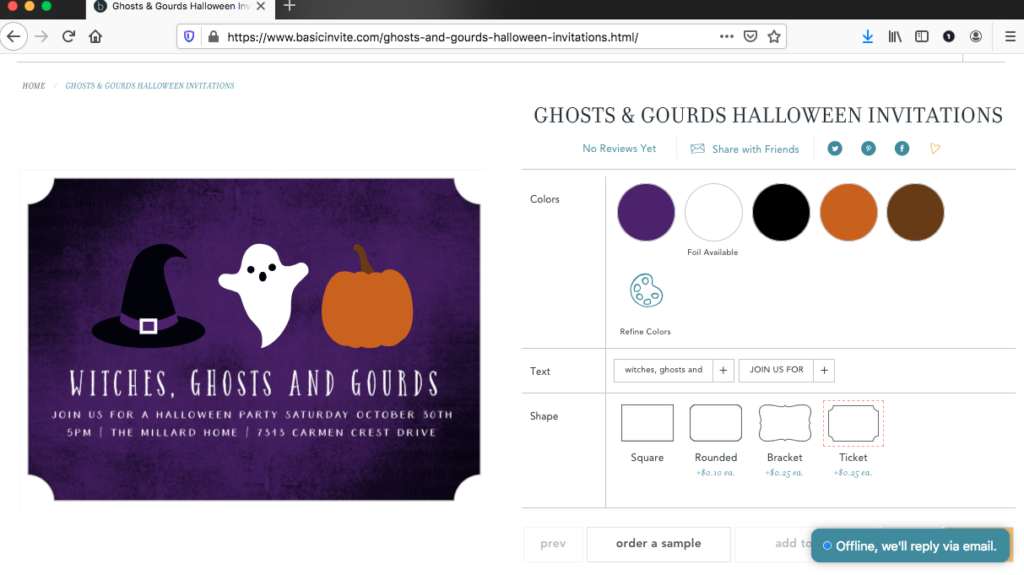 After getting the colors I wanted on my birthday invitation, I was able to change the text. You can change the text and write whatever you want on your invite. Basic Invite also allows you to change the font, font size, color, spacing, and more! One of my favorite features when editing was the "nudge" feature. You can nudge elements on the invite left or right and up and down. This is extremely helpful when you want to move an element on your invite over ever so slightly.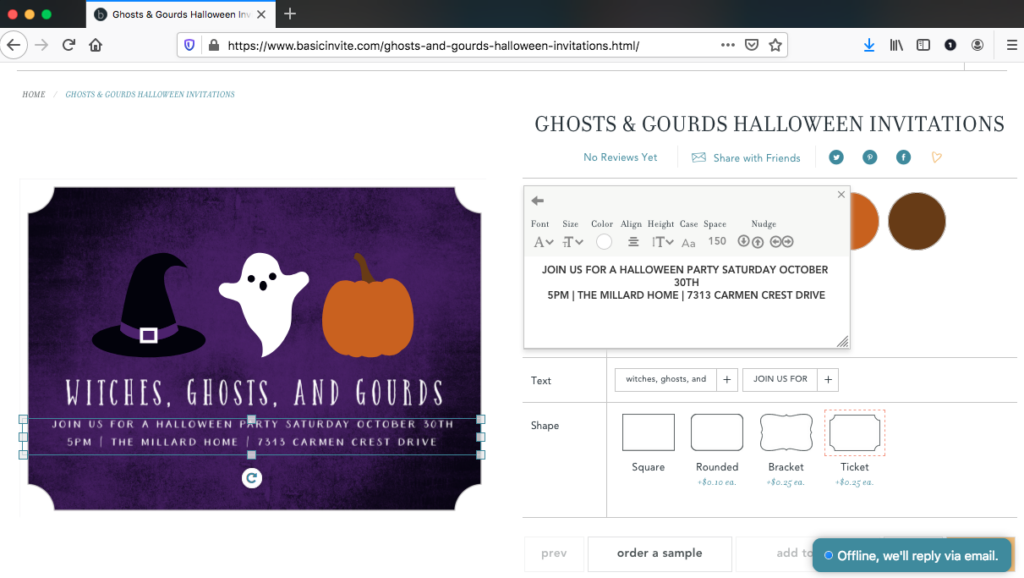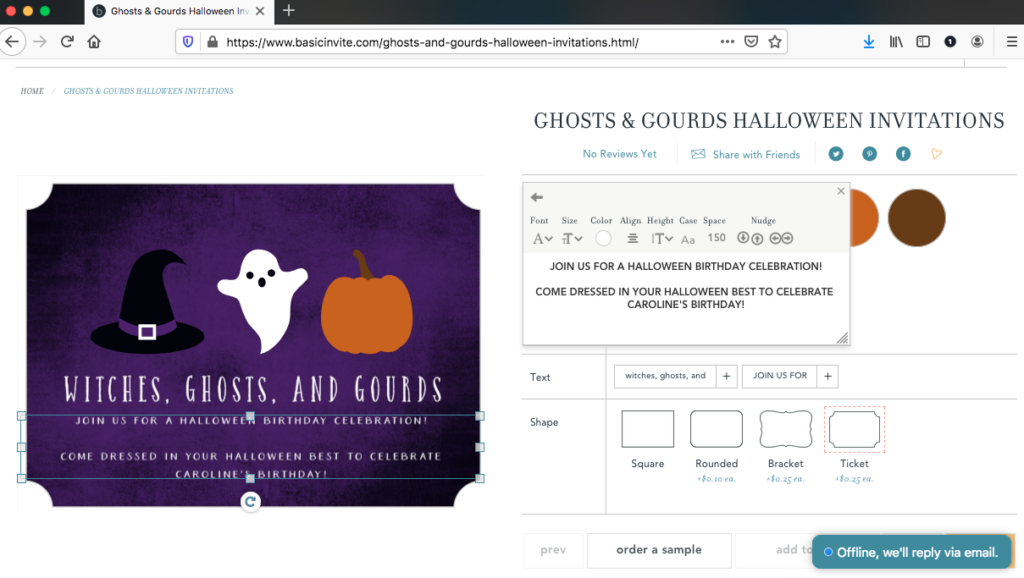 Once you have your colors and text, you can choose how you want the birthday invitation shaped. I tried a few different shapes on my invitations and they are all very cool. It is just a fun extra detail that makes your birthday invitation pop.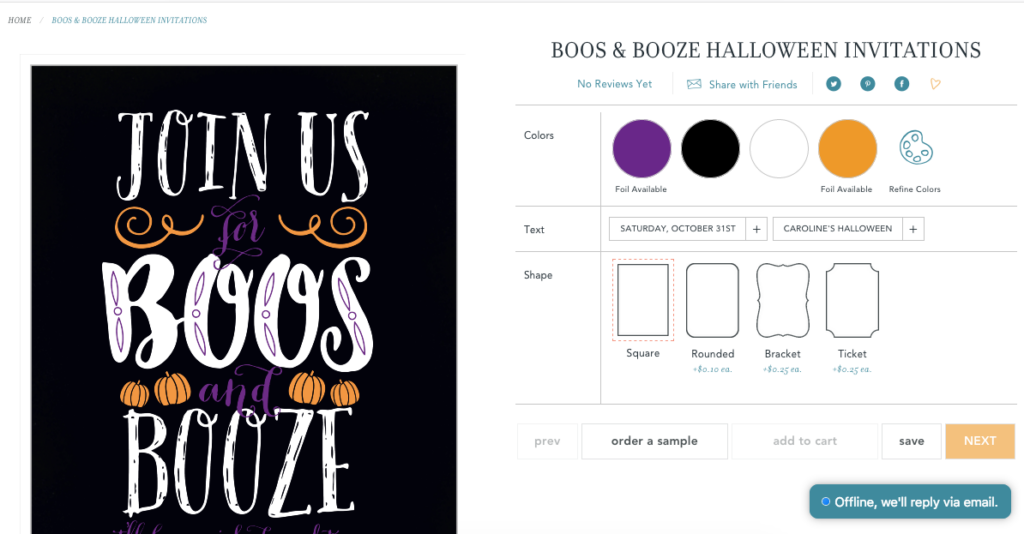 After you are finished with your birthday invitation party template, you can order a custom sample. I think this is a great feature because you are able to see your design come to life. This also allows you to decide if you actually like the invite in person before ordering a lot of them.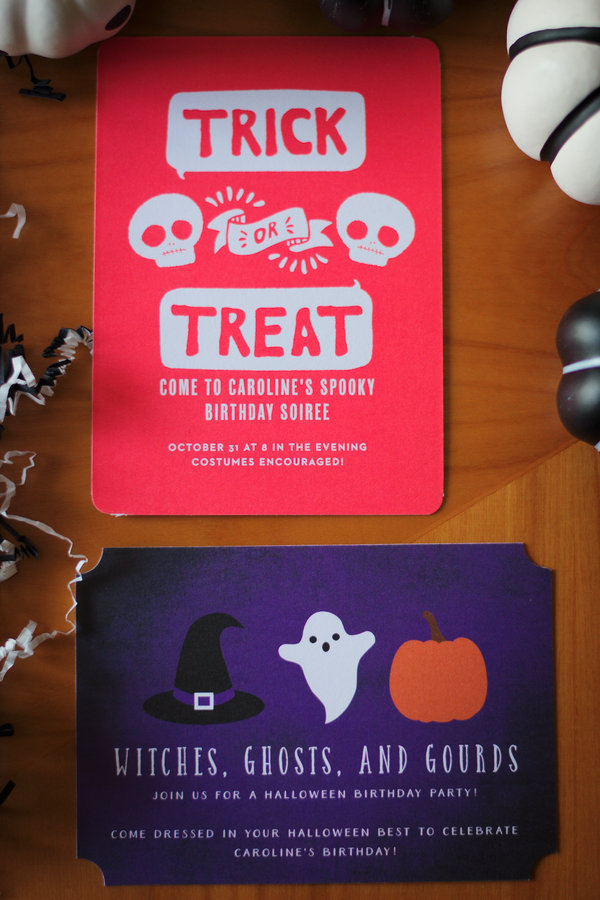 If you want, you can also add pictures and text to the back of your birthday invitation. I decided not to but it is a great option that Basic Invite offers.
Basic Invite invitations also come with envelopes. They have over 40 different envelope colors you can choose from, which really makes your invitations stand out. One thing I love about these envelopes is that they are peel and seal, which means no licking or gluing them shut, yay!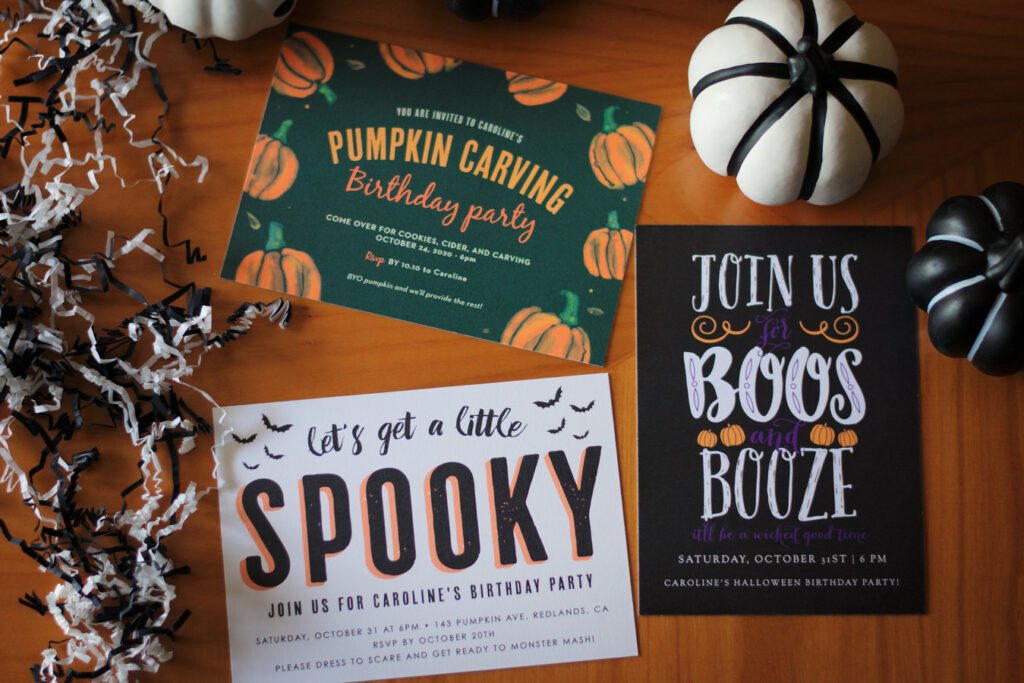 With Basic Invite, you also have the option of using their free address collection service. This way, you can request the addresses you need from your guests with three simple steps. What you would do is share a link through social media or email with your guests, collect the addresses, and receive free envelope printing. This makes addressing the birthday invitations so much easier.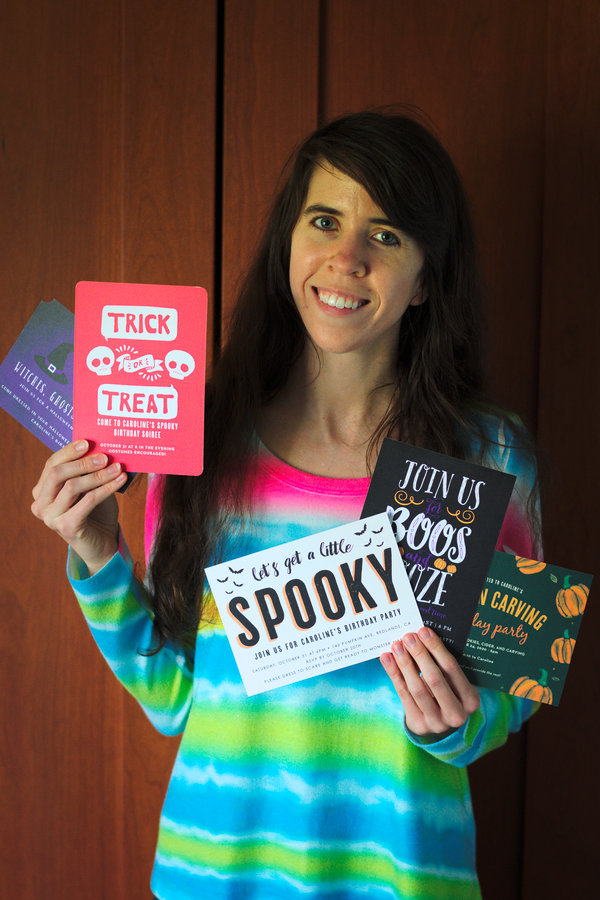 My Halloween birthday invitations came super quickly in the mail. They arrived in a sturdy envelope and were nicely packed in a folder. I absolutely love how my Halloween birthday invitations turned out. The quality of the invitations are thick and I love the matte finish. Whether you are looking for personalized birthday invites for yourself or someone else, Basic Invite has something for everyone. From kids to 90th birthday invitation ideas, you will be sure to find exactly what you are looking for with Basic Invite.
Stay Spooky!
-Caroline
Looking for more Halloween birthday inspiration?! Check out some of my other posts: