I think part of what makes Halloween fun for everyone is decorating. I enjoy decorating very much and I always have. I get so excited when I open the bin of Halloween decorations that I haven't seen since last year. I will admit that there were some decorations that I forgot I had! Today, on Blog-O-Ween Day 17, I wanted to share some of my unique Halloween decorating tips with you.
Cheesecloth
This is the first year I have decorated with a cheesecloth and I absolutely love it! Last year, my mom found these Jack Skellington cheesecloths for me. I decided to use them to decorate two ledges in the house.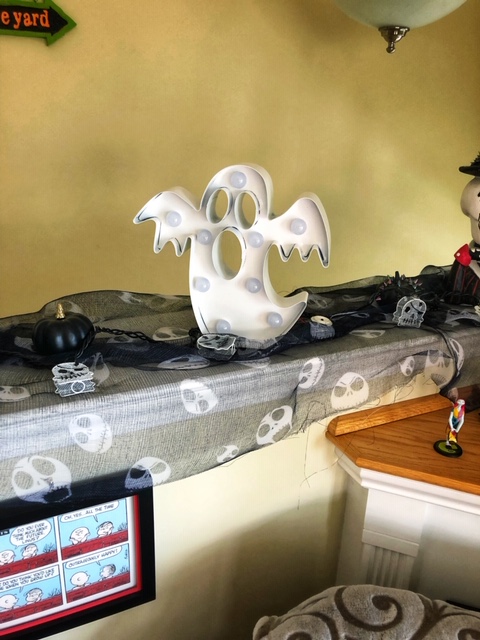 I put two of these cloths on a long ledge in the basement. After placing both cloths where I wanted them, I put some decorations on top of the cloth.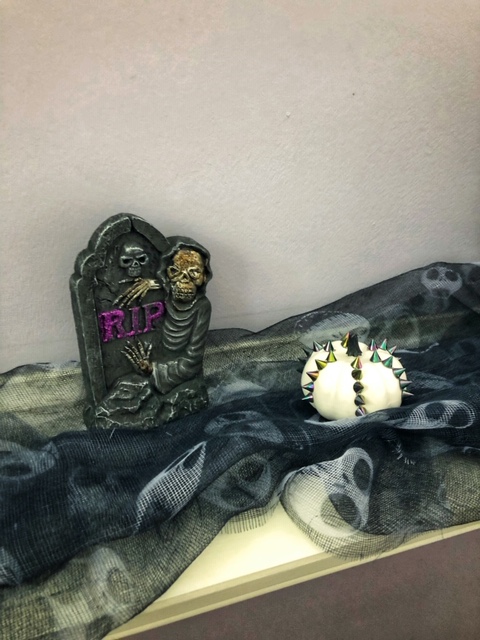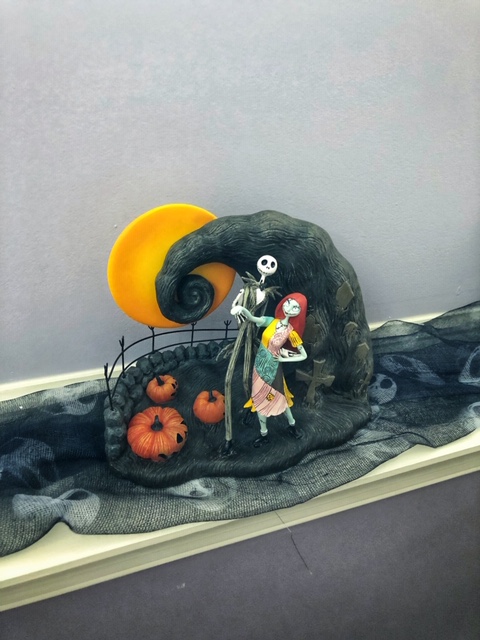 I put another cheesecloth on a ledge in the family room. I added decorations on top of this cloth, as well as some Halloween lights. I love how both of these ledges turned out. The cheese cloth definitely adds a little something extra to the ledge.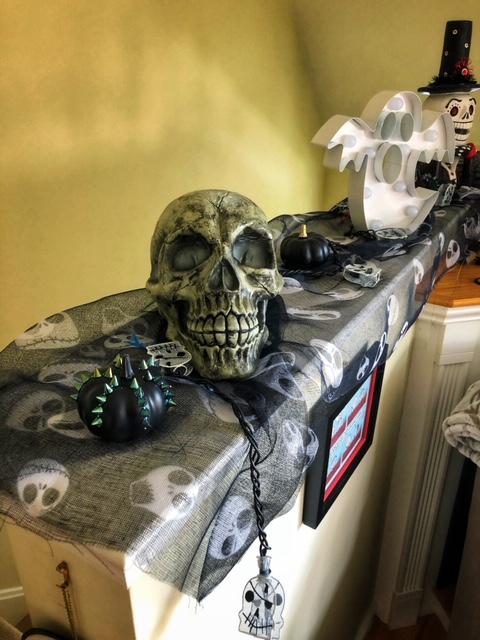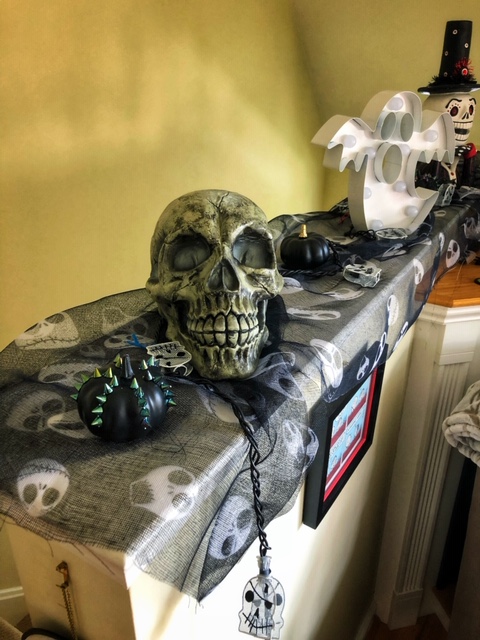 I still have no idea why it is called a cheesecloth, haha. But, it is a very thin piece of fabric that you can layer, bunch up, fray, or even cut. I did not cut any of mine. My favorite part about them though is that Jack's face is all over them!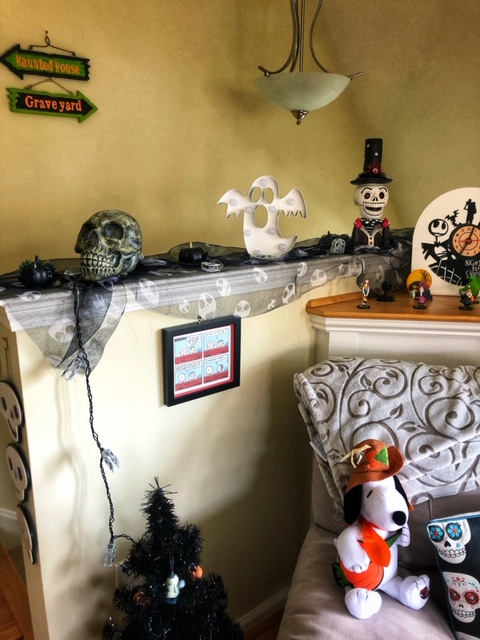 *Note- cheesecloths are meant for decorating and not for actual tablecloths.
Replace Your Wall Decorations
Another thing I really like to do when decorating for Halloween, is to take down pictures or decor that I usually have hanging on the walls and replace it with Halloween decorations. You can even easily add Halloween decor to your walls by using Command hooks.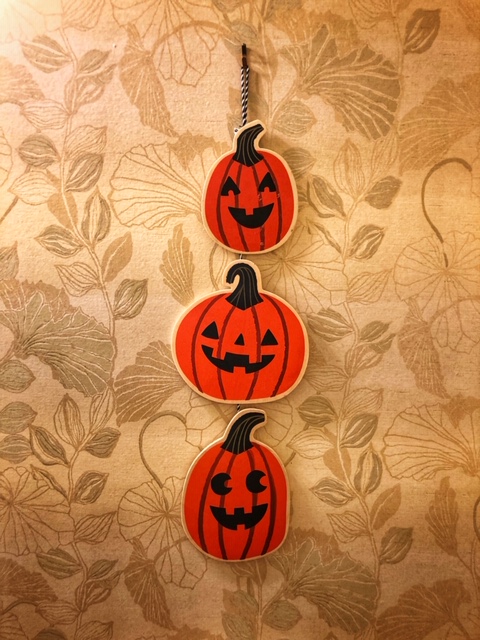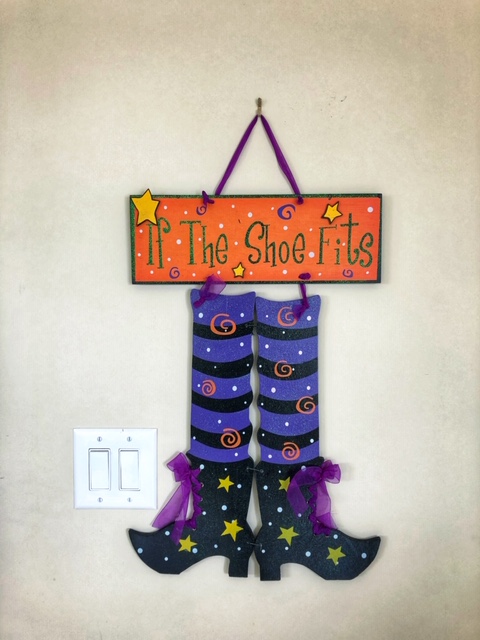 There are quite a few photos I take off the wall every October and replace them with something spooky. I hang up spooky signs, skeleton heads, and general Halloween signs.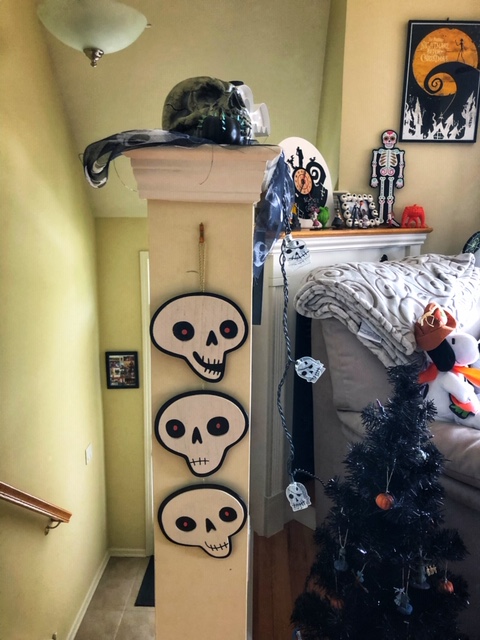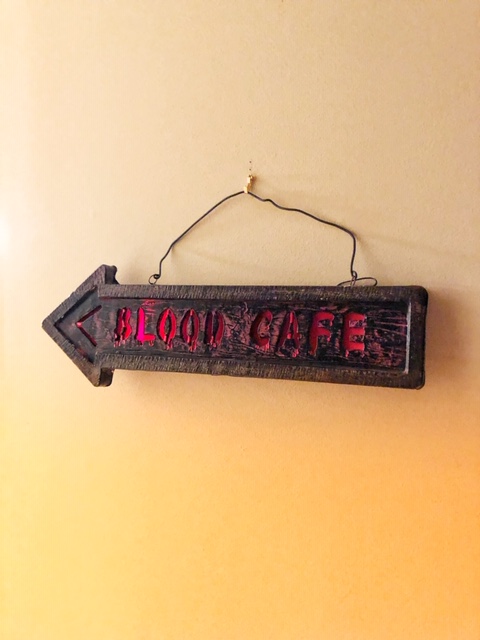 This is a unique Halloween decorating tip that is easy to do and can be done in no time.

The Nightmare Before Christmas Sandy Claws Wreath Wood Wall Art

The Nightmare Before Christmas Scientific Formula Wall Scroll

The Nightmare Before Christmas Jack & Sally Wood Wall Art

The Nightmare Before Christmas Light-Up Lenticular Wall Art
Use Household Items You Already Have
As much as I love purchasing new Halloween items every year, it is also fun to take household items you have and make them spooky. This year I took some glass jars and vases I already had and filled them with eyeballs. You could do something similar by filling a jar or a vase with little pumpkins, skulls, or any other Halloween item that would fit.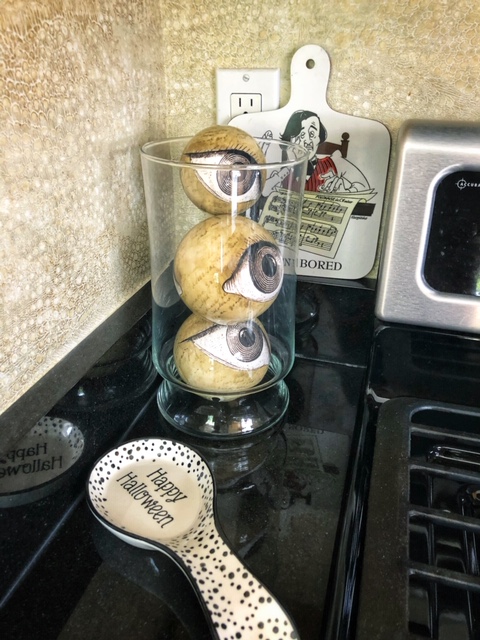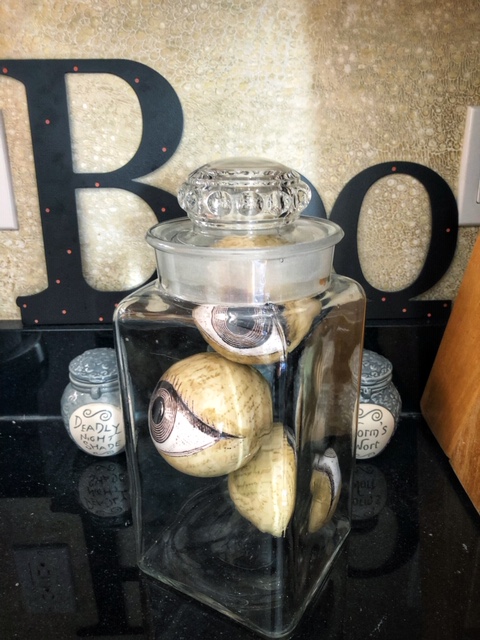 Lights
My final category for unique Halloween decorating tips is to use lights. I think Halloween lights make such a difference in the atmosphere in your home. I have collected a few strands of lights over the years and I always use them inside.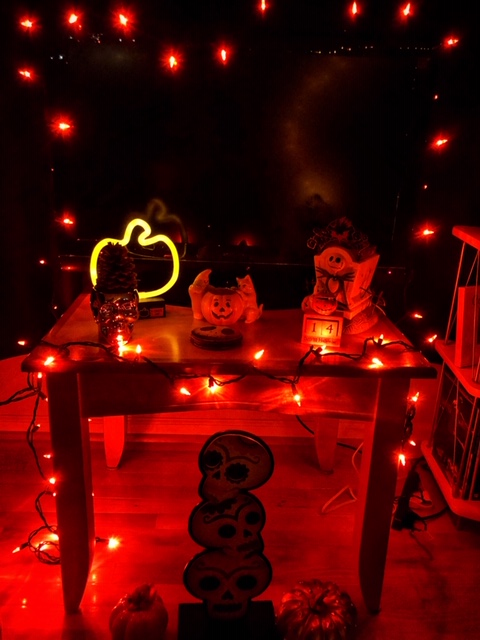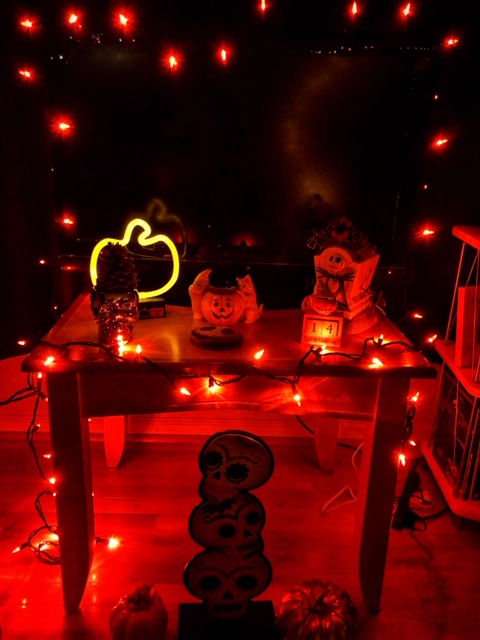 My go to place for hanging lights is hanging and wrapping them around the staircase railings. This year however, I also put some around the TV, and on a ledge with a cheese cloth.
I love plugging in these lights every night. It makes your home feel so cozy and festive. I enjoy plugging them in, turning out the other lights, and watching a scary movie. Even if I am not watching a movie, I enjoy having them on.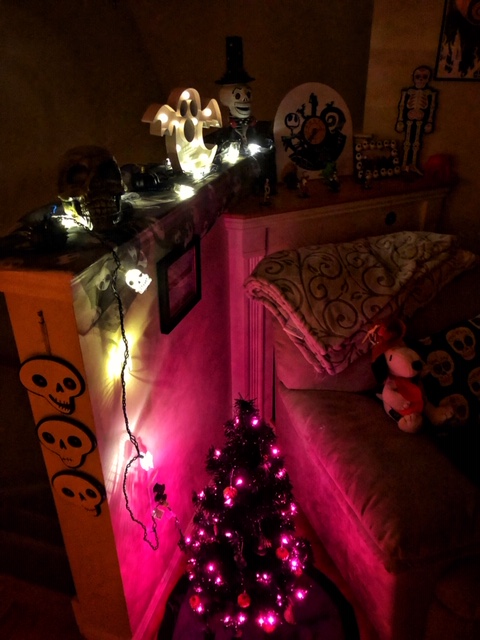 Having lights in your home is an easy way to decorate for Halloween. You can find Halloween lights just about anywhere. I have purchased them from Target and even CVS but you can also find them at many other stores.
The lights I have are orange, purple, candy corn, and pirate skulls. There are so many different strands of Halloween lights available though. You can even put them up outside your home as well.

The Nightmare Before Christmas Jack Santa Hat String Lights
I hope you have enjoyed my unique Halloween decorating tips and that this post has given you some inspiration. Let me know some of your favorite ways to decorate for Halloween! Make sure to check out the other Blog-O-Ween posts here.
Stay Spooky
-Caroline