It's Friday I'm In Love!

Happy Friday and Happy Valentine's Day! Whether you are celebrating the day with your significant other, friends, family, or treating yourself, I have the perfect Emo Valentine's Day playlist for your day.
This Emo Valentine's Day Playlist has something for everyone. There are so many songs to choose from but I decided to pick one from each artist. Maybe I'll create a part two next year. 😉
If you need a soundtrack for dinner or for a long drive, this Emo Valentine's Day Playlist will work perfectly. Let me know what you think and what you are listening to today!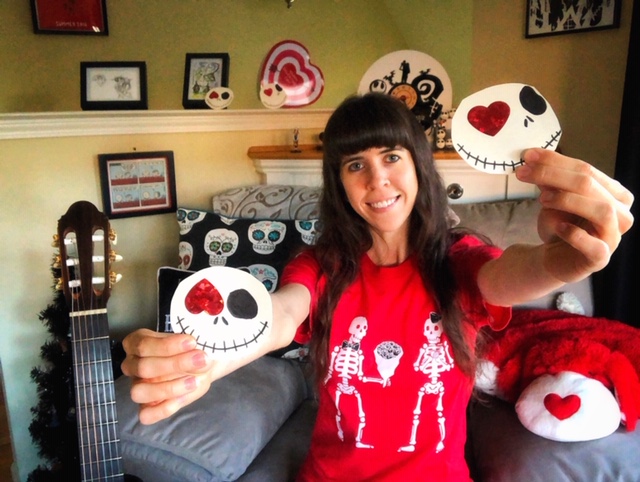 Emo Valentine's Day Playlist:
-Love Like Winter- A.F.I.
-So Contagious- Acceptance
-A Daydream Away- All Time Low
-Break Your Little Heart- All Time Low
-My Paper Heart- All American Rejects
-I Miss You- Blink 182
-Soco Amaretto Lime- Brand New
-Friday I'm In Love- The Cure
-Stolen- Dashboard Confessional
-If It Means A Lot To You- A Day To Remember
-I Will Follow You Into The Dark- Death Cab For Cutie
-Mindset- Every Avenue
-Grand Theft Autumn (Where is Your Boy Tonight)- Fall Out Boy
-Niki Fm- Hawthorne Heights
-All Of Your Love- Hellogoodbye
-American Love- Jack's Mannequin
-For Me This is Heaven- Jimmy Eat World
-This Valentine Ain't No Saint- The Juliana Theory
-Love You To Death- Kill Hannah
-Do You Love Me Still?- The Kooks
-The Ocean- Mae
-Roses and Butterflies-Making April
-Piece of Your Heart- Mayday Parade
-The Beach is For Lovers (Not Lonely Loosers)- Neck Deep
-Singled Out- New Found Glory
-My Heart- Paramore
-Yeah Boy and Doll Face- Pierce the Veil
-Beauty in the Breakdown (Acoustic)- The Scene Aesthetic
-Something Wonderful- Seaway
-Take Me With You- Secondhand Serenade
-James Dean & Audrey Hepburn (Acoustic)- Sleeping With Sirens
-I Swear That She's The One- Sparks The Rescue
-All Hail The Heart-breaker- The Spill Canvas
-The Best of Me- The Starting Line
-Something About You- State Champs
-Hold You Here- This Wild Life
-Safe & Sound- Tonight Alive
-Empty With You- The Used
-With You Around- Yellowcard
– I Couldn't Be More In Love- The 1975
Make sure to save this playlist on Pinterest!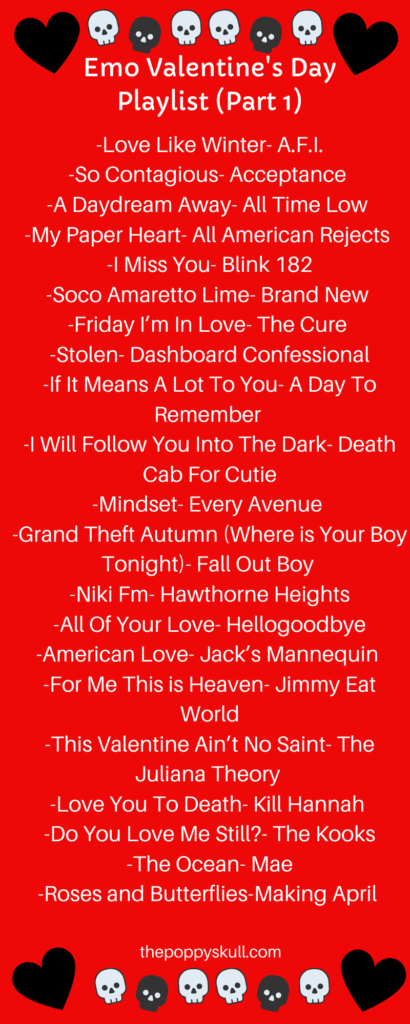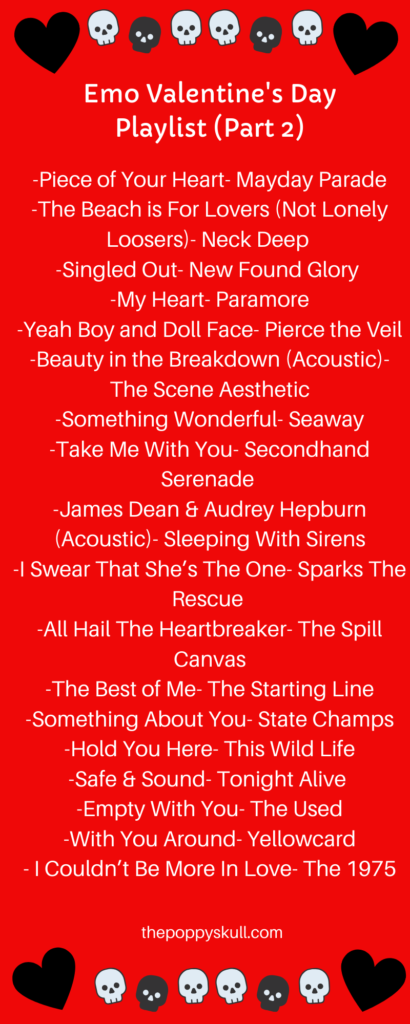 Check out some of my other playlists here!
If you are looking for more Valentine's Day stuff, check out my "Love Never Dies" shirt and my Spooky and Sweet Jack Skellington Valentines!
Stay Spooky!
-Caroline