The fall and winter months are a time to stay warm and cozy inside your house. This includes having a lot of blankets, pajamas, and slippers to keep you snuggled and warm until spring. But why just wear any regular pajamas and slippers when you can wear Nightmare Before Christmas ones?!
Today I wanted to share my picks for cozy Nightmare Before Christmas items. All of these items are currently on sale at Hot Topic. Some of these items I have and wear all the time.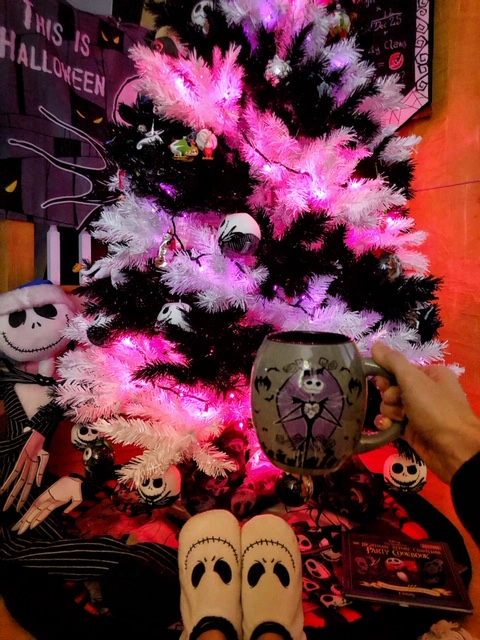 Slippers and Socks
In order to be super cozy, you have to keep your feet warm. There is no better way to do that than with Nightmare Before Christmas slippers and socks. I wear both of these items almost everyday. I have a ton of Nightmare Before Christmas socks and a few different pairs of slippers that I like to rotate wearing each day.
Sweatshirts and Hoodies
One of my favorite ways to stay warm and cozy is by wearing sweatshirts and hoodies. I have collected a lot of Nightmare Before Christmas sweatshirts and hoodies over the years. Put on a cozy Nightmare Before Christmas hoodie and some slippers, make yourself a hot beverage and you are good to relax!
Glow In The Dark Cropped Hoodie
Pajamas
An obvious must have to keep yourself warm and cozy this winter is pajamas. Whether you are wearing a pajama set or a onesie, these Nightmare Before Christmas ones will keep you cozy!
Blankets
There is no better way to get warm and cozy than with some blankets. I have a few soft Nightmare Before Christmas blankets that I have been using for years. They are fun to snuggle up under while watching The Nightmare Before Christmas!
Oogie Boogie Throw Blanket and Pillow
I hope all of my cozy Nightmare Before Christmas items will keep you warm this winter. Make sure to shop soon before the sale is over or your favorite item is sold out!
Stay Spooky!
-Caroline
Looking for more Nightmare Before Christmas items?! Check out all of the Blog-O-Ween posts here!
Shop my "Scary and Bright" Shirt here!