One activity that is fun to do during the fall is to take a road trip. The weather is still good for driving during the fall. It is also always fun to drive around and see the beautiful leaves changing. My family and I decided to take a fall road trip this season and we have had a blast so far! Today for Blog-O-Ween Day 25, I am sharing my Fall Road Trip Playlist that I created before we left for our trip.
My family and I have been taking road trips since I was little. I have always enjoyed road trips whether it takes a few hours or almost most the entire day to arrive at our destination. When I was creating this playlist, I focused on songs that made me think of fall. Some of these songs have fall lyrics to them and others are ones I always listen to in the fall.
Fall Road Trip Playlist
Fall Faster- Dinner and a Suit
Grand Theft Autumn/ Where Is Your Boy- Fall Out Boy
Free Fallin'- Tom Petty
Autumn- Sparks the Rescue
Misguided Ghosts- Paramore
Skinny Love- Bon Iver
Autumn Shade- The Vines
Could Never Be Heaven- Brand New
Age Six Racer- Dashboard Confessional
The A Team- Ed Sheeran
Take Me As You Please- The Story So Far
Lonesome Day- Bruce Springsteen
To Everything There Is A Season (Turn! Turn! Turn!)- The Byrds
Fast Car- Tracy Chapman
Amber Lynn- Mayday Parade
The Wind Blows- All American Rejects
Summer Skin- Death Cab For Cutie
Ever So Sweet- The Early November
Better With You- Five Times August
October Nights- Yellowcard
Season- The Academy Is..
In the Cold- Acceptance
Things We Lost in the Fire- Bastille
Norwegian Wood- The Beatles
The Boy Who Blocked His Own Shot- Brand New
Poison Oak- Bright Eyes
Invisible String- Taylor Swift
Over My Head (Cable Car)- The Fray
Screaming Infidelities- Dashboard Confessional
Collide- Howie Day
Silent Brilliance- Desoto Jones
The Bridge- Dinner and a Suit
In Currents- The Early November
September- Earth Wind and Fire
Sugar, We're Goin Down- Fall Out Boy
The Weekend Before Halloween- Fireworks
Painkiller Weather- Grayscale
Old White Lincoln- The Gaslight Anthem
Mad Season- Matchbox Twenty
And Run- He is We
Stubborn Love- The Lumineers
Falling Into You- Mae
Whoever She Is- The Maine
Jersey- Mayday Parade
Skeleton- Sparks The Rescue
All I Wanted- Paramore
Friends and Family- River City Extension
Take Me With You- Secondhand Serenade
Stapled Gunned- The Spill Canvas
Proper Dose- The Story So Far
Dancing With A Ghost- Valencia
Make sure to save, share, and Pin this list for later!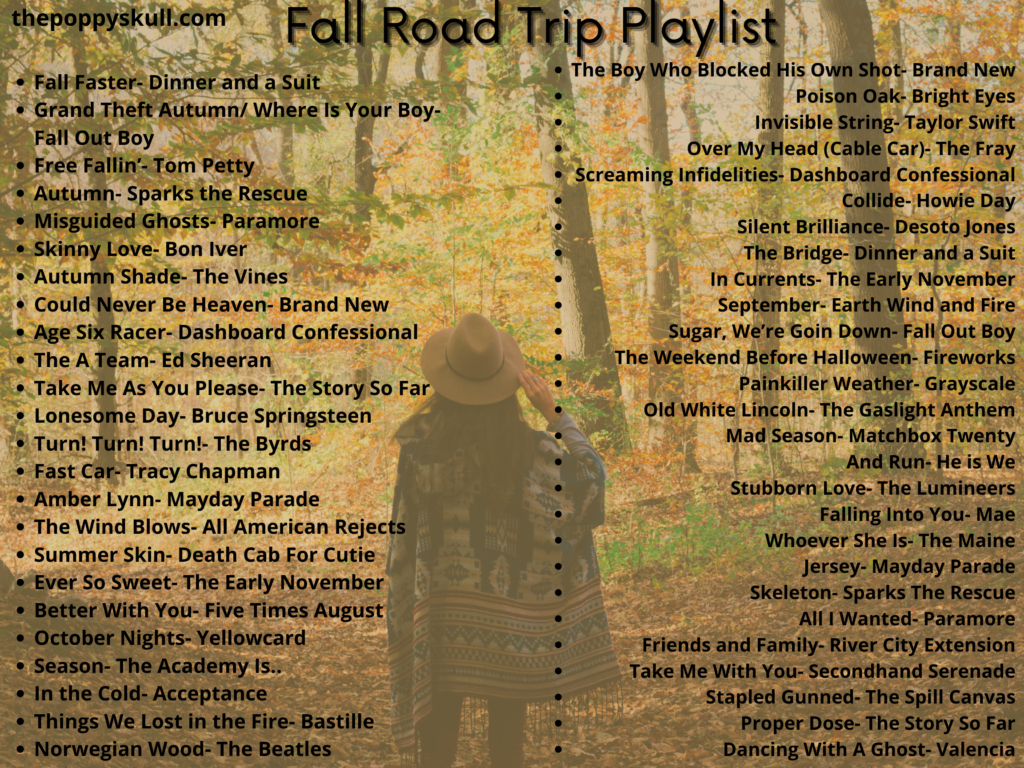 Whether you are taking a walk through the woods or a long drive this fall, I hope this playlist is the perfect fall soundtrack for you!
Please check out some of my other Blog-O-Ween posts, such as Blog-O-Ween Day 23- Un Poco Loco Classical Guitar Cover and Blog-O-Ween Day 14- Nightmare Before Christmas Must Haves.
Stay Spooky!
-Caroline 🙂
Shop the Stay Spooky Collection!