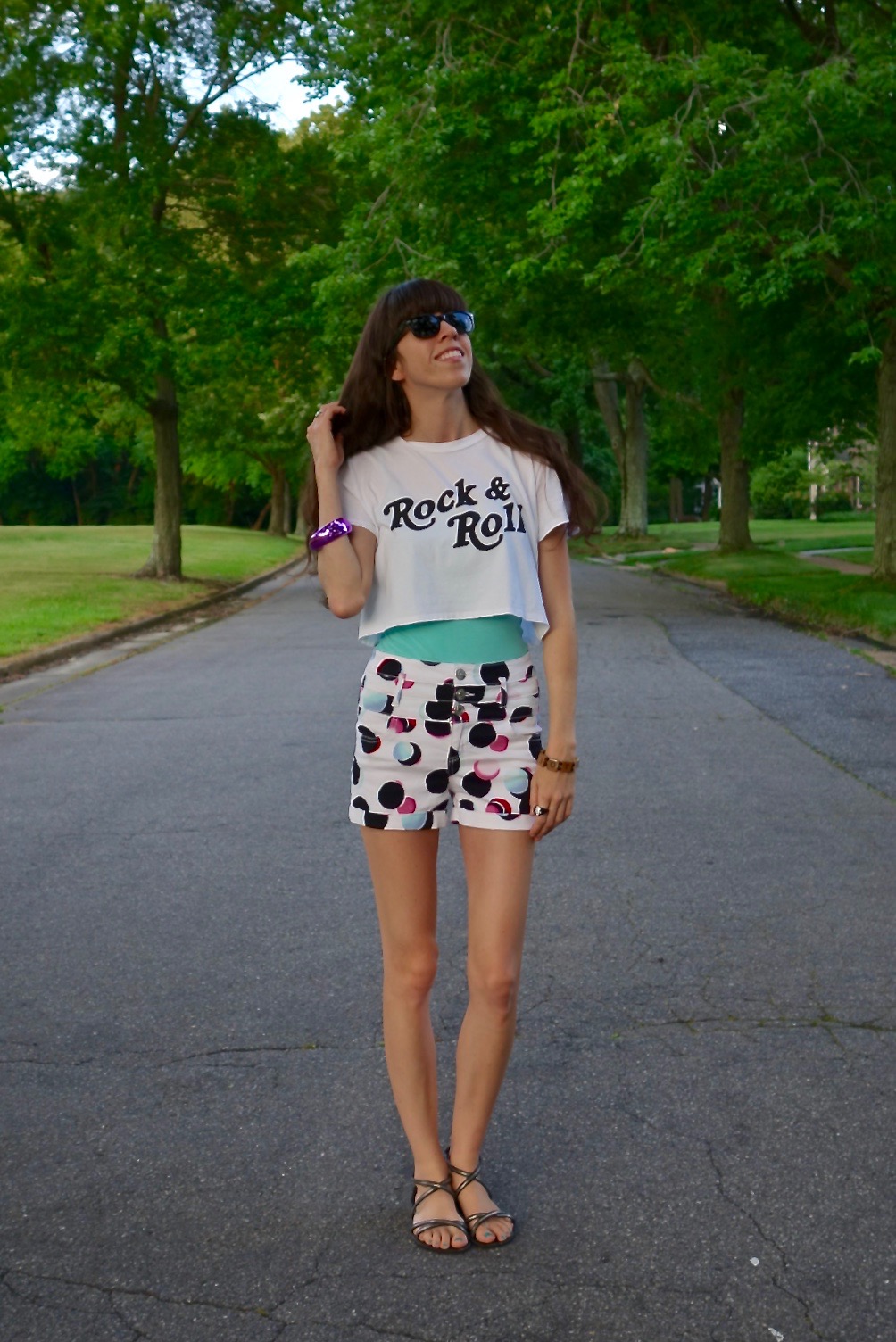 One of my favorite ways to style a pair of high-waisted shorts for the summer is with a fun crop top. By wearing a crop top, you can show off the shorts instead of hiding them under a longer shirt. When I wear crop tops, I always wear a thin tank-top underneath my shirt and tuck it into my jeans or shorts. This way, you are staying modest but are still able to wear a crop top.


I purchased this pair of high-waisted shorts a few summers ago. They are Celebrity Pink Jeans, which you can find at Macy's. The amusing pattern on these shorts is one of the reasons I love them. They are also comfortable and fun to style.


This Rock & Roll crop top went perfectly with the shorts. The crop top is black and white, so it matched the shorts very well, and it was easy to wear a seafoam tank top underneath it.


I wore a purple bracelet for a pop of color and a pair of black sunglasses and sandals. I also used one of my new favorite summer accessories, this purse from Betsey Johnson.


I saw this purse when I was in California and I had to get it. It is perfect for summer because of the cute palm trees and coconut on the front of it. The back of the purse has the black and white stripe pattern on it as well. The inside of this purse is very spacious and it also came with a black and white wristlet.


There are quite a few ways to style high-waisted shorts and this one is my favorite. I also like to show that there are other ways to wear a crop top. It is really easy to thrown on a matching tank top underneath a crop top. If you have seen cute crop tops but did not want to walk around with your midriff showing, try wearing a thin tank top or cami underneath next time. This way you are able to wear that crop top you like but are still able to stay in your comfort zone.


Sunglasses- Ray-Ban
Tank Top- Forever 21
Crop Top- Gypsy Warrior
Shorts- Celebrity Pink Jeans
Purse- Betsey Johnson
Sandals- Roxy
-Caroline 🙂