If you are a colored jean queen like me, wearing bold red jeans is no problem. For some people though, red jeans can be too bold and intimidating. Since red jeans are very festive for Christmas Time, I wanted to share three easy ways anyone can style and wear them. 


The first way you can style red jeans is for a Christmas party. For this look, I paired a pretty white sweater with my jeans. I made the outfit dressy by adding black booties and some sparkly jewelry.


My necklace is from last winter's Box of Style and it adds the perfect sparkle to any outfit. You can also wear a nice black sweater with red jeans if you do not have a white one. This outfit has the perfect amount of holiday glam for any Christmas party.


The second way you can style red jeans for Christmas Time is by wearing them to work. I know everyone has a different job and dress codes vary, but I hope you can find some inspiration from my work look.


For this outfit, I styled my red jeans with a long sleeve white shirt and a black vest. The vest gives the outfit a little something extra than just wearing a white shirt. As for my shoes, I wore a pair of black flats to pull the whole look together.


I kept my accessories black as well, with a skull necklace and black sunglasses. A black blazer would look great over a white top too if you prefer blazers at work.


My final look for styling red jeans is a casual one. Instead of wearing a white shirt, I went with a black long sleeve one. Since it is cold out, I styled a white star scarf with this look to keep me warm and to add a fun accessory to this outfit.


I wore a pair of black studded boots and black and white sunglasses to match my scarf. This look is perfect to wear on any causal day out.  


All three of these looks are easy to put together and a lot of fun to wear. I think any combination of black and white always goes great with red jeans. I know these pants are very bold but I believe anyone can wear them as long as you style them for your comfort level.


My red jeans are from Delia's and they are a few years old. However, you can find red jeans currently at Macy's, Express, Old Navy, and Kohl's. Even though red jeans are festive for Christmas Time, I wear them all year. All of these looks can be styled to meet any occasion at any point during the year, not just Christmas Time. I hope all three of these looks have given you some outfit inspiration to style and wear red jeans!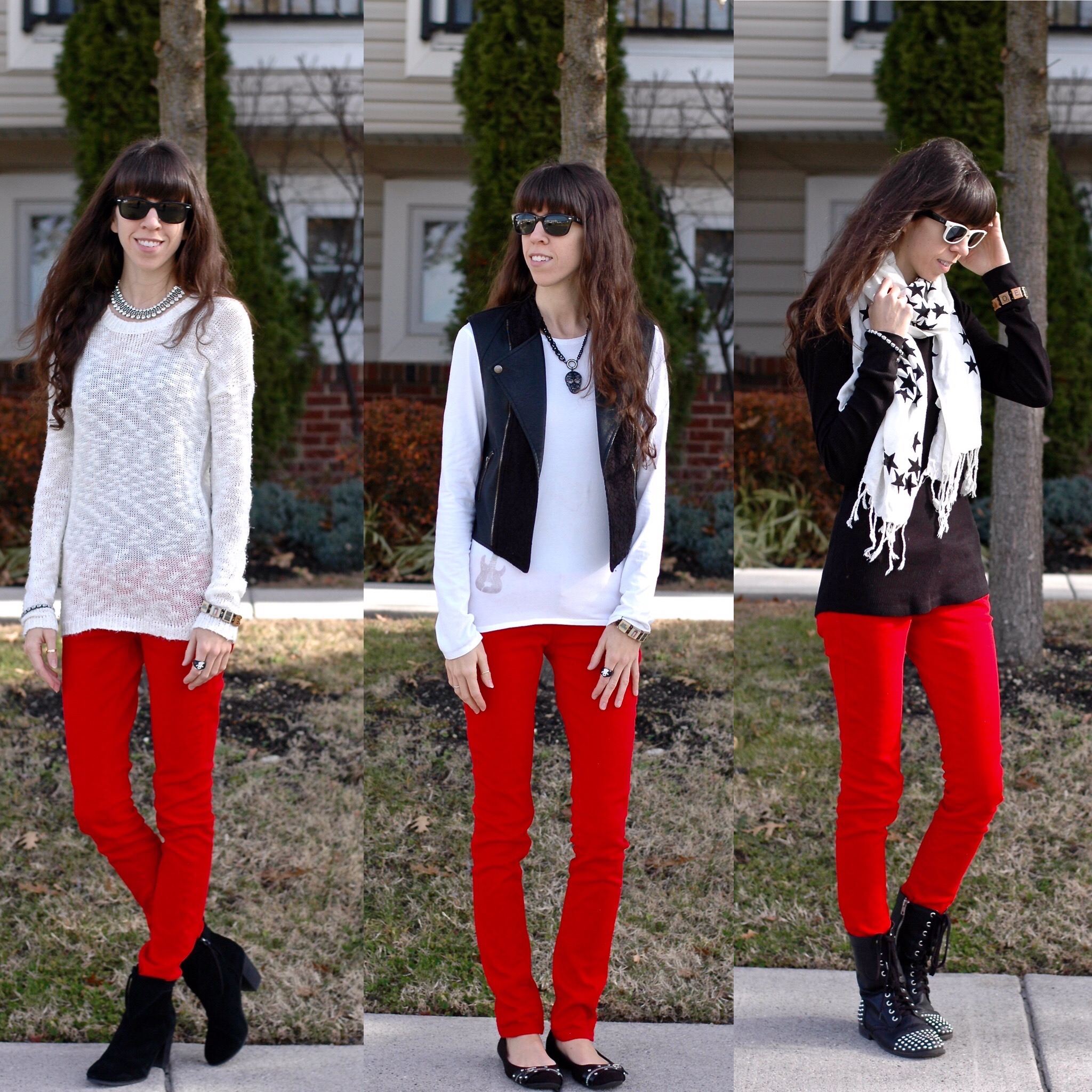 Dressy Look:
Sunglasses- Ray-Ban
Necklace- DylanLex
Sweater- Delia's
Jeans- Delia's
Boots: Tom's
Work Look:
Sunglasses- Ray-Ban
Shirt- Mossimo Supply
Vest- Material Girl
Jeans- Delia's
Flats- Style & Co.
Causal Look:
Sunglasses- Ray-Ban
Shirt- Mossimo Supply
Scarf- Delia's
Jeans- Delia's
Boots- Mossimo Supply
-Caroline 🙂