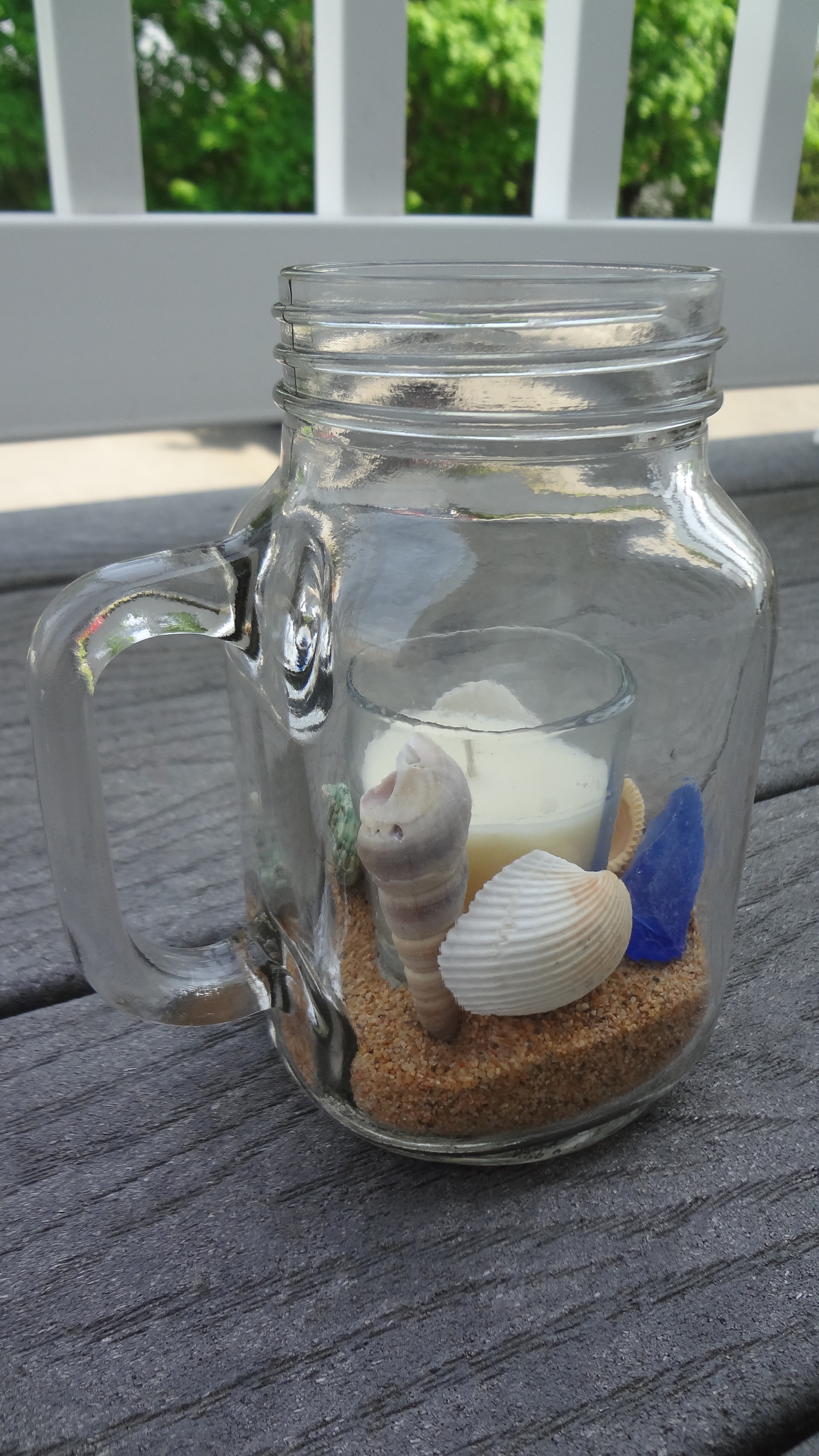 Hey guys!
I wanted to share this DIY with you that I did a month ago. I wanted to make beachy center pieces for a party and my original idea for them came from this pin I found on pinterest:
http://www.pinterest.com/pin/69946600437382034/
I really liked this idea a lot so I searched many many craft stores for white lanterns; A.C. Moore, Michaels, JoAnn Fabrics; I even checked Target, Home Depot, Lowes, a dollar store but I have no luck at all! It was very frustrating because I thought this would be so cool for some center pieces. I was even at the point where I didn't care if the lanterns were white or not. Any color lantern was still very hard to find.  Most of them were either too big or too expensive.
So I went to yet another Michaels and saw a bunch of mason jars with handles for $3 or $4. They were the perfect size for center pieces and I really liked that they had a handle because my original idea was to tie balloons to the handles of the lanterns. I picked up 8 of these mason jars, one bag of tan sand that was $2.99 and a 12 pack of filled glass votives candles for $7.99.
Before I had decided on the mason jars, I went into the Christmas Tree Shop to see if they had lanterns, and of course they didn't. However they did have packs of seashells and sea glass for $1 each! I got one bag of seashells and one bag of sea glass and I still have some left over. Getting the seashells and sea glass at the Christmas Tree Shop was a lot better than getting them at the craft stores because the prices at the craft stores started at $7.99 for one bag! I recommend checking the Christmas Tree Shop for seashells and sea glass before buying any at a craft store.
I finally went home and made my center pieces and here is the final product!


I cleaned all the mason jars before putting anything in them. Next I put the candles in first and used a rolled up receipt to funnel the sand into the mason jar around the candle. I didn't want any sand in the candle itself so that's why I funneled the sand in around the candle. To even out the sand I would hold the jar with one had and the top of the candle with the other hand to keep the candle in the center and I would move the jar back and forth until the sand was evened out.
I put the candles and sand into all the jars first and made sure they all had around the same amount of sand in each jar. I did use the whole bag of sand for 8 mason jars. Next I dropped in the seashells and sea glass around the candles.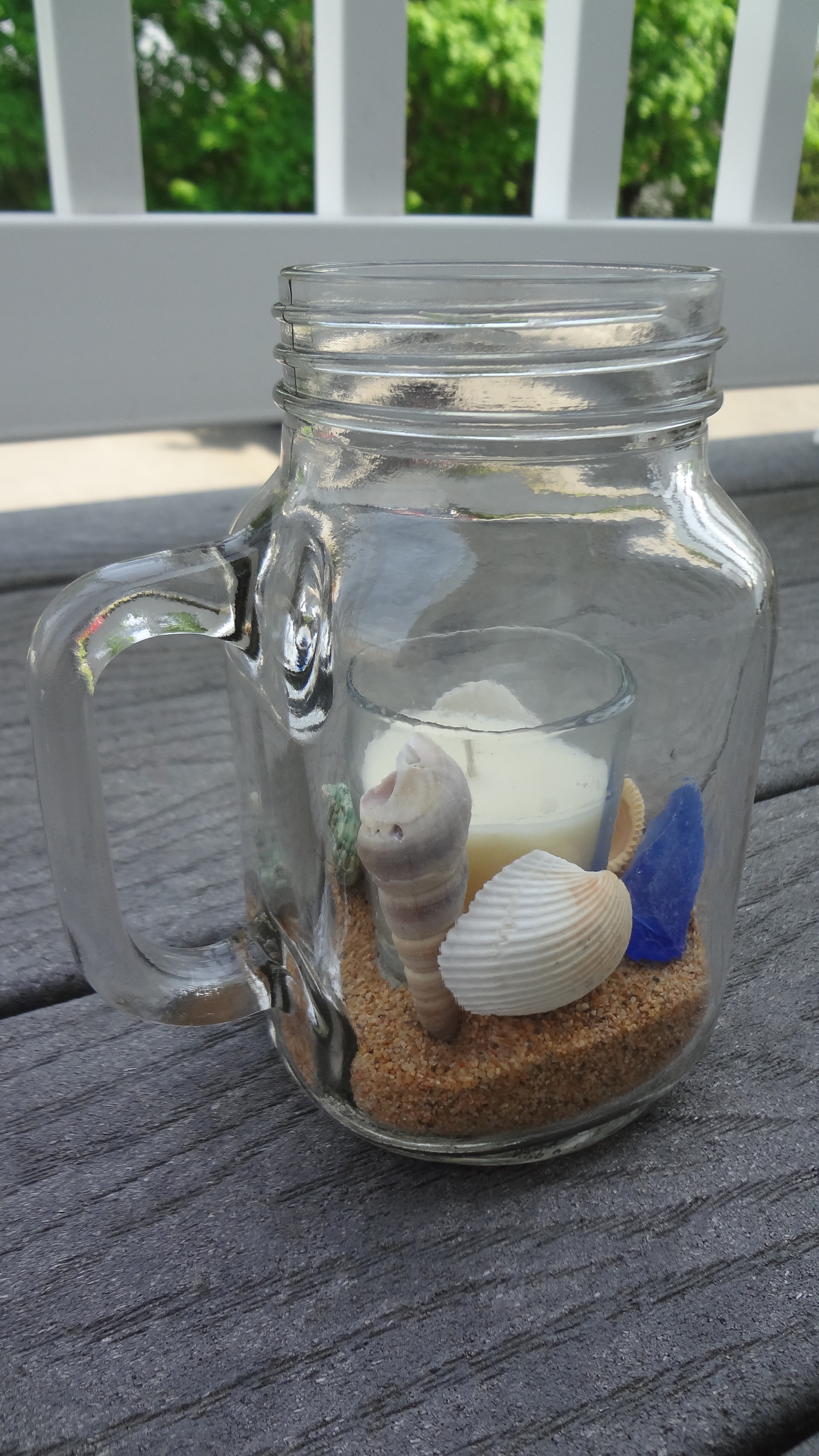 Once I had them on the tables as center pieces I tied balloons to them, lit the candles and they were done! The great part about them is now I use them for decor in the house and you can still light the candles! The hardest part about making these center pieces was finding the actual center piece that I was going to put the materials in. It was hard for me because I wanted to tied balloons to them but if you don't want to do that then I'm sure mason jars without handles will work perfectly! These center pieces are perfect for summer parties and dinners or just a beachy decoration to have in your house! You can even use them at events in the winter because who wouldn't want to feel beachy year around?
🙂 Caroline


SaveSave